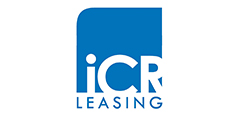 The Challenge
ICR Leasing needed a CRM system from trusted and accessible people to meet its expansion plan targets.
Customer and prospect records were kept on spreadsheets saved on local hard drives, follow-up prompts were only visible in the diaries of individual employees, and documents relating to each customer or prospect on the spreadsheet were stored within a separate system. Sales people had also reverted to using a traditional order book. If somebody was on sick leave, finding their 'to do' list was incredibly difficult.
To put this in perspective, a team of six covered 200 new leases each year. On average, ICR Leasing held around 500 clients at a time. That means 1600 new documents were generated each year and 4000 documents had to be stored, managed and retrieved on request. Everybody worried about losing sales information and documentation.
The Solution
"SuperOffice was quickly added to our CRM shortlist when we were looking for a business management, sales and mailing solution.
The technology looked excellent, but we were also looking for a provider we could trust and talk to. Matt from SuperOffice visited our offices several times, giving tailored demonstrations and honest answers to all our questions," explained Stephen Holmes, Business Development Director at ICR Leasing.
ICR Leasing adopted SuperOffice 8.
The Results
"At first, I think staff thought SuperOffice would increase their admin burden. However, when they saw what it does and the benefits it brings, they totally embraced it. Even our oldest sales person, who is 75 years of age, has bought into the idea. It's an easy, people-friendly system," enthused Stephen.
Now information – ranging from figures related to the business as a whole to details about the newest prospect – is visible at the touch of a button. "It's increased our management efficiency and capacity. I don't feel as though we're at risk of losing information anymore," said Stephen.
Stephen also said that, thanks to SuperOffice, each day he knows how the business is doing and staff always know what needs to be done. They're able to generate reports from live information during sales meetings – this simply couldn't be done before engaging SuperOffice.
Now, if a member of staff is off sick, a colleague can simply look at SuperOffice for their tasks and follow-up prompts for the day, and then deal with them. Previously, if a customer or prospect had a query, ICR Leasing's employees had to manually search for the most up-to-date file on them. "It's probably saved one or two days a month for every member of staff," explained Stephen.
Managing 4000 documents and 200 sales each year became easy
Even the oldest employee (aged 75) embraced SuperOffice
Saved an estimated 12–24 days of admin a year
Efficiency gains gave a team of six the capacity to manage a much larger business
Provided business transparency, making the company easier to manage
Live reports are generated at the touch of a button
Since engaging SuperOffice, nobody's used spreadsheets to track sales opportunities and orders
Prospect follow-up prompts prevent missed sales opportunities
Live information-sharing has increased team effectiveness
Reduced reliance on individual employees
Dramatically reduced the risk of losing important information
Instant access to information increased staff confidence and efficiency
Enabled staff to quickly and easily cover each other's roles when required
Enhanced management efficiency and business performance