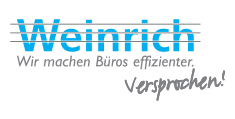 The Challenge
The Weinrich group is a company run by its owner since 1925 and operating in the areas of office material, paper management, communication technology and technical support.
There are 5 sites in Fulda, Kassel, Erfurt, Gießen and Jena with 85 employees. About 45% of the company has to do with document management. In addition to everything that has to do with printing, scanning and copying. Attached to this there is a technical customer service which supports the customer on site and is responsible for e.g. maintenance and repairing. Another important area is the C article management. The C articles are things that have to do with typical office supplies and anything else that could be needed in an office. Everything from coffee and cookies to sanitary products can be found in the large assortment here. The 10% which are left have to do with office furniture. The customers are mainly re-selling companies in different sizes. But in the shops also private customers are served.
Until the middle of the 90s Weinrich didn't have a centralized system where all sites and divisions were able to get the same customer information and where the sales department could be guided and an ideal customer service could be provided.
The Solution
While searching for a usable system, the SuperOffice CRM solution was discovered.
The implementation took place in 1996. Today almost every employee works with SuperOffice, except for a few employees who are working in the technical and logistics department. The different divisions don't work together very often, but they serve the same customers. This way all employees, no matter in which area they're working, have access to the most recent information and cross selling possibilities are easy to identify. The decision for SuperOffice CRM was made due to it's easy and intuitively user interface. There was hope that the employees would be motivated and enjoy working with the system because of this. The plan came together. All sales people have been working with SuperOffice right from the beginning.
The Results
SuperOffice is the leading system within the company and other systems need to be integrated to this.
Right now it is planned to tie the ERP system to SuperOffice CRM to be able to centrally collect even more customer information and to reduce using other sources. Even all kinds of correspondence are generated and saved to SuperOffice CRM. The sales department is building up its complete sales cycle in the system. Even the marketing is using the system and coordinates all marketing activities in SuperOffice. Selections are made according to their interests and serial letters, as well as activities inside the software are generated.
Weinrich experiences a high customer loyalty by using SuperOffice, because it is possible to provide information at any time and without a long way round, so this way there are short reaction times and the customer gets a professional impression. "In my opinion each employee who has to do with customers, needs to work with the system. This way all customer information is always ready and optimized results can be achieved." Thorsten Diemer says.
Easy to use and high acceptance of the system
Centralization Reducing data sources
Structured working
Easy to identify sales opportunities
High customer loyalty