Change is the only constant in life, especially in today's tough economic times.
Challenging business environments, competitive markets, or declining sales – are just a few hurdles that executives are facing today. To overcome these hurdles, we need to embrace change and find new ways to work, sell, lead, and create new customer values.
Join our European CRM Tour CHANGE 2023 and learn how to navigate change, better motivate your teams and reach your revenue targets. ​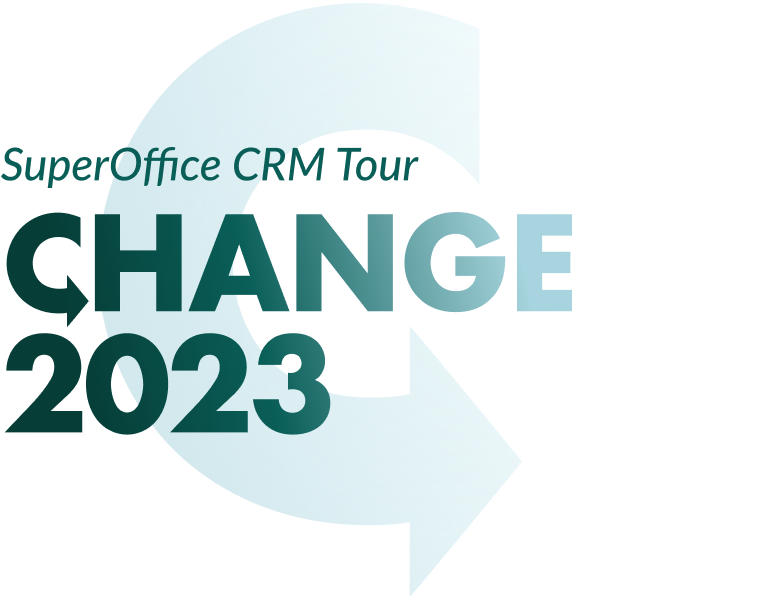 Location
Essen, Stockholm, Oslo, Copenhagen, Eindhoven
ABOUT THE EVENT
Everyone who is going through change, be it on a professional or personal level, knows – change can be difficult and kicks us out of our comfort zone.
Yet, change is inevitable, and it affects us all! It is a challenge we need to overcome.
Change requires new kinds of leadership, new mindsets, and new ways to work. And if we want to successfully steer our businesses towards growth and prosperity, we need to adjust.
Join the SuperOffice CRM Tour "CHANGE 2023" and learn from a host of motivational speakers and business leaders, who will answer such pressing questions as:
How to make healthy changes to your business in order to create more customer value and grow revenue?
How to instill a growth mindset and create a sales culture aimed for success?
How to lead and motivate your teams through changing times?
Why is it so important to build stronger customer relationships and make data-driven decisions to successfully deal with changes?
How does today's technology help you navigate through stormy times?


No need to travel – we come where you are! Meet us in Germany, Sweden, Norway, Denmark, and the Netherlands.​
🤝Use this great opportunity to network and meet other business leaders and potential partners, enjoy a great show at an exciting venue, and have some fun!
Oslo, Norway

September 21, 2023

Stockholm, Sweden

September 14, 2023

Essen, Germany

August 31, 2023