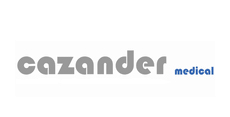 The Challenge
Within the healthcare sector, Cazander Medical focuses on Dutch and Belgian hospitals, care institutions and private clinics. The product range consists of a varied range of investment and consumable items.

Investment items include logistical goods (transport carts, racks, ready-mounted trolleys, wire baskets and instrument nets) which are used in the operating theatre and the Central Sterilization Department (CSA).
The challenge for us was to record visits from our field staff. Previously we processed this in outlook, but everyone did this in a different way. We were looking for a system in which this could be recorded in a user-friendly and unambiguous manner and in which we had the opportunity to create certain selections that could be measured and controlled. Also the retrieval of relevant information was always quite a search which resulted in the fact that you couldn't find anything useful. This costed our employees a lot of time. We prefer to invest this "lost" time in our customers to get the most out of our business efforts. After a selection process with four different CRM suppliers, we opted for SuperOffice.
The Solution
SuperOffice is used by us throughout the entire organization, both office staff as well as field staff make use of it.

We now use it to record relevant customer information, client conversations, sales processes and order opportunities. This gives us a complete insight into won and lost sales. We record customer contacts in an unambiguous manner and this automatically ensures a structured way of working. We now have better control over outstanding sales processes and can focus on product-specific turnover.
The Results
We are super satisfied with the solution and it helps us to optimize sales opportunities.

There are certainly ideas how we can further optimize the use of SuperOffice. Now we mainly see it as a tool that the field staff use a lot, but also our office staff can benefit from it a lot more. The result is still difficult to measure, but we dare to say that our account managers have made an efficiency improvement of at least 5% by using SuperOffice. They can better focus on achieving sales opportunities. In addition, we can get a lot more out of SuperOffice with, for example, selections and dashboards.