How many apps do you use?
If you're anything like the average person, at least 40.
But why so many?
Obviously, we use apps because they make our lives easier.
Apps are quick and efficient. The same benefit applies in the business world, too.
Companies use an average of 75 technologies to help them grow their business. And the larger your company is, the more apps you will use – reaching as high as 200 apps!  
An integrated tech stack is fast becoming the norm. We've seen it first-hand, too.
The demand for integrated tech in our app store has led to more than 100 apps that now directly integrate with SuperOffice CRM.
Why? It's because companies want to do more with their customer data – because customer data powers company growth.
CRM helps companies manage their customer information and customer relationships, leading to a more customer centric organization. It's incredibly strong on its own.
But integrations take CRM one step further.
CRM integrations supercharge your CRM and give you access to more knowledge, insights and data - seamlessly. Now, there are thousands of platforms that can support you with this, but it's how you use them together that matters.
Let's take a closer look at CRM integrations, the benefits and some examples of how integrations can supercharge your CRM platform.
(In a hurry? Jump ahead to the good stuff – the integrations.)
Here's what we'll cover:
What are CRM integrations?
3 reasons to implement CRM integrations
7 CRM integrations to supercharge your tech stack
Conclusion  
What are CRM integrations?
CRM software is all about nurturing relationships, with both new and existing customers.
It's technology that helps companies innovate the way they foster and manage those relations to generate long-term business.
CRM integrations is about how you're able to seamlessly connect your CRM software to third-party applications.
In practice, data should be able to flow from your CRM to another app, and vice versa. The purpose of CRM integrations is to help you avoid toggling between different systems.
With all of your customer data connected, you can make smarter, more personalized decisions. And this leads to multiple business benefits.
3 reasons why you need CRM integrations in your life
There are tons of CRM benefits to integrating your tech stack and powering up your CRM platform. Here are three of the best:
1. Improve customer care and communication: Customer experience is key. That's why you can't miss out on any type of communication with your customers, whether that's through B2B sales, marketing or customer service. Integrating customer-facing platforms allows you capture all customer contact points.

With CRM integrations, you will have access to all the information you need to improve those business relationships. No more lost conversations.


2. Boost efficiency and organization: The less information you have scattered across multiple systems, the more productive you will be.

With CRM integrations, you can connect all the information and data about your customers equally across applications, so that it's easier to access when you need it. No more data silos.


3. Automate more within your workflows: With integrations, you can automate tasks and processes that otherwise wouldn't work.

For example, without an integration, meeting invites from Outlook need to be manually added into the CRM platform so that it syncs with your Outlook calendar. With a CRM integration, it's automatically added. Less work!
7 CRM integrations to level up your tech stack
1. Productivity
More than 80% of executives say that ineffective communication is the most significant cause of productivity issues.
Research has also found that a typical sales rep spends almost 30% of their time doing things that disrupt productivity, like searching for information, converting docs into PDFs or managing emails.
In other words – there's room for improvement!
Luckily there's a quick fix. SuperOffice integrations like ActivityBoard and PDF Manager are useful, time-saving applications to add to your CRM for increased productivity.
With Activity Board you get a better visualization and overview of your projects, and PDF Manager will help you convert all your SuperOffice CRM documents into PDFs in one click.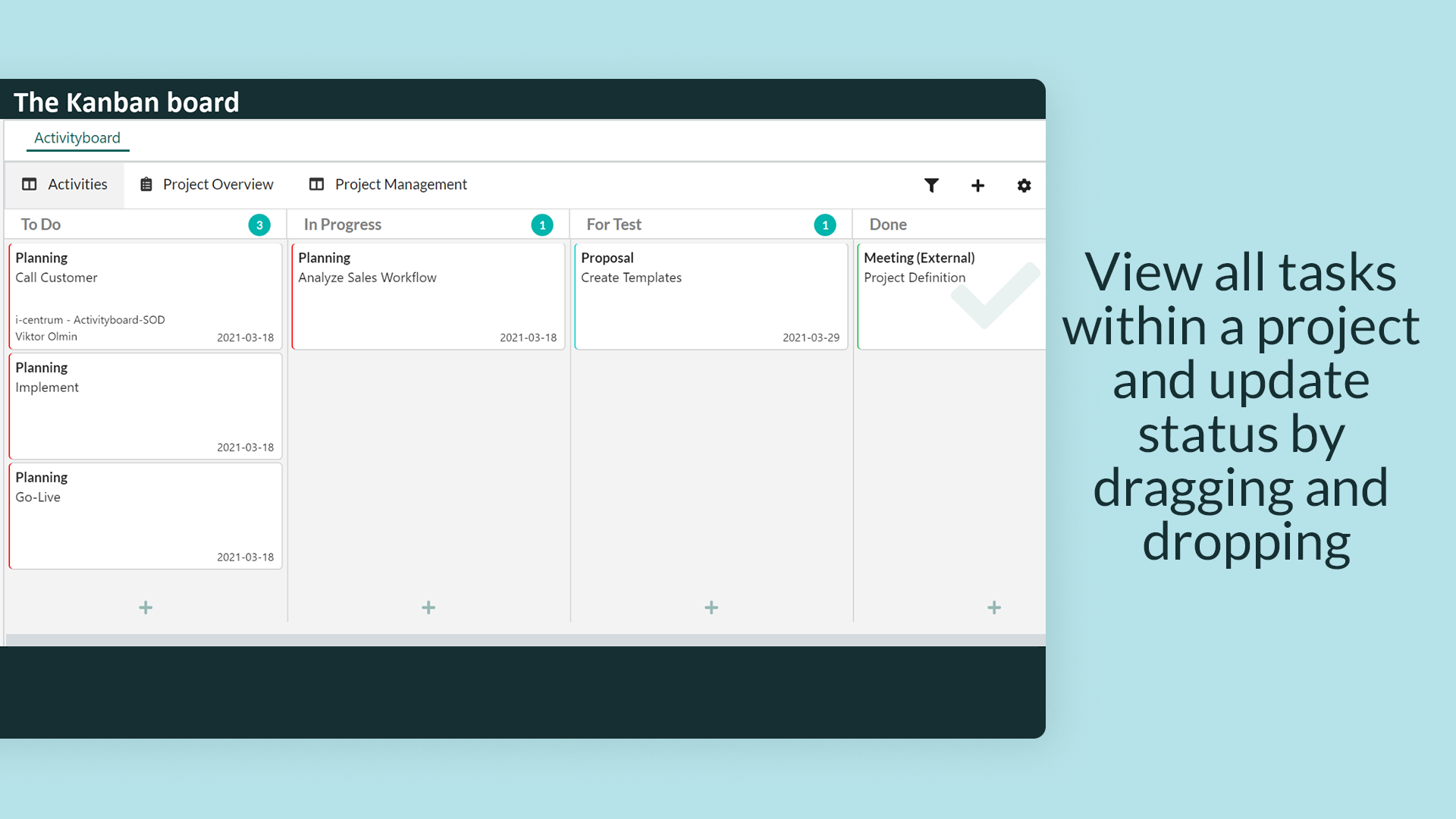 We know, you're busy. So say no to ineffective communication. Say no to manually converting CRM documents into PDF.
Say yes to less, but more productive, work!
2. Email, document and calendar
Marketers know how important emails are when it comes to converting leads and customers. Sales reps understand the value, too.
Why? Because it's one of the most effective tactics to generate new leads.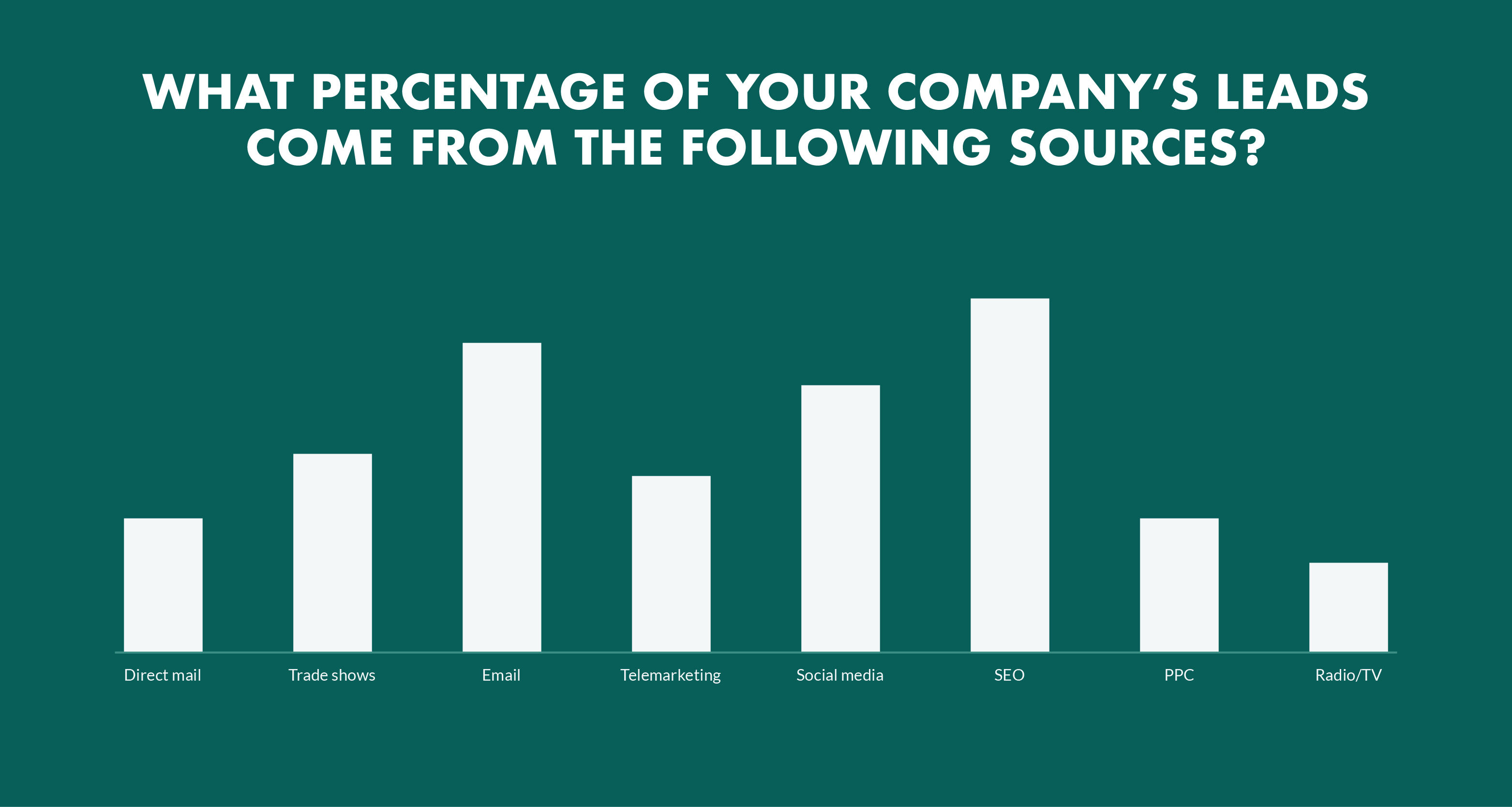 And if you're successful with your emails, those emails turn into booked sales meetings.
Did you know that 70% of business professionals completely rely on a digital calendar?
So, it makes sense to sync your emails and your calendar meetings with your CRM so that everything is connected.
Syncing email, documents and calendar data will help you speed up all the processes of communicating with and booking in prospect and customer meetings.
The apps BookMyCalendar and EmailPreview are seamlessly integrated into your CRM: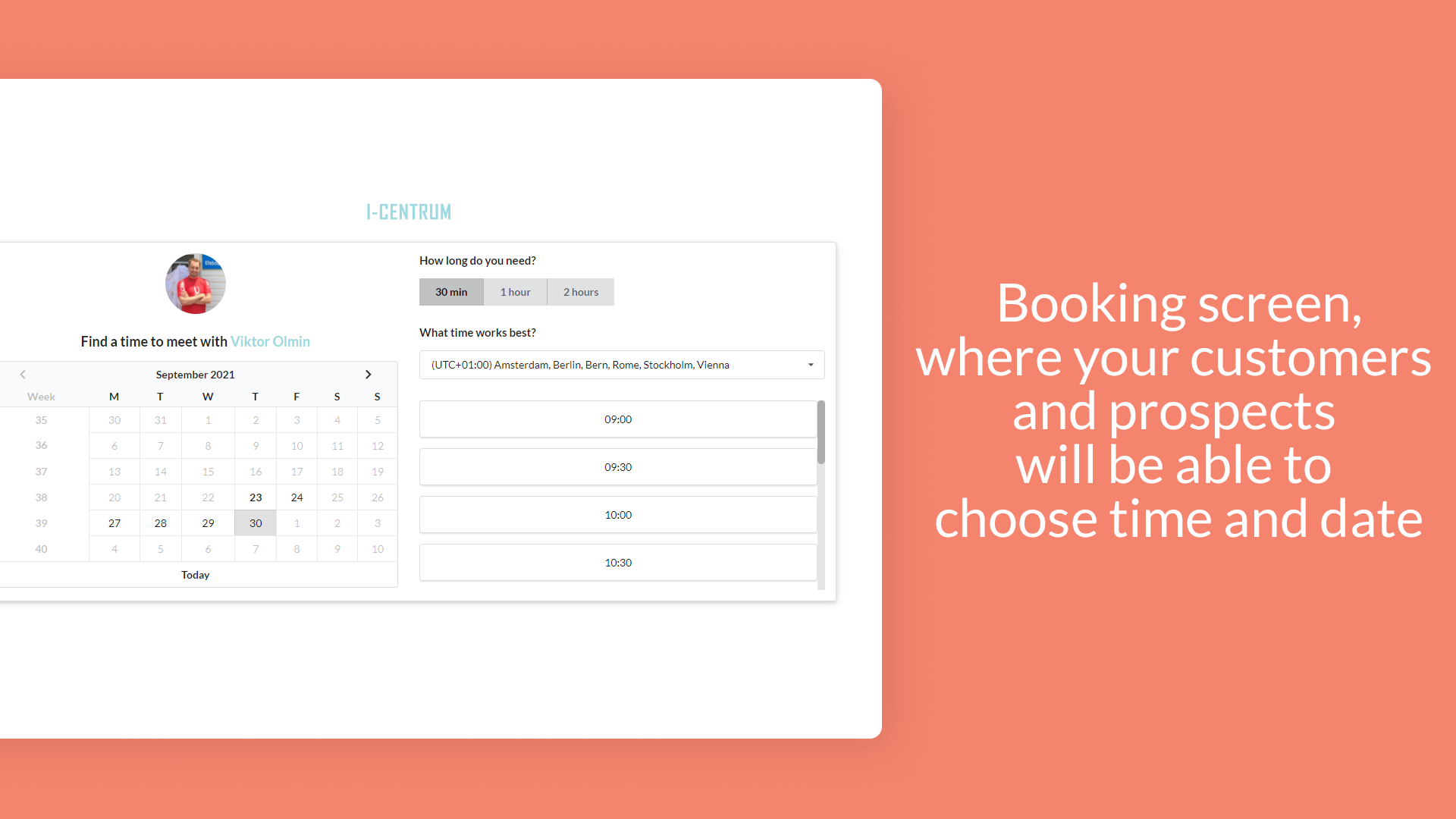 BookMyCalendar will give your customers access to your SuperOffice CRM calendar for more efficient and quick booking of appointments. EmailPreview will help you view the content of all your archived emails, documents, PDFs or images.
Easy, right? It should be.
Less back-and forth-with prospects and customers when booking meetings (it's now automated) and fewer clicks to see content within an email as it shows up directly in the CRM (mini-card).
3. Digital signature
More and more companies are going paperless. And for good reason!
Excessive use of paper has a huge effect on waste – and as a company that strongly believes in sustainability within business – we couldn't be happier with this trend and its impact on the environment.
Day-to-day transactions are becoming increasingly digital, using digital documents instead of paper. That's why companies are shifting to legally binding electronic signatures.
Apps like GetAccept and VerifiedForSuperOffice will help you get all your electronic documents signed digitally within minutes, not hours, which helps you close more deals much faster. Win-win!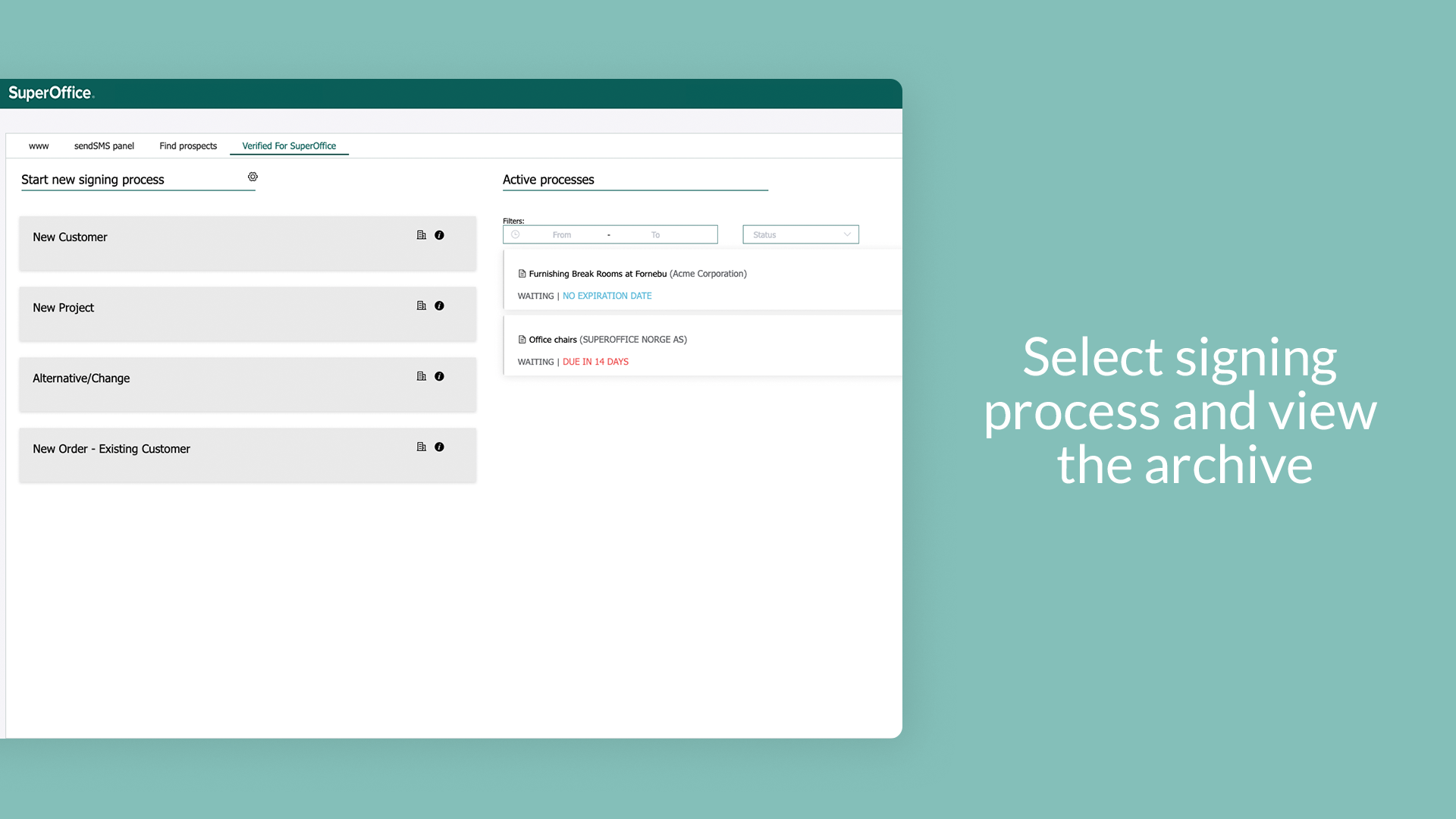 Signing documents often requires a lot of back and forth – and it's easy to lose track of which version is the most up-to-date. Digital signature platforms remove unnecessary processes – making the signing of documents easier.
4. Business intelligence and reporting
More than 90% of companies state that making decisions based on data is vital.
But only 57% of companies actually do it.
Large parts of business intelligence systems and CRM involve analyzing and understanding data in order to make smarter decisions. Allowing you to make business decisions based on facts, not opinions.
Want to become more data-driven in the decisions you make?
Here are 4 business intelligence and reporting tools that easily integrate with SuperOffice CRM:
More data isn't always necessarily a good thing.
But more data that is easily accessible, readable and actionable?
That's something that every business can benefit from.
5. Prospecting and data quality
A large part of using a CRM system is the capability to manage leads.
Because without leads, there's no way you'll be able close them, right?
But here's the thing: 37% of marketers find it difficult to generate high quality leads.
So why not make it easy to find those kinds of leads by using data-enhancing apps through CRM integrations? In doing so, you'll get new prospecting opportunities and remove the noise of low-quality leads (you know, the ones that never, ever, intend to buy).
SuperOffice CRM lets you integrate with apps like Bisnode Business Contracts and ByggFakta Live, so that you can add more prospect data to what you already know.
Bisnode Business Contracts helps you access tens of millions of decision makers and companies.
ByggFakta Live lets you integrate with the biggest projects database in the Nordics, which further boosts your sales.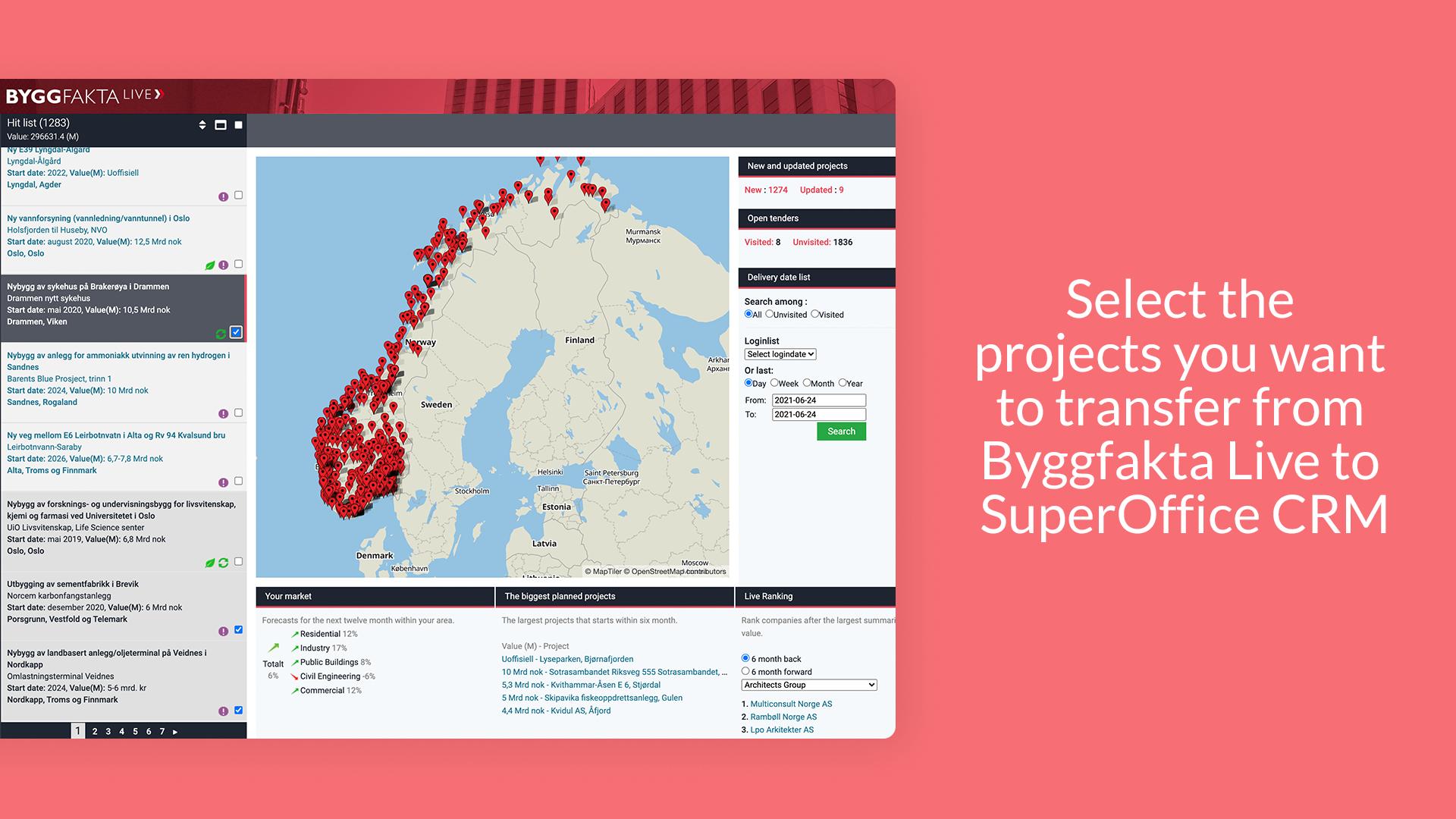 Together, these two integrations allow you to more efficiently access the information you need for better, more targeted and high-quality lead generation.
6. CTI
Some 42% of sales reps find calling up leads and prospects to be a valuable way of getting in contact with them. It makes sense, right? Emails and SMS are much easier to ignore than calls.
The only problem? Calls don't leave a digital footprint.
Integrating CTI (computer telephony integration) tools with your CRM system lets you not only track phone calls more effectively, but also make sure the information is synced within the CRM with the right customer.
The process becomes more a lot more digital (it's automated) allowing you to spend more time, you know… actually listening.
SuperOffice CRM integrations gives you the connection of tools like Amesto Phone Integration and CTI for SuperOffice for easier connectivity.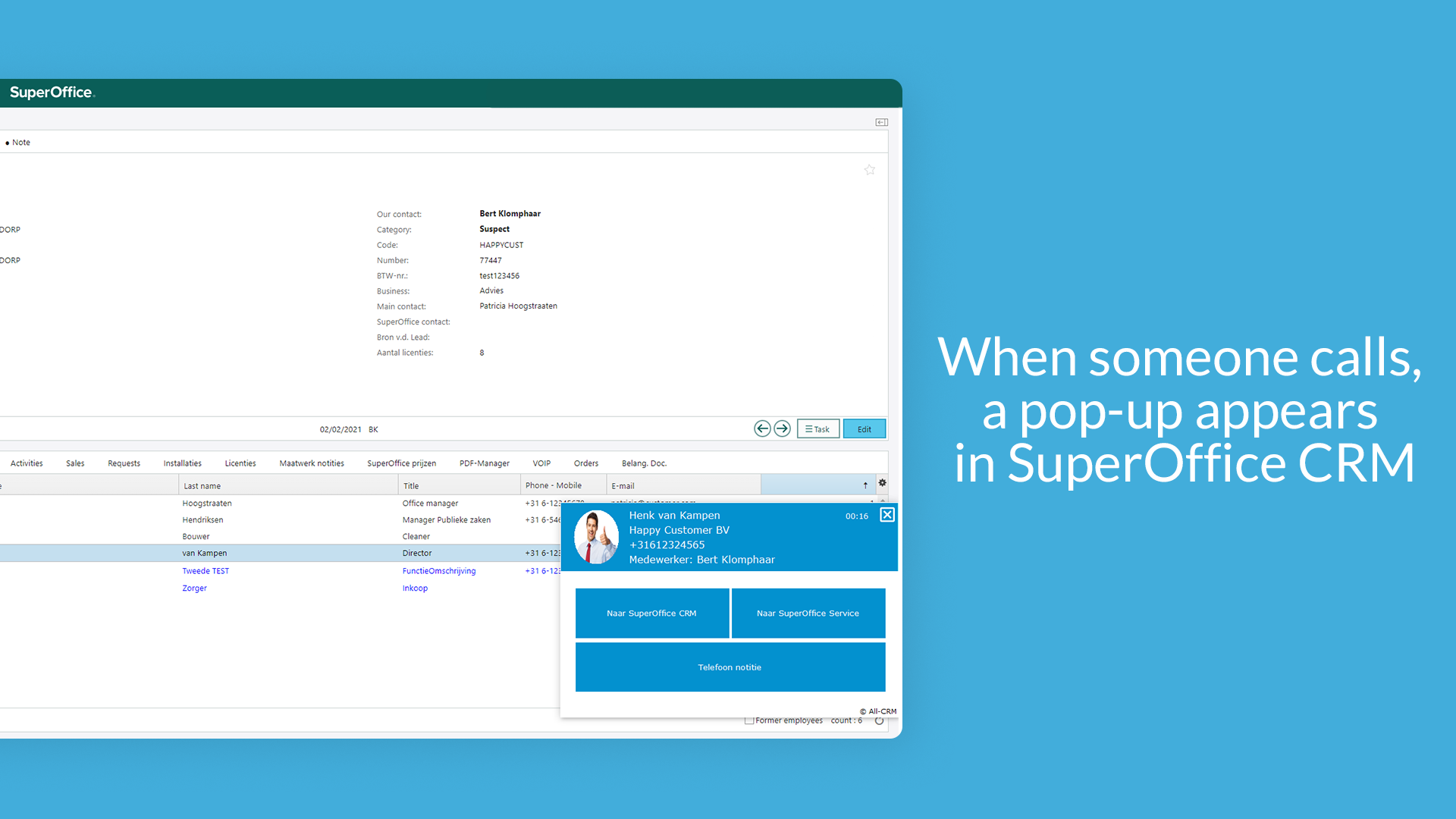 These integrations allow you to call, track and trigger workflows – all within SuperOffice CRM.
7. ERP
ERP stands for Enterprise Resource Planning. It's the process in which businesses integrate the most vital parts of their company. An ERP is your back-end customer processes.
– CRM, on the other hand, is for your front-end customer processes, where you communicate and engage with your leads.
SuperOffice CRM integrations include the ability to connect your back-end processes (ERP) and your front-end processes (CRM) - which results in streamlining your most important business processes.
How cool is that?
SuperOffice CRM integrations includes the ERP apps:
Your customers will benefit as well, because they'll receive faster responses due to the right people having the right (and quick) access to the right and relevant information.
How's that for supercharging your tech stack?
Conclusion
CRM helps companies manage business relationships at scale.
And while it pains us to admit it, CRM doesn't solve every business challenge.
(Although, let's be honest – CRM does solve a lot of challenges.)
That's where CRM integrations come into play. You take a powerful tool and make it even more powerful – helping you become more productive, more collaborative and more efficient.
The best part? These apps and integrations were all built for SuperOffice CRM!
Ready to implement these integrations into your SuperOffice platform?
Book a call with us today to learn more about our app store and how they can support your organization's growth goals.