The customer experience is much better today than it was 10 years ago.

Modern technologies give business new ways to improve and personalize their customers' experiences.
Yet, more than 74% of marketing leaders still struggle to scale their personalization efforts.
We thought CRM would be the answer - one platform to manage all customer data.
But our own research, based on feedback from 804 B2B professionals, found that 46% of businesses do not use CRM to personalize the customer experience.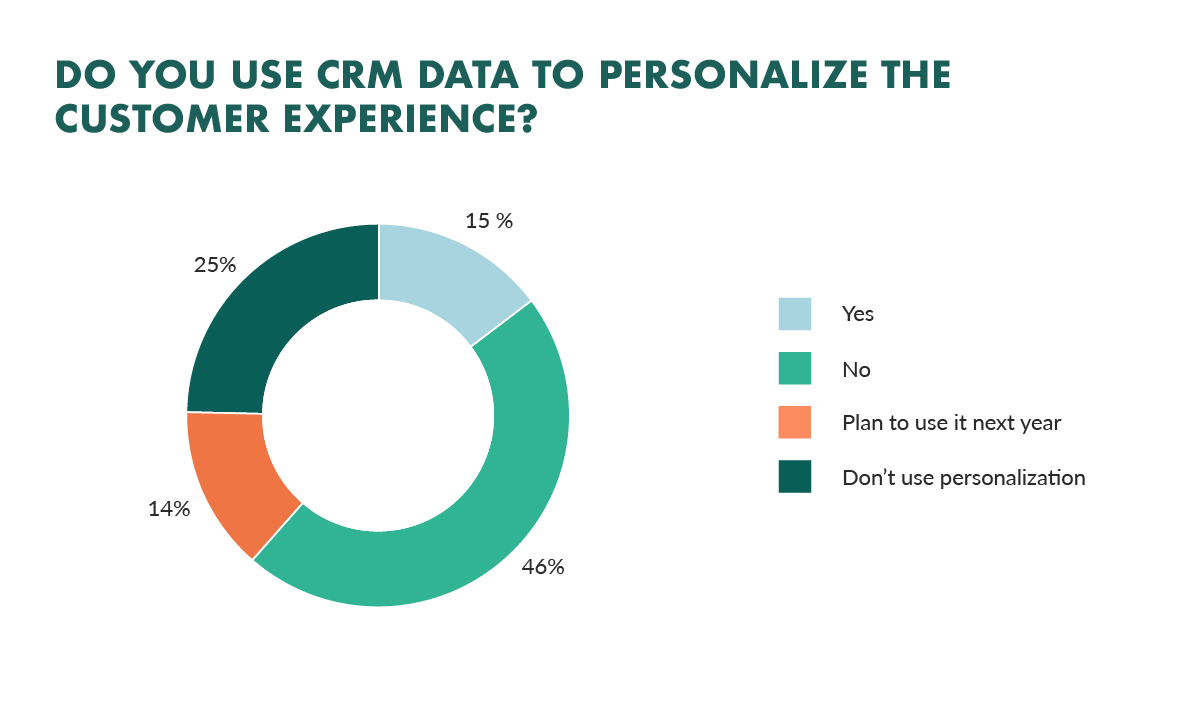 Sadly, 25% of businesses do not use personalization at all…
…even though stats repeatedly prove that it's very important to consumers:
Clearly, personalization is what customers positively react to. That's why investing in personalization is the key to building business relationships and creating better experiences that pay off by reducing churn.
To get started with personalization, we've outlined several personalization strategies for marketing, sales, and support teams.
Personalization Strategies
More than 70% of customers feel frustrated when their experience is impersonal, but what can you do to personalize it? Here are 9 strategies to help you get it right:
Marketing Personalization
1. Use data to enhance experiences
2. Send personalized emails
3. Create meaningful Opt-in forms & Thank You pages
Sales Personalization
4. Turn unknown visitors into hot leads
5. Chat with prospects in real time
6. Personalize sales follow-ups
Customer Support Personalization
7. Provide context-based support
8. Target customer needs with a Knowledge Base
9. Solve customer complaints immediately
Marketing Personalization
Personalization in marketing is a way to interact with a customer through content, messaging, and software. It also involves creating experiences that make customers feel that their interests are taken into account.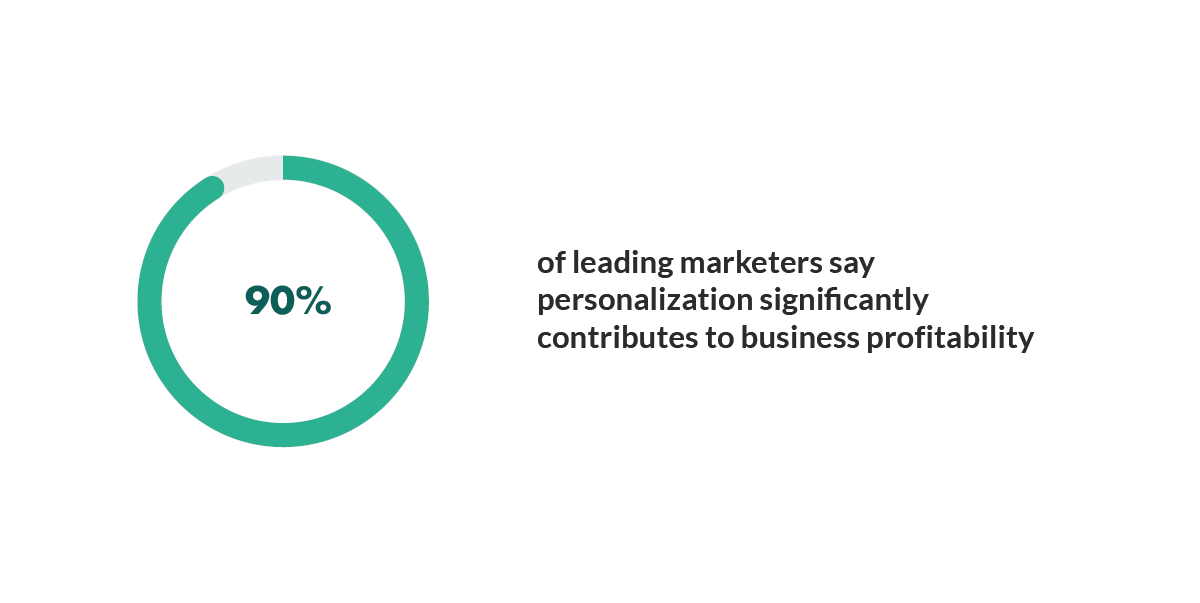 According to a survey by Think with Google, 90% of marketers say personalization significantly contributes to business profitability. However, before that can happen, every marketing team needs to collect and understand data to guide their personalization activities.
1. Use data to enhance experiences
Data is the foundation that every marketer's action is based on. However, deciding which data to use for personalization can be difficult as customer and visitor data is continuously growing.
When there's too much data to keep track of, marketing teams may suffer from infobesity – a newly coined term that means information overload and a consequent inability to execute decisions to achieve goals.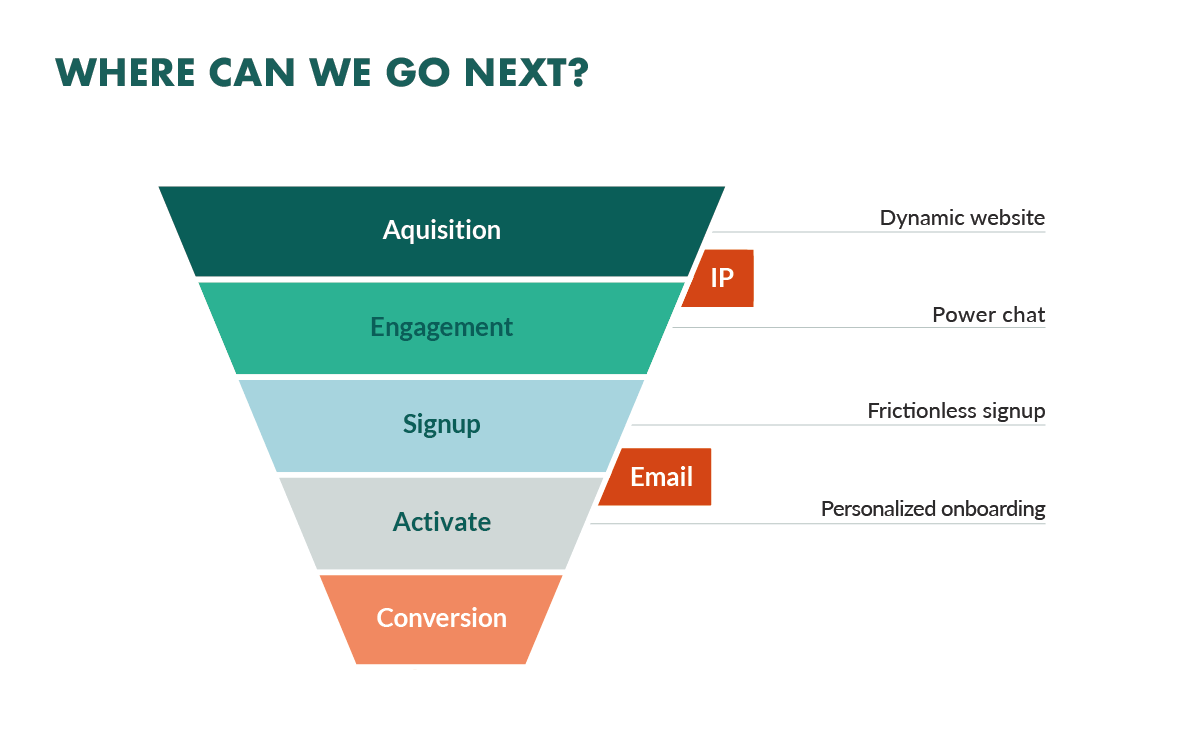 Guillaume Cabane, former VP of Growth at Drift, suggests using data to enrich personalization strategy and confirm a visitor's information to create a frictionless experience.

However, not all data you collect from visitors and customers is actionable.

To simplify things, here are key types of data to collect for successful personalization:

Demographic data – A collection of all the data points about a person, such as their name, email, title, and location.


Firmographic data – A collection of all the data points about a business, such as company name, industry, number of employees, annual revenue, and stage in the sales cycle.


Behavioral data – Reveals everything about a visitor's actions while using your website or app, such as pages visited, links clicked, average time on site, and number of visits.


Contextual data – Related to a visitor's unique properties while providing context to their behavior on a website or an app, such as device type, browser type, location, and time of the day.
Collecting demographic and firmographic data requires your visitors to fill out and submit a form. This may include a newsletter subscription, a demo registration, a live chat transaction, or a lead magnet download.
Once submitted, you can monitor leads in your marketing CRM to get automatic date and time stamping, lead source tracking, and lead activity insights.
When your marketing teams get hold of the right data, they can react appropriately whenever a lead takes a specific action. And with the right CRM, you can keep data up-to-date to make better decisions while personalizing experiences and improving lead scores in real-time.
2. Send personalized emails
There's a science to email marketing, and it involves sending personalized newsletters, campaigns, and operational messages tailored to your customers' unique needs and interests.
If done right:
However, getting this right is not easy since more than half of opened emails are deleted within 2 seconds. But you can probably imagine why. The main reason is irrelevance.
When people receive irrelevant, pushy, salesy, and "not what I signed up for" content, these emails go straight to the garbage can. Because people want emails that solve their problems, offer them value, and address their needs, not multiply spam.
Download our free guide on email marketing best practices
Here are a few ways you can personalize your email marketing strategy:
Use their first names. As Dale Carnegie once said: "Remember that a person's name is to that person the sweetest and most important sound in any language."
Communicate like a human. You have the privilege to access a person's inbox, so use a language that's relatable to them, use a friendly tone, and break up your messages to be more scannable.
Target content to solve a persona's problems. Every email should be sent to a segmented list of contacts (personas) based on their interests and needs.
If you can include these into your email personalization strategy, you'll avoid making the same mistake as 89% of marketers. Meaning you must segment your email list to create a tailored, customized message.

To simplify your email marketing, try to use a platform with segmentation, so that you can:
Create and segment mailing lists,
Use targeted lists directly from your database,
Schedule and start email sending,
Track people's responses.
This will help you to create, send, and test effective email campaigns.
3. Create meaningful Opt-in forms & Thank You pages
While everyone has different methods and strategies to collect information from a lead, 96% of businesses agree that this one input is absolutely critical – the email address!
According to DMA, email marketing can have an ROI of $40 for every dollar spent.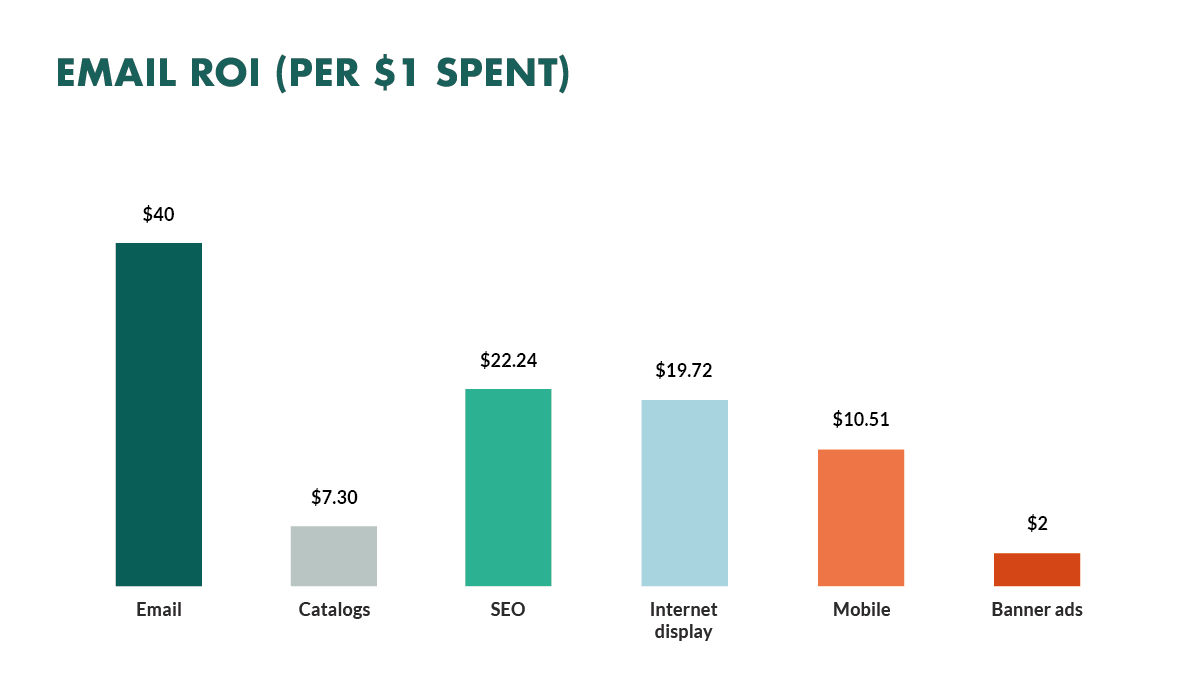 The key to collecting emails starts with personalizing your opt-in forms.

Opt-in forms are the cornerstone of an effective lead nurturing and email marketing strategy. That's why it's best practice to encourage visitors to hand over their email. This involves creating something of value for your visitors and offering it to them for free.
But offering free stuff is just one trick.
If you want to attract high quality leads, you must also tailor messages toward a visitor's specific interests and actions. You can use behavioral and contextual data to design your opt-in strategies so that they address a customer individually.
Having access to such "personal" information about customers allows you to craft personalized messages for the opt-in forms that appear on at the right time, in the right place and address the right person. This is how you create value and get hold of those precious email addresses.
Now, before you think there's nothing more to be done, a Thank You page is a valuable opportunity to build a deeper relationship with your prospects or customers.
You can use a Thank You page to personalize experiences by:
Linking to relevant, high performing content
Encouraging social sharing or subscribing to your social media
Requesting them to complete a survey
Providing a discount, promotion, or special offer
Adding social proof to enhance credibility and trust
While it's important to collect emails to increase the number of leads coming to your business, personalizing your opt-ins and thank you pages can help you keep your lead quality high. To improve the quality of your interactions, focus on strategies that put long-term business relationships first.
Sales Personalization
Personalization in sales involves tailoring a pitch to accurately address the needs, pain points, and challenges of a customer, all while making them feel valued.
In other words, personalizing your sales team's activities helps them understand customers with greater efficiency, improve conversations, and convince qualified leads that what you sell is the best option that meets their needs to a tee.
The challenge?
Most sales professionals do not use personalization,
In fact, only 13% of businesses are personalizing the sales experience – making it the weakest area of personalization compared to marketing and customer service.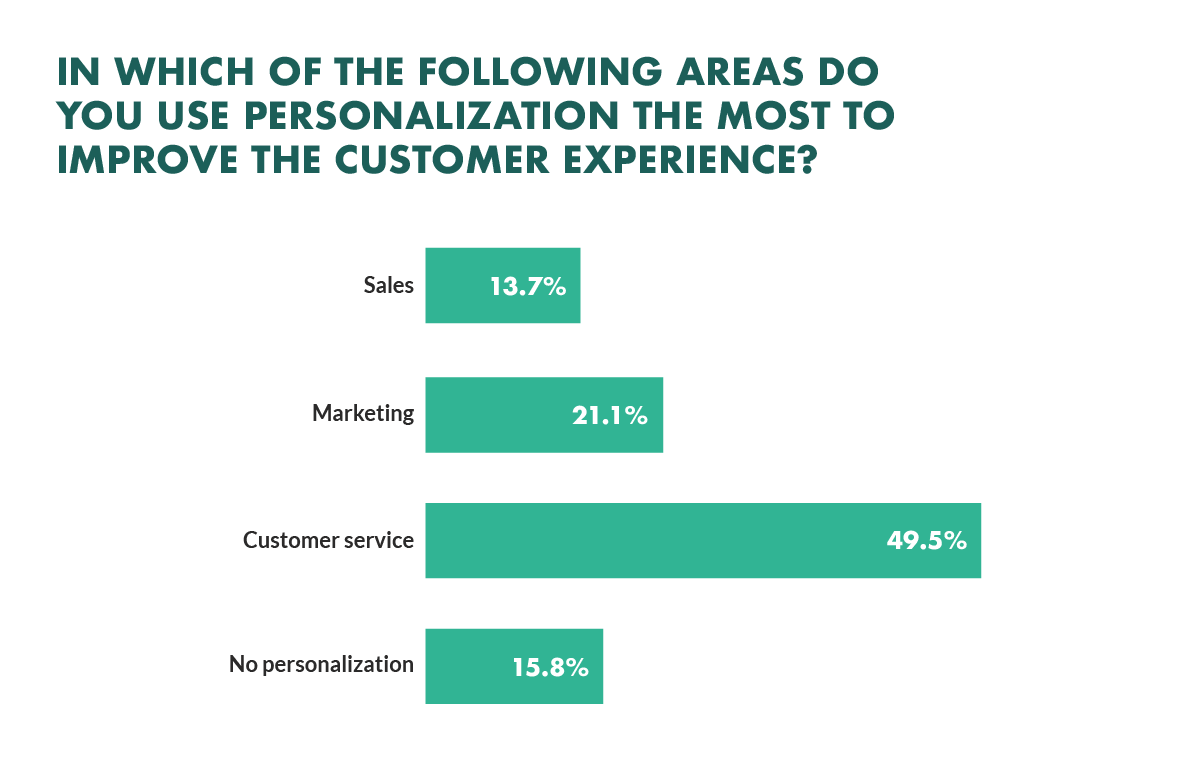 Here's how your sales team can use personaliztion.
4. Turn unknown visitors into hot leads
While marketing operates on the "one-to-many" principle, the sales experience is very much "one-to-one". That's why personalization is so important in earning people's trust if you want to create a sale.

In fact, 84% of consumers say being treated like a person, not a number or a sales target, is very important to winning them over.

If you want to help your sales team treat prospects and leads as people, you need to makes sure your sales reps know as much as possible about people visiting your website. This way, salespeople can recommend products and resources that fit your visitors' interests, actions, and behaviors.
Tracking a visitor's behavior on your website allows you to see how people interact with your site, what content they browse, and how their initial journey with your business looks like.

With SuperOffice, you can quickly identify the companies and people visiting your website with an app called Leadexplorer.
Apps like Leadexplorer help your sales team to:
track website visitors, see their online behavior and identify companies;
score leads based on what they do and the time they spend on your website;
and enrich customer profiles with meaningful information collected from various sources.
All this information, in turn, empowers your sales team to maintain personalized conversations and offer better experiences.

Instead of going to make a demo or making a discovery call based on a contact's form submission alone, you now have a database full of relevant information based on real website interactions. Equipped with this knowledge you can better prepare for sales meetings and offer real (not hypothetical) value.
5. Chat with prospects in real time
Any time a visitor interacts with your website, you need a salesperson who's ready to strike a conversation. Well, that's exactly what you can achieve with live chat.
In the past, live chat was a feature that seemed nice to have but not easy to integrate into a website. Those days are gone, and companies that use live chat on their website see an increase in conversations, conversions, and customer retention.

Here are few live chat statistics that show why:
41% of consumers prefer live chat support, versus 32% who prefer phone support, 23% who prefer email support, and 3% who prefer getting support via social media.
40% of buyers who use live chat are more likely to make online purchases (versus 22% of buyers who had never chatted).
51% of consumers are more likely to stay with or buy again from a company if they offer live chat.
The power of live chat gives your sales team the ability to communicate one-on-one with visitors and:
Build stronger connections by welcoming visitors, speaking in their language, humanizing their online experience.
Have real conversations that get close and personal, address immediate needs and objections, and get to a faster and friendlier solution than browsing a website alone.
Achieve better results by delivering fast, more effective experiences that focus on customer satisfaction.
With SuperOffice Chat, you can create a personalized experience that offers immediate assistance or access to useful resources and content. If you have collected information from other touchpoints, such as web forms, emails, or phone calls, your sales team can use this to address a lead or customer's needs more effectively and accurately.
6. Personalized follow-ups
Did you know that only 1 out of every 50 sales are made at the first meeting?
The 1 person who is willing to buy at a first meeting is someone who has researched what they need and believes that your company can offer them the best solution. When they meet with your sales team, they are basically double-checking that your company is the right fit.
As for the other 49 people, they are not that ready. These potential customers are more likely to buy only once a certain level of trust has been established. And that's takes a lot of work and convincing.
Unfortunately, most sales reps give up.
An average sales rep only makes 2-3 attempts to follow up with a prospect.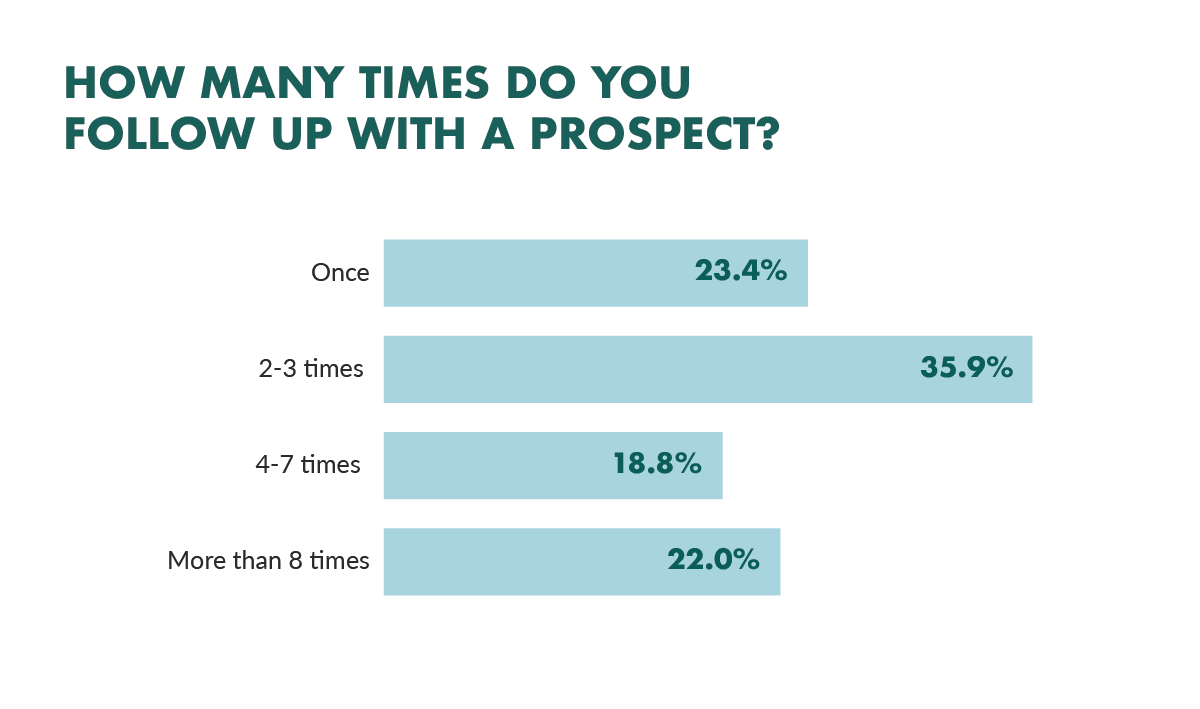 However, 50% of sales happen after the 5th attempt.
To improve your sales team's ability to onboard more customers and close more sales, you need to use CRM data.
With CRM data, you gain insights on a prospective customer's behavior, such as the number of:
Events they've registered for
Support tickets they opened
Product demos they requested
Email campaigns they engaged with
Web pages they visited (via Leadexplorer)
Sales meetings they booked
With these insights, your sales team can significantly improve their sales rates by personalizing follow-up emails.
For example, tracking a prospect's activity on your website reveals the pages or posts they are looking at for more information. This information will help your sales team tailor a follow-up message by mentioning their product interests and addressing any concerns they may have.

According to Backlinko, just sending a single follow-up can increase your response rate by 65.8%. And a little personalizing trick of including the prospect's first name in the subject line can boost open rates by 29.3%.
Customer Support Personalization
Today, exceptional customer support boils down to simply knowing your customers and treating them as individuals.
Whether you're a retailer providing customer support in person, or a B2B business with a devoted call center, here are some strategies your support team can use to personalize customer experiences.
7. Provide context-based support
If you're looking to improve your support team's ability to respond to customers, focus on contextual conversations.
By definition, contextual communication means that both your customers and your support team are completely aware of all aspects of a conversation.
Let's say you receive a call from a customer. Your support team answers it and learns your customer is asking for an update about their ticket inquiry. Instead of asking the customer to repeat themselves, your support team knows exactly what they need, the problem they're experiencing, and is able to say how soon it can be fixed.
Context-based support helps eliminate time-wasting of trying to resolve the context of the conversation – which is always a negative experience.
And since 86% of customers are likely to switch companies after just 1 bad experience, offering contextual support can simply prevent your customers from leaving!
Customer context gives your support team the relevant information they need to provide faster, more personalized responses to your customers.
With SuperOffice Service, you can use CRM data to gain visibility into your customers' previous inquiries and conversations.
The solution allows your support team to access all customer conversations in one place, quickly find inquiries by checking the tracking numbers, as well as assign priority or expert service to certain customer groups.
In a nutshell, context is essential in customer relationships as it helps remove ambiguity and frustration by quickly and effectively serving the customer's needs.
Discover the 5 secrets to great customer service
8. Target customer needs with a Knowledge Base
Customers want answers immediately, and the best way to give them what they want is by offering a self-service approach to customer support.
One of the easiest ways to do it is to create a Knowledge Base – a centralized collection of all the critical information about your business and products.
Here are a few tips to help you create a customer service Knowledge Base:
Define the core elements of your business and its products or services
Create your Knowledge Base content
Add visuals to make your Knowledge Base easier to read
Publish your Knowledge Base
Analyze and request feedback to improve your content
Building and maintaining a reliable Knowledge Base is an effective way for you to provide a high-quality, post-purchase service to customers.
9. Solve customer complaints immediately
When a customer has a complaint or encounters a problem, they expect you to always be there to help them.
One of the key frustrations for customers is when they don't get the answer they're looking for.
Did you know that 33% of customers feel most frustrated when they have to wait on hold, and another 33% are most frustrated by having to repeat themselves to multiple support reps?
To deliver personalized support that exceeds customer expectations, start by asking yourself these two open-ended questions:
What do I know about this customer? (prepare)
What do I think this customer will need next? (anticipate)
This is where an integrated CRM system can help by automatically creating support tickets and providing a database of information on a customer's past purchases, interactions, and messages.
Support teams that have access to the entire picture, instead of the immediate problem, are more capable of:
Providing consistent, ongoing and timely support
Increasing the lifetime value of customers
Ultimately, companies should see customer support not as a cost, but as a sales opportunity to differentiate themselves and earn more long-term business over and over again.
Final thoughts
Personalization is no longer a buzz word because companies that realize how important it is are capitalizing on it by offering better experiences for their new and existing customers.
When executed correctly, personalization can boost revenue by 15%, reduce acquisition costs by as much as 50%, and improve the efficiency of marketing spend by up to 30%.
Personalization is not an overwhelming task, requiring thousands of dollars in investments.
Successful implementation starts small, but the results generate exponential impact and continue to accelerate as marketing, sales, and customer support play their part. As you develop new strategies to personalize your business, you will find new and exciting ways to give your valued customers even better experiences.