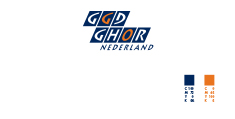 The Challenge
The law states that local authorities are responsible for supervision and enforcement over childcare centers, pre-school nurseries, registered child minder agencies and facilities for child minding. The GGD carries out inspections on behalf of local authorities.
The project workers at GGD GHOR Nederland respond to around 3,000 questions every year. Before the arrival of SuperOffice they used a central mailbox. The folder structure in the email provided no insight into client's contact history. As a result, responding to questions, creating reports and filtering was very labor-intensive.
The Solution
GGD GHOR Nederland opted to implement the customer service solution SuperOffice Customer Service.
SuperOffice automatically processes all incoming emails and allocates each one a file number. The file can be automatically assigned to the right case worker on the basis of subject and topic. In addition, there is always up-to-date insight into outstanding questions, the number of questions per topic and which GGD (region) asks the most questions. The self service portal of SuperOffice is fully integrated with the existing GGD Knowledge network. The inspectors can search directly in this portal in frequently asked questions, ask new questions and view current and closed files. In the portal they can also consult documents and work instructions.
The Results
Since September 2013 GGD GHOR Nederland has been working with Customer Service.
The provision of information to inspectors has improved considerably. The analyses are worthwhile and provide points of reference for support which is tailored to each individual GGD. "We are on the right track but we must certainly invest time to further optimize the implementation of SuperOffice Customer Service. The case workers also experience the value of this and that will take a little time as answering questions is a task they carry out in addition to their other duties. Fortunately we are convinced that by using it we can also work much more efficiently", states Albertine Klein Velderman.
Link between self service portal and GGD Knowledge network
Easy reporting by monitoring activities
More efficient working by allocating a file number
Right case worker/specialist/specialist for the right question
Insight into the client's contact history
Want to know more about the secrets behind the growth of these companies?
Sign up to our newsletter to receive more original content in your inbox, designed to help you turn relationships into revenue.