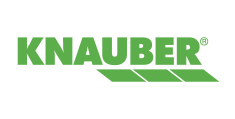 The Challenge
Founded in 1880, The Knauber group is based in Bonn and operates in the Cologne / Bonn area and in the Northern part of Rhineland-Palatinate (Germany). In addition to their energy business, they also own 7 leisure markets.
With their wide range of services, Knauber Energie works with both business and private customers. And with the support of strategic partnerships, like their partnership with Essomobil, they can offer their customers a wide palette of technical gas and lubricants.
In the past, Knauber Energie struggled with a consistent workflow, which led to extensive processes and work arounds. This led to delays, because of the continuous back and forth between the head office and their sales team. A lot of key information was stored in the head of the employees, so when someone was sick or on leave, no replacement was possible, and so communication gaps occurred leaving customers on hold, which caused delays in the signing of contracts.
Knauber have high sales and growth targets, and so to survive in this competitive market, they started to look for a suitable CRM system.
The Solution
All the important information that an employee needs to know about the customer is archived in SuperOffice and is accessible.
After a three month evaluation of the CRM software market, they happily chose SuperOffice. One of the main reasons Knauber chose SuperOffice was due to how easy it was to connect data to their ERP system.
To begin with, they introduced SuperOffice to more than 40 employees. After the employees completed training, they created useful templates for quotes, which now make their daily work easier for broth at the office and in the field. And best of all, important customer information, such as pricing, agreements and sales figures is no longer stored in their employees heads, as this information is archived in SuperOffice – meaning anyone within the company can access it.
The Results
Knauber noticed an immediate change in the work place and in the way the sales teams performed their job. Now, closing deals is 30% faster due to effective work flows and processes within SuperOffice. At the same time, the sales teams are more productive!
"In the past, key information was missing or lost due to human error and so this lead to inaccurate pricing. With SuperOffice, we can now deliver more accurate pricing to our customer, which is important as it helps close more deals!" Hasan Cürük states happily. "This shows that we have decided for the right solution!"
Saving 30% of time when closing a deal
20% more accurate calculations and pricings
30% increased productivity in the sales department through optimized workflows
Central information and data management
Better connection between back office and field crew
Want to know more about the secrets behind the growth of these companies?
Sign up to our newsletter to receive more original content in your inbox, designed to help you turn relationships into revenue.