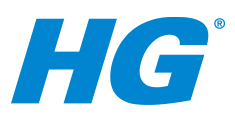 The Challenge
HG International B.V., located in Almere, is successful producer of specialized, high quality cleaning and maintenance products.
Approximately 300 different HG products find their way from the factory in Almere to millions of satisfied consumers in more than 45 countries. In HG's customer services department, staff are required to have in-depth knowledge of HG's products.
They assist consumers with all sorts of questions concerning types of applications and the correct use of the products. Customer service operates in various languages. In addition to questions it also deals with complaints and refunds. Around 10,000 requests are received every year by telephone, email and post. To further optimize the customer experience and to increase the department's efficiency a solution to automate customer service processes was required.
The Solution
The SuperOffice solution was utilized for the automatic processing of incoming requests and the accrual of a knowledge bank containing product information, product tips and frequently asked questions.
As a result new employees can be trained more quickly. SuperOffice Customer Service is equipped with a link to contact forms on the various websites, a link to the product database in Microsoft Axapta and direct links to product information such as labels and consumer information sheets. Linking product information to the requests means the consumer can be offered swifter and more focused support.
The Results
Following efficient implementation, the entire process revolving around customer service is now automated.
In addition to monitoring response times to potential urgent questions, this also provides more insight and more of an overview. In particular it provides insight into the entire communication concerning a case. Reporting provides an overview distinguishing the numbers of questions versus complaints, but which also relates to individual products. This identifies trends which ultimately enables a better service for customers.
Greatly improved communication with the customer
Automatic processing of all contact forms
Link to product database in ERP
Simple reporting
More efficient operation
Sharing product knowledge
Want to know more about the secrets behind the growth of these companies?
Sign up to our newsletter to receive more original content in your inbox, designed to help you turn relationships into revenue.