As someone working in customer service, what is your north star guiding your everyday tasks?
You know it's somewhere along the lines of helping customers – but do you know how, exactly?
Your goal is to help customers get their problems solved along the path of least resistance.
Even a small inconvenience, like an extra click or redirecting customers to multiple pages to locate an email address, can significantly impact customer satisfaction.
In this article, we're exploring 7 tips to providing excellent customer service with the help of SuperOffice – all without sacrificing extra time or energy from you or your customers.
Tip 1: Create clear communication channels
Imagine a world where reaching out for support is hassle-free.
Your customers want to connect, share, or get assistance, but they're not looking to navigate a maze of options. They're looking for the easiest way to get their problems solved, and that's where SuperOffice can come in handy.
With email, chat, and web forms, your customers have plenty of options when it comes to reaching out. They can use the channel that suits them best, knowing that every inquiry finds its way to your team – and comes back to them with helpful answers that address their needs.
One way to get immediate communication and feedback from your customers is to set up a live chat via SuperOffice embedded on your website.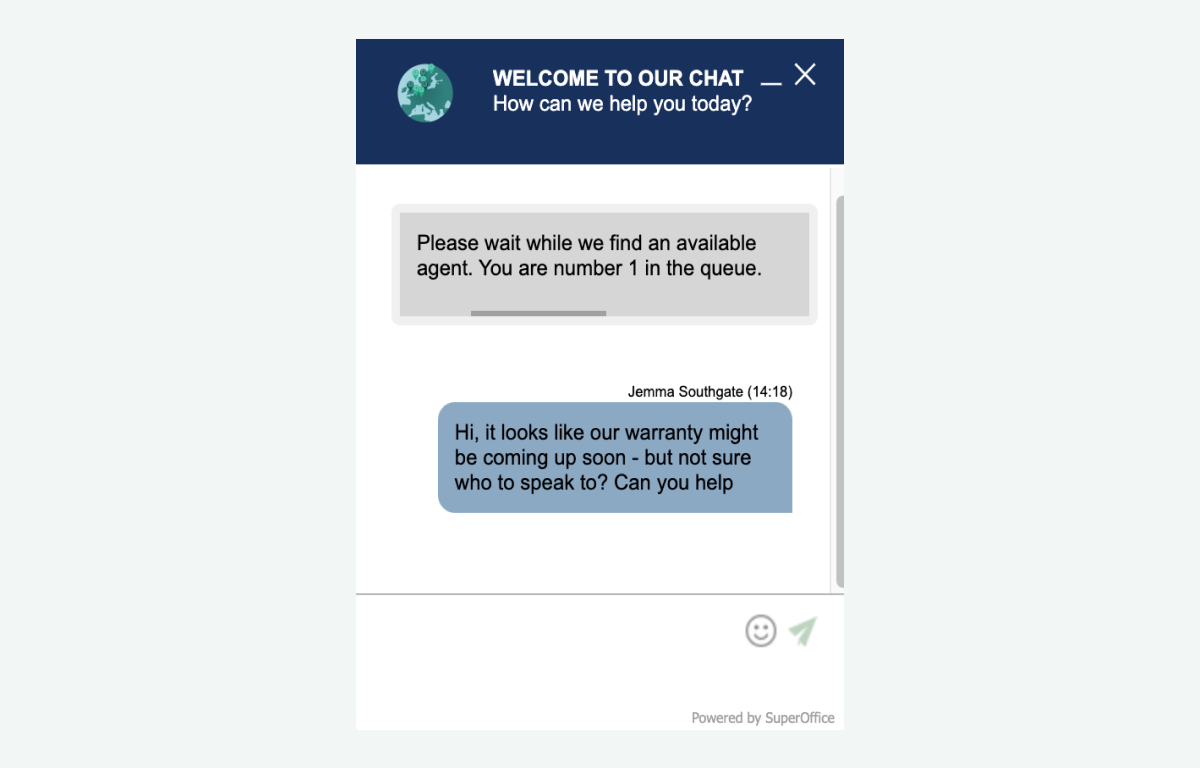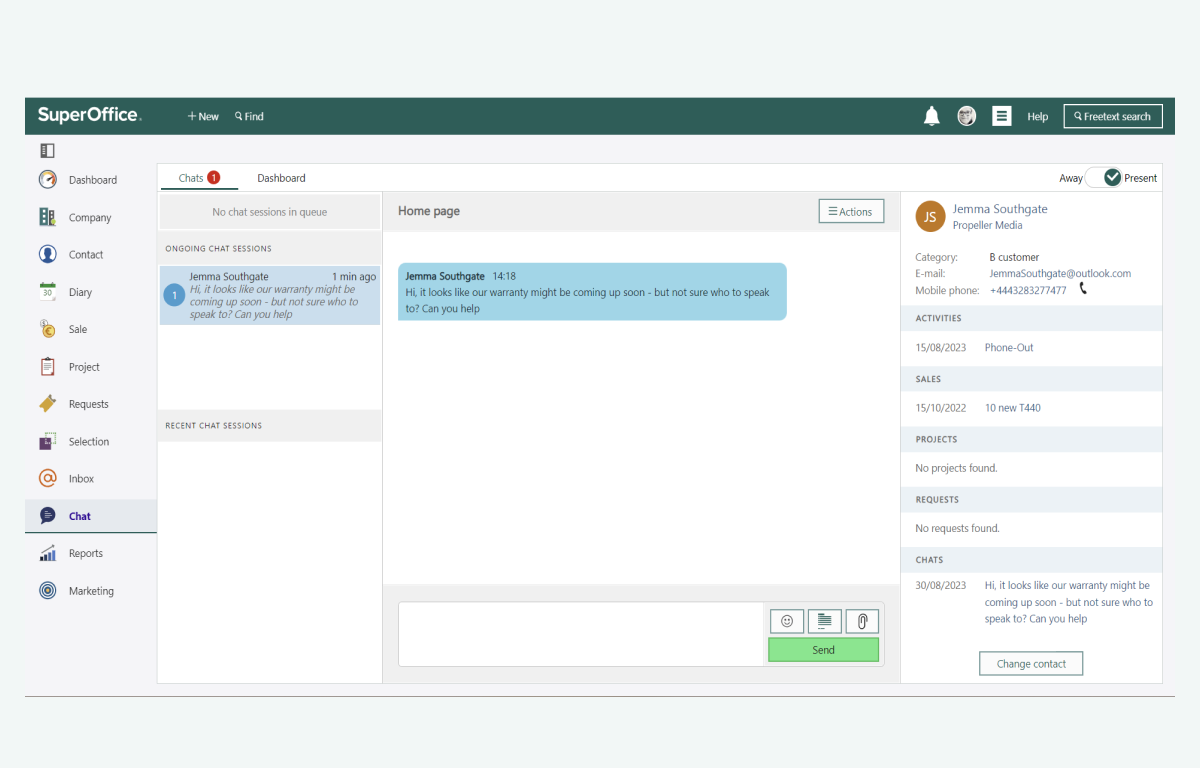 Live chat provides a more intimate customer service experience, where the customer can get a hold of your agents in real-time and gain instant assistance. With chat, customers have a written record of the interaction, making it easier to refer back to the information or instructions provided.
Tip 2: Work smarter with automation
Time-saving strategies are essential to providing timely and higher-quality customer service and SuperOffice's automation features are here to help.
Think of automation as your trusty assistant, handling routine tasks so your team can focus on providing quality solutions to customer inquiries.
By setting up rules in SuperOffice CRM, you can automate repetitive processes, freeing up valuable time for more complex challenges.
Create "if-this-then-that" workflows within SuperOffice CRM to automate repetitive tasks. This approach ensures that routine actions, like acknowledging common inquiries or providing standard responses, are taken care of without manual intervention.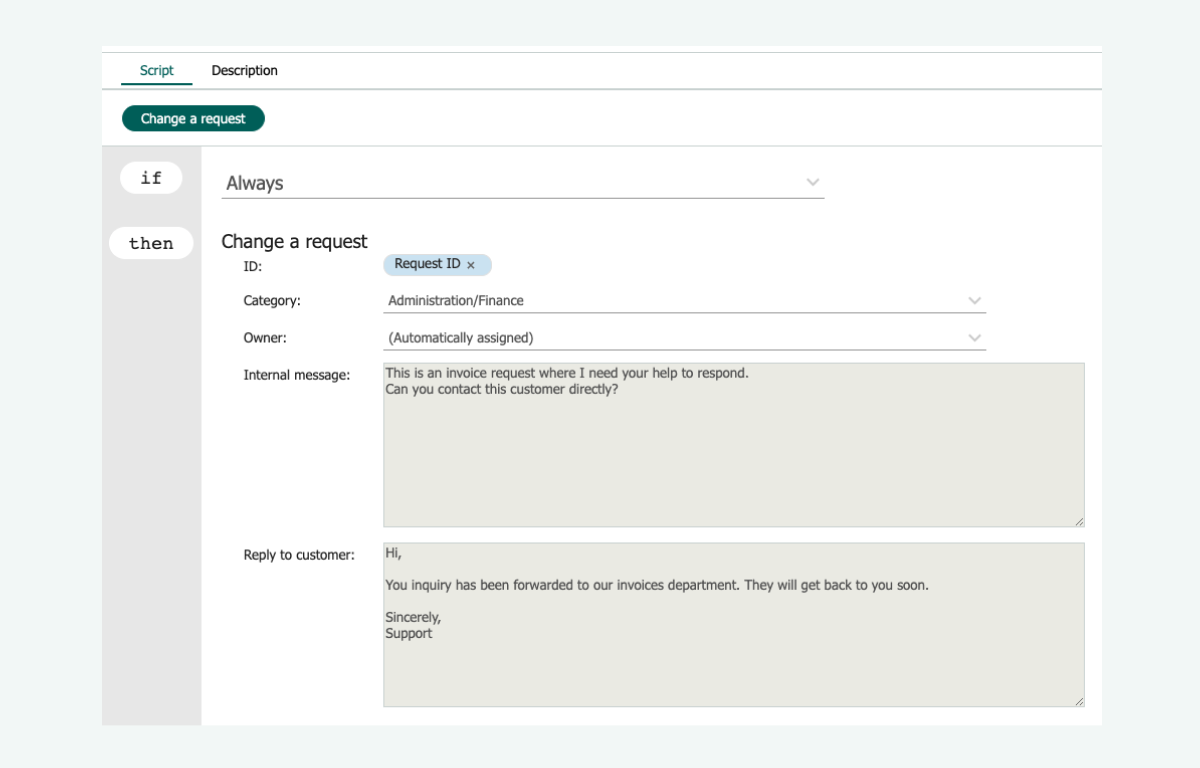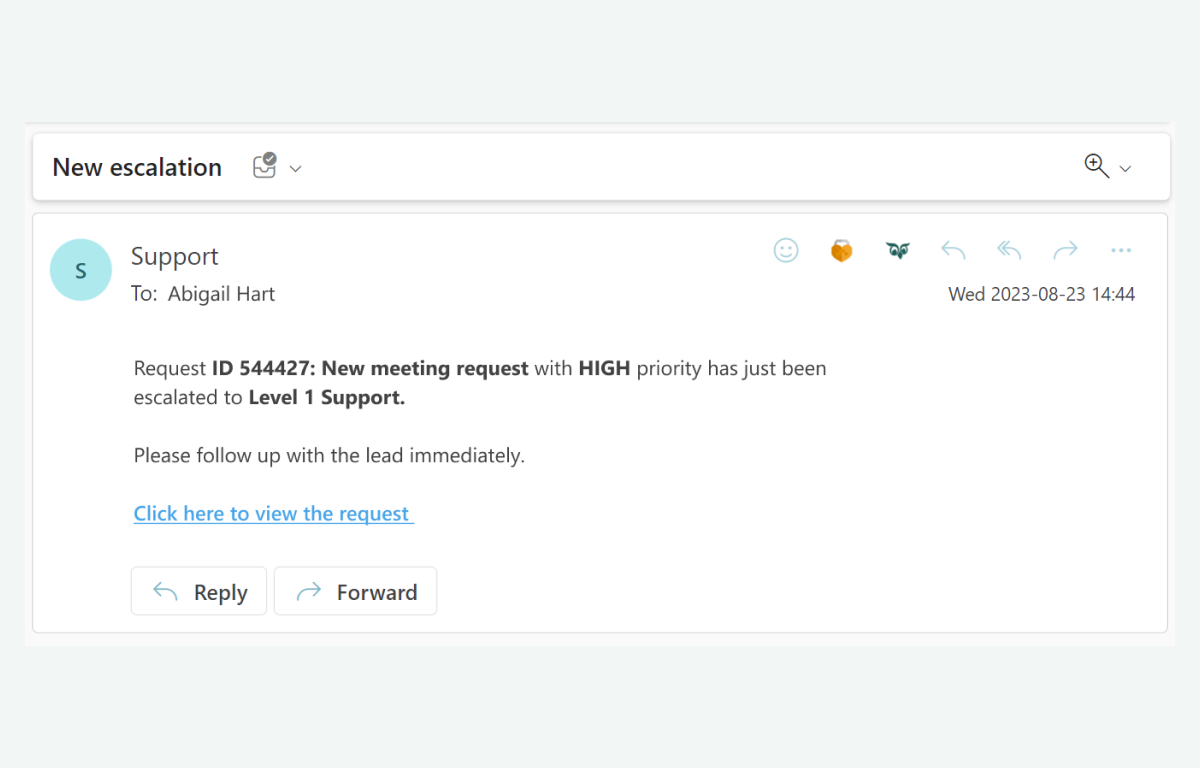 SuperOffice's auto-escalation routines add an extra layer of efficiency.
This way, critical tickets receive the immediate attention they deserve, allowing your team to stay on top of priorities.
The result? An experience that delights your customers, making them feel valued and heard.
Tip 3: Speed up responses
In today's fast-paced world, responsiveness is key.
According to Forrester Research, a whopping 77% of customers say that valuing their time is the most important thing a company can do to provide good customer service.
Picture this: You're on the move, but a critical customer request requires your attention. With SuperOffice's Mobile CRM, you can access customer information instantly on your device. You're able to answer and forward tickets efficiently, armed with real-time insights on the issue.
No matter where you are, you're always in the loop on the customer issues that you and your team are handling.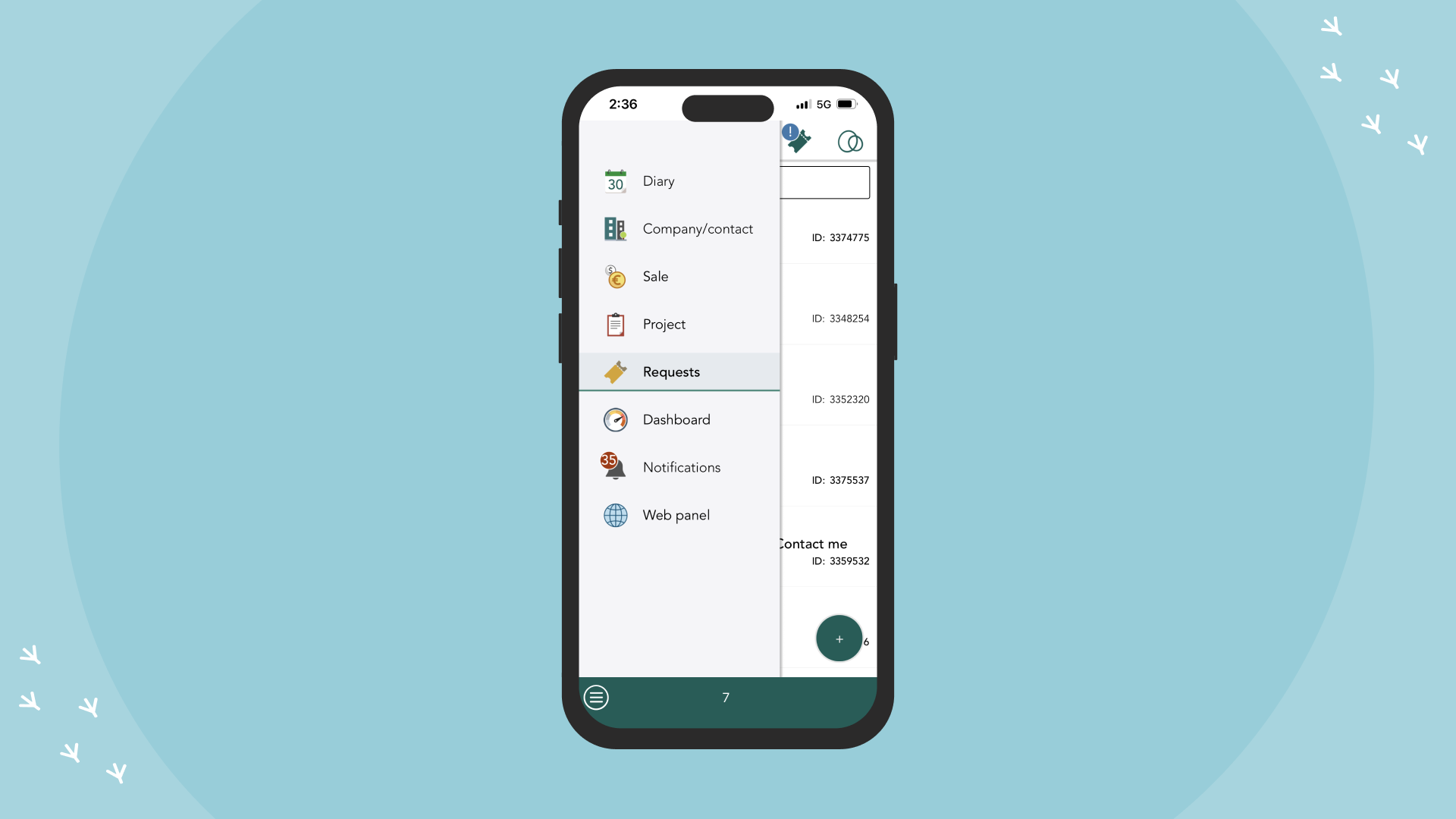 Noticing common requests that keep cropping up?
Or maybe you're just tired of writing the same thing over and over again, or wasting time digging through your inbox for "that one really good response to that exact question" you wrote a while back?
SuperOffice's reply templates help you speed up your responses by turning recurring answers into standard responses, ensuring consistency without sacrificing personalization or extra time.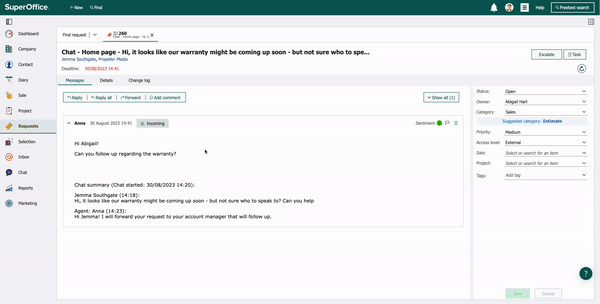 Your team will have access to a library of pre-written responses, ready to go. When a customer question lands in your inbox, you simply select the appropriate template, add any necessary personalization, and you've got a speedy, spot-on response. It's a simple yet powerful way to stay consistent at all times and better address customer needs.
Tip 4: Keep requests organized
Let's face it – it's difficult to juggle all your customer requests. Sometimes it can feel like the requests are never-ending, and to get to the bottom of the pile would require a miracle.
Here's the deal: Not all requests are created equal, and some hold more urgency than others.
SuperOffice's AI assistant can help with automatic sentiment detection in tickets, making it easier for your team to keep an eye on requests from dissatisfied customers.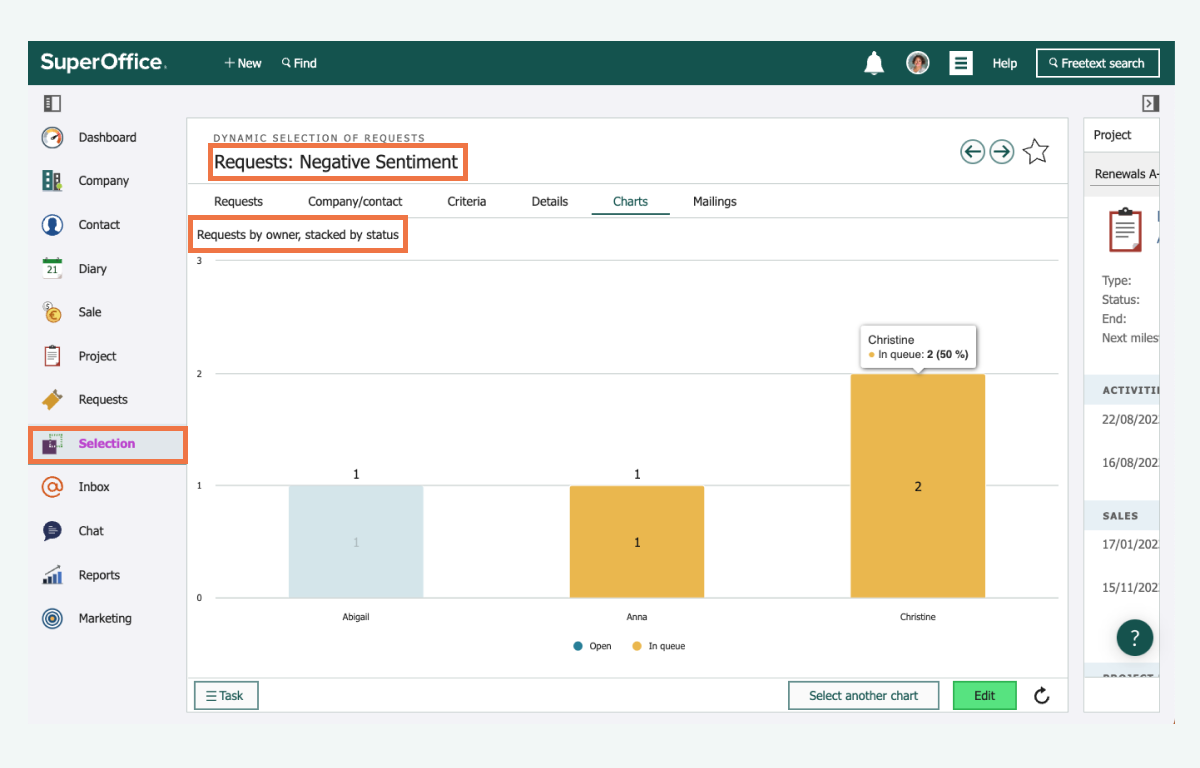 *Caption: With a visual report showing all requests with negative feedback, each agent can easily identify and give these requests higher priority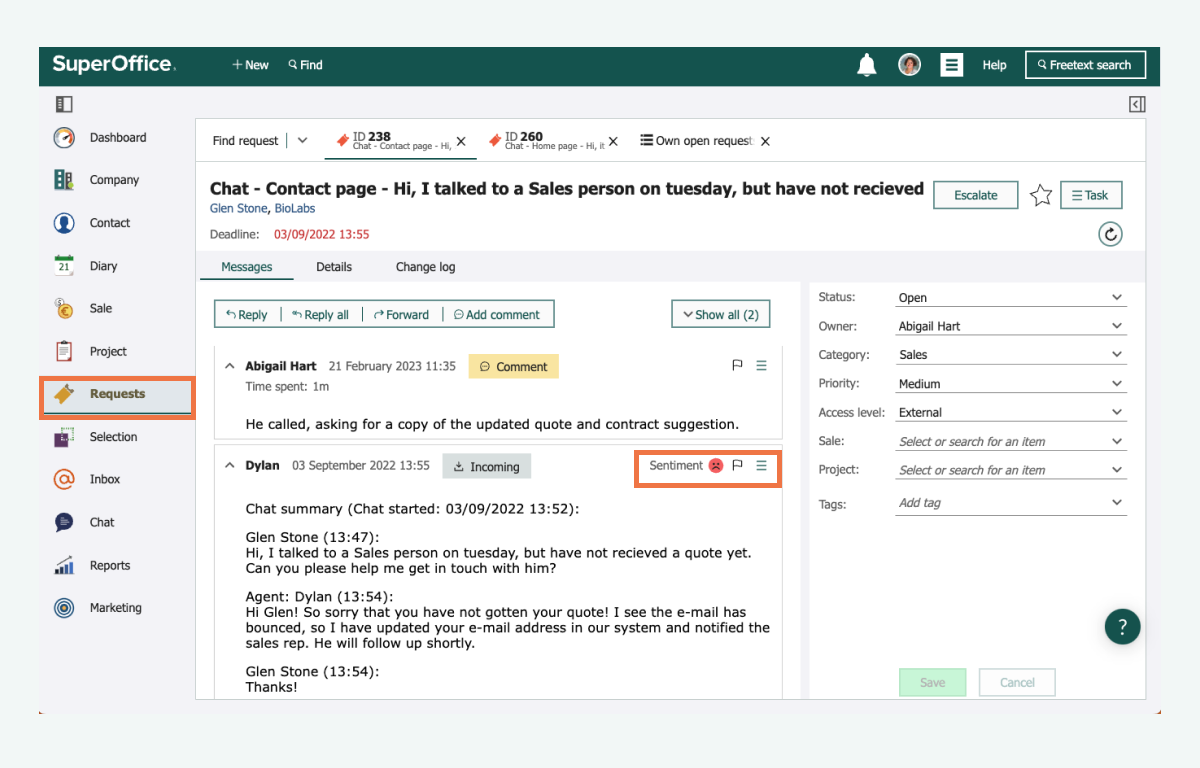 Establish your own routing criteria to ensure the most critical tickets receive immediate attention. Instead of sifting through endless tickets to prioritize, the next request in line is the only one that requires your focus.
The easiest way to truly keep all your requests organized is simply by handling any and all types of requests your company receives on one single platform.
By handling all your requests in SuperOffice CRM, your company gains a bird's-eye view of every inquiry, regardless of its nature and which department the request was initially sent to.
Many SuperOffice customers choose to handle their internal IT, HR, and Finance requests also within SuperOffice – making it the one-stop-shop for all request handling in their company.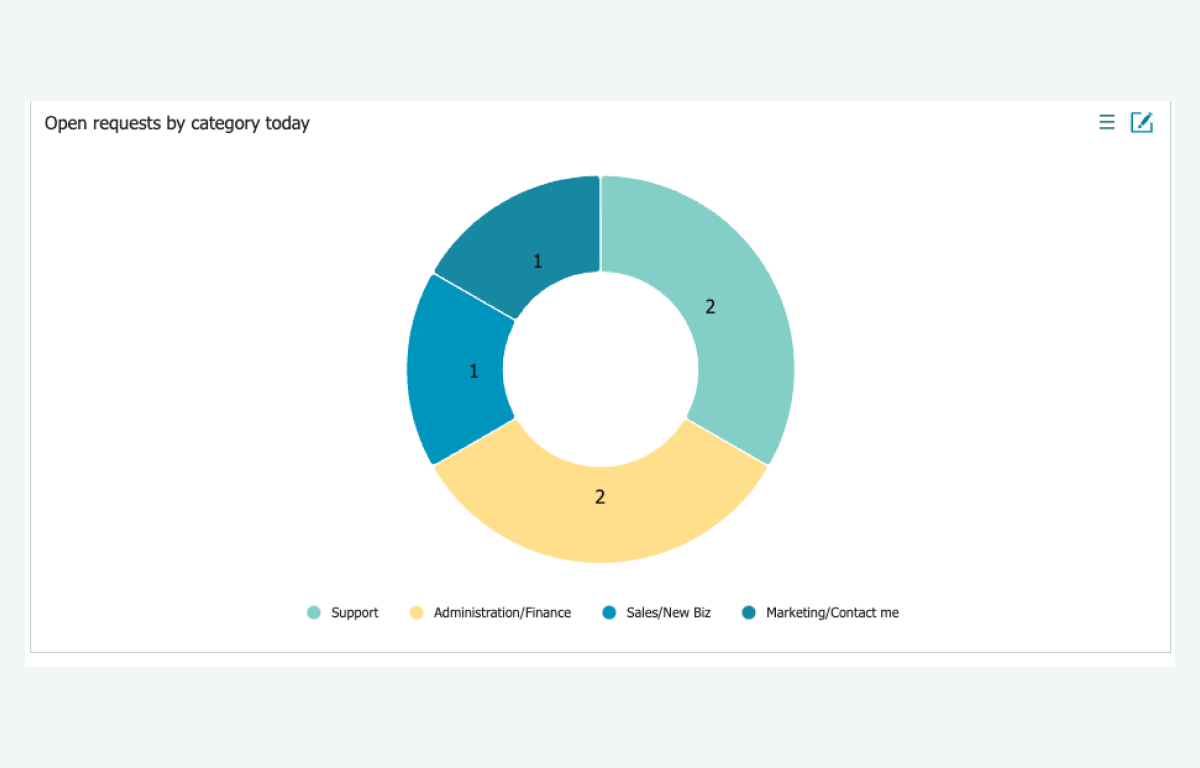 This consolidated approach eliminates any confusion that arises when requests are scattered across different systems and teams. You can not only promote better visibility and transparency across all departments handling requests but also ensure prompt responses and prevent requests from falling through the cracks.
The best part? Keeping both internal and external inquiries in one tool can often be a huge cost-saver for your business.
Tip 5: Resolve requests faster with customer interaction history
The biggest upside to using a CRM like SuperOffice to log and track all customer interactions is having access to a comprehensive profile for each customer, complete with their history, preferences, and interactions with your company.
With a complete view of customer interactions at your fingertips, SuperOffice empowers you to quickly address customer requests with a deeper understanding of each customer's unique situation.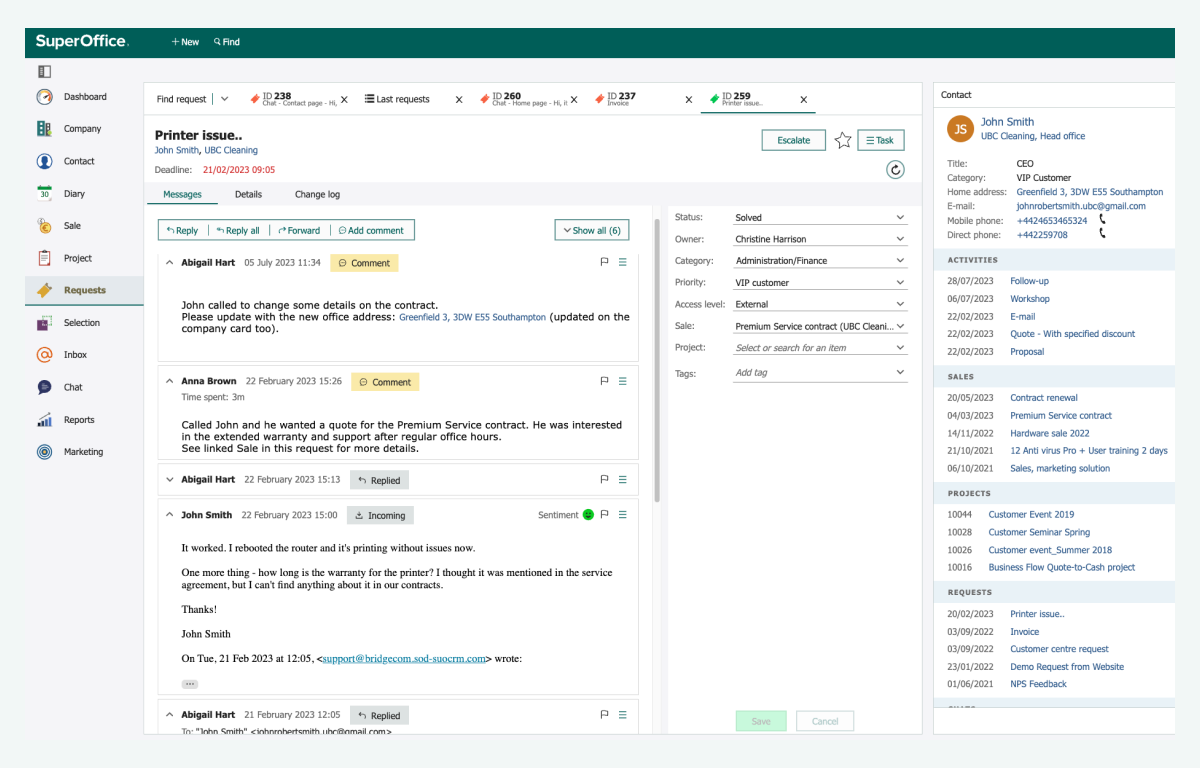 Let's say you receive a request from a customer asking for updates on the progress of his kitchen renovation and any potential adjustments to the project timeline. This is where SuperOffice's rich customer interaction history comes into play.
Because you now have a bank of all previous interactions with the customer, your SuperOffice system has logged all details about your customer's renovation project.
This can include specific preferences she communicated during the initial consultation, the type of materials she preferred, any considerations regarding possible design modifications, and even any internal notes jotted down by your colleagues who have been working on the project.
With this detailed history at hand, you can swiftly and accurately address the customer's inquiry without having to ask your customer for redundant information she may have already provided.
You know exactly where your customer's renovation stands and can now include any personal touches to the response by referencing their preferences, concerns, and project-specific milestones.
💡 Check out how our customer Vitec slashed their CS response time by 75% with SuperOffice CRM!
Tip 6: Proactively follow up
Nothing helps foster relationships with customers better than proactively following up with them after their ticket has been closed.
Following up with customers after solving their request is a critical customer service practice that goes beyond providing mere satisfaction – it solidifies trust, cultivates loyalty, and demonstrates a commitment to their overall experience.
Not only do you provide your customers with closure on the issue, reassuring that their concern has been addressed completely and to their satisfaction, but you are also signalling to your customer that their needs are genuinely valued to you as a business. This helps build rapport and can lead to long-term loyalty and, you guessed it – a stronger relationship with the customer.
Sometimes, requests may be more complex than they initially appear. A follow-up allows your customer to confirm whether the solution was effective or if they have any lingering concerns. This not only provides your team with valuable feedback, but also gives customers the opportunity to voice any additional needs or questions.
A follow-up can also be a strategic opportunity for introducing customers to other products or services that might benefit them (upsell or cross-sell). When done appropriately, this can result in increased sales and customer engagement.
SuperOffice CRM makes following up with your customers easy with the feedback loop feature. Once you have resolved a ticket, simply request customer feedback with one single click.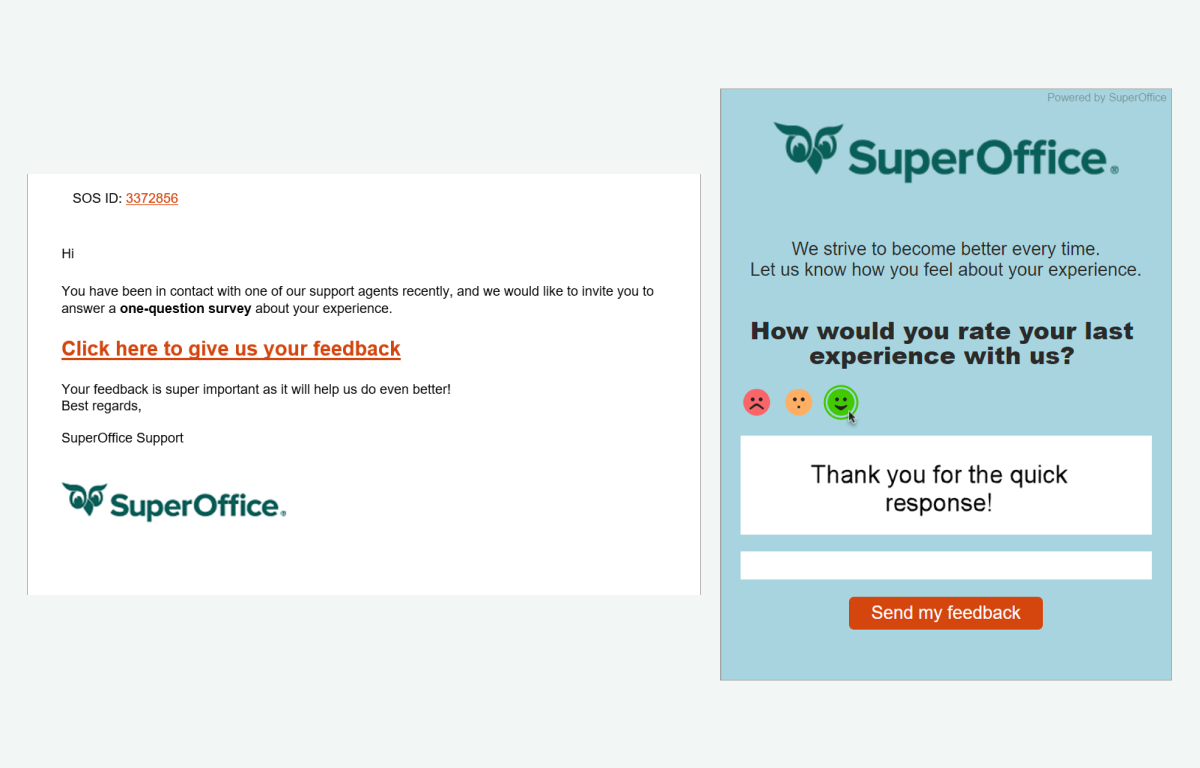 This then triggers an email sent to the customer, requesting for feedback on the case. Customer with their tickets resolved can provide a review of their experience, including any additional comments they'd like to add.
🎥 WATCH: How SuperOffice uses the feedback loop system
Make your customer service a competitive advantage by proactively following up with your customers. By doing so, you set your company apart and demonstrate a genuine commitment to exceptional customer care, potentially swaying customers to choose you over your competitors.
Still unsure? Check out our guide on how to write a great follow-up email (with examples!)
Tip 7: Empower customers with self-service
It's no secret that customers get frustrated when they're unable to find answers to their problems quickly.
Whether that's sifting through pages upon pages of your website or waiting days on end for an answer from customer service, your customers are looking for faster and less frustrating ways to solve the problems they encounter with your service or products.
Customers are increasingly looking to solve simple requests themselves without the hassle of reaching out to your customer service team.
The easiest way to empower your customers to find their own answers is by setting up a self-service portal on SuperOffice where customers have a hub of knowledge at their fingertips.
Instead of waiting for your response, customers can search through FAQs and find solutions to their queries in their own time without waiting for customer service opening hours.
You can also track what topics customers are searching for the most, helping you to refine and expand your knowledge base to further enhance their self-service experience.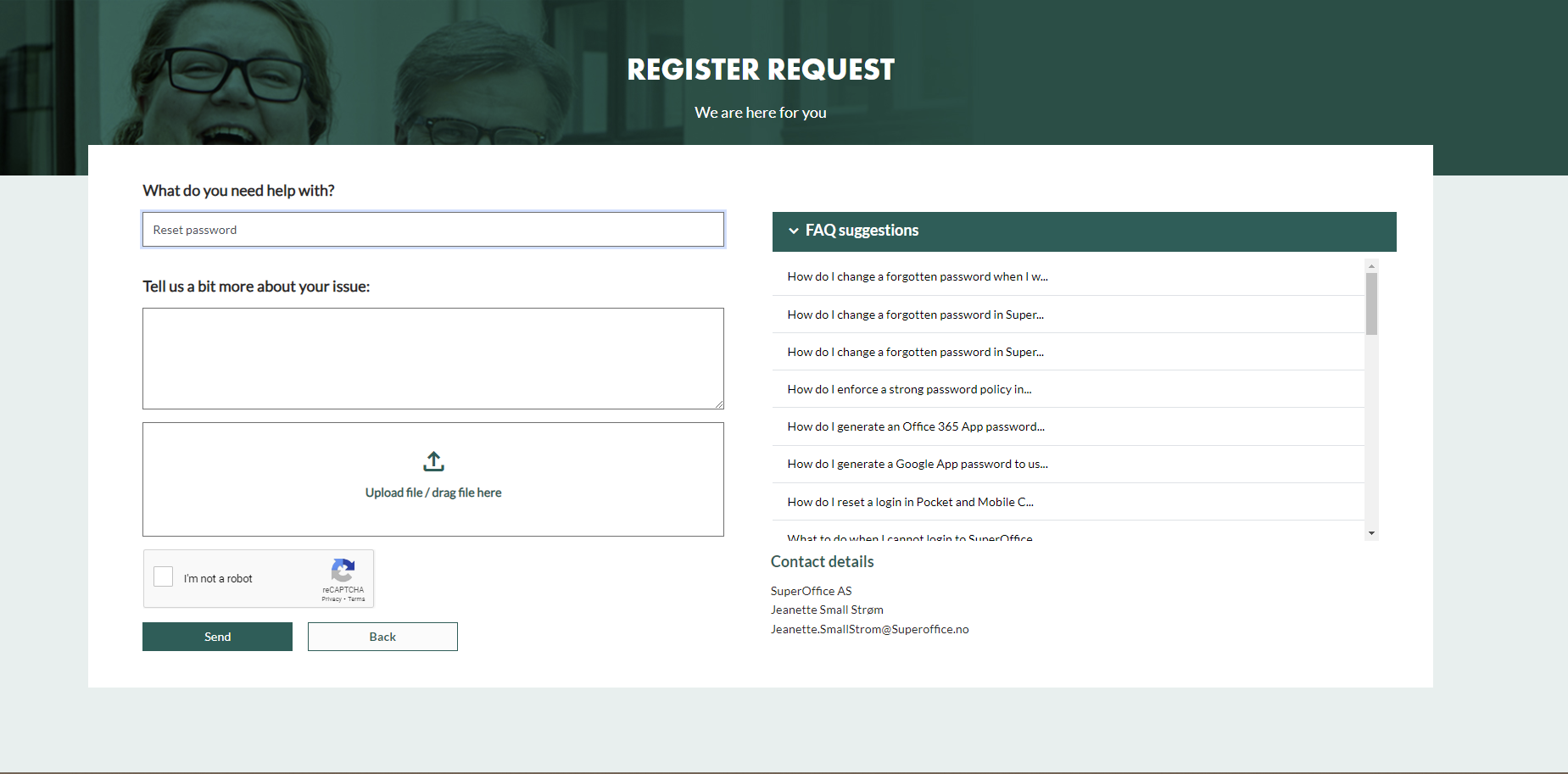 Customers also have a full overview on the status of their requests, all previous tickets and their respective answers. Having an overview allows your customers to stay on top of their own requests but also keeps all proposed solutions to them in one organized place.
Empowering customers to find their own answers is a strategic move that aligns with changing customer preferences and expectations of today.
Building a self-service portal offers benefits from improved customer satisfaction to increased operational efficiency and cost savings. It's a win-win situation for both your business and your customers.
I have the tips – now where do I start?
In a nutshell, these 7 tips serve as your compass for establishing robust customer relationships with the prowess of SuperOffice Service.
From crafting seamless communication channels to getting a helping hand from AI, each tip forms a crucial link in the chain of exceptional customer service. Prioritizing requests, speeding up responses, and empowering customers with self-service resources—all these actions work together to create a customer-centric strategy that helps you stand out from your competitors.
But remember, the key lies in implementation!
Taking action is the only way to transform these tips into tangible results for your business.
SuperOffice Service offers you the tools and framework to step up your customer service game.
By adding these tips to your customer service strategy with SuperOffice, you're not just delivering support; you're crafting experiences that resonate, creating lasting impressions, and building relationships that stand the test of time.
And the best part? By following these tips, you will be enabling your team to provide consistent and stellar customer experience in the least energy and time-intensive way possible.
Your journey towards exceptional customer service starts here – seize the opportunity and witness your customer service transformation unfold.