Post summary:
The cost of bad customer service
Key findings from 1,000 companies
7 Best in class customer service tips
Poor customer service costs companies billions of dollars each year!
According to Customer Engagement Index by [24]7 almost half of consumers will stop shopping with a company and move to a competitor within one day of having poor customer service.
If you deliver poor customer service, you will lose money.
When Bain & Company surveyed 362 firms in 2005 (a long time ago!), they found that only 30% organize the functions of their company to deliver superior customer experience.
Perhaps even more importantly, they found that 80% of companies think they deliver great service, whereas only 8% of customers believe they have received great service.
So how much has changed since 2005? How many companies now deliver great customer service?
That's what we wanted to find out!
In our recent customer service benchmark study, we identified how 1,000 companies manage customer support emails. All companies were scored based on speed, quality and tone, and we scored each response out of 100, where 1 was poor and 100 was excellent.
Findings from the study revealed that:
62% of companies do not respond to customer service emails;
9 out of 10 companies do not acknowledge or inform the customer that an email has been received;
97% of companies do not follow up on customers to see if they were satisfied with the response;
Only 2 in 10 companies are able to answer questions in the first reply;
4 out of 10 companies do not have an email address or phone number clearly visible on their website.
And what does it all mean?
It means that the majority of companies are failing to meet customer expectations!
However, there were several companies that stood out from the rest of the group.
These companies, what we consider "best in class", were able to deliver high quality support that ticked all the boxes for delivering great service. For these companies, providing excellent service is not just a buzzword, it's the lifeline to their organization's success.
So what can we learn from these companies?
And what do best in class customer service teams have in common?
Don't worry. We've got you covered as we've highlighted 7 common tactics from the top 10 best in class customer service companies below.
7 best in class customer service tips
By implementing these tips into your customer service procedures, you too can become best in class!
Let's dive right in!
1. Respond to all customer service questions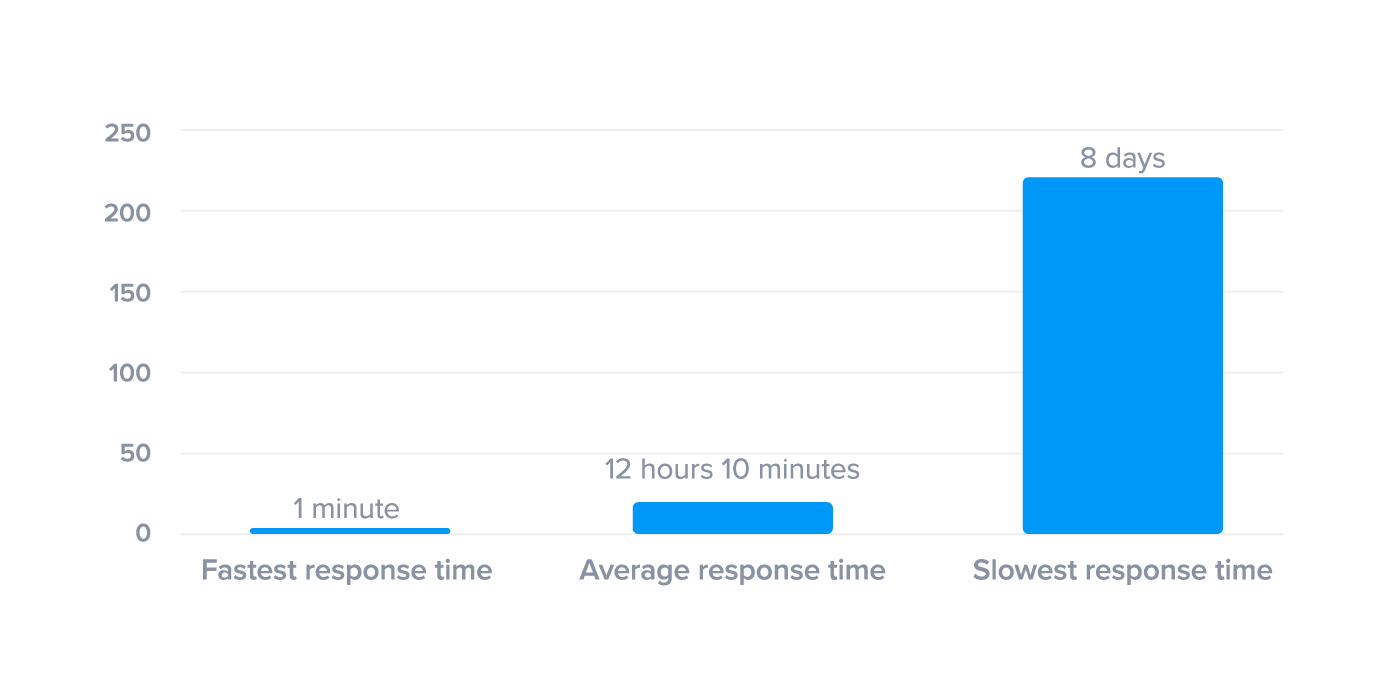 The average response time for the best in class companies was 3 hours compared to the overall average response time, which was 12 hours and 10 minutes. This means that the right department at the best in class companies received the request at the right time, and was able to handle it accordingly.
Furthermore, 62% of companies did not respond to customer support emails. Based on these findings, its' clear that the best in class customer service companies have the correct support procedures in place.
To respond to all customer support emails, start out by setting up rules in your customer service software or email client, to allow you to automatically forward a request to the correct department. Secondly, when a customer asks a question, don't ignore it. If you ignore your customers, they will ignore you and eventually shop elsewhere.
2. Use automated responses to acknowledge a support request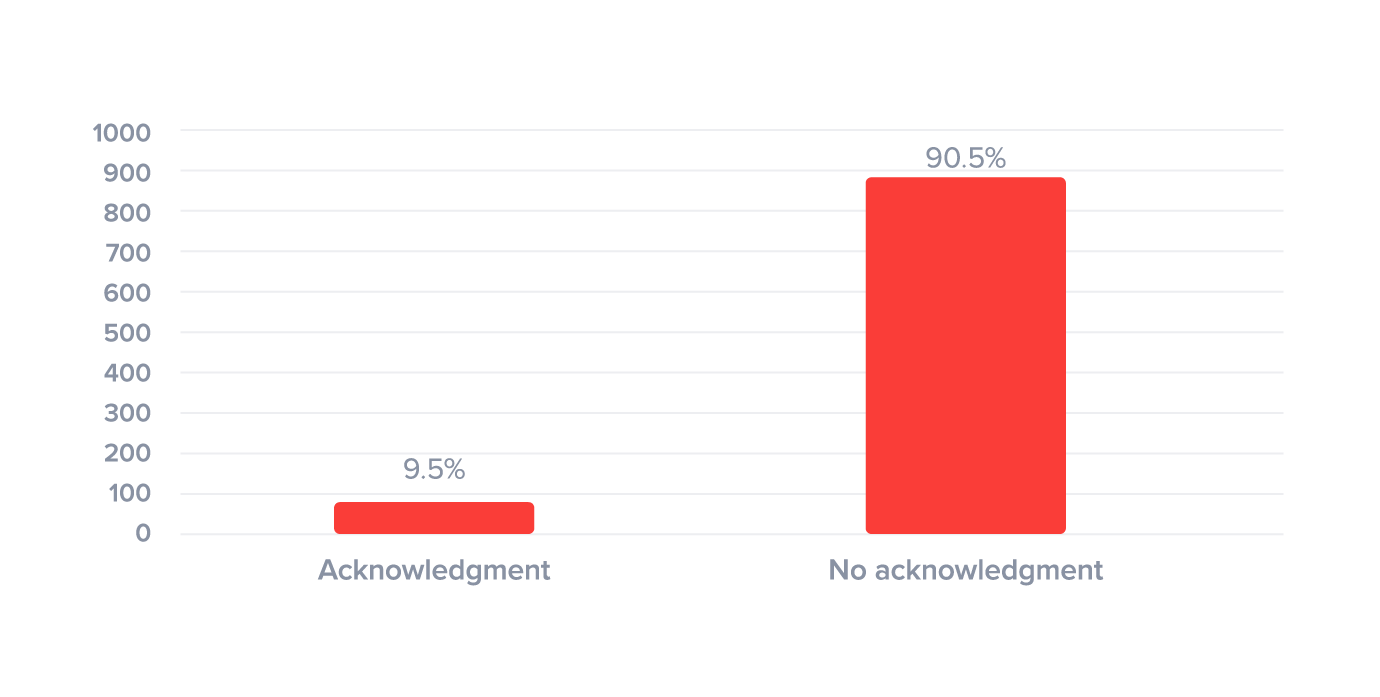 Best in class customer service companies let customers know that a support request has been received and is being handled. So when a customer contacts your company, whether through a web form or an email, make sure that an automated reply is sent to the customer to acknowledge the receipt of the email.
Our study found that 90% of companies do not use auto-responders or acknowledge that an email has been received. Ten percent of customers cite "waiting too long for a response" as one of the biggest frustrations when it comes to customer service. So don't make your customers wait!
Set up an auto-responder in your customer service solution or email client, and in the acknowledgment, use an email template that includes customer support working hours, a unique ID for tracking the request and supporting links to a self-service knowledge base or online FAQs.
3. Follow up to see if the customer is happy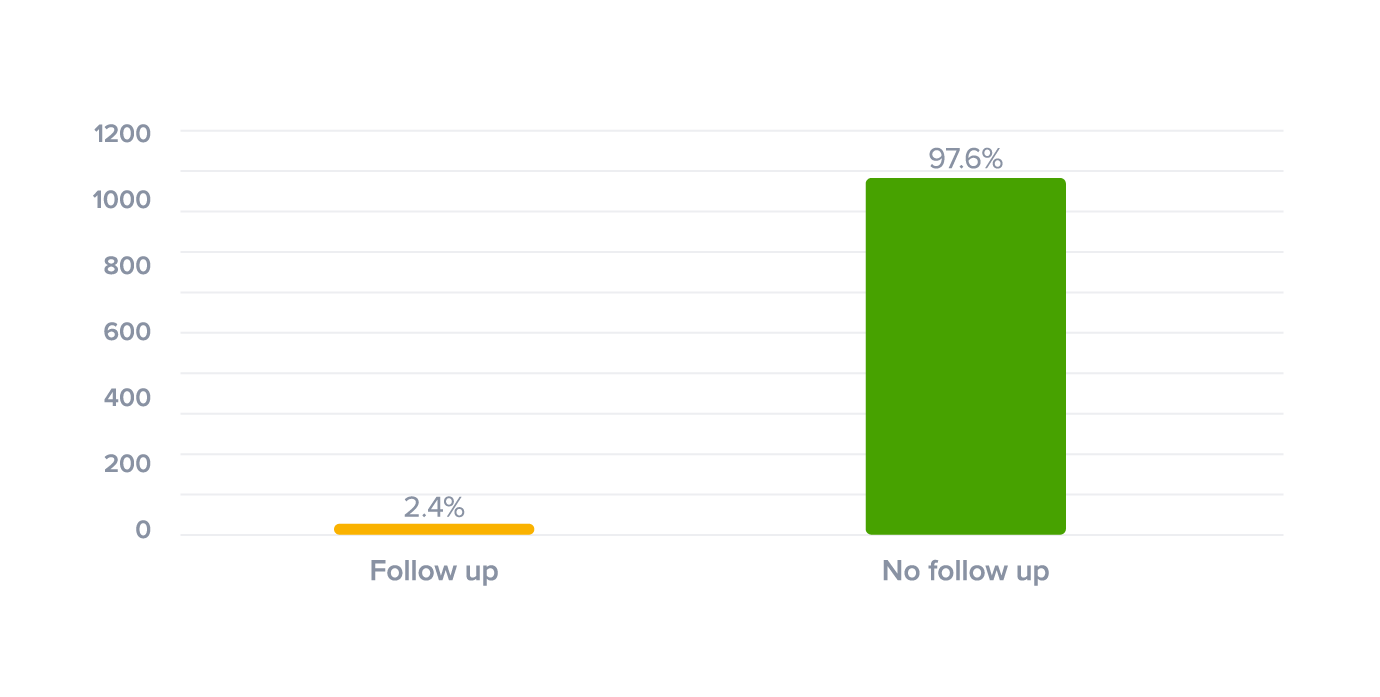 From all 1,000 customer support emails, only 2.4% of companies followed up to see if we were happy with their response!
As so few companies follow up on customers, this is an easy opportunity to get ahead of the competition. Just like an automatic acknowledgement, you can set the follow-up to be sent 3-4 days after your response to see if the level of service was satisfactory.
4. Answer all questions in the first response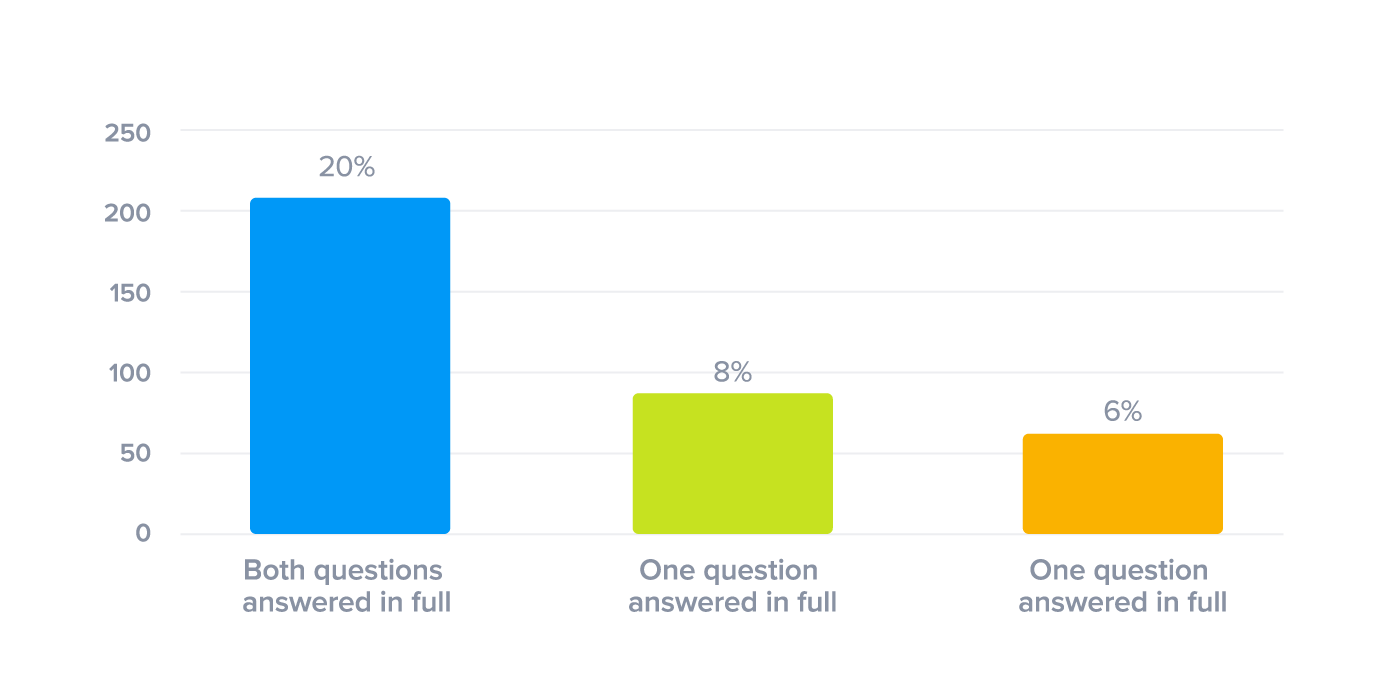 Only 20% of companies were able to answer the email in full upon first reply, and the best in class companies all scored 100% for first contact resolution, meaning that all questions were answered in full.
Whether there is a single question or several questions within an email, good customer service is about answering your customers in full. Otherwise, you risk annoying them!
When asked "What are the most frustrating aspects of poor customer service?" 47% of customers cite having to contact a company multiple times for the same reason, making it their biggest frustration.
If you cannot answer all questions, respond with the questions you can answer and then include a note that you will follow up on them with regards to any outstanding issues.
And while it might not always be possible to answer the email in full due to clarity or confirmation, the best companies were able to answer as much as possible, and support their answers with links to help sections to read more on their website.
5. Make it easy for the customer to contact support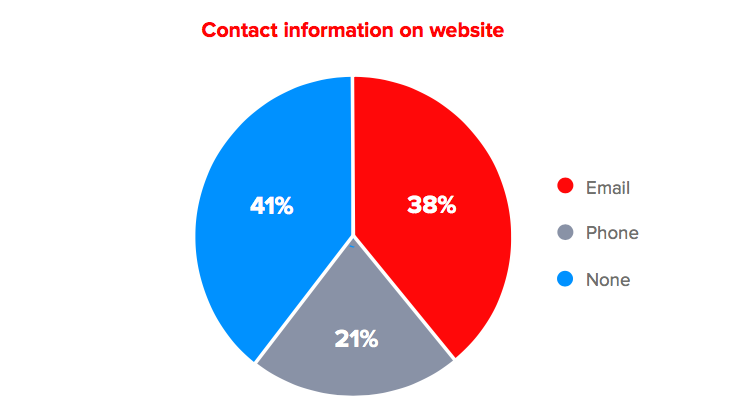 For customers, finding a company's contact details is step one to getting their problem solved. However, 41% of all companies do not have contact information visible on their website.
Every single company that made it to the best in class list had an email address or phone number clearly visible on the home page of their website, making it very easy to contact them, as opposed to hiding it down somewhere inside the website. Making the email address or phone number visible also adds an element of trust, as the best in class companies show the customer that they are not afraid to hear from them.
Adding to this, a B2B web usability report by KoMarketing Associates found that 79% of B2B buyers will leave a website if contact information is not visible. So, not only will you frustrate existing customers, but you also risk losing new business by omitting it.
6. Focus on quality, not quantity
Many customer support reps are judged based on the number of emails they answer and close. This approach, that speed matters more than quality, can lower the quality and the incentive to deliver a great service.
Research shows that customers prefer quality over speed. The best in class companies all scored highly in their replies. A high quality answer is always better than a low quality answer, even if the high quality response takes a little longer to compose.
Another key finding from the study found that the best in class companies are not limited to one country. In fact, when we look at all countries that were included in the benchmark report, Scandinavian countries performed the best!

This is even more surprising when you consider the customer support emails we sent were in English.
Speaking of English, the UK fell just behind the top performing countries, scoring slightly above average while Germany received the lowest quality score - for the second year in a row!
7. Use customer service tools to empower your team
The companies that deliver great service are able to do so because they have the right tools and processes. As was mentioned earlier, these companies put the customer at the heart of their organization. All decisions made will be reviewed based on how it impacts the customer.
Customer service software allows you to set up internal and automated processes that will help you acknowledge, track, manage and report on all customer service requests, which in turn helps you to answer and respond to more customer requests.
If you do not have a customer service solution in your organization, now is the time to get started. The rest of the tactics can only help you become best in class if you have the right tool to begin with.
Conclusion
Delivering excellent service to your customers isn't a rocket science.
Based on the findings from our recent research, we've outlined seven best in class customer service tips taken from a study of 1,000 companies. If you want to provide best in class customer service, then you need to remember to:
Respond to all customer service questions
Inform the customer that their email has been received
Follow up on the customer
Answer all questions on the first response
Make it easy for customers to contact you
Focus on quality, rather than quantity
Use customer service software
If you're looking to get started with the a customer service solution, a solution that is used by the best in class companies, then sign to a SuperOffice Service demo
What do you think of these customer service tips? Will you use the tips to become "best in class"?