7 customer service email templates (ready to handle the toughest customers!)

Post summary:
Surprisingly, 62% of all support requests go ignored. How often do you respond to a customer service email?
If you're new to customer service email response templates, we explain how they can benefit your support team.
To help get you started, we've created 7 unique customer service email templates that you can implement in your business immediately!
Did you know that 62% of all customer email requests are never answered at all?
Or for those that are answered, 27% of them are answered incorrectly?
Customer service has been around since the first transaction took place thousands of years ago.
And even then, if the customer was not happy with a purchase, he or she would complain.
Not much has changed since then.
In today's Internet driven world, if a customer is not happy, then yes – they will complain.
Except, not to you.
Instead, they will complain to their friends and family on Facebook and other social networks, which means they could be reaching anywhere between hundreds to thousands of connections.
To keep them happy, you need to answer their requests and respond quickly.
So, wouldn't it be great if you could answer more customer support tickets, faster?
That's where we're here to help you.
We're sharing 7 customer service templates that you can use to answer more requests and quickly. Plus, you can copy and paste our customer service email response samples easily, meaning you can start using them right now.
How important is customer service to you?
Did you know that the number one reason customers leave a company is because they think you don't care about them?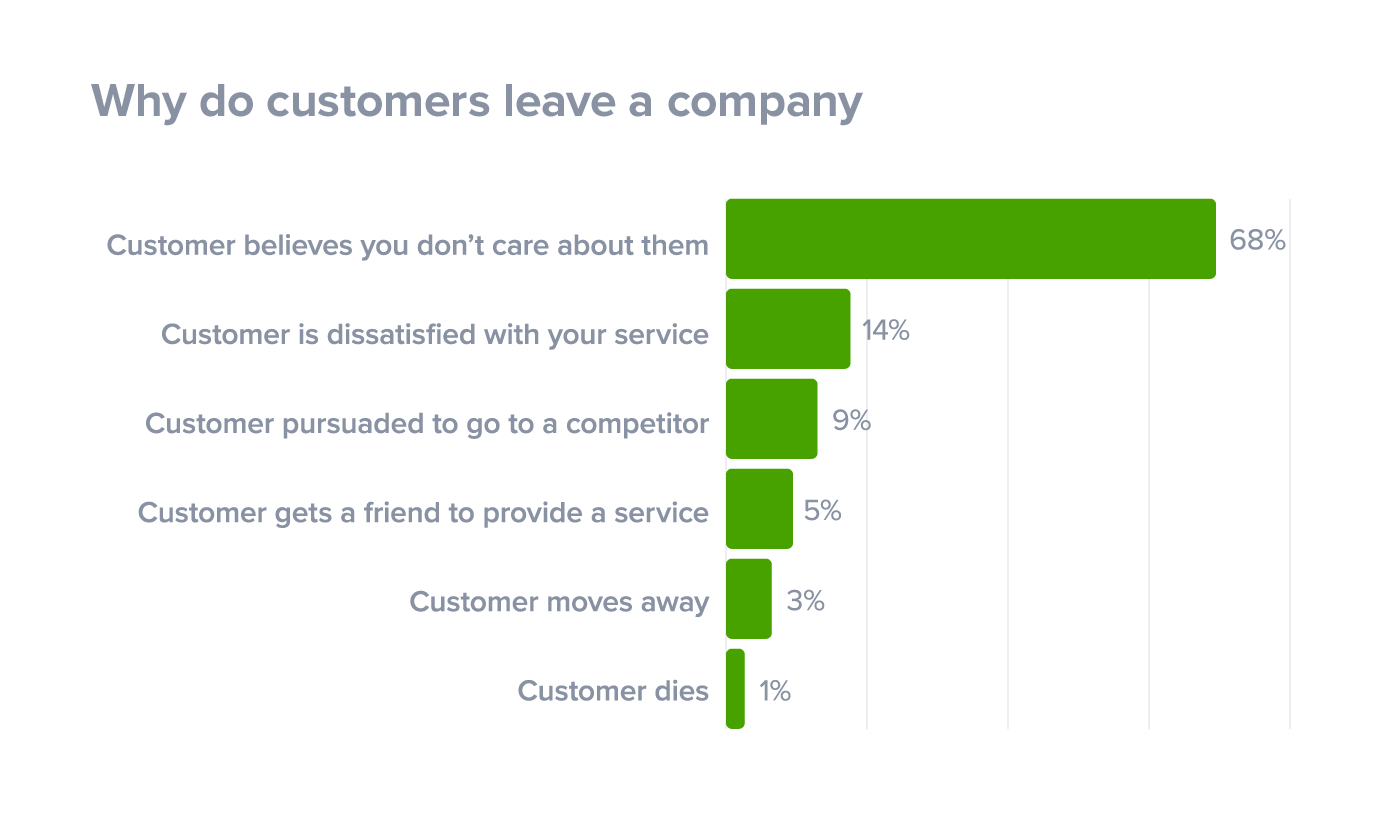 Brands like Amazon and Zappos have built billion dollar empires based on delivering superior customer service. And while 80% of brands feel are delivering great service, consumers tend to disagree. In fact, only 8% of consumers feel they have received superior customer service.
Delivering great customer service is not easy and we need all the help we can get.
Based on our research, here's how customer service can affect your business:
86% of consumers are willing to pay more if they receive a better quality of service
73% of consumers say friendly customer service made them fall in love with a brand
55% of businesses claim that improving customer service leads to increased sales
Great customer service comes in the form of quickly acknowledging the customer's email or request, addressing the customer by his or her name, focusing on solving the customer's problem and generally making the customer feel like you care.
And the best thing about customer service is that you have complete control of the service you deliver to your customers.
Especially, when you use customer service email templates.
The benefits of using customer service templates
Whether your business uses a knowledge base, an online FAQ or each response is handled freehand, you will find that common trends in questions or issues emerge quickly. Using customer service templates can help any business become more efficient.
With SuperOffice Service, you can set up and store email templates. Whether it's a thank you email for completing a form on your website to regular customer communication, each template can be personalized.
But the benefits in creating customer support templates are not only limited to saving time. Other advantages include personalized messaging, reduced errors and being able to maintain brand tone and voice.
Personalized messaging. Using macro's within the support email templates, you can automatically personalize the message every time to include the customer's name, address, product and pricing details.
Reduce the margin for errors. As there is no need to retype each email, you remove a significant chunk of human error and risk of sending incorrect messages with potentially awkward consequences.
Same brand tone of voice in every communication. As your team does not need to edit the text within the email reply, any person using the template can send the email and not have to worry about "getting the same message right".
7 customer service email templates that every business needs
Whether you're looking for help desk email examples, business email templates or technical support email templates, our brand-new white paper will rapidly improve the quality of support you deliver to your customers.
Here's what we have covered in this brand-new guide.
Why customer service is important. Learn why customer service can make or break your business. A negative experience can be shared with more than 3,000 people where as a positive experience can creates customers for life.
Seven customer service email templates for your business. Copy and paste any of these seven customer service emails and use them the next time you receive an email request to your customer support department. These templates will get you on the road to becoming customer service experts.
Tips on how to answer customer service emails. Now that you understand the importance of customer service and have the email templates ready to use, we provide you with 5 easy tips on how to delight your customers.
How customer service affects customer loyalty. When you deliver exceptional customer service, your customers become loyal but you have one chance achieve it, as a customer will decide if they will become a loyal customer or not upon the first contact with your brand. So, make sure you make it count.
Do you want the free guide?
Conclusion
Great customer service inspires loyalty, creates brand advocates and increases revenues.
Whether you are a small business or fortune 500 brand, this guide is the perfect step to help get you started on the road to customer service success. So, download the free guide, copy and paste the customer service response templates and start improving the quality of customer service you offer today!
How do you use email templates for customer service in your business?
Let us know in the comments below.
P.S. Grab your free templates by clicking the image below.

Customer Service