You've done it.
An MQL (marketing qualified lead) has become an SQL (sales qualified lead).
The lead is ready to talk. What can go wrong now? Well … in fact, a lot.
65% of sales specialists claim their close rate doesn't exceed 21%. Most often, 79% of SQLs are lost.
It means that there's a great chance you won't close your next lead.
The good news is that you don't need to join this disappointing statistics. You can do better by taking a few extra steps salespeople typically neglect (or simply don't know of).
Types of customer meetings
You can't expect to close a deal after the first interaction with a prospect. Along with a sequence of emails, companies with long sales cycles arrange three meetings before the conversion happens:
Discovery meeting. This is your first meeting with a warm, qualified lead that's held with the goal of understanding the specific needs of a prospect. This session helps a salesperson to collect information required for running a successful sales meeting.
Sales appointment. This conversation has the highest impact on the purchase decision of your prospective customer. Contrary to discovery meetings, sales meetings are centered around the salesperson's answers to the questions and concerns specified during the preceding meeting.
Follow-up meeting. Indeed, a sales meeting climaxes the sales process. But it doesn't define the success of the deal. Often, a follow-up meeting is needed to answer the questions that have remained open after the sales appointment by any of the sides.
3 Stages of a successful customer meeting
A successful customer meeting is your chance to close a deal. To make sure your achieve maximum success, you need to go through three stages:
Preparation
Customer meeting
Post-meeting follow-up
Preparation
A customer (sales) meeting starts with planning. It's time to do your homework.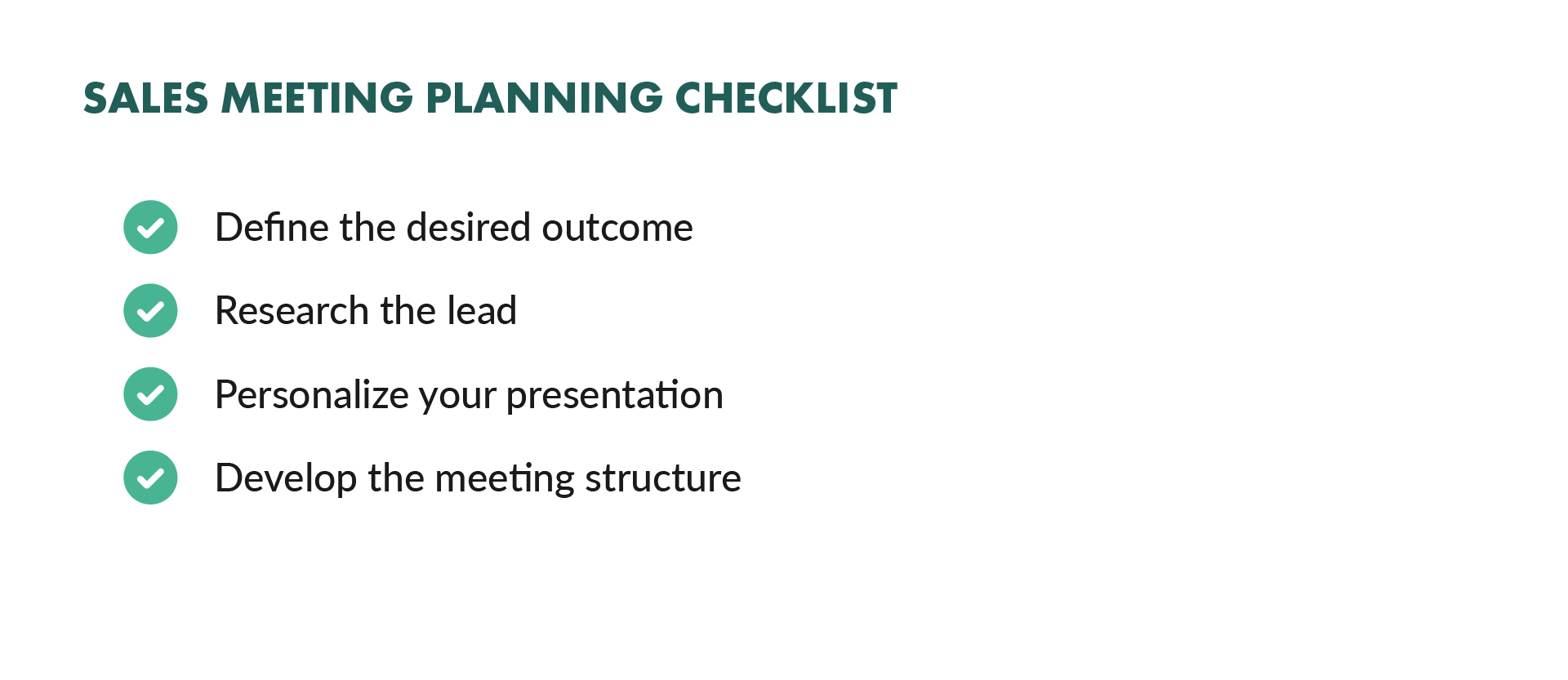 Define the desired outcome
Let's talk about the goal of this meeting. Clearly your main goal is to convert a prospect. But is there an easily achievable extra step that will increase the likelihood of conversion? It can be an introduction to other decision-makers, setting a deadline for making a final decision, or scheduling a follow-up call. Set up smaller goals that further safeguard conversion.
Research the lead
Don't turn your customer meeting into a generic presentation. To prepare a personalized plan for your upcoming conversation, you need to get to know a person or a team you're going to talk to.
First, do the research. What's their company size? What's their niche? In your experience, which features of your product or service are similar companies most interested in?
Since we're talking about a warm lead, you should be able to access this information in your CRM system.
Personalize your presentation
The more you personalize your sales presentation, the better! Avoid building your meeting structure on limited or generic data. Below are six more questions you'd better find answers to before the sales meeting:
What's the problem a customer is trying to solve with your solution?
Can you really help them with your solution? (this is a question to you – the key to a successful deal is being honest with your prospects without trying to sell something that doesn't fit their needs)
Have they already tried to address the problem?
Which solutions have they used or wanted to use?
Are they already familiar with your solution?
What prevents them from buying right away?
How do you find the answers?
Your lead has already agreed to spend their time talking to you. And they're interested in getting the most out of this conversation. So, don't hesitate to send over a list of questions that will help you add value to the conversation right in an email with meeting details.
Develop the meeting structure
With the necessary information in your pocket, you can develop a structure for the meeting. Depending on what you've learned from your prospective customers, you'll either add or exclude certain steps. For instance, there's no need to discuss the competition if you're the first company they're talking to.
A meeting structure is an outline of your conversation with the main talking points highlighted. But it's not carved in stone. When preparing a plan, leave a place for a prospect to ask their questions, express wishes, outline objectives, or describe their unique situation.
Even though you'll have to deviate from your script quite a few times during the meeting, it's important to map out the key points, such as pricing, competitors, questions, and objections. Jumping from topic to topic is the straight way to confusing your prospect. Nobody wants that.
How? Create topic clusters! Because they organize topics in clusters, top-performing sales reps jump around 15.6% less frequently than average and low performers.
Tip! Prepare the meeting agenda and share it when opening the conversation. This way, you'll make sure both sides are on the same page and avoid unnecessary interference.
Here's how a linear conversation will look like: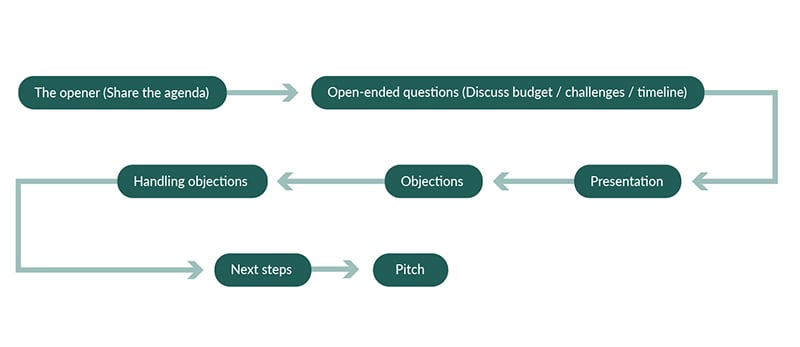 Running a sales meeting
The moment of truth has arrived. You have done your best to prepare for this meeting, but it's too early to relax.
So, what can possibly go wrong?
An unfortunate sequence of events can ruin your perfectly organized plan and take you far away from closing this deal. There is a long list of mistakes (other than mispronouncing your prospect's name) that you can unintentionally make… and lose this customer.
Not introducing the meeting agenda
Inform your potential customer about the meeting structure before jumping right into the presentation. This will help you avoid premature remarks or questions that might sidetrack you and ruin the presentation.
Talking too much
Remember that an ideal sales meeting is a conversation, not a monologue. Top sales professionals on average speak 43% of the time, which means they allow the prospect to speak 57% of the session.
Opening the meeting with the wrong topic
This is the trickiest part of the customer meeting agenda. How soon should you talk about pricing?
Closers typically hold off mentioning pricing until the end of the conversation. Unless your customer brings it up, it's best to discuss the topic no sooner than you go over your product or service and how it fits in with your customer's needs.
Not understanding their objectives
Knowing the customer's pain points isn't the same as understanding their objectives.
For example, when one needs a keyword research tool, there are plenty of different reasons behind the need. A prospect may be looking to increase their site's positions for queries with commercial intent or win rankings for long-tail keywords with their blog articles.
A salesperson will need to guide prospects through completely different scenarios as soon as they understand the motivation behind a particular purchase.
Ignoring a poor fit
Often, you'll discover that your solution won't solve your prospect's problems in the middle of a sales meeting. In fact, studies show that at least 50% of your prospects are not a good fit for what you sell.
Typically, this issue can be prevented by running a discovery call or a proper lead nurturing campaign. But if it hasn't worked for some reason, you shouldn't hesitate to acknowledge the problem as soon as possible.
Even though you might succeed in selling to the wrong customers, your customer support will get a lot of extra work to do when dealing with negative feedback. Not to mention they are likely to churn pretty soon.
Not personalizing the demo experience
There's no doubt your product or service is great. That's why the lead has agreed to talk to you. Now, they don't want to watch you illustrating each and every advantage or cool feature of your offer.
What they want is to see how it solves their pain in real life.
Instead of guiding them through all the features of the product, focus on one or two specific user cases that will most appeal to the customer. A service company can use a case study of a client in the relevant niche to prove their business value.
Handling objections too fast
Nobody wants to listen to a sales rep using scripted answers when addressing their concerns. Everyone wants to be heard and treated individually.
Top-performing sales professionals make a 5x longer pause than other reps after facing customers' objections.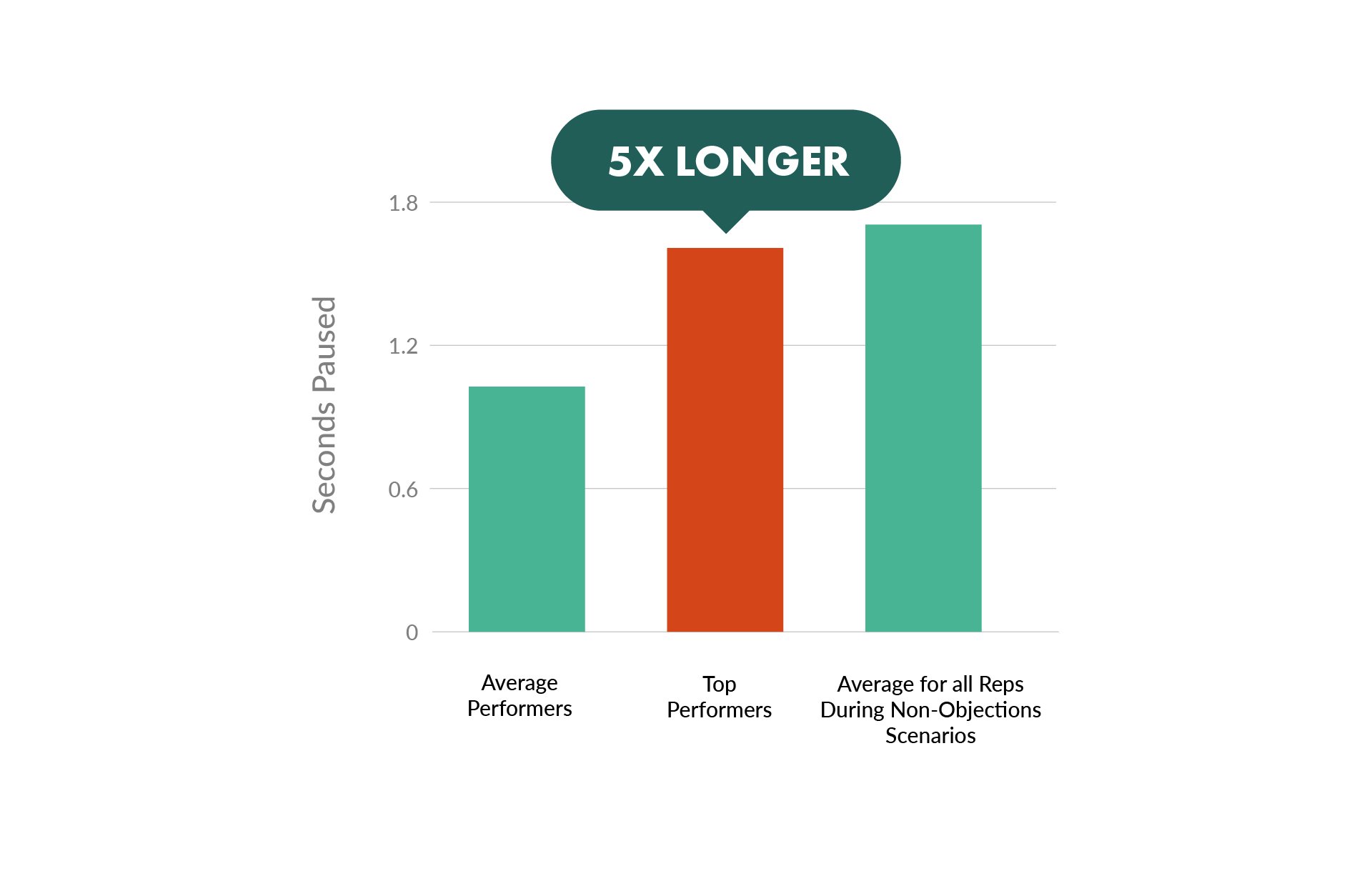 Not discussing the next steps
When the meeting is about to end, specify the steps you and your customer need to take next. What do you need to move the project forward? It's time to think of the goals you've set at the preparation stage and check them off.
Post-sales meeting actions
When the conversation ends, you still have two essential steps to take as soon as possible:
Post-meeting analysis

Follow-up
Post-meeting analysis
Do a post-meeting analysis to evaluate the results you've reached and identify the areas for improvement.
Have you achieved your meeting objectives?

Have you faced an objection you hadn't heard from your prospects yet?

How could you improve your performance?

What can you do now to address issues you've faced during the meeting?
By answering these questions, you'll get a chance to tailor your follow-up to increase the likelihood of conversion. Also, it's the right moment to adjust your script for upcoming sales calls with new leads.
Follow-up
After you've done a post-meeting analysis and discussed it with everyone involved, sit down and craft a follow-up email. It's best to send this message within an hour after the conversation.
The content of your follow-up email highly depends on the outcome of your sales meeting. It can be that you've promised to send over some extra material, get a coupon code from your manager, or find out when the feature update will be released.
Include this information in your email along with a summary of your meeting with the next steps highlighted one more time.
All things considered, your follow-up message will look similar to this template: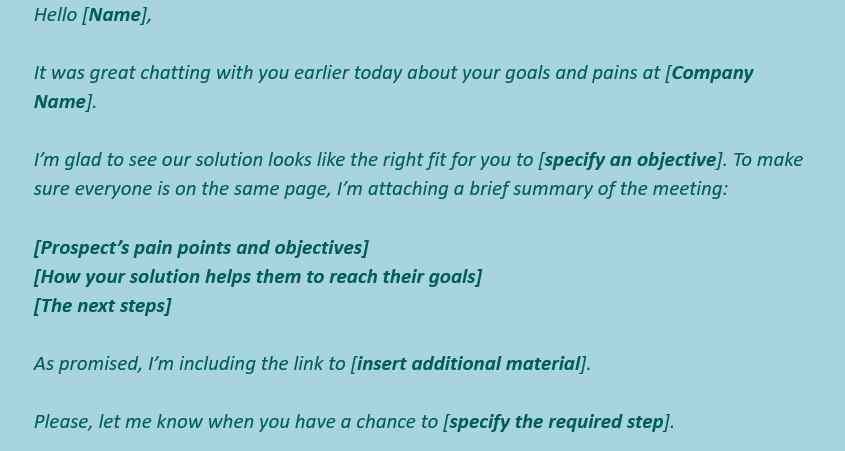 Reinforce your sales process with a CRM system
None of these steps would be possible without a system that stores and processes all the prospect and customer data.
Gone are the days when you rely on your memory and notes made on paper.
When your marketing team has generated a lead, a new customer account should be created. From there, their profile should be getting more comprehensive with each interaction – be it another lead magnet downloaded by the lead or webinar attendance.
For that you need a CRM system!
Once you have a SQL, you'll be using your CRM system to collect statistics on email engagement, book meetings, make notes on sales calls, store documents, and keep track of your progress with each prospect.
And when a customer converts, their CRM profile will store all the necessary data for maintaining a great experience and increasing retention.