Post summary:
Why you should invest time in sales emails
B2B companies struggle with lead generation
12 free sales email templates (to copy and paste)
Sales is a numbers game.
The more people you reach through your outbound sales strategy, the more deals you close.
But what are the challenges you face when it comes to growing sales?
Bad timing. Wrong person. Not interested…
I'm sure the list goes on and on, but sales prospecting is probably near the top of the list, right?
Don't worry, you're not alone, as CSO Insights recently found that 68% of companies admit they struggle with lead generation.
And the same study found that marketing only supplies 30% of the leads while sales is left struggling to make up the remaining 70%!
That's a big ask!
So how do you reach your potential customers?
There are many ways of communicating with them. But when it comes to B2B sales – it's a different game altogether, as the main goal here is to create interest and convert that interest into conversation.
New forms of reaching out to potential customers, such as social networks or content marketing, have sprung up lately. But when it comes to initiating sales conversations there's one form that outperforms the rest. It's email.
Why you should invest time in sales emails
No doubt, sales emails are vital.
B2B companies spend more time and resources on email than on any other channel. Why?
The reason is simple: It's worth the effort!
According to Ascend2, 48% of businesses say that email is the most effective lead generation tactic.
And a survey by BtoB Magazine and Bizo shows that 60% of B2B companies say email is the most effective channel for generating revenue.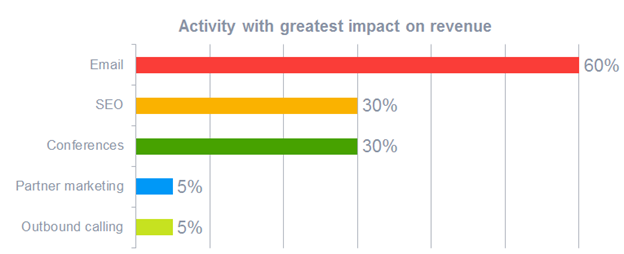 These numbers make one thing clear: sales emails are one of the most effective methods of getting new customers – when done right.
Sure, getting people to respond to your sales emails is difficult. And often, important people don't have the time for Sales pitches. So how do you get your foot in the door?
There is a way: your email has to catch their eye and deliver value for their business.
Focus on your prospect and offer value
The goal of any sales email is simple: land a sales meeting or a phone call.
And while it's not always easy, it can be achieved if you focus on three things:
Who is the prospect and what do they care about?
Why should your prospect take the time to talk to you?
What's in it for them?
This is the research part and how you identify potential customers.
Once you understand who they are and their needs, your next step is to reach out to them.
How? By sending a cold email. But that takes time, right?
Well, that's why we have created our new 12 sales email templates guide.
We want to make it easy for you to reach new prospects and create conversations, and to put you on the path to land more meetings, more phone calls, and ultimately, more sales!
12 Sales Email Templates
The new sales email templates guide, which consists of 17 pages of sales tips and tricks, includes:
How to use sales emails increase productivity
The best times to send an email and reach new prospects
7 subject line templates to get your email opened
12 sales email templates to increase response rates
And best of all, you can copy and paste all of the subject lines and sales email templates found in the guide immediately so you can start reaching new prospects today.
Download the free sales email templates!
Conclusion
Email prospecting can be a very effective way to reach key contacts and turn them into sales leads. You just have to keep your emails concise, to the point and focus on the value you offer.
Our newly released sales email templates offer great examples of how to catch your prospects' attention and start a conversation. Customize them to your needs and see if they work for your company.
What do you think of the 12 sales email templates?
Will you use them to send more emails?
If you have any sales email templates to share with us, let us know below.
P.S. If you find the templates valuable, remember to share share them with your network!