Outbound sales often have a bad rep thanks to cold calling and aggressive sales scripts.
This type of outbound sales is irritating, unsustainable, and results in a lot of dead ends and wasted efforts. And it's no surprise.
Outbound sales efforts are meant to be a relationship-focused business activity.
When you force unsuspecting people into a sales pitch without considering their needs, interests, or situation ⎯ it's a fast path to failure and frustration (for you and the person you just harassed).
Quick introduction to outbound sales
Outbound sales is a specific approach to selling that relies on unique strategies to find, pitch, and close new customers. If you're new to outbound sales, let's start with a quick review of the fundamentals.
What is outbound sales?
Outbound sales is the process of reaching out to potential customers to build new relationships and close new deals. Cold calling is a classic example. However, modern sales have evolved to include email outreach and other communication channels.
The defining factor of outbound sales is that you are reaching out to people to create leads -- leads aren't coming to you. That's called inbound marketing, which is often the result of successful content marketing.
Outbound vs inbound marketing
While outbound marketing focuses on pushing a message to a broad audience, inbound marketing aims to grab attention and solve consumer needs.
Rather than sending a message to an uninterested audience, inbound marketing uses strategies to attract people who are actively searching for a solution.

At the core of inbound marketing there is video content, blog content, and downloadable content such as white papers and reports. When combined, marketers can align their efforts along various touchpoints and stages in a customer's lifecycle to guide and educate them throughout their journey.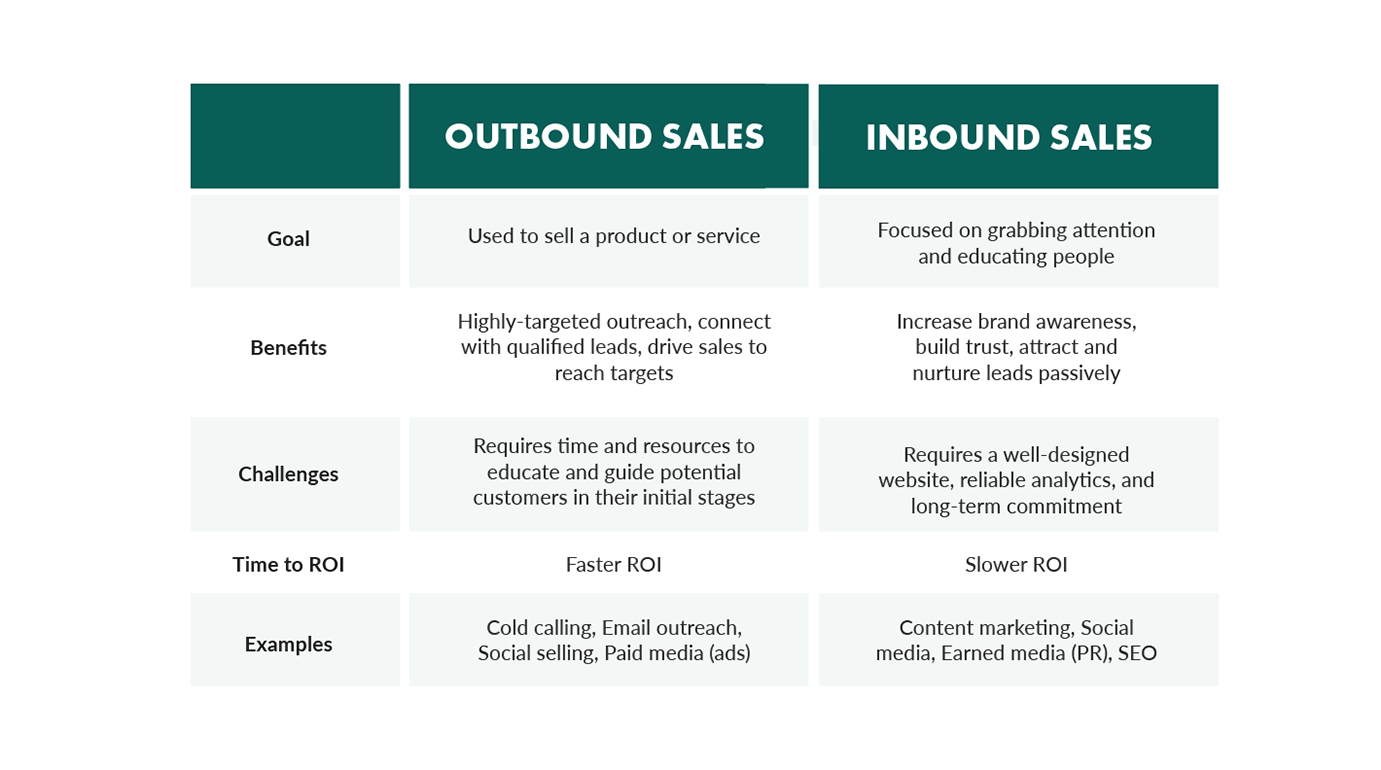 In most cases, businesses benefit by using a combination of inbound and outbound sales tactics. One is not necessarily better than the other -- it's simply a matter of strategically investing in both the short-game and the long-game.
11 Outbound Sales Tactics
1. Speak with prospects via live chat
Live chat is no longer a trend as 48% of customers are expecting to see this on your website. In fact, visitors are more inclined to make a purchase from a business when live chat is available on a website.

People use live chat because it's safe and guides them to an answer quickly. They don't need to be pitched. Keep your conversation natural and end the chat when it makes sense to do so.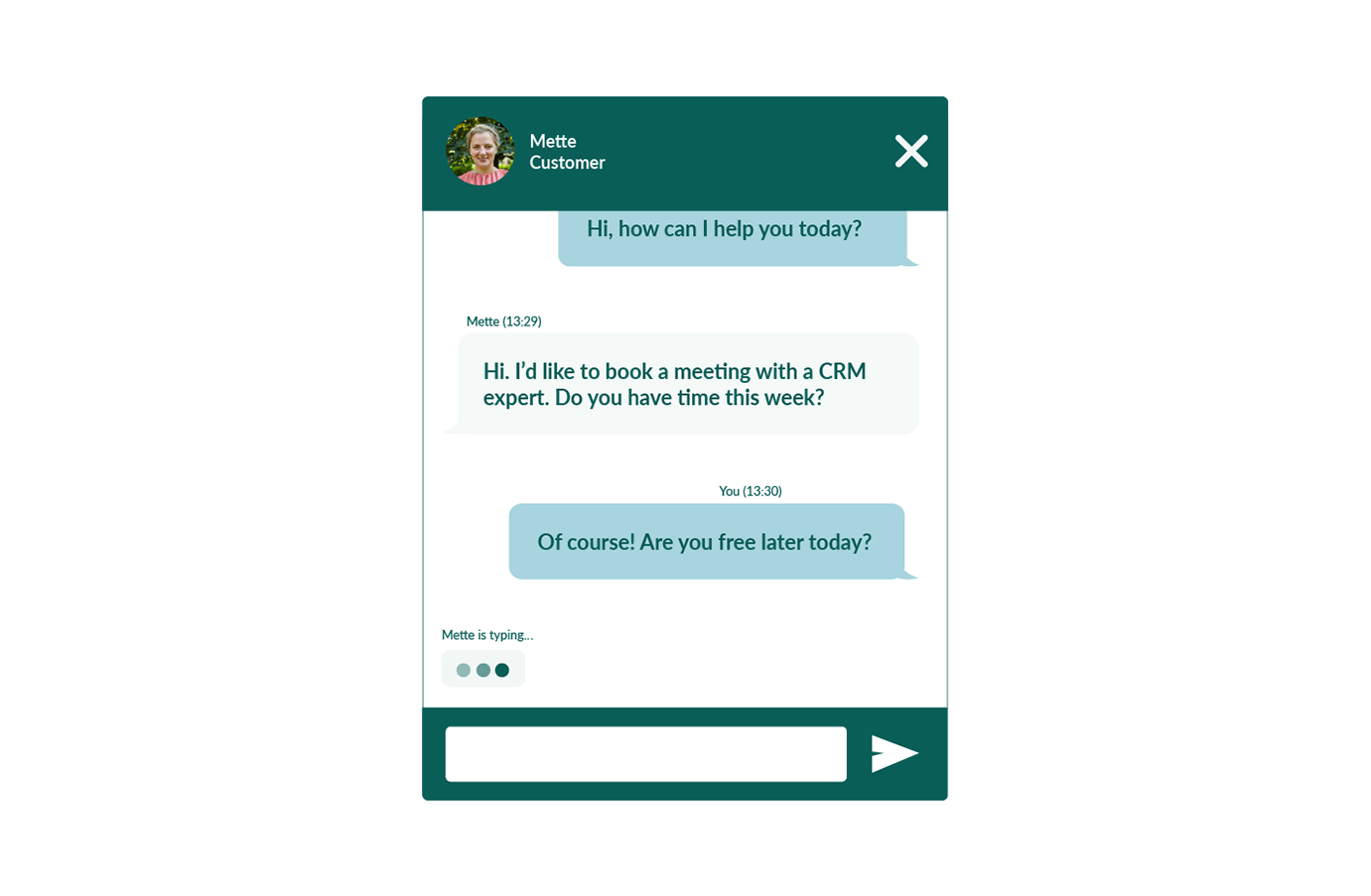 Live chat integrates into your website and delivers a prompt to engage with a sales rep. From answering questions to providing resources to scheduling a demo -- you can capture new leads and improve your chances of closing deals by responding to prospects quickly.
Actionable Tips:
Kick-off a new chat by introducing yourself, "Good afternoon. My name is John." Or ask a direct question to strike up a conversation, "👋 Hi there! What brings you here today?"


Use a pre-chat survey to collect information that will guide the direction of your conversation. Remember to keep it simple by only asking the questions to provide you with enough background information for a quick and courteous response.


At the end of your live chat session, offer to email a copy of the transcript for their records.
2. Start social selling
Social selling allows you to laser-target your prospects and establish rapport with new and existing connections. It can be so effective that every $1 invested can deliver $5 ROI.
The secret to social selling's high ROI is relationships.
Social selling works by giving more than you receive. With that in mind, create a list of your top tips and advice related to your industry or expertise. Then, create value-focused content that's designed to help people.
To put this into perspective, you can use platforms like LinkedIn and Twitter to kickstart new relationships. Try using this simple introduction: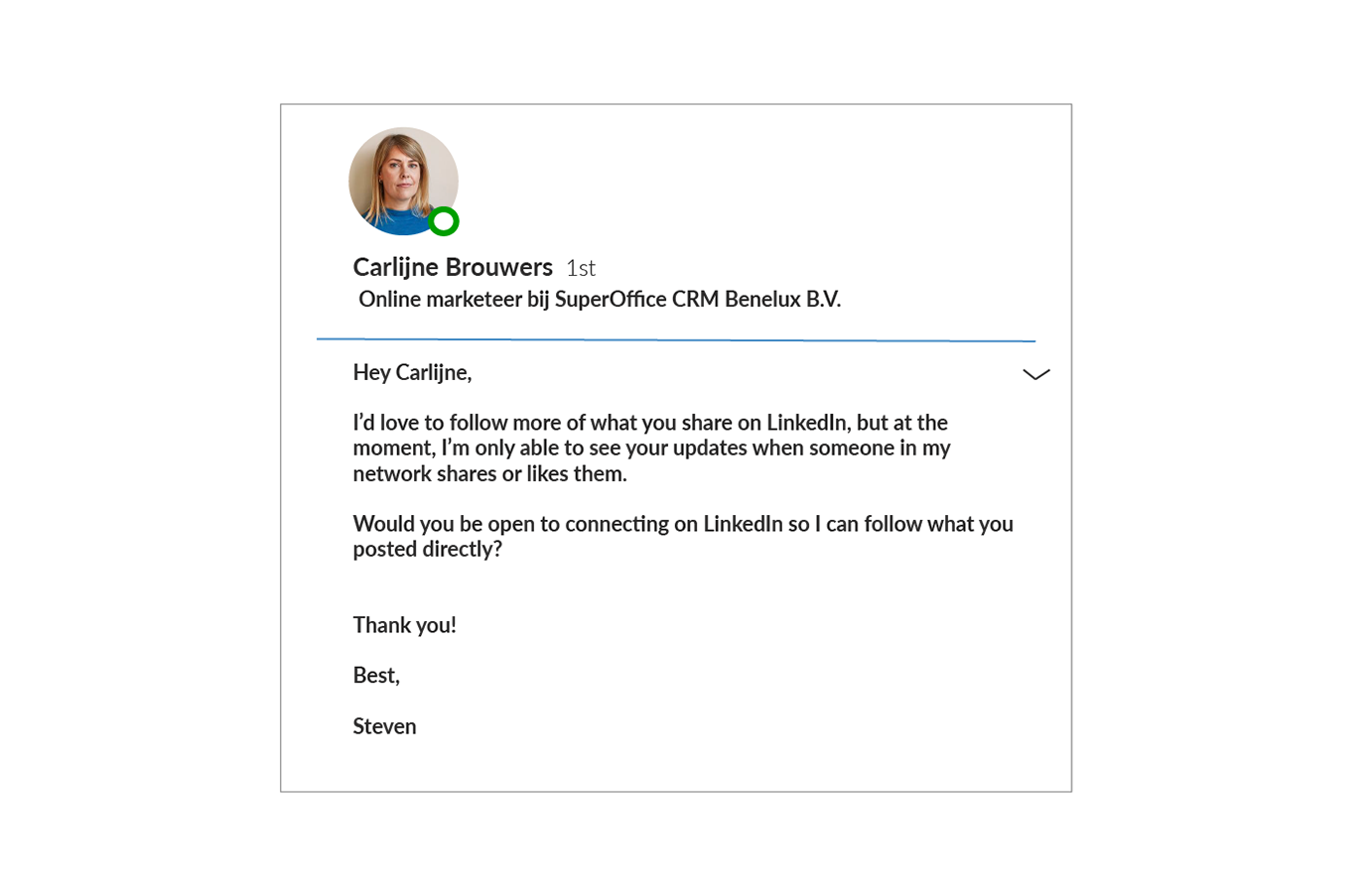 After connecting, continue to engage with your new connection and their content. Share insights about your industry, offer up value to their audience, and explore opportunities to build new relationships.
Nobody likes to be sold by a stranger. Be genuine, be a real person, and take the time to form a relationship before you try to make a sale.
Actionable Tips:
Twitter is a hotspot for active conversations. Combine social selling with social listening by searching for relevant keywords and conversations about your business.


Interact regularly on social media by dedicating up to 1 hour per day commenting on posts, offering solutions, giving helpful feedback, and so on.


Keep conversations alive by checking in and following up with messages until they reach a natural conclusion.
3. Contact existing customers and ask for referrals
When you provide an exceptional experience, word-of-mouth referrals will come naturally from your past customers. People trust referrals, and companies that use them as part of their regular marketing see conversion rates up to 70% higher and a 69% faster close time.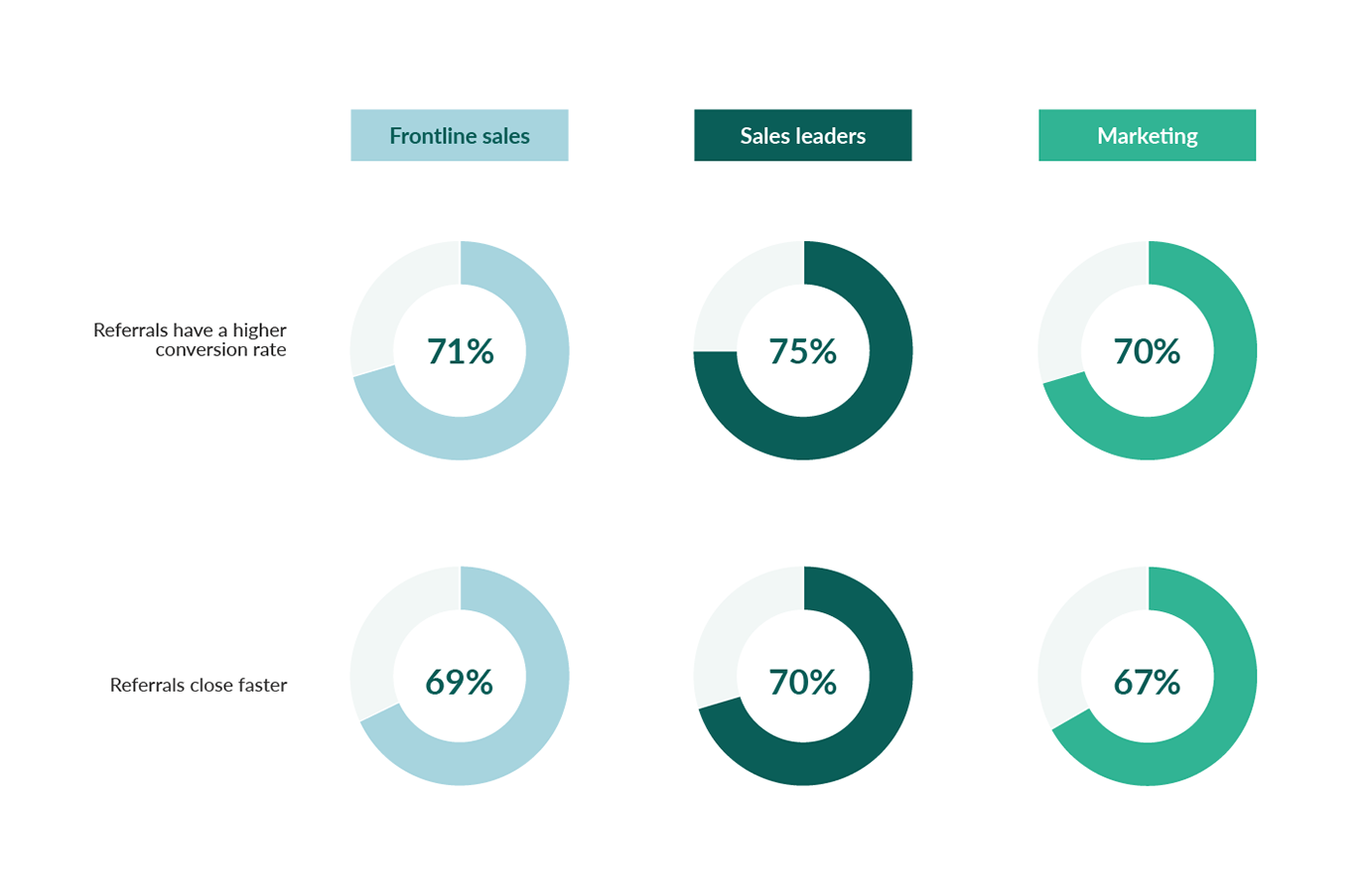 The best way to increase referrals for your business is to implement a system that asks for them. However, as Joanne Black shares in her podcast, many people are:
Scared of rejection
Don't want to cheapen their relationships by commoditizing them
Think referrals should happen naturally
Don't let these misconceptions about referrals hold you back from tapping into a highly effective way to generate qualified leads and sales.
Actionable Tips:
Overcome any fears of asking and develop a Sales Referrals System that outlines the exact steps to take: (1) When to ask for a referral; (2) Who will you ask for referrals, such as from all customers or specific account types; (3) What incentive you offer in exchange for a referral (4) How you will track the referral process.


Experiment with when to send a referral request and by what method (i.e., email or phone call). Typically, the end of a deal or contract has clients thinking about the money they owe you. Perhaps a week after an invoice is paid or 30-days into a new contract will yield higher referrals than immediately after a contract ends.


Start by asking for one referral per day. Creating a personalized email should take no more than 15 minutes. If you start each workday like this, you'll have sent 260 referral requests over the course of a year.
4. Guest star on a podcast
Podcasts are a great sales tool to open doors for new prospects. Edison Research found that 54% of podcast consumers say they're more likely to consider the brands they hear advertised on podcasts.
Starting a podcast from scratch can be a lot of work. From planning out the content, inviting your guests, building an audience, distributing across channels, and much more.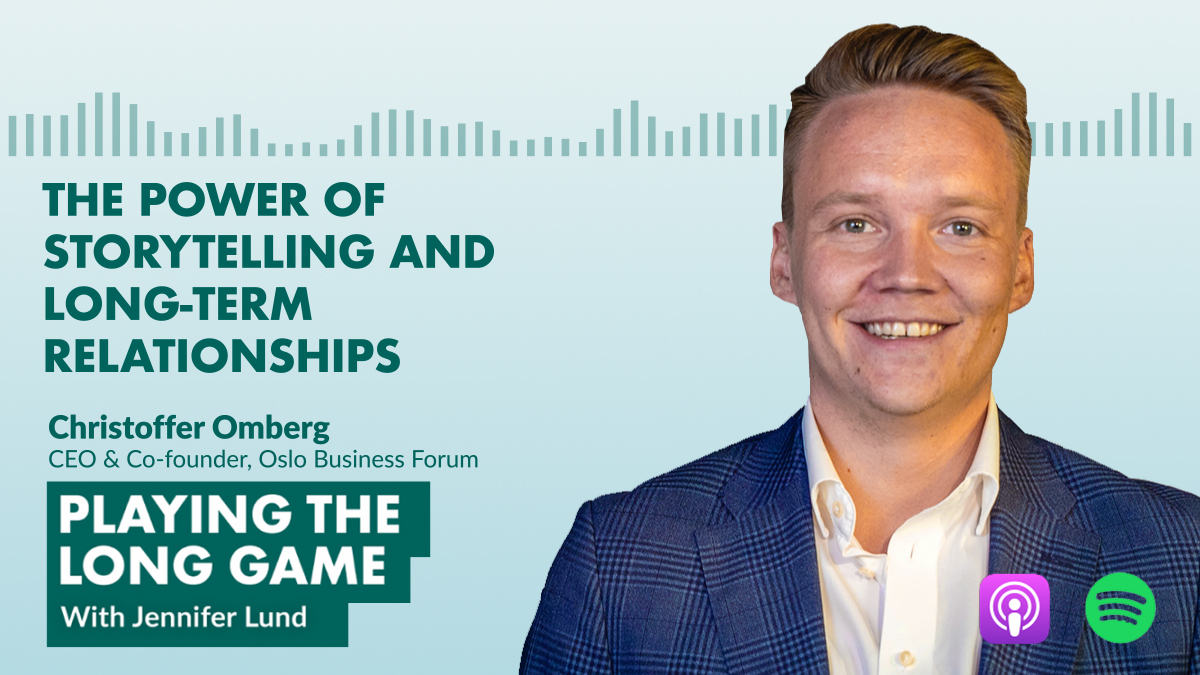 Instead, guest-starring on a podcast allows you to tap into an already existing audience that's interested and engaged with the content. This is also a great way to promote your brand by association and get a trust recommendation from the podcast host.
Actionable Tips:
Put together a list of podcasts you'd like to be interviewed on (focus on topics related to your niche, industry, and business).


Reach out to the person who runs the podcast and be sure to address the following:

What you would like to chat about
Why it would be useful and interesting to their audience
Credibility – a little about you, and why you're the best person to help
Benefits their audience will get from it
Ways you will share the episode to drive traffic to their show
5. Use webinars to build relationships


Webinars are a way to leverage industry knowledge and expertise while generating new leads for your business. In fact, 73% of B2B marketers and sales leaders say a webinar is the best way to generate high-quality leads.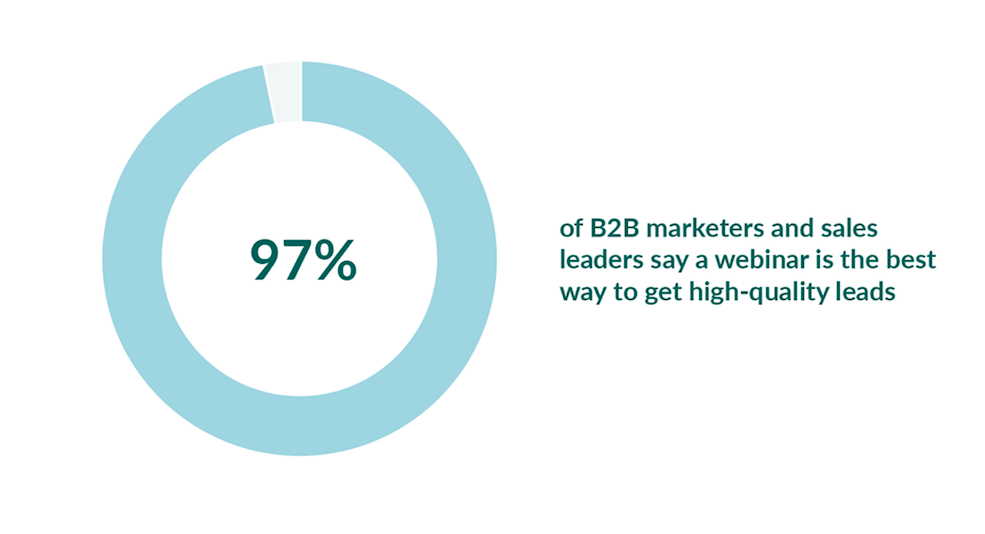 A webinar is a presentation aimed to educate and engage with an audience. However, your 30 to 45-minute presentation is not the right place to push your product or service.
No-one wants to be lured into a sales pitch. Instead, people are willing to give up their time in exchange for something interesting, informative, and of value to them.
Actionable Tips:
Plan your webinar to address the needs, interests, and challenges of your target audience. Think of this as an opportunity to build new relationships and be clear on your objectives.


After the webinar is over, continue to send value to participants and follow up with those who missed out. Send a recorded version of the webinar with detailed recaps to reinforce your message and introduce a call-to-action for any offers mentioned.


Use tools like GoToWebinar or WebinarJam and integrate them into a CRM System to track the journey a lead goes on, from where they first discovered you to when they converted into a paying customer.
6. Reach out to buyers that visit your website
Real-time IP tracking is a powerful tool that helps to understand your website visitors better. It offers detailed analytics and user journeys to show you what people are looking for.
When it comes to crafting your sales pitch, you can come prepared by addressing potential concerns and objections based on a prospects digital footprint.
Actionable Tips:
Set up an IP Tracker like LeadExplorer to identify the businesses visiting your website, including their business name, email, and phone number. You can also collect data on specific pages viewed and duration.With the buyer journey growing more complex, it is unlikely every visitor will make an inquiry. Now that you know who's visiting your website and what they're interested in, you can reach out to leads with high-quality, relevant content.


Combine the insights you gain from an IP tracker with other outbound sales tactics found on this list. For example, you could tailor a cold email or direct message with a tailored pitch to follow up on any questions a visitor may have
7. Build an Outreach Plan (using your CRM database)
Customer Relationship Management (CRM) allows you to track, monitor, and document the development of relationships between customers and your business.
CRM an essential part of delivering an end-to-end experience that builds long-lasting relationships with customers.
But, how can you turn information from a CRM Database into an actionable sales plan?
Actionable Tips:
Use CRM to identify your top customers vs. customers that take the most of your time (and yield minimal ROI).


Focus your attention and resources toward potential customers who would benefit most from a customer retention strategy.


Remember, your CRM database offers insights on your customers' past experiences, current situation, and interests. Be sure to include or mention this to provide a personalized experience.
8. Segment and tailor personalized emails
Email personalization and segmentation is regarded as the best way to generate revenue. Marketers have seen a 760% increase in revenue from segmented campaigns.
Personalization is the process of using personal information to provide emails that feel more genuine and relatable. In contrast,segmentation is the process of dividing your contact subscribers into smaller groups based on similar interests, characteristics, and demographics.
Both are foundational for an effective outbound sales campaign.
Actionable Tips:
Use the first name in both the email subject ("Bob, are you struggling to grow your business") and the main body (It's "Hi Bob," not "Dear valued customer").


Include information you already know about your target: It's not, "You might like these... (randomly generated products)", but "You might like these (based on your purchase history)".


Improve email open rates by segmenting based on industry, company size, interest, or sales cycle. For example, segmenting email campaigns by company size or annual revenue is a great way to target a large company that employs 750 people. They are more likely to have a budget for a new offering than a small business that employs 5 people.
9. Influencer marketing and shout outs
Reaching out to influencers and building relationships with them is a highly effective way to improve your outbound sales success.
When you work with the right influencers who are familiar (and popular) in your niche, you can easily increase brand visibility and exposure in front of your target audience.
In a 2019 benchmark report by Mediakix, Budgets for influencer marketing are increasing year after year, with 17% of companies spending over half their marketing budget on influencers.
Why?

Because 80% of marketers find influencer marketing effective.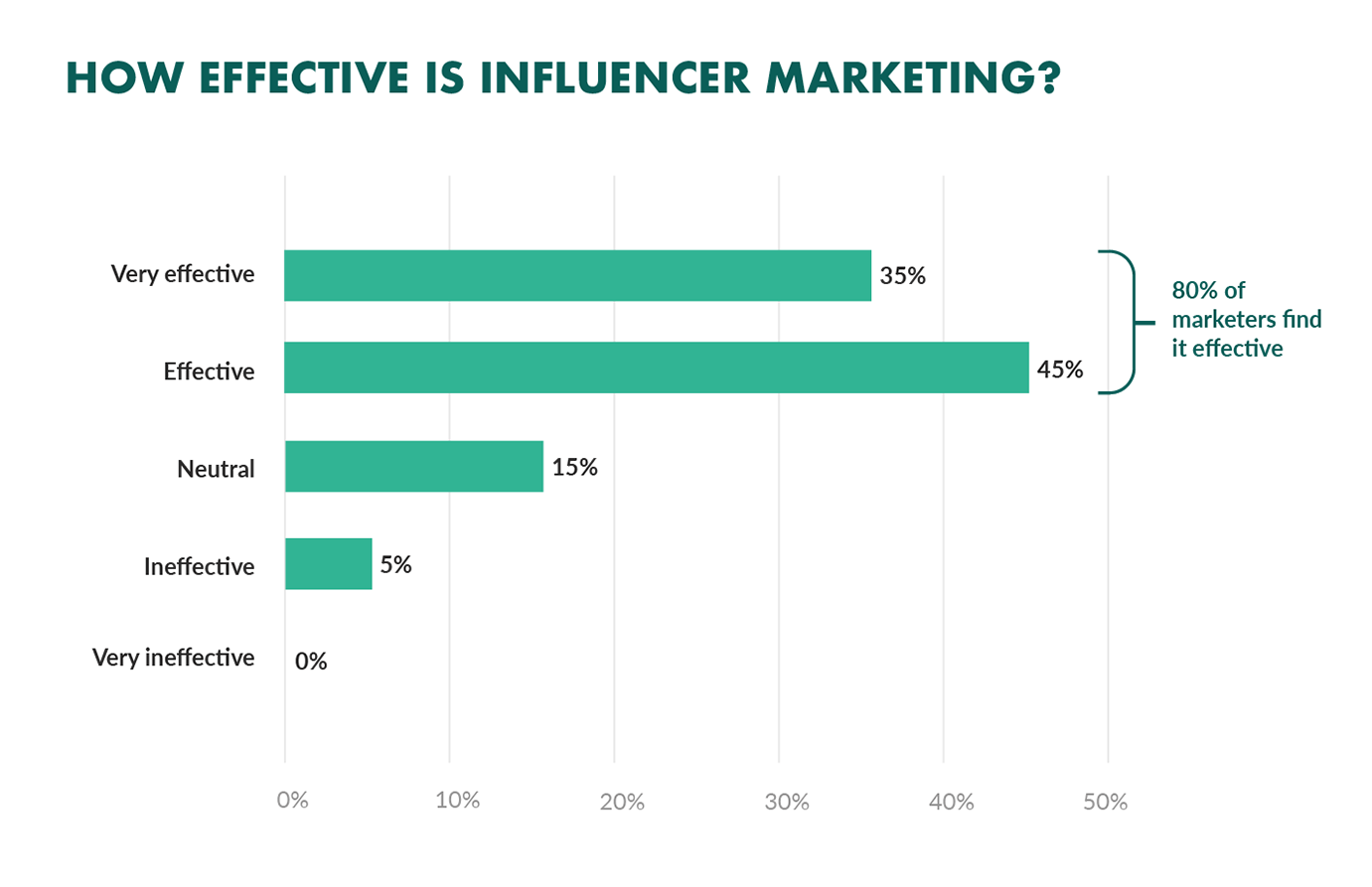 So, what does it take to make influencer marketing work in your favor?
Actionable Tips:

Set aside a small budget to experiment with influencers for the first time and look for an influencer marketing platform (e.g., Fourstarzz Media or HireInfluence).


When selecting a platform, ask yourself: Does the platform help with native advertising campaigns? Can it help you track the campaign results? Will it help you manage the influencer's content?


Don't put all your budget on one influencer. Search for influencers that are best suited for your business, check their past performance, and start with a small test campaign.
10. Cold calling isn't dead
Consumers are more empowered than ever before, with over 70% of the buying decision occurring before speaking with a salesperson. However, that doesn't mean cold calling should be forgotten.
When combined with some of the outbound sales tactics mentioned above (personalization, segmentation, and IP tracking), you can make cold calling feel a little more warm.
Instead of dialing a number with the focus to sell a product or service, look at this as an opportunity to introduce yourself and build a new relationship.
Actionable Tips:
More than 75% of buyers choose the first salesperson who can provide value and insights. Instead of being abrupt and invasive to a prospect that has likely never heard of you - give value before you extract value


Do some research to identify the pain points and struggles for the people on your cold calling list.


Calling without context is a complete waste of time. You can use your CRM to gain information (which staying GDPR compliant) to align your selling approach toward a more relevant, meaningful conversation:



Ask questions about their situation
Explore past options they already tried
Discuss opportunities they may be considering now
11. Cold messaging on DM / social media
You've probably received an unsolicited DM on your Instagram or LinkedIn that went something like this: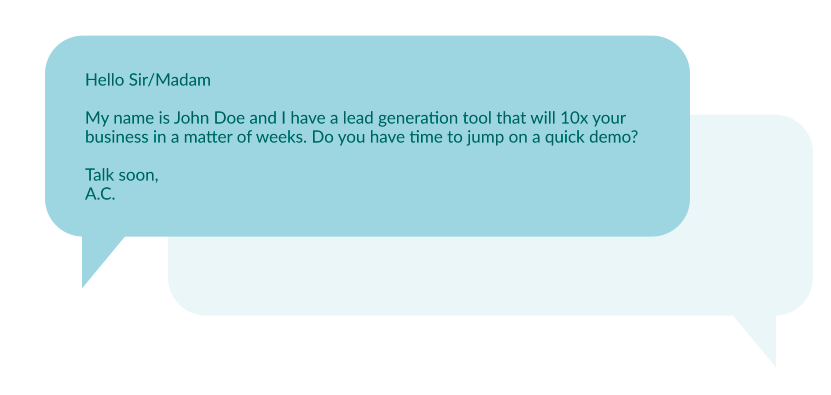 Messages like these create a bad reputation for cold messaging on social media.

What you don't want to do is pitch your service right away. Here's what you should try to do instead:
Watch your target audience's stories
Read and comment on their posts
Reach out to them by starting a conversation about something that is relevant to them
Ask leading questions to see if the conversation naturally creates an opportunity for you to be of service.
Leave the conversation on a positive note while keeping the relationship open for opportunities in the near future
Here are a few more actionable tips to coordinate social media outreach.
Actionable Tips:
Qualify your audience by asking the right questions. Use your stories and posts as an opportunity to nurture and warm leads.


For example, 'If you're a small business owner and you're looking for ways to improve your sales, comment below with a HECK YES!'


Follow up with the people who responded with a message related to your offer
What's your outbound sales strategy?
An effective outbound sales strategy requires you to put in a lot of work upfront. You need a solid plan, accurate information on your prospects, and the right tools to support any selling goals.
Here are a few key takeaways to ensure your next outbound sales effort yield a better return:
Create buyer profiles - Collect as much information as possible about your target buyer. Talk to your contacts, current customers, and support teams. Identify common traits that trigger people to buy vs. choose a competitor.
Nail your value proposition - Use your buyer profiles to create a message that will resonate with the right people. Use storytelling to build genuine connections, share your success stories to build trust, and outline what your product or service can do for people.
Plan Your Outbound Sales Strategy - Start with 1 or 2 of the outbound sales strategies on this list. Include a timeline for your campaign and time between follow-ups. Define specific metrics to measure success (e.g., sales vs. new business relationships). Continually monitor your campaigns and make small adjustments, such as changing an email's subject or main offer, to improve the scalability of acquiring new customers.
Conclusion
Successful salespeople see outbound sales as an opportunity to build relationships. Their primary goal is to drive meaningful interactions with prospects that engage and educate.
SuperOffice CRM is focused on providing a holistic set of tools for salespeople to improve their relationships with prospects.

For more tips, strategies, and insights on improving outbound sales through relationship-marketing sign up to our newsletter – Thrive.

Sales