Post summary:
How to analyze your sales process
How to reconnect with lost prospects
Why focus on "winning" sales opportunities
"No thanks, we're not interested…"
That dreaded "no thanks" reply. Again.
It's not nice, is it?
You spend weeks or even months building a relationship, investing both time and resources into a potential deal and then the deal falls through.
Don't worry, you're not alone.
A recent B2B Sales Benchmark report by Implisit found that:
13% of leads convert into opportunities across channels and that it takes approx. 84 days to convert a lead into an opportunity.
Only 6% of sales opportunities convert from opportunity to deal, with an average time-to-conversion of 18 days.
Overall, the average lead-to-deal conversion rate is 0.8%, which means that it takes over 128 leads to close one deal.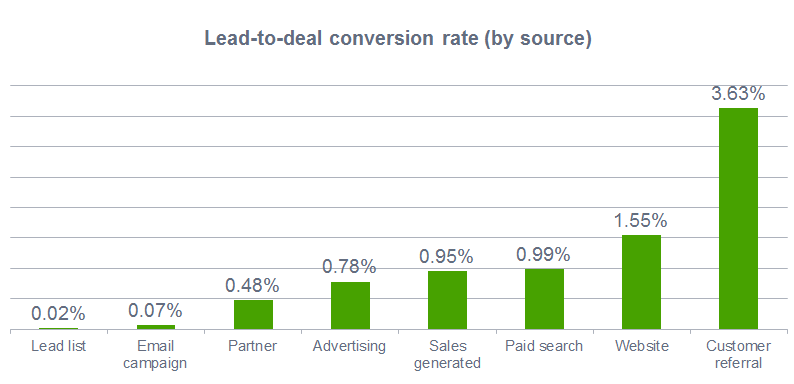 Furthermore, a study by Marketing Metrics found that you only have a 5-20% chance of turning a prospect into a customer.
Well, that's not very encouraging, is it?
The only option to keep your pipeline full is to keep prospecting.
But if the opportunity slips through your fingers, what do you do?
Here's some good news:
This might sound surprising, but the deal you have just lost could turn out to be the best thing that ever happened to you!
How, you ask?
Picking yourself up and moving is the classic attribute of a good sales person. But to take your game to the next level – a level that your competitors are not reaching – is to understand that the loss of a sales opportunity can actually be rewarding, providing you follow specific steps.
So, let's take a look at five key steps to turn lost sales into open sales opportunities.
1. Analyze your sales process
B2B sales is a numbers game.
That's why it makes sense to look back and evaluate your "lost deals" numbers.
To key to performing great analysis comes in saving detailed records of all your sales opportunities. When a potential sale falls through, all the information relating to the sale is available at your fingertips, providing this information is recorded.
If you track your sales process and create notes at every stage in your CRM system, all the information you need to evaluate your actions can be easily retrieved.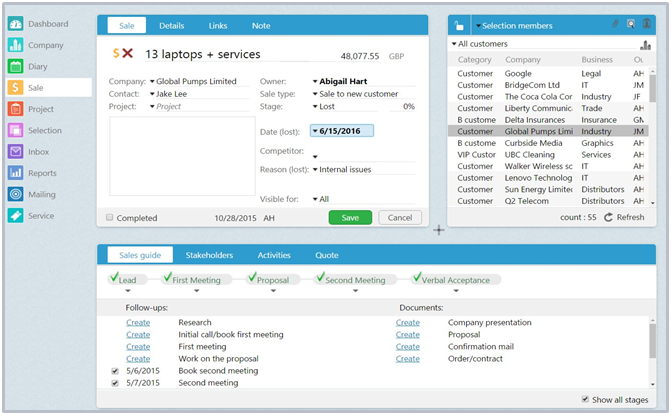 And when you have a system to track your activities, you can always quickly search through any sales period to see where deals were won or lost and what issues should be tackled right away. By doing this, you can uncover which steps were not effective.
Most importantly, by taking a step back and analyzing the data, you should be able to pinpoint at which stage of sales process the sale fell off. Once you know this, you can make the necessary changes to your sales process.
2. Focus on "winning" sales opportunities
Here's a scary fact:
50% of sales time is wasted on unproductive prospecting, according to B2B Lead.
And research by TAS Group shows that it takes 50% longer on average to lose a deal than to win one.
Think about that for a moment:
If you are spending more time losing deals than on winning deals, what's that going to do for your quota achievement?
Not much, right?
As the data suggests, sales reps can spend valuable time managing prospects that simply will not buy. And as a result, the opportunity was not really lost – it was never yours to be won the first place!
This is alarming because time is one of a sales rep's most valuable resources.
Moving forward, how can you spend less time on opportunities that are destined to lose?
Well, the thing about prospecting is that it isn't about finding people to sell to. It's about finding the right people to sell your product to.
Start by understanding who your ideal customer profile is and identify ways how to reach as many prospects that fit this profile. To do this, there are few simple open-ended questions you can ask, such as:
What people are you most successful at selling to?
What needs are you most successful in addressing with your solutions?
Which companies have the best solution/need fit?
When you have a clear view of who your ideal customer is, be proactive. Identify the lost deals way before actually losing.
If you hear yourself saying "Maybe our solution isn't a good fit, but I might try to make it work" – move on. When you know that you've never sold to that type of customer before, but you are willing to try – stop right there and cut ties immediately! You could be wasting your time.
Lose the deal, remove it from your sales pipeline and start focusing on the deals you can win instead.
3. Understand why deals are lost
Finding out the reason why a deal was lost is priceless information.
The greatest lessons of all can be learned from the people who said "no".
And yet, 60% of marketing and sales executives admit that they don't conduct interviews with lost customers, according to the Griffin group.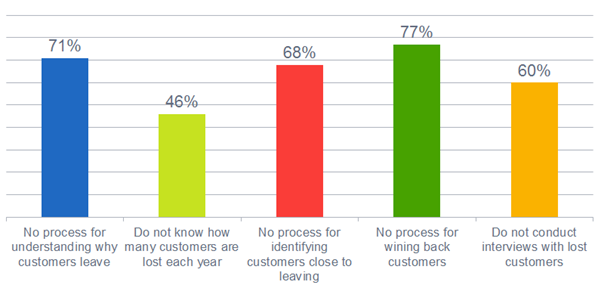 This is a huge sales opportunity!
What doesn't work for one prospect is likely to repeat itself in the future.
To take advantage of this sales opportunity, always ask lost prospects for feedback.
Feedback questions can include:
Why did you choose a competitor?
What stopped you from buying from us?
Was anything missing that would have changed your mind?
Let the prospect know that you have accepted the loss and that you are not going to try and change their mind. This way you'll put the prospect at ease, which means they will be more willing to talk. Remember to listen carefully and try not to become defensive, especially if the reason they didn't buy was because of you!
Your job at this point is to learn what's really going on. This information will help you in the long run.
At best, your prospects will be so impressed with your sincerity that it might actually cause them to reconsider the contract. At the very least, they'll appreciate the effort and may speak well of you to the others. Nothing wrong with that, is there?
4. Keep the conversation going
Marketing Donut found that 63% of the people requesting information from your company today will not purchase for at least three months – and 20% will take more than 12 months to buy.
So if you've lost the deal, it might just be that your prospect wasn't ready to buy at that time.
Therefore, it's important to stay "top of mind".
This way, when they're ready to buy, you will be the first company they think of.
Implement a social selling strategy to engage with your customers and provide relevant content when they need it. This can make a real difference when you are trying to close that sales opportunity in the future.
This is known as lead nurturing, which can have a positive impact on sales, for example:
You can also use email marketing to engage with prospects to promote new content, events and seminars or other industry news.
5. Reconnect with lost prospects
Finally, don't give up.
It's always worth reaching out again to lost prospects, allowing time to pass since they told you they were no longer interested, as you never know what might have changed over time for the both of you. People develop new skills or needs – always be ready to jump on a sales opportunity.
If you keep records of your sales opportunities, then it's easy to build a follow up system. For every lost opportunity schedule a check-up call. The time when you schedule your back-in-touch call depends on the length of contract you were selling.
For example, if you were selling a year's worth of services and lost the deal, you'd want to be back in front of that prospect within 9 months. You now that the time until they need to renew the services is coming to an end. That's the time you want to be in front of them. If you're there just after 12 months, then it's too late… and you will probably lose it. Again.
Conclusion
No one likes to lose deals.
It might be that your prospects' needs weren't addressed or finances changed over time or some other reason that led to the sales opportunity slipping through your fingers.
Losing a deal you have been working on for months can be gut-wrenching. But it can also be a potential growth opportunity.
Each time you lose a deal, don't just forget it and move on. Take the time to reflect and analyze. In short, determine what you've done wrong and the sales mistakes that might have been made, and outline what you can do to make it right in the future.
Understanding why your prospect said "No," can create a more valuable offer for the prospect and win their interest back, which can help you turn a lost deal into a new sales opportunity.
What are some of the best ways you have turned lost deals into open sales opportunities?
Please share a comment or tip below.
P.S. If you got something valuable from this blog post, remember to tweet about it here!