10 Signs You are Not in Control of your Sales Pipeline

Post summary:
What is a sales pipeline?
How can you fix your sales pipeline?
10 sales pipeline management tips and best practices
In today's digitally-connected world, sales and marketing are now more data-driven than ever before.
This means that not only do we have access to a wealth of information to work with, but we're also far more accountable to it.
In fact, CSO Insights found that "Executives are under more pressure than ever to understand the pulse of their business" – and at the heart of most businesses is the sales pipeline.
What is a sales pipeline?
A sales pipeline is a visual snapshot of where prospects are in the sales process. Sales pipelines show you how much business salespeople are expected to close in a given week, month or year and how close a rep is to reaching their sales quota.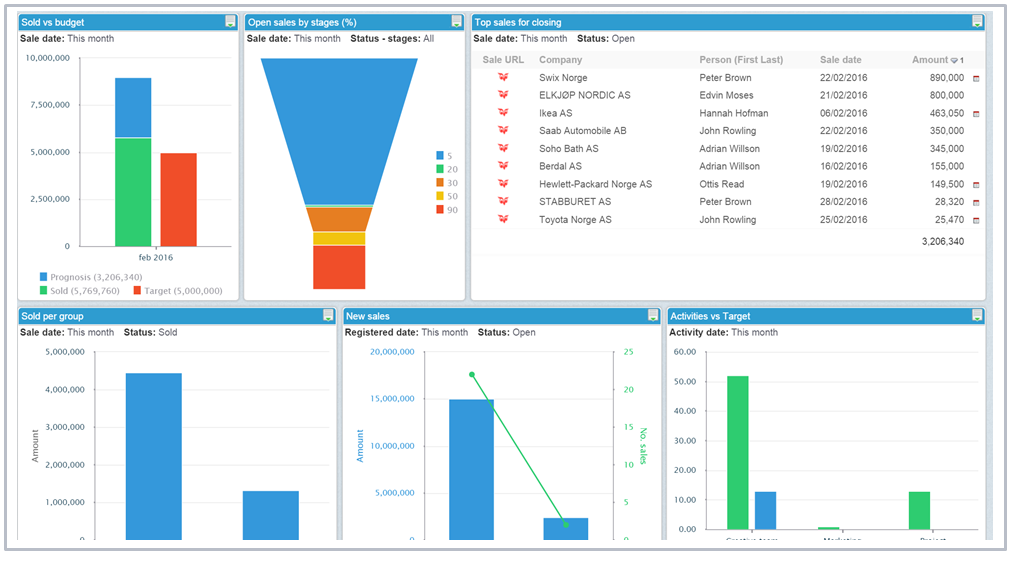 A sales pipeline plays an important role in any successful business.
According to research by Vantage Point found that 72% of sales managers hold sales pipeline review meetings with their sales reps several times per month!
However, 63% of respondents say that their companies do a bad job of managing their sales pipelines, which shows that there is massive room for improvement!
So, how can you benefit from improving your sales pipeline?
The main reason to improve your pipeline is revenue growth.
A study by the Harvard Business Review found that there was an 18% difference in revenue growth between companies that defined a formal sales process and companies that didn't.
Furthermore, having a sales pipeline helps you:
forecast future business results,
improve your sales process,
analyze different strategies on your business – like marketing or product offerings,
manage and allocate resources in order to close or service upcoming sales,
review progress for current financial year and how far you are from targets.
10 sales pipeline management best practices
A healthy sales pipeline plays a key role both in closing more sales deals and indicating the overall health and future direction of your company. In fact, Harvard Business Review state that: "better pipeline management can make a huge difference in sales performance".
So, how can you improve the way you manage your pipeline?
We've put together 10 warning signs to look out for to help you improve and transform the way you manage your pipeline – and ultimately make your business more successful.
1. You spend too much time on administration.
This is the easiest one, and you are most likely already nodding your head in agreement.
If you spend hours every week on administration and reporting, you are missing out on productivity and losing the chance to work on what really matters most – moving sales forward.
In a study of how much time outside sales reps actually spent on sales activities, Pace Productivity Inc. found out that an average sales rep spends only about 22% (or 10,8 hours a week) of the time selling and 23% of the time on administrative tasks!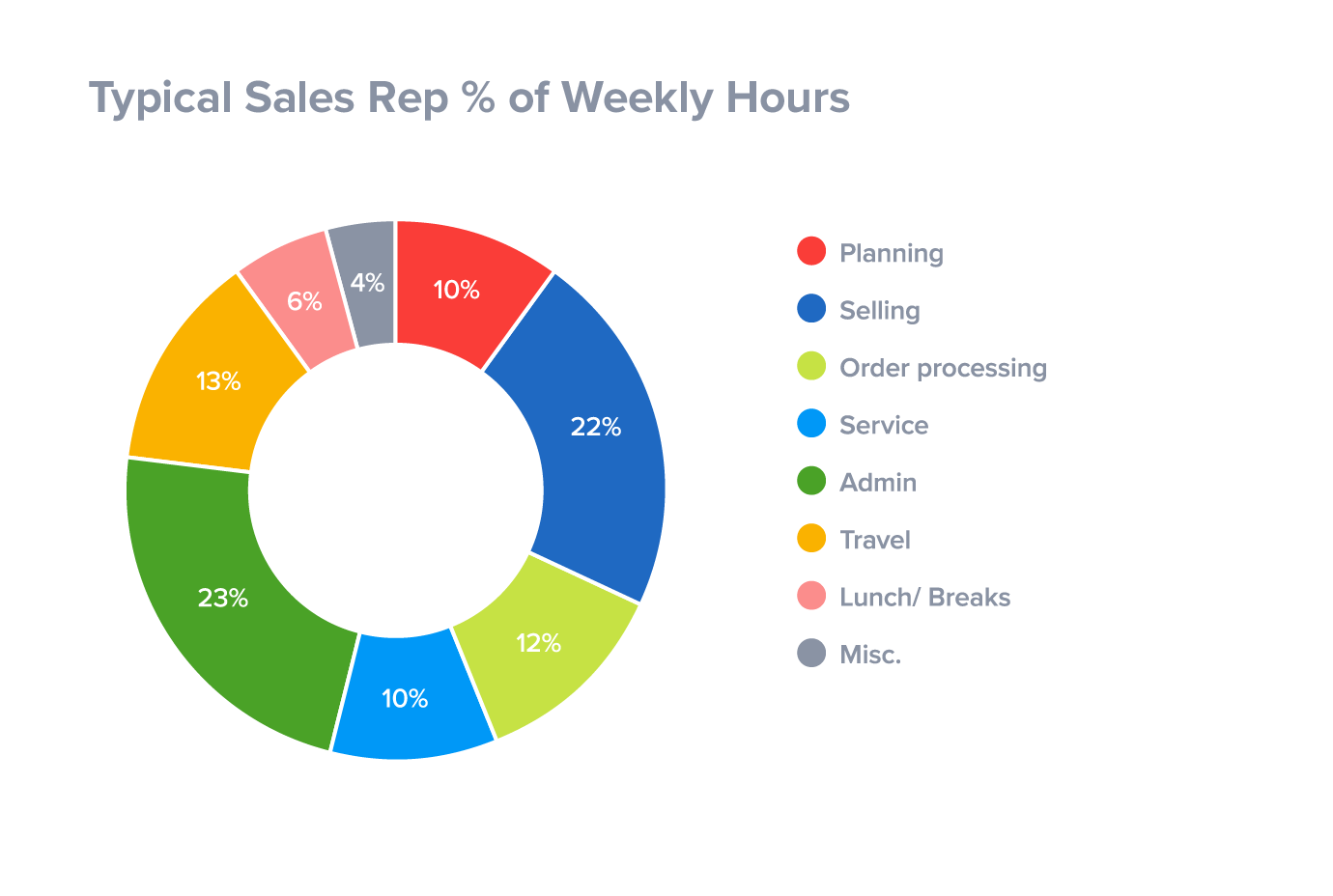 If you manage your sales pipeline well and have the right tools for it, then you no longer need to spend so much time on admin and can instead focus on what you do best – selling. For example one way to speed up productivity is to use sales templates for prospecting.
2. Deals don't move fast enough from one stage to another.
You have lots of opportunities in the sales pipeline, but feel that you are not able to manage your prospects and sales activities to effectively complete the sales process.
Each lead, or opportunity, must be managed, organized and developed; which is a full time job all on its own. You do that by following-up with your customers. Do you ever leave a sales meeting without scheduling the next meeting in advance? If so, then you are not moving your sales process along in the right way.
3. You don't know the number of opportunities you have open.
You don't have an overview of all your open sales and as a result you are not able to recognize your priorities, which is why you are missing out on the most promising customers.
Your first and most important priority is to focus on the prospects that are "ready to buy". These are the people who have agreed to the terms and conditions of the sale and have an approved budget for it.
Next, you need to look at your sales process and focus on the almost ready to buy prospects and do what you can do gently move them further down the funnel. And then, you do the same for people higher up, such as leads that have registered within the last 24 hours. Simply follow up with them and do what you can do to move them further down the funnel.
Once you have done this for all of your current prospects, you can then tackle all the administrative work.
4. You treat every customer the same.
Not all customers are the same. Some will make small purchases, some will make big purchases or a lot of small ones. They have might different reasons why are they purchasing from you and different expectations when it comes to approaching them.
If you are treating all your customers the same, although they are in different stages of the buying process and have different behavior, then you are more than likely having trouble identifying patterns in the customers that are most valuable to your business. Hence, you are failing to target prospects based on their value to your business.
5. You think sales forecasting is a waste of time.
Do you consider forecasting as a painful and heavy-duty process? Is it time consuming and the results are pointless?
If so, then you are not alone as 16% of sales managers have listed optimizing forecast accuracy as a top priority.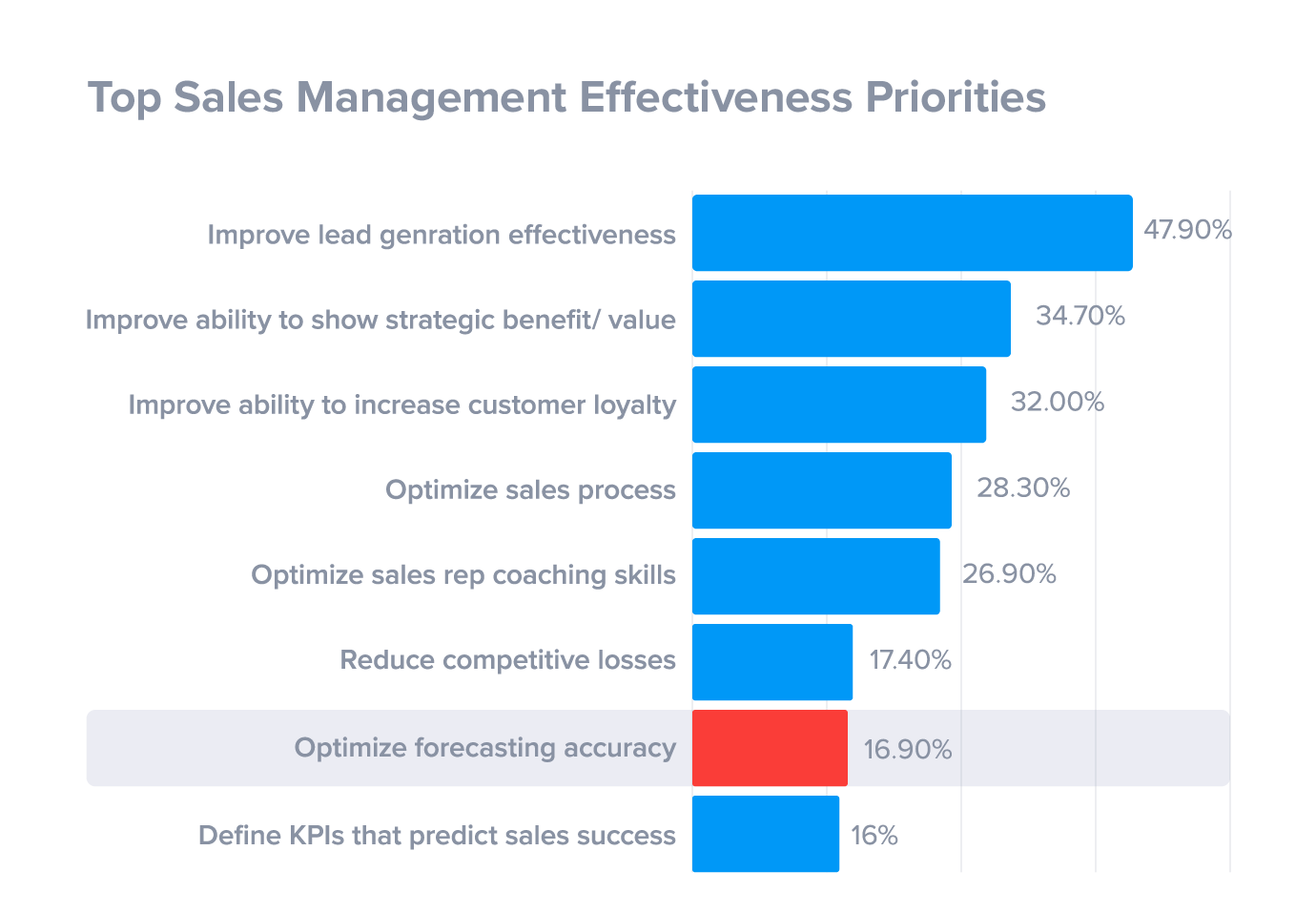 Forecasting helps you to put things into perspective: to see the possibilities and challenges of the pipeline management and plan your further actions based on that. Accurate forecasting helps you to maintain full control of your pipeline and its management.
If you fail at forecasting it is a sure way to compromise sales decision making. You will always be better organized when you have a firm steer on your pipeline and which prospects are most likely to close rather than acting on gut feel.
6. You don't know who the decision makers are.
In B2B sales, selling to one person is tough enough. In most of your deals, there will be several different decision makers and advisers involved at some point. The more expensive the product or service you are selling, the more complex the buying team gets.
If you are having hard time figuring out who is in charge of making a decision to buy, you might end up wasting your time knocking on the wrong door and presenting the wrong benefits to the wrong decision makers. You don't move the sale forward and you can't progress your sale cycle.
7. You don't know what your team is doing.
You don't keep your team updated and nobody knows who is doing what. You're wasting time calling people who've already been called, and your customer is wondering why you don't talk to your team.
When customers call in for service or support, your team has no way to reference the history of that client with your company, which means you're making people explain their story over-and-over again for you to gather the information that already exists somewhere. Clearly, this is inefficient and will also annoy your customers.
8. You continue to lose valuable sales data.
One of your sales reps leaves and all the information leaves with that person. You are stuck in the pile of spreadsheets and emails trying to pull together all the information on the former rep's customers.
You have to start from scratch, and try to build a completely new relationship with the customers and they feel it too. Good relationships and trust are hard won over time and as long as you don't have the way to deal with people who leave, you are at risk to neglect a valuable amount of your sales opportunities.
9. Your sales cycles are too long.
According to CSO insights, 27% of sales reps say that a long sales cycle is one the biggest barrier to sales effectiveness.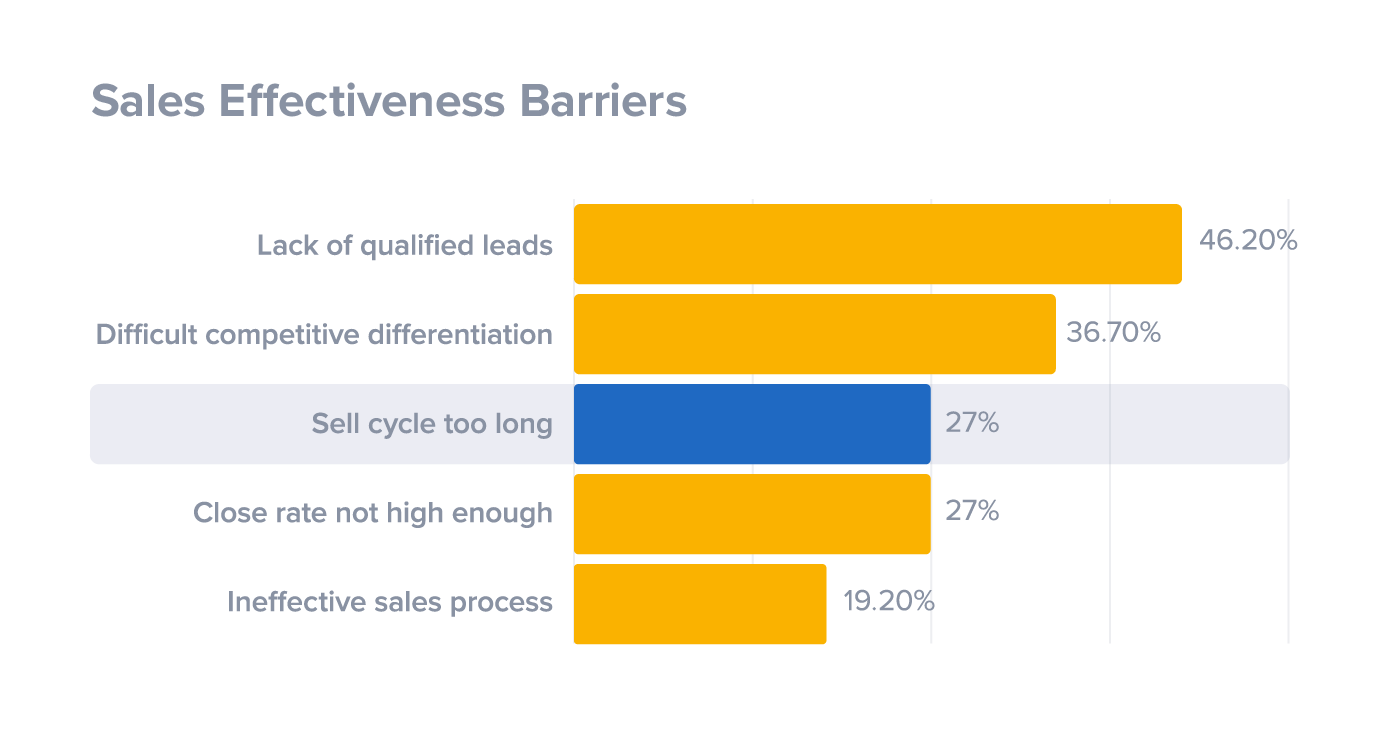 If your sales cycles are too long, the problem could be that you have a gap somewhere in your sales pipeline.
When it comes to preventing these gaps, do you know if you need a larger volume of leads or do you need fewer, but more qualified leads?
In order to make the right decision, you need to be in full control of your sales process, know your customer history and how long it takes you to move the lead from prospect to customer. If you don't have this kind of visibility to your sales pipeline, then you are failing to shorten your sales cycles.
10. You don't know your lead to win ratio.
With all of these sales activities going on, it can hard to see the big picture.
Why do you win some sales, but lose others?
If you don't have access to the data on what it is that moves your sales forward and where you and your sales team fall short, then you are relying on gut feeling while trying to win the deals – And while that might work from time to time, if you are not tracking and managing the process, then you are not in control.
The essence of the sales process is that it is predictable and yields a certain result when followed. Not identifying the strengths and weaknesses of your sales process results in making wrong assumptions, taking incorrect actions and choosing wrong strategies all together.
So, how do you fix this?
If you found yourself nodding in agreement to all or any of the above, then you are not in control of your sales pipeline!
And even if you do not suffer from all of these symptoms, but you recognize a couple of them, then it's a clear sign that you need to start thinking about smarter ways to manage your pipeline.
Pipeline management includes how the sales pipeline structured, how is it measured and how it is used to drive your sales performance. To be in control of your sales pipeline, first you must think of your sales as a process.
Sales teams that invest their time in defining a structured and formalized sales process are most effective at managing their sales pipelines. In fact, a study by Harvard Business Review found that there is an 18% difference in revenue growth between companies that have a formal sales process and those that don't.
An 18% difference in revenue growth!
When building a sales process, you design the pipeline and fill it up with leads. You determine the real potential of each opportunity and you are able to identify the key decision makers in the company. Then comes the work of managing your pipeline.
Conclusion
The best way to keep track of and control what's going on in your pipeline is through CRM software.
CRM provides clear visibility of sales cycles by tracking prospects through each of the sales pipeline stages of your selling process.
Having the full visibility of your pipeline and process will bring to the light what works and what's not on the way to winning deals. To identify where your funnel is leaking doesn't mean that all the prospects in your pipeline are going to convert, but you will be able to prevent some of the loss.
And by combining activity and sales data in a single database, CRM software will give you the full visibility of your pipeline as well as sharpen your sales process.
So, instead of working on gut feeling you will be able to track every step in the sales process and check the health of your pipeline. Any time.
Are you in control of your sales pipeline? What sales pipeline metrics do you use?
P.S. If you got something from this blog post, please remember to Tweet about it here!
P.P.S. Looking for more sales tips? Check out our 12 free sales templates below!
Sales