Post summary:
What are KPI's?
Define sales KPIs as activities
How to create better sales KPI's
Managing sales has never been more challenging.
According to a 2012 survey of Sales Directors by Silent Edge, 49% of sales directors felt that, although deals are closing, it takes a very long time to do so. 22% reported a lost sales pipeline as their biggest challenge.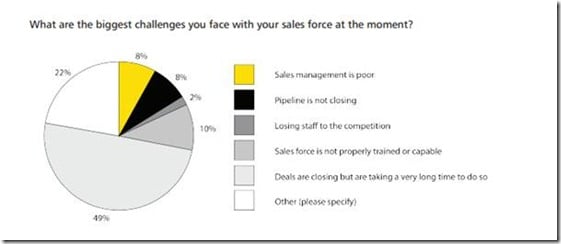 For Sales Managers, the pressure to bring in the revenue is much harder than it was in the past. In this situation, being able to react to market dynamics is crucial. Without a clear overview of your business, it becomes even tougher to predict your future sales – and to give guidance to your organization and your employees.
For Sales Representatives, there is a strong sense of ever-increasing demands to bring in the numbers. But sales reps are often left to themselves to figure out exactly how to reach their targets – and what tools to use. The result is homemade spreadsheets and lists – and a struggle to maintain a solid pipeline.
Given this type of situation, how can sales managers and sales directors turn the tide?
An Idea is Born
I'm a big fan of the P90x series home workouts from Beachbody. The whole program is created in such a way that if you follow it, the chances are very high that you will succeed. The biggest success factors for me are the plan, the activities and the measurements. The workout lasts 90 days and is 6 days a week. I know exactly what I need to do for a workout every day. And for each workout I do, I have to log my reps and the weight that I used for each activity into a specific worksheet that looks like this: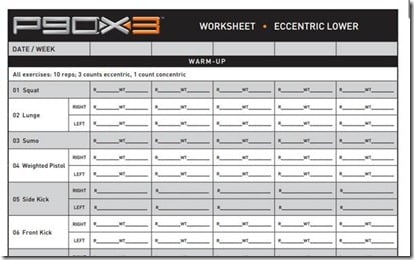 The only way to improve is to see where I am from week to week. The workout sheets help me to stay focused on the activity I need to do and I always have a target to work towards in order to be better.
And then, it suddenly struck me the other day that this same concept could also be applied to the creation of Sales KPI's.
What are KPI's?
Most organizations work with Key Performance Indicators (KPIs) that help the organization measure how well they are doing.
A typical KPI in most organizations is the sales budget that specifies what revenue each sales representative is expected to bring home during a given period.
Of course this is a very central and important goal to focus on, but what happens if that goal is not met? What is the reason for lack of results? What type of action is needed? This can be very hard to determine if the KPIs are not designed the right way.
Imagine three typical situations:
A. The Status Meeting. The sales manager and the sales representative conduct their monthly status meeting. The sales rep is behind budget, but explains how close he is to signing a deal with a customer. Closing this deal would mean that he would reach his sales goal for the quarter. Most of the meeting becomes focused on the prospect, but few other activities are agreed upon.
B. The Sales Budget. The sales department is preparing next year's sales forecast. The forecast is created by looking at the current sales activity, combined with previous years' activities and the performance of individual sales representatives. There is a general feeling that the budget seems realistic but also a strong sense that too much guesswork has gone into it.
C. The Marketing/Sales Blame Game. The sales manager and marketing manager are discussing the reasons for the lack of sales. The Sales department claims that Marketing has not done enough to bring in sales ready leads. Marketing claims there are enough qualified leads, if only Sales had followed up. All in all, there is a general frustration that it's hard to define what action to take.
All of these three examples are not uncommon in many organizations. And they often have one thing in common: The KPIs are defined only as results, not as activities.
Define KPIs as Activities – Not only as Financial Goals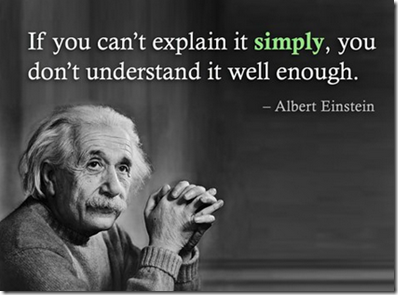 Results are the cornerstone of all budgeting – and meeting the sales budget is what matters. However, from what we've learned over the years, the best performing sales organizations are the ones that are able to break their sales process into individual, measurable activities.
The point is that most B2B sales happen as a result of certain predictable activities – and decline in sales is most often due to negligence of these activities. Here are some examples of what activity-based KPIs could look like:
Completing x numbers of sales meetings with new prospects/existing customers
Calling x amount of potential customers
Conducting x amount of product presentations
Sending e-mails to x amount of existing customers
Sending out x number of written offers
Conducting x number of follow up calls
Not all of these activities will necessarily lead to an actual business deal, but a certain percentage will. Setting goals for your individual sales activities – and keeping track of them – will give you a range of positive effects:
Improved sales management. Knowing the relationship between your activities and your results will give you much stronger tools for managing your sales organization, conducting sales reviews, prioritizing future activities and forecasting sales. In two words: Better sales.
Practical sales tools. As a sales representative, you get much more practical tools to carry out your work. Because your work is broken into activities it becomes much easier to get started and perform in your work.
More efficient dialogue. The follow-up dialogue between sales managers and sales representatives is improved significantly when it's possible to use the amount of conducted activities as an element in the review. The same is also true for the dialogue between sales and marketing oriented functions within an organization
All of these things together will result in higher and better sales. As an added benefit, efficiency and employee satisfaction will most likely increase – as well as the general quality of cooperation between Sales and Marketing functions.
Now it's Your Turn
Setting up your activity-based sales KPIs is very dependent on your specific area of business, your products and services and your sales organization. Determining which sales KPIs are right for you require answering two central questions:
Which customer types do you have?
Which sales activities are appropriate for these customer types?
Once you know your customer types and sales activities, you can start to set targets for each activity in relation to each customer type. Here is a simple way to move forward:
1. Using a mind map, map the activities to the customer types. Look at your sales activities one by one. Start by determining how relevant the activity is in relation to each customer type. For instance, some activities may be focused on bringing in new customers, whereas other may be targeted at existing customers.
2. Set activity targets. For relevant activities, set a target for how many activities you expect your sales organization to perform on a weekly/monthly/quarterly basis (see example below). Once you have set your targets for your organization, you can start to break it down, so each sales representative has individual targets.

3. Set up a support system. Set up a system to allow sales reps to input their activities. This would preferably be a CRM system that is a shared resource for all sales and marketing employees.
4. Monitor, review and adjust. Once you have established the system, use it to measure the performance of your sales activities. By looking at the relation between activities and actual sales, you can start to adjust what activities are most relevant in the future – and you can adjust your targets accordingly.
Conclusion
To get the most out of your sales KPIs, here are the three main points that to keep in mind:
Base your KPIs on activities, not just results
Map your customer types and your activities
Provide your sales organization with simple tools to support your KPIs
KPI's are a great way to measure and improve, but they are only helpful if they're paid attention to. Get to know your sales KPI's and review your data weekly. Pay attention to any trends so that you can react appropriately. It is also helpful to include the sales team in the process and review with each team member once a week so that you can spot any lags in performance early on and be able to correct quickly. Before you know it, you will find that you can actually change the future course of your sales.
What kind of KPI's do you use to measure sales?
Learn more about which KPI"s to track with the free white paper.