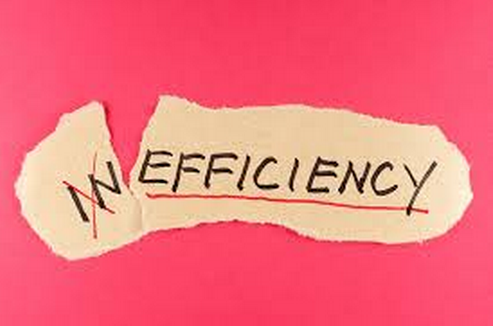 The best sales reps focus their efforts on their most important priorities.
This means finding qualified prospects, determining potential needs, closing sales and maintaining relationships with existing customers.
But, these activities are all dependent upon time. Given that the average 40 hour work week, do sales reps have enough time to focus on what matters and minimize time wasters?
In a study of how much time outside sales reps spent actually spent on sales activities, Pace Productivity Inc. found out that an average sales rep spends only about 22% (or 10,8 hours a week) of his time selling and 23% of his time on administrative tasks!
Contrast this with the fact that most sales managers think that their sales reps should be spending at least 50% of their time selling and you'll see that there is a wide gap to close. The reality is that there are a lot of activities that infringe on selling time.
When asked, "What things outside of your control get in the way of your productivity?" sales reps cite administration and paperwork activities more often than any other response. The sales quotation process is something that falls within this area.
Close the sale – win the deal
In today's competitive economy, whoever is fastest at closing the sale is the winner of the game! However, a big bottleneck in getting that closed deal actually comes in at the quoting stage. Talk to sales people and they will tell you how quoting slows down selling:
Deals take too long to quote
There's growing complexity in quoting
The quote-to-contract process itself is overwhelming
Quoting takes time away from selling
For many sales reps, preparing a sales quote for just one customer can involve massive Excel spreadsheets, PDF product catalogs, and different product/ pricing databases. These can either be used in some combination of each other or used alongside a disconnected CRM or ERP system.
Let's not forget that there can be human errors in creating quotes or the time it takes to chase down a sales manager to get an approval on a discount or lower price. Before you know it, a week or two could have passed before you've gotten the quote out the door to the customer. In that time frame, a competitor could have already waltzed in and closed the deal right under your nose.
This is where a Configure, Price, Quote (CPQ) application can make a huge difference.
Best-in-class sales teams use CPQ solutions
A CPQ solution is an automated tool which can impact the speed and accuracy of developing quotes, proposals and contracts. These types of solutions help reduce bottlenecks in the overall sales process, enabling the presentation of "the right product, at the right time, at the right cost" for the customer.
Between January and March 2013, the Aberdeen Group surveyed 165 end-user sales organizations to learn about the processes and technologies that the strongest-performing sales organizations deploy to close deals more often and more quickly. The results, published in Breaking the Law of Physics: Shortening the Last Sales Mile through Workflow Automation reported that CPQ users not only perform better around quota attainment, but also around proposal volume, with 49% more contracts, proposals, quotes and RFP responses sent out to prospects and customers.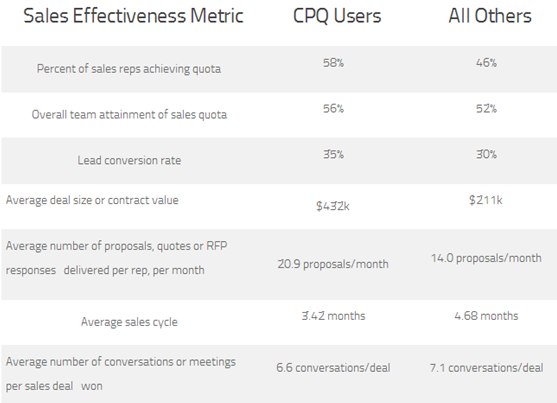 Five ways a CPQ solution can help you to close deals faster
1. Create quotes easily and efficiently
By integrating the solution with your CRM system, the quote management process becomes an integral part of your sales process. You can pick products and prices, add discounts and get automated update of all amounts without leaving your CRM system. You can create alternative quotes and edit and update your proposals throughout the sales process until you've reached the desired result.
2. Reduce the time it takes to get approvals
Many deals require approval for quotes, proposals and contracts. For every approval that is required, hours and sometimes days are added to the time it takes to get the quote to the customer. This negatively impacts cash flow, earnings and customer satisfaction. A CPQ tool can ensure that your sales reps have the right pricing information and that discounts don't cut margins.
3. Deliver smart and professional looking quotes the first time
First impressions matter. You know the business proposals that your sales team creates directly influence how customers perceive your brand, but it's difficult to ensure that each rep generates proposals in the same format. CPQ tools standardize your sales proposals, giving you control over not only what is quoted, but also the proposals' appearance. Your reps will make a cohesive, professional impression that enhances your brand.
4. Spend more time on selling
As we mentioned above, the average sales rep only spends about 22% of his time selling. By integrating a CPQ solution with your sales and marketing software, CPQ software can automate many time consuming tasks and eliminates your sales team's need to reinvent the wheel. Your reps will spend less time in the office and more time out selling and closing more business.
5. Get accurate and updated forecasting
23% of a sales rep's time is spent on administrative tasks and one of those tasks is the updating of the weekly sales forecast. By integrating the CPQ solution with your CRM solution, the sales forecast can be automatically updated with the latest customer quotes, even when alternative quotes are created. Sales managers will get a correct sales forecast and sales reps will be happy that they don't have to manually update their sales forecast. It's happiness all the way around.
What's next?
A CPQ solution can empower sales people to spend more time in the field and less time on administrative tasks and trying to get proposals approved.
It's also hard to ignore research that tells us that companies which use a CPQ solution can experience:
105% larger average deal size ($432K vs. $211K)
49% higher proposal volume (20.9 vs. 14.0 per rep, per month)
28% shorter sales cycle (3.4 months vs. 4.7 months)
26% more reps achieving quote (58% vs. 46%)
17% higher lead conversion rate (35% vs. 30%)
What company doesn't want those kinds of results?
The SuperOffice Quote management module can be one way to help you to achieve this. Learn more about this solution by visiting our sales features page or contact us for more information.