Post summary:
Qualify the lead first
Don't make leads wait
Structure sales teams for speed
One of the primary goals in B2B sales for a marketer is to generate new leads. Whether that's through events, seminars or online, it's one of the most important ways to grow the business.
But if your sales team struggles to follow up on digital leads, then you're efforts are wasted.
Marketers measure online success through website leads – That is, someone who completes a web form or downloads a white paper. And while this goal can take a person several weeks or even months to perform this action, they may lose interest faster than you think.
The 2011 study "The Short Life of Online Sales Leads" by Dr. James Oldroyd found that most companies are not fast enough in the way they follow up leads. In fact, the study found that from 2,240 companies, only 46% follow up a lead within 24 hours.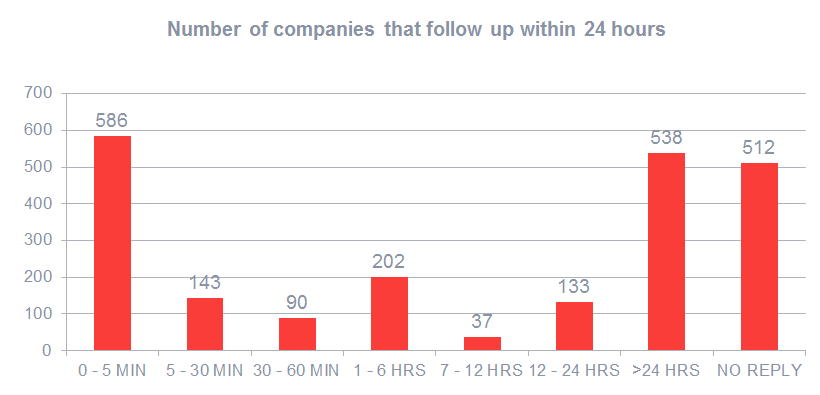 Having a 24 hour response time is not quick enough.
In a separate report, MIT found that website leads go cold within 90 minutes!
The speed in which your sales team follows up on the marketing lead is paramount. A slow follow up means losing business to a competitor whereas a quick follow up is more than likely to lead to a sale.
We've put together five easy tips to help you turn more website leads into paying customers.
1. Don't make leads wait
Leads are a fresh commodity, and can't wait until the next day.
The level of interest for the prospect drops dramatically after one hour, and he or she may have already have moved on to a competitor. It is therefore important to set up internal routines for the handling of incoming lead.
Directing leads to a personal mailbox can be missed due to email-overload, forgotten or not attended to due to illness or travel. You may direct your online leads to a company mail, where several people have access to ensure quick handling or you can use customer service software.
The same principles apply for marketing leads as for support requests – traceability and speed. More and more companies are seeing the benefit of using customer service software as they implement it across several departments and not just limit it to customer support.
2. Qualify the lead first
A marketing qualified lead (MQL) may download a free white paper whereas as a sales-qualified lead (SQL) might request a meeting. They have different characteristics and are most likely in a different stage of the buying cycle.
However, all leads are potential sales leads. In order to provide a valuable first impression, it's important you qualify the lead first. This can be done through an assigned coordinator or by the sales team themselves.
You won't be closing sales if you reach out to a lead that isn't ready to buy. And even more so, you may even put the lead off by coming on too strong.
Perform a quick Google Search on the person or the company, or if search for the company in your CRM software. Find out if the lead has already performed an action prior such as attending a conference, rather than initiating contact only to find out they are already in discussions with another sales rep.
3. Structure sales teams for speed
Some organizations prefer to divide their sales team in two; with one part of the team that handles existing customers and one part of the team that handles new business.
And while the way you structure the team is not the important part here, what is important is the processes you create, which allows the sales team to move quickly. And this doesn't just apply to new leads, but all stages of the sales process.
To get started with your internal processes, think about the following questions;
How do we initiate first contact; by email or phone?
Who will register to contact data?
At what stage do we register a sale?
How do we follow up activities?
Here is an example from SuperOffice CRM showing the sales guide which is a standardized sales process. This gives sales step-by-step sales process including activities and document templates.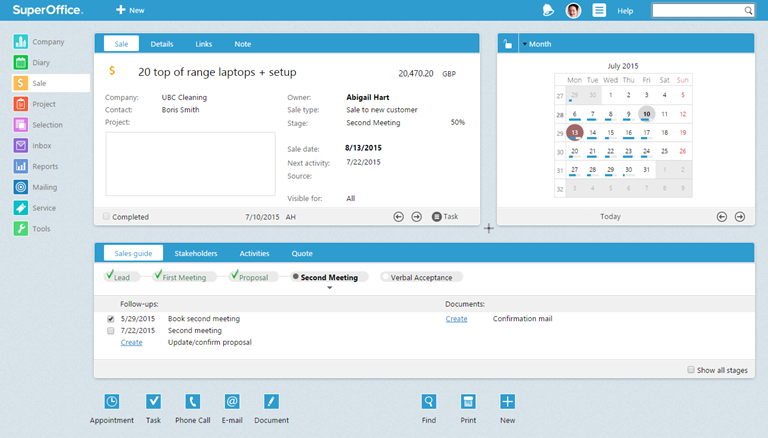 4. Keep leads warm
Even if you call the prospect after within ten minutes of completing a web form, he or she may not be ready to move forward in the sales process. But they have shown an interest in your product or service, so don't lose the opportunity to keep them warm while on the phone call. For example, you can ask them if them if they want to be added to your mailing list, which will help nurture them for when they are ready.
Customer care starts before any sale is done. Keep them informed and show them that you care and they are sure to come back to you when they are ready to move to the next step.
5. Monitor your sales pipeline
Your sales pipeline gives you a unique overview over the prospects you are working with. In a CRM system you can monitor which stage of the sales process the prospects are in and the activities that are done. This can be done by each individual sales person, and by the sales manager to get a complete overview.
Here is an example from Business Analyze that shows a sales dashboard displaying open sales in a quarter.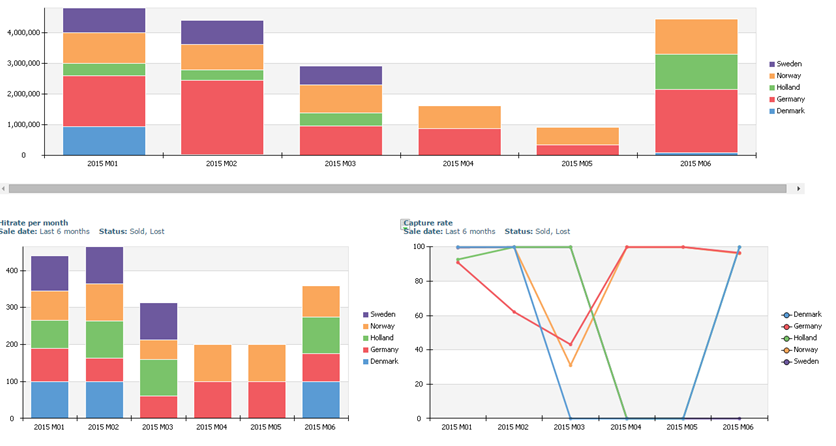 Dashboards visualize your sales data with charts, and can be pre-defined to fit your needs. Each week during a sales meeting, you can go through sales cases and see which stage they are in and give a status on the progress. If the pipeline is regularly updated you can easily see which cases you need to focus on.
Conclusion
For years it was thought that sales people were naturally gifted and were born to sell, but you see, sales is a science and it can be taught. The most successful sales people are those that work in a structured and organized way.
The personal touch is of course still important, but a CRM system can make your work more efficient through structuring everyday tasks such as logging activities, sending out offers, remind you of follow-ups, and the ability to have all information in one place and be able to see customer history.
Use the steps above help your sales team convert website leads and grow your customer base.
Want to know more about SuperOffice CRM and how it can help you structure your sales process? Book a demo.