Email is the undisputed king of B2B marketing.
Studies show that 48% of organizations believe email is one of their most effective channels to generate new leads online, while 59% of B2B marketers say email is the most effective channel for generating revenue.
In terms of return on investment, research shows that for every $1you use on email marketing, you receive around $36.
It's numbers like these that makes email marketing so valuable.
But, how are you using email marketing for your business?
And what email initiatives are you focusing on today?
Research shows that a third of marketers use email marketing to share content organically, with 81% of small companies use email marketing as their main mode of customer acquisition.
A study by Strongview found that for most businesses this year the top priority for email marketing is clear:
Increase subscriber engagement.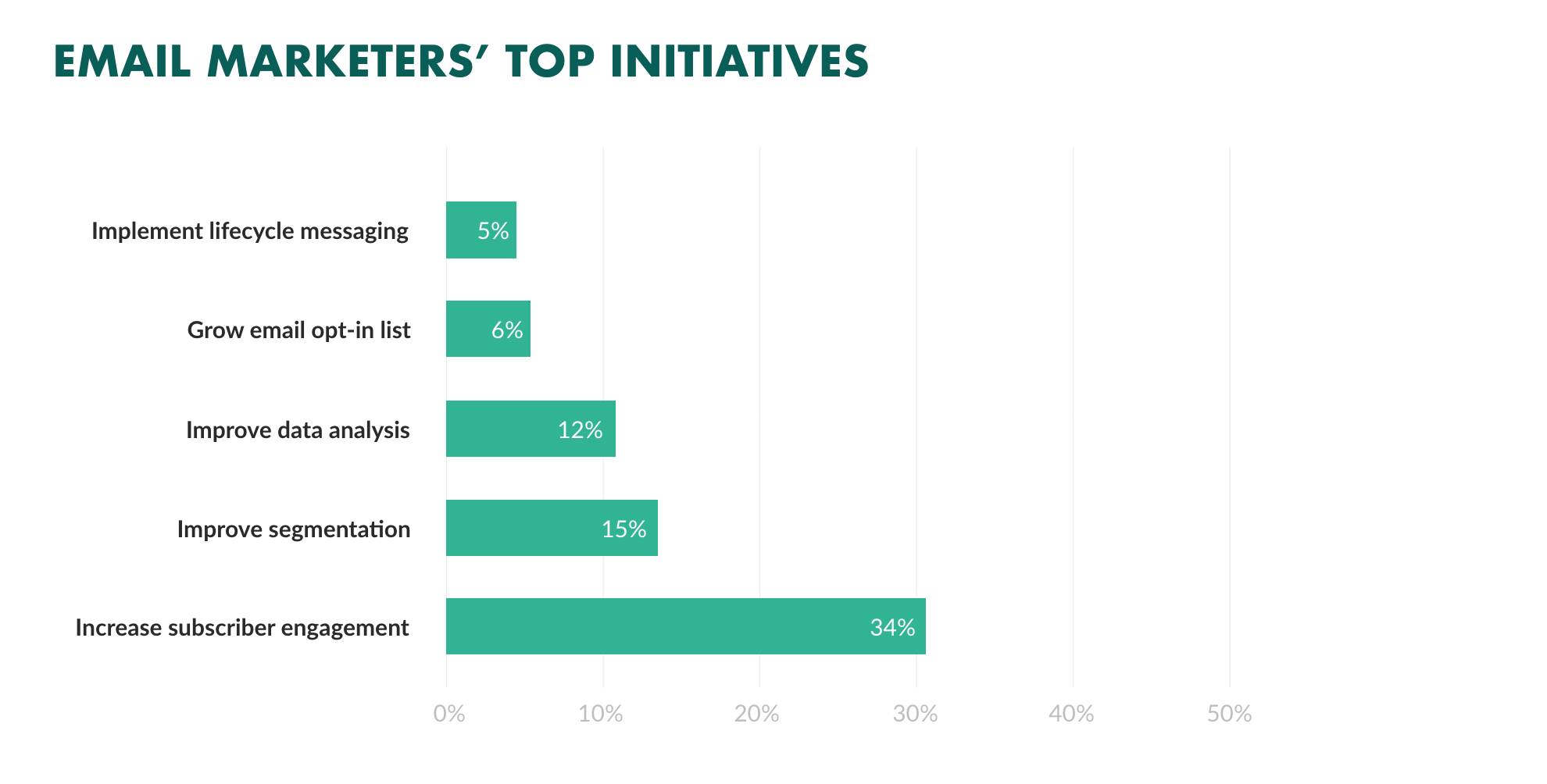 Increased subscriber engagement means more sales, higher revenue per customer and overall, better profits.
But, how do you increase subscriber engagement?
You can do this by sending different types of email campaigns.
Subscriber engagement is unlikely to grow if you send the same type of emails over and over again.
For example, think back over the last 12 months and the number of times you have sent the same kind of email to your entire list.
Did it increase engagement? Not likely.
Spay and pray marketing doesn't work.
(This is exactly why more companies are investing in account-based marketing.)
So, what kind of emails can you send your email subscribers?
23 B2B email marketing templates
We've signed up to 1000's of newsletters and shortlisted the best email marketing campaigns.
We'll start with B2B email marketing examples from the top of the funnel and work our way through the entire customer journey to help you increase engagement and deliver better results from your email marketing strategy.
Before we begin, here's a quick reminder that you need permission to send emails to your subscribers.
A subscriber needs to opt-in to your email campaigns. If they do not opt-in and you send a marketing email to them, then you risk being fined by GDPR
(Learn more about GDPR and email marketing best practices here).
Now that's out of the way, let's get started!
1. Welcome email template
Example provided by Buffer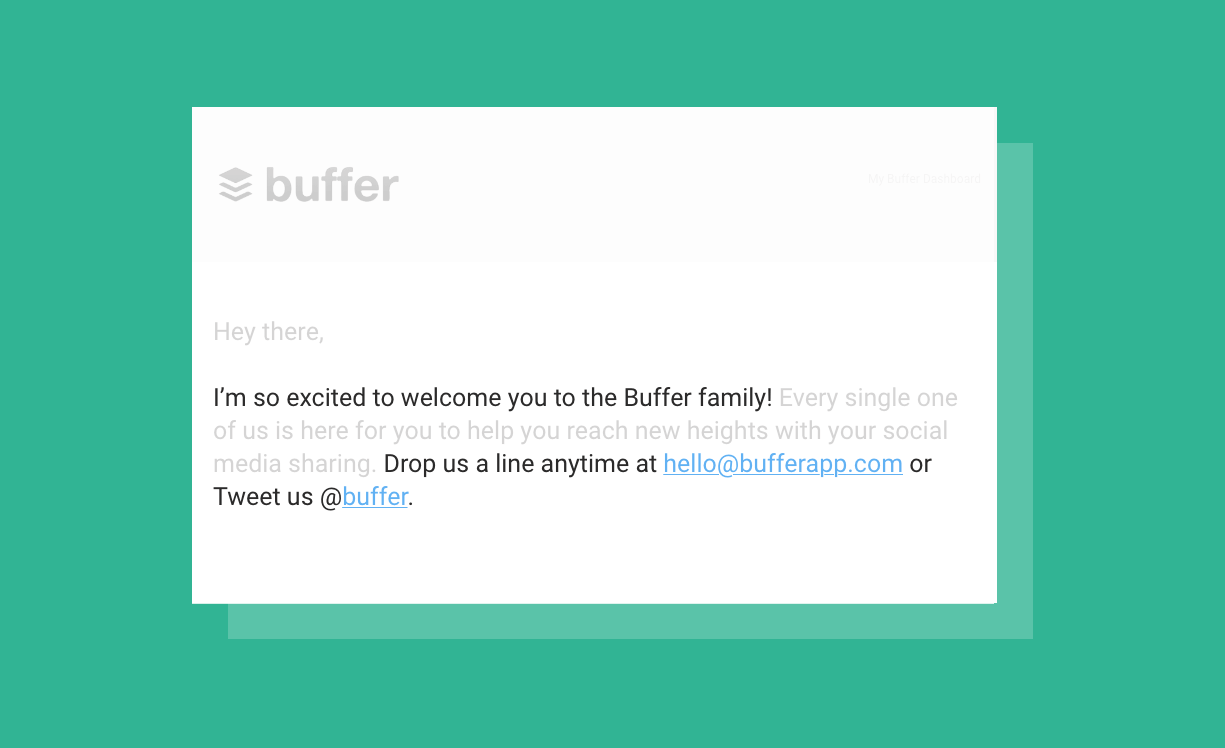 First impressions count.
A lot.
Therefore, if a subscriber signs up to something, whether it is to receive future blog posts or a series of email tips, it makes sense to thank them and welcome them.
By doing nothing, you make it difficult to create a strong impression. When you sign up on their web form, Buffer's welcome email includes links to their support email address and a link to their Twitter profile.
Simple yet effective!
How to implement: Whether you use auto-responders or send the emails manually, welcoming new subscribers to your company email list is a great way to build a strong relationship from the beginning. In the email, make sure you introduce yourself and company. You can also provide helpful links to content such as most popular blog posts or white papers, or links to your social media profiles
When to send: Each time you get a new subscriber
2. Curated content email template
Example provided by Hiten Shah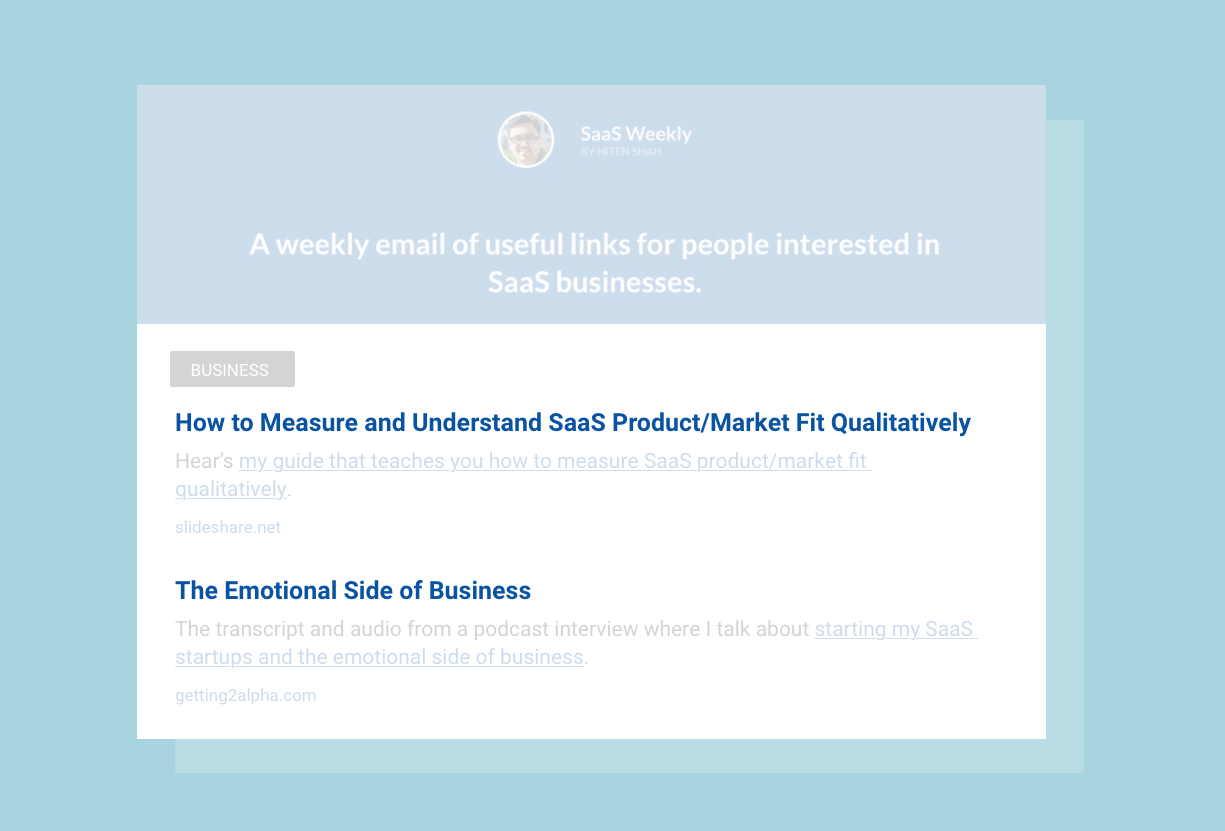 Each week, CrazyEgg and Kissmetrics founder, Hiten Shah sends a roundup of his favorite posts on topics that include SaaS, marketing, sales and growth. Hiten is able to deliver great content directly to his readers without them having to search the content out online. He's helping his readers do better, which adds a lot of value to his subscribers.
How to implement: Whether you're in customer service, social media, banking or the automotive industry, you can create a list of the best content you've read and share it through email to your subscribers with links to this content. You don't need a fancy design either! In doing so, you're delivering value without being self-promotional.
When to send: Weekly or monthly, depending on how often you can curate content
3. Company announcement email template
Example provided by SumAll (now acquired by another company).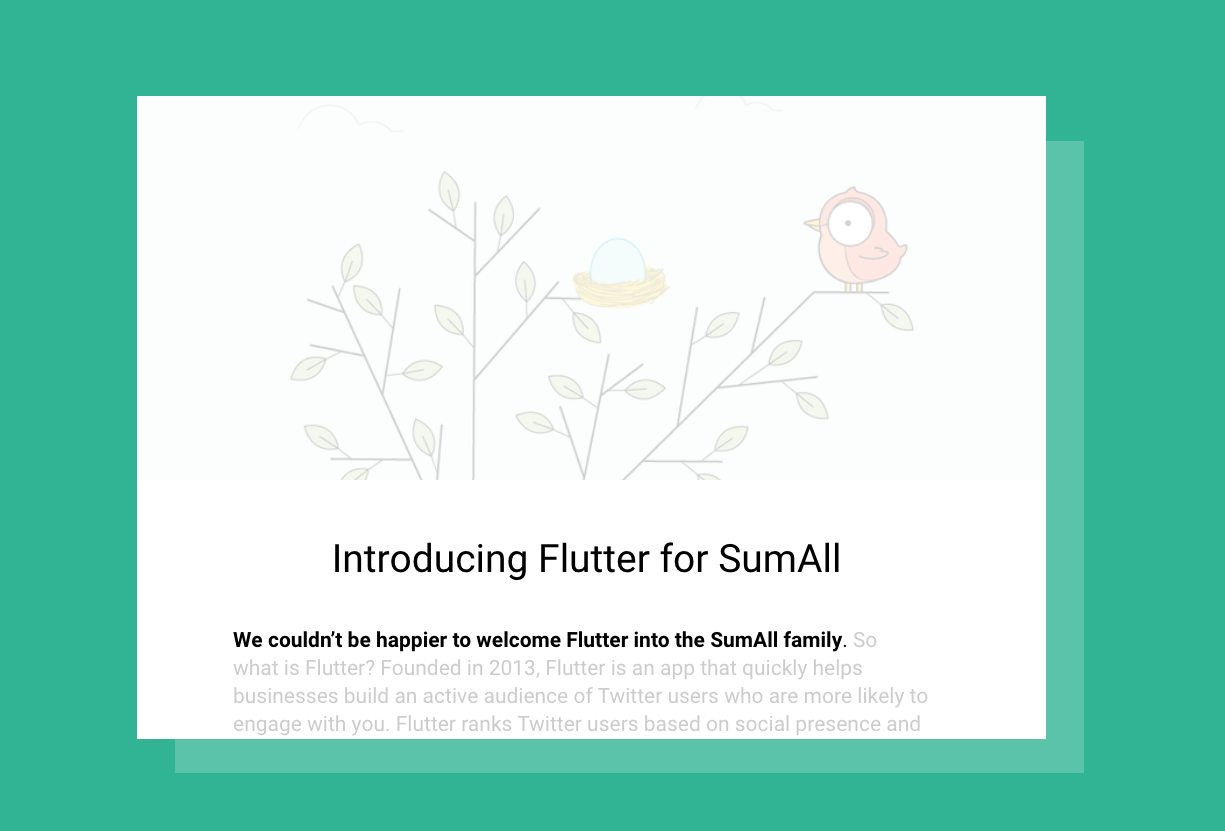 "Extra, extra - read all about it!"
In the mid-19th century, newspaper vendors would shout out when there was newer "news". Even though the channels have changed (unless, of course, you have hired street vendors lately…), newsworthy content about your company is still valuable content for your readers. In fact, 26% of all B2B subscribers sign up because they want to be kept informed on company news, according to research by Chadwick Martin Bailey: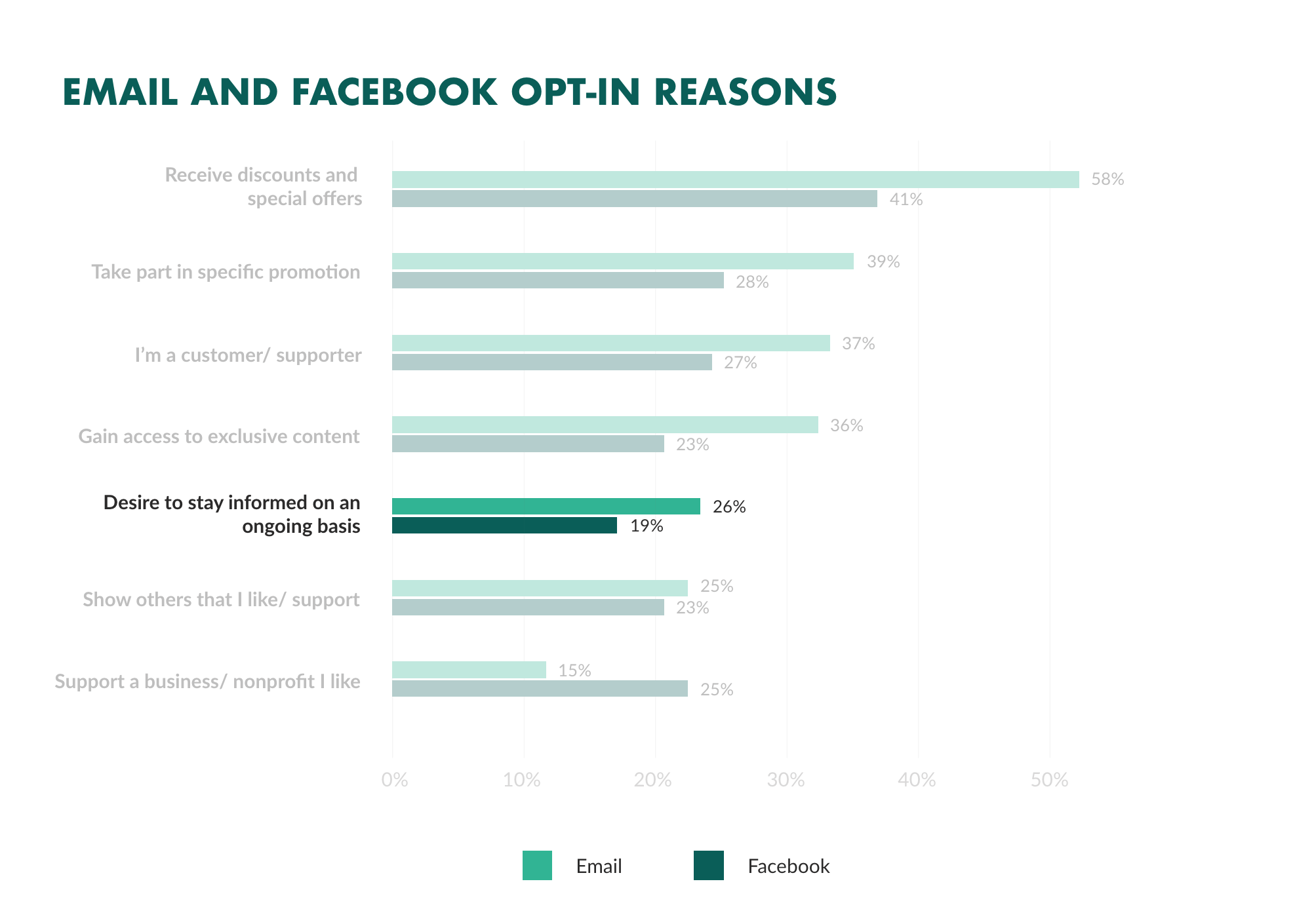 When SumAll acquired Flutter, a tool that helps businesses grow their Twitter following, one of the first things they did was inform their subscriber list. In doing so, they were able to create new interest in their product offering. So for prospects that were not sure whether SumAll was the right fit for their business, announcing this kind of news is likely to have a more positive impact.
How to implement: Whenever you have news to share, such as winning an award, changes to product offering or new pricing options, for example, announce this news to your subscriber list. You can either include all of the company news within the email or itself, or link the email to a landing page. (This email template works well for lead nurturing or customer marketing campaigns).
When to send: Each time you have news to share.
4. New article email template
Example provided by Gerry McGovern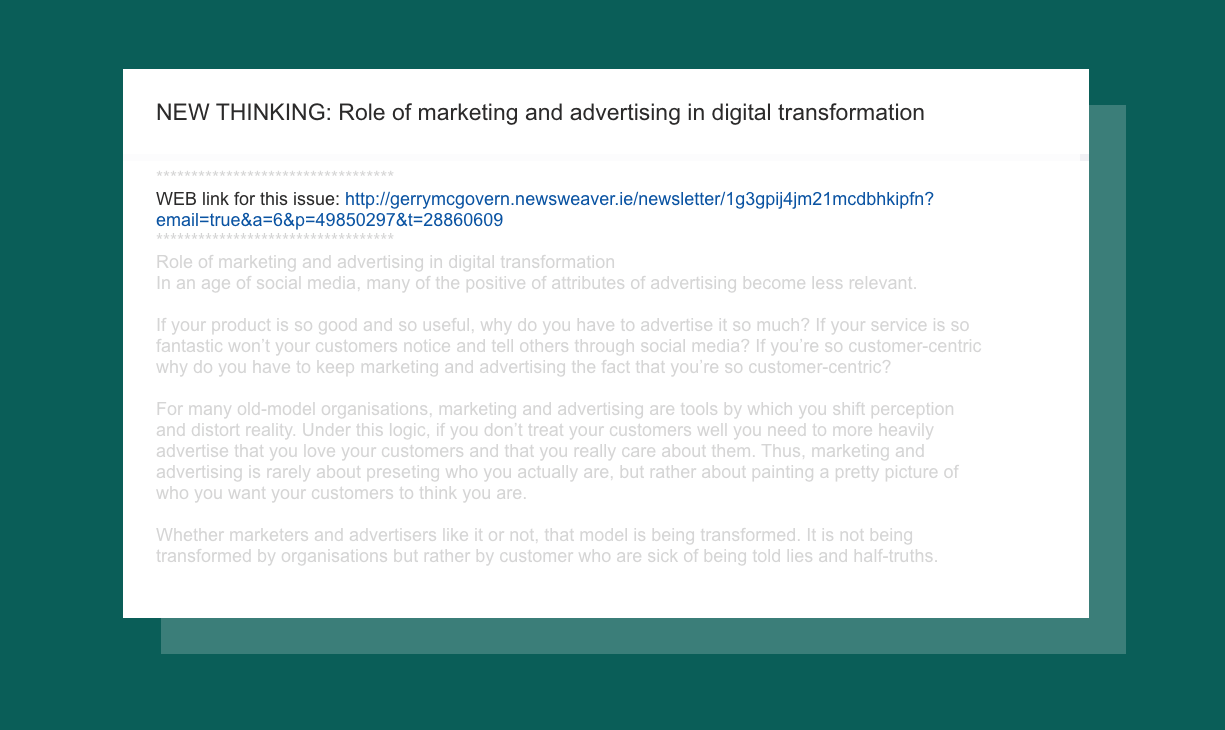 Gerry McGovern has long been sending new articles that he publishes in his weekly "New Thinking" email series. The email content, which is a copy of the article content that is published on his website, is a great way to update his email subscriber list of new content, without the subscriber having to visit Gerry's website. It's not promotional in any way, other than providing the reader with some thought-provoking content.
How to implement: Whether you use this example for new blog post content or article content, you can copy and paste the content directly into the email, like Gerry does, or provide a link to the webpage and drive readers to your website.
When to send: Each time a new blog post or article has been published
5. Video email template
Example provided by Backlinko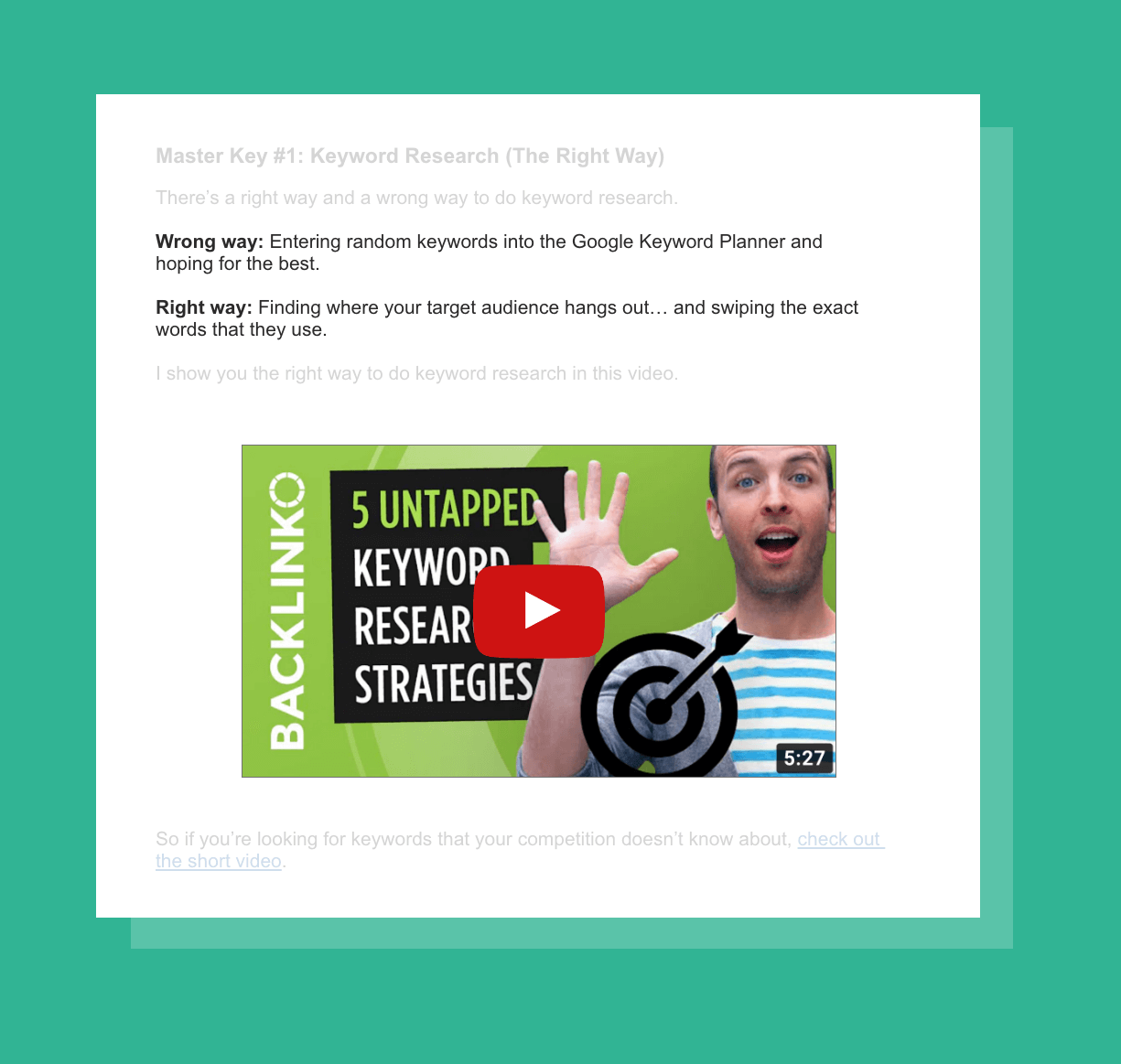 When Brian Dean, founder of Backlinko, sends an email, the chances that it contains a video are pretty high. By providing actionable content through video, Brian is able to not only deliver value, but build a rapport with his subscribers as they get to see and hear Brian on a regular basis, which builds an even deeper connection with his audience than he would create compared to reading web copy, as the person watching the video feels like they really know Brian.
How to implement: Take one of your best performing pieces of content and create a video version, and provide the tips in the content in your video. It doesn't have to require a film crew or include special effects, all you need is to be visible and on screen.
When to send: Monthly. It's a great way to engage on a new level with your audience
6. Inactive user email template
Example provided by Perfect Audience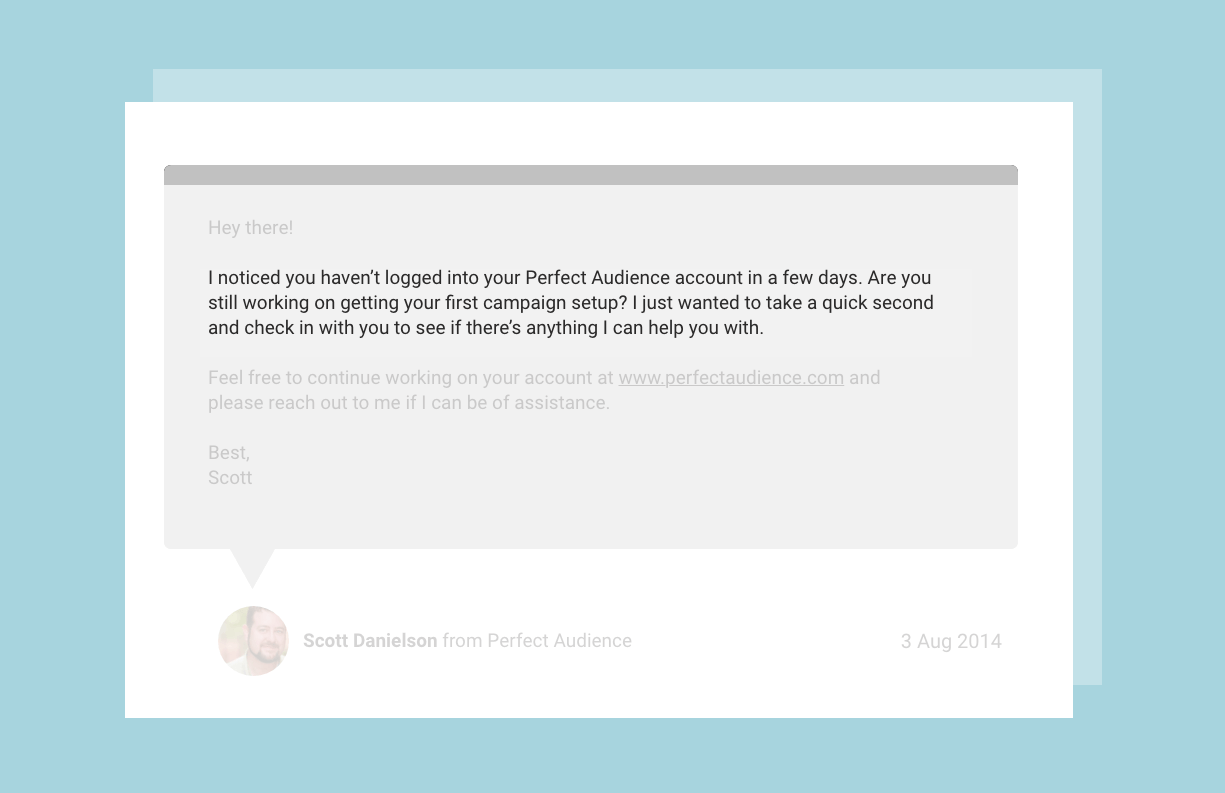 According to Epsilon, approximately 40% of your email list in inactive!
This means that each time you send out an email, almost half are no longer interested in hearing from your company. In the example above, Perfect Audience has sent out an email to a new user who has become inactive. This email is a great way of restarting the conversation and reminding the user that they can use the product, or get answers to any questions they may have.
How to implement: Create a list of email subscribers who have not read or opened an email during the last 12 months (or, customers who have not logged in to the product within 60-90 days), and send an email that includes:
Who you are and what you do
Why they signed up in the first place
A question or an invite to start a conversation
When to send: Two-three times per year
7. Product promotion email template
Example provided by VWO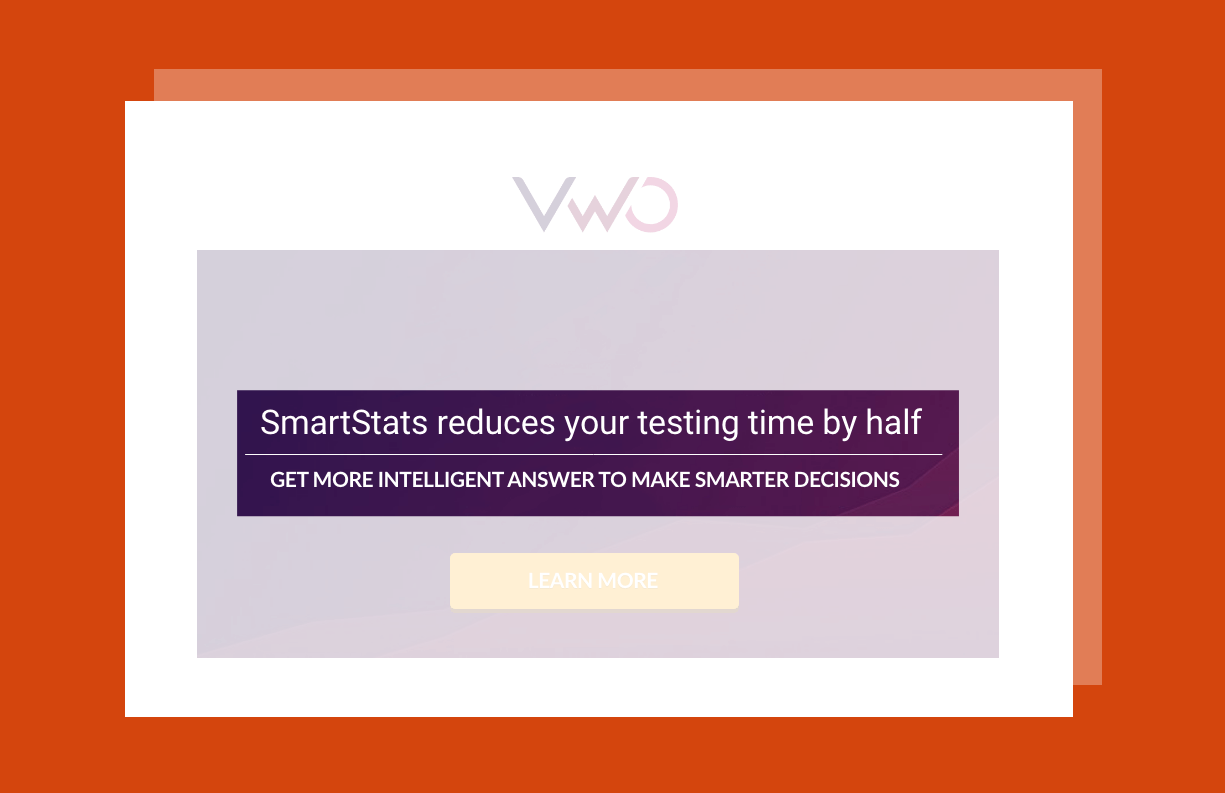 Accurate data is important to marketers', especially when it comes to running tests on their website. When VWO launched SmartStats, they informed their audience of the new change and how it impacts users – and how it can help them with their tests. For prospects on the fence as to which vendor to choose, this is the kind of change that can lead to an increase in new customers.
How to implement: Your company's product will evolve, and each time you add a new feature or improve an existing feature, it could be the improvement that turns many prospects into customers. However, you need to get the word out and inform them so they are aware of these changes. The next time you update your product, send an email to your subscribers with a list of changes/ updates. Remember to use simple language so instead of including "Feature enhancement 4.2", you explain how this change impacts the user, i.e. Users can create quotes and send via email in one click".
When to send: Each time you update your product
8. Gated content email template
Example provided by SuperOffice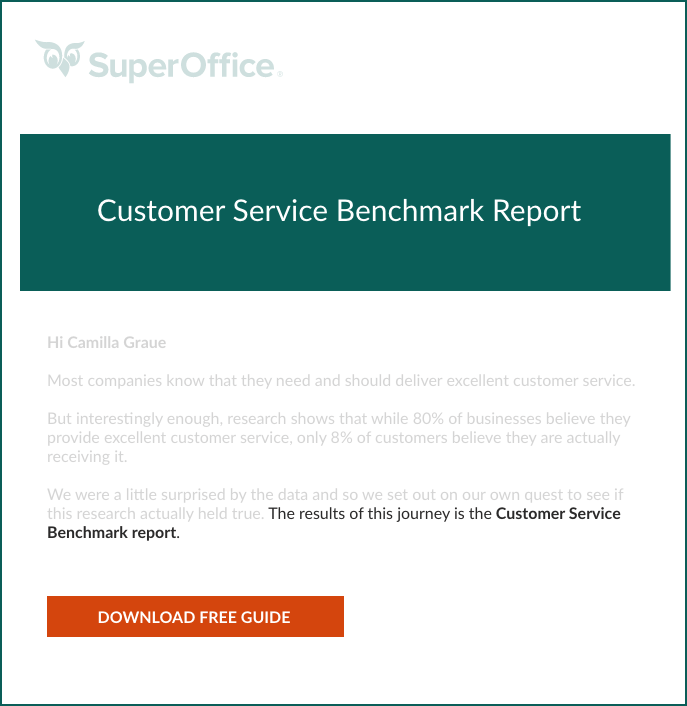 Each time SuperOffice launches a new white paper or guide, we send an email to our subscriber list. This is the fastest way to get more people to read and download the content. The reason why we do this is because according to research, 36% of B2B buyers' seek out white paper content during the initial stage of the buying process (as shown in column one in the chart below). By delivering educational content directly to our subscribers' inbox, we make it easy for them to consume the content they demand, while at the same time keeping SuperOffice top of mind.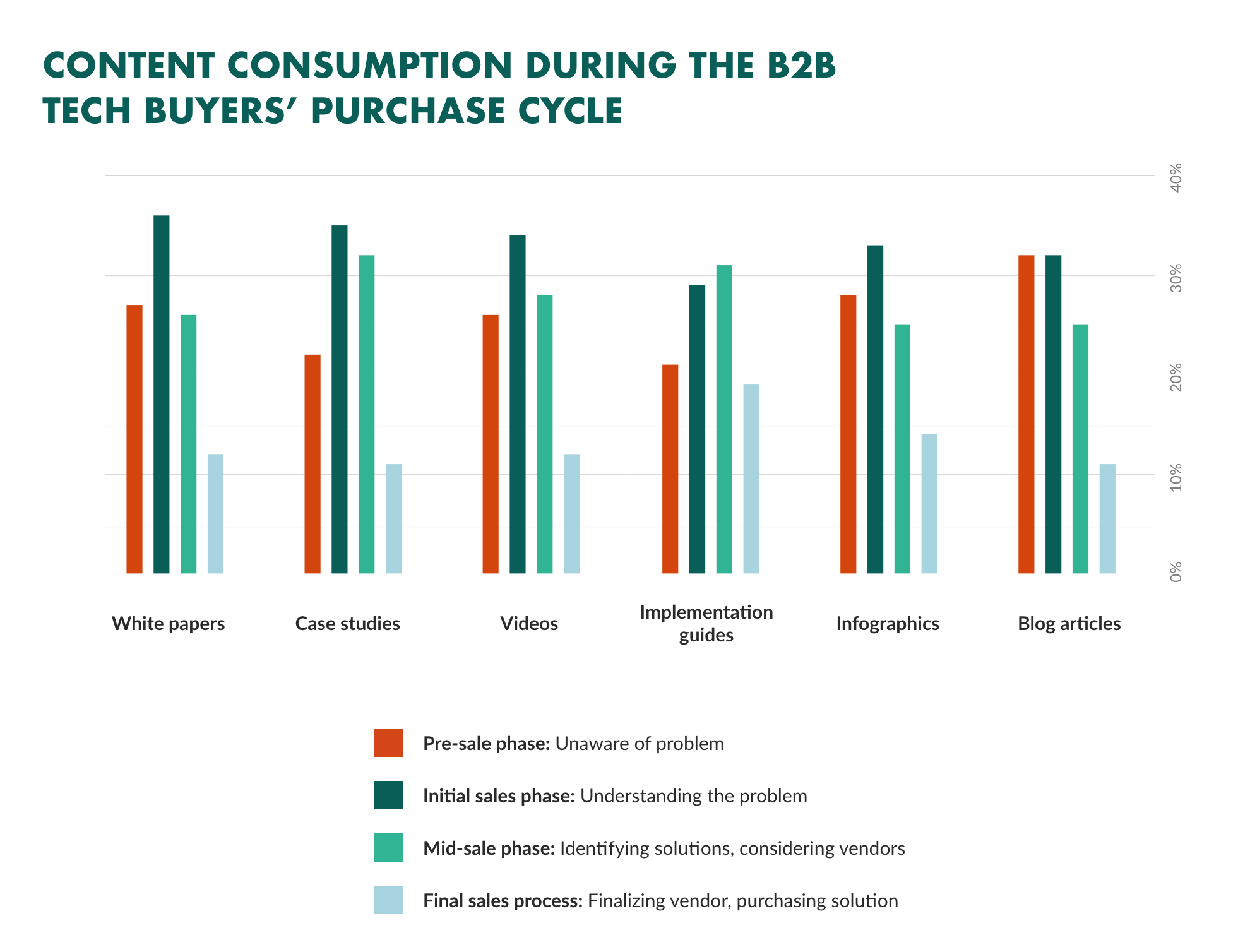 How to implement: Next time you launch a new piece of gated content, announce the launch to your subscriber list. Just like in the example above, keep the email short, benefit driven and include a call to action, which asks the reader to download the guide from a dedicated landing page. The goal of the email is to drive readers to your website.
When to send: Each time you launch a new piece of gated content
9. Webinar email template
Example provided by Kissmetrics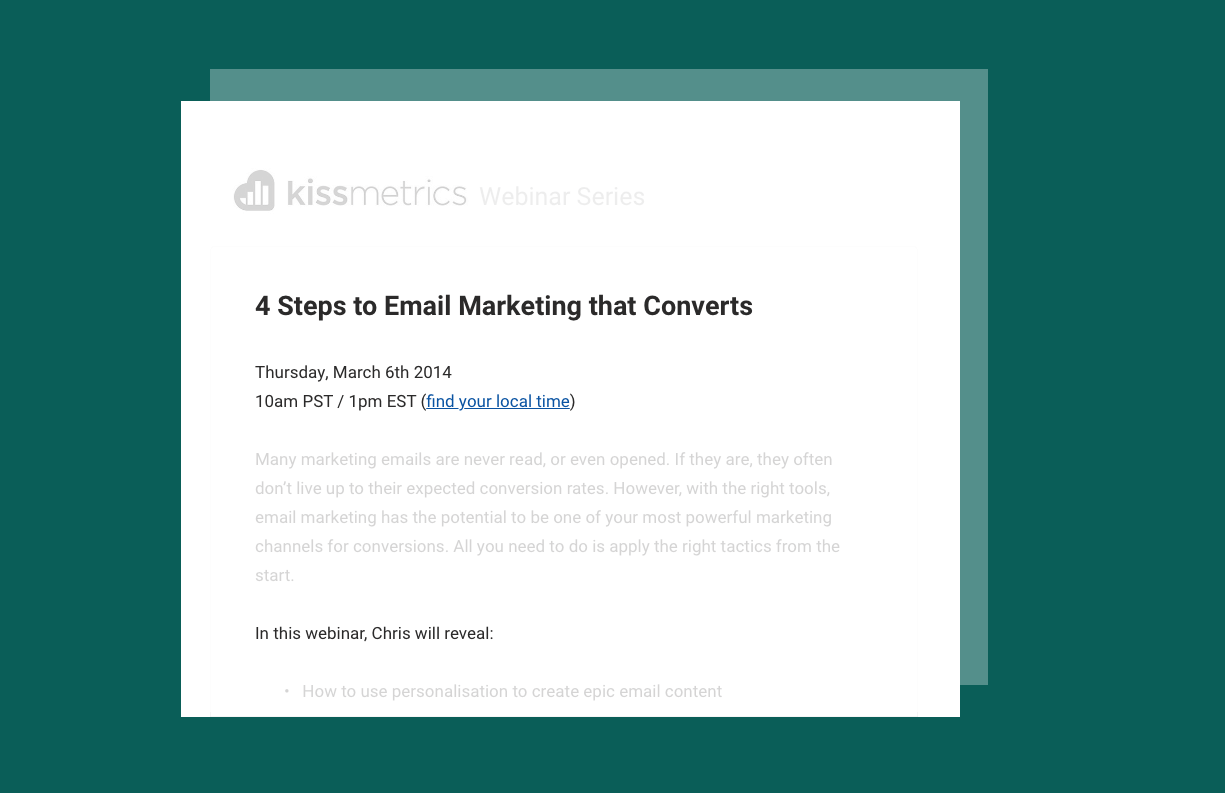 As far as customer acquisition channels go, webinars are one of the most effective ways of speaking directly to your potential customers. Kissmetrics uses email marketing as one of the ways to promote a webinar, which makes it easy for subscribers' to learn about upcoming events and schedule the time to attend. Webinars are a great way to showcase your expertise and engage with buyers' who are further down the sales cycle and looking to make a purchase.
How to implement: Instead of creating a brand new topic to host a webinar on, use existing content and repurpose it into a webinar topic. For example, take a piece of content that performed well, and on a topic you are comfortable talking about, and then send an email to your subscriber list with an invite to a webinar. Make the date and time of the webinar clear, and include a description of what the webinar topic is about.
When to send: Each time you host a webinar
10. Live event email template
Example provided by ConversionXL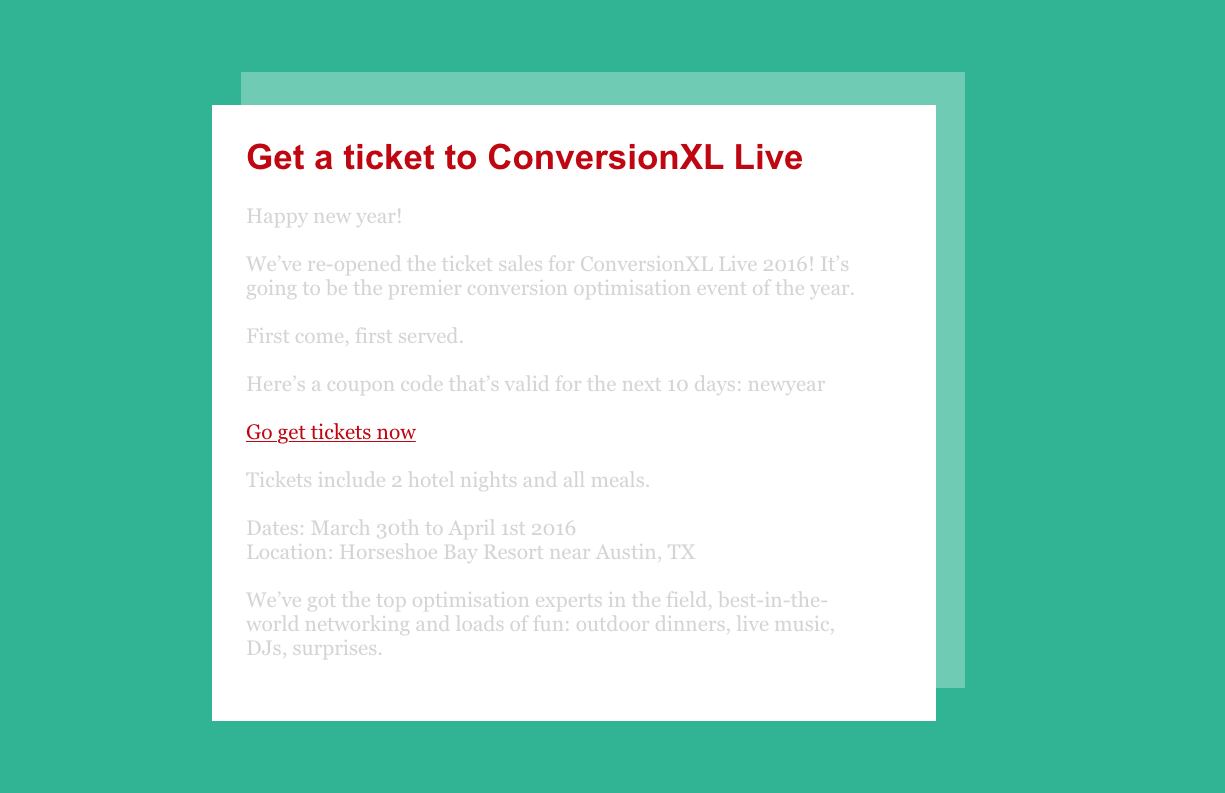 When Peep Laja launched his ConversionXL conference this year, it wasn't too long until he let his email subscribers know about it. Do you know why? It's because his subscribers are potential event attendees (and therefore customers)!
In fact, during a live AMA (ask me anything) on Inbound.org, Peep went as far as saying 80% of his conference ticket sales come from his email list!
There's no better way to promote an event than to invite people that already know who your company is and what you do. A study by BrightCove and Content Marketing Institute found that meeting potential customers is the most effective tactic for B2B marketers'. So next time you host an event, invite your email list!
How to implement: While hosting an event can be expensive and time consuming, there's no better way to get face-time with prospects and create a relationship than event marketing. Promote the event through email marketing, and include the details of when, where and why attendees should join. And for your event, get your best salespeople ready to meet and greet future customers!
When to send: Each time you host an event (I'm guessing one to two per year)
11. Case study email template
Example provided by Eyequant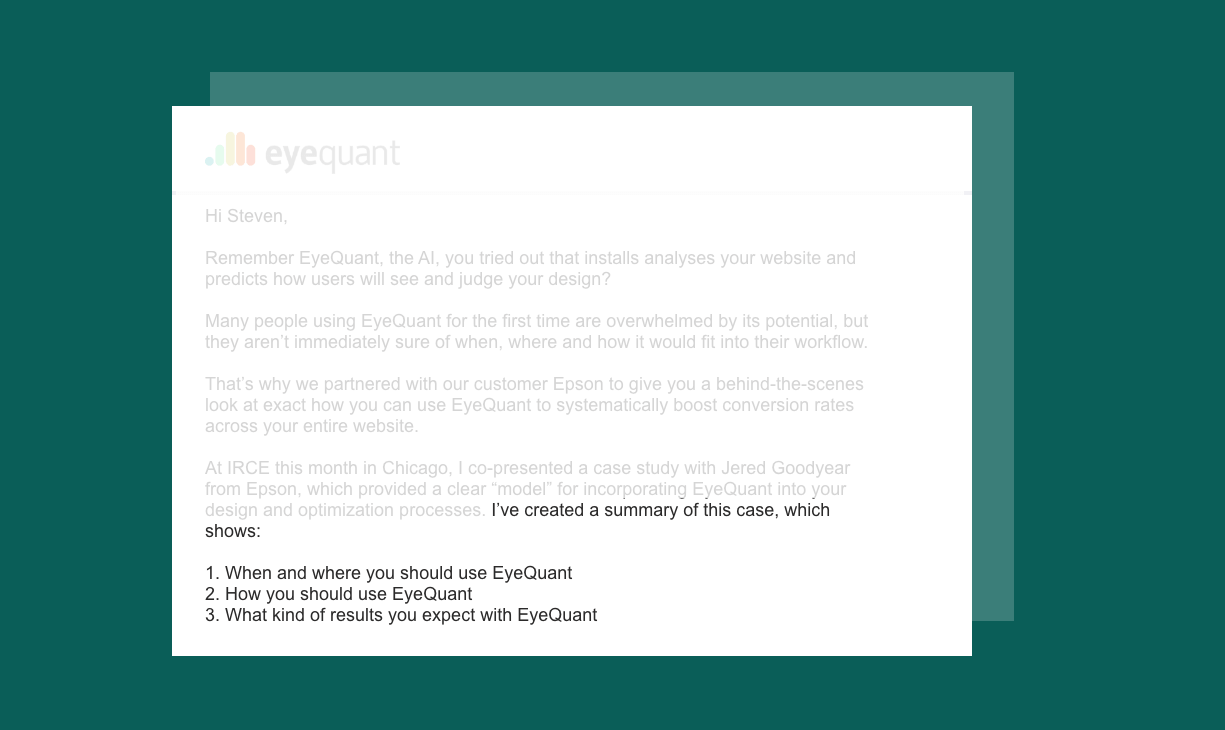 As B2B buyer's move further down the funnel, the value of a case study grows. A case study is a great way to show how your product can help a business improve, whether that's in terms of sales, productivity or communicating with customers.
Eyequant's case study email starts by explaining the challenges similar companies face. This is followed by the details of the case study, which includes how to use the product and what kind of results you can expect. The results are the most important part of a case study. Showcasing product value for companies similar to your prospects is a great way to earn trust and turn them into customers.
How to implement: You can take an existing case study and send an email to prospects with a link to the study, or you may have to ask your customers if they would like to be featured as a case study. The latter might take more time, but once you have a case study or two, you can use these for several months or years to come. Remember to focus on the results part as this is where the real value lies!
When to send: Bi-monthly or quarterly. This is for later stage buyers.
12. Request demo email template
Example provided by LinkedIn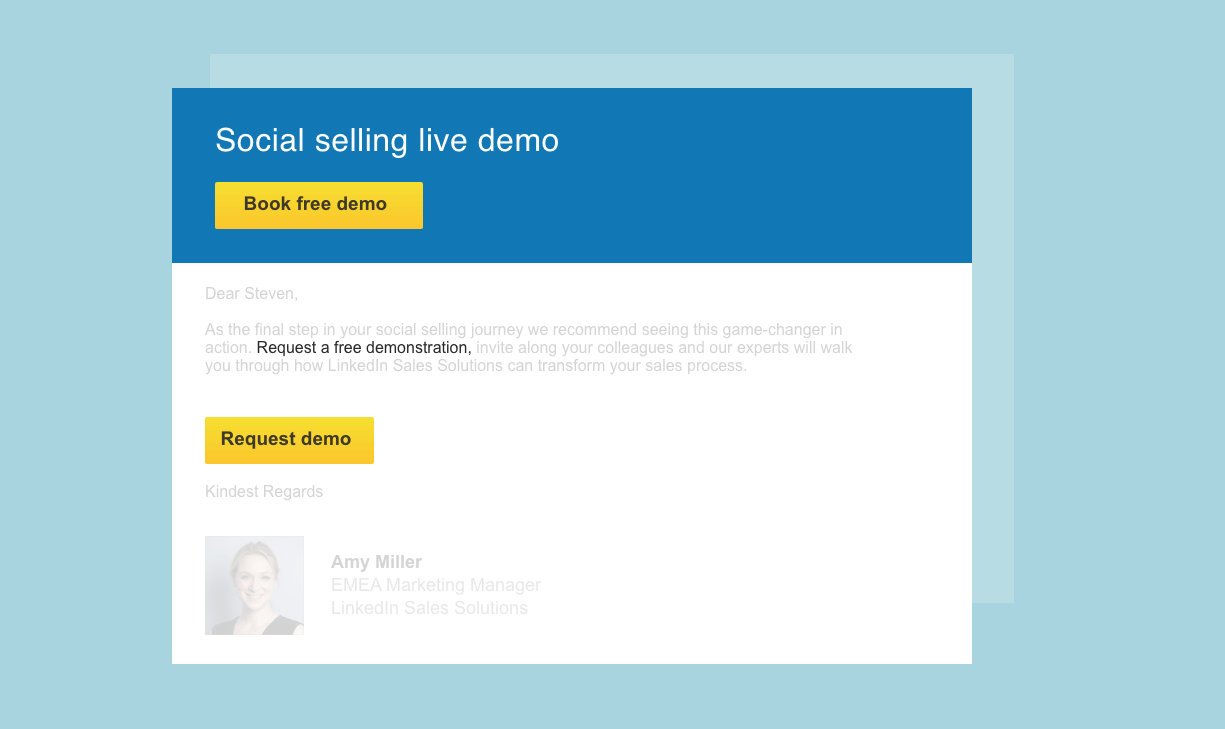 In terms of lead quality, Software Advice found that 80% of marketers' rate "live demo's with sales reps" as the most effective way to generate high quality leads. Therefore, it makes sense to invite potential customers to a personalized demo with a sales rep. As part of their social selling campaign, LinkedIn not only sends a personalized email invite addressed to me by name, but they also sign off with an image from one of their sales reps. Adding a photo is a quick and easy way to build trust. The email is short, personal and based on a user's behaviour – and therefore, very effective!
How to implement: Create a list of prospects that have completed at least one key action on the website (for example, downloaded a piece of content) but have yet to be entered into the sales process. Create a personalized email, and invite them to a live demo. The live demo can be hosted through screen sharing on Skype or through a video chat.
When to send: Can be done on a per lead basis, or on a monthly basis.
13. Getting started email template
Example provided by Evernote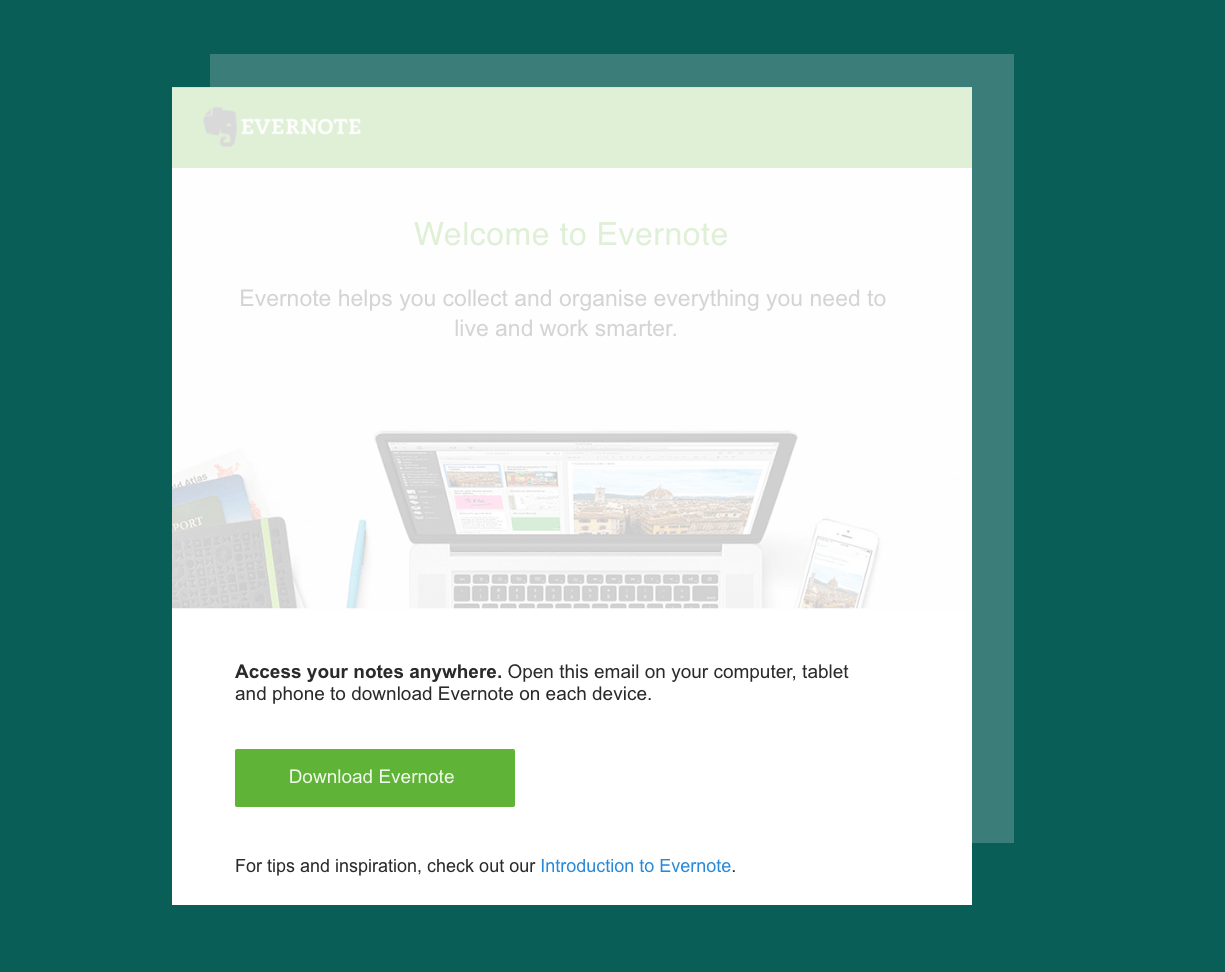 When you sign up to Evernote, the first thing they do is send you an email to download the product. This email works because it continues the conversation that started when a user visited the website and signed up, to now asking them to download that product. Is the email effective? Definitely! It's helped Evernote generate more than 200 million users!
How to implement: If someone signs up to your product, send an email to continue the conversation. Whether the new user has to install, download or login, make the focus of the email clear, and use only one to call to action (like Evernote does).
When to send: Each time you get a new user
14. Thank you email template
Example provided by Unbounce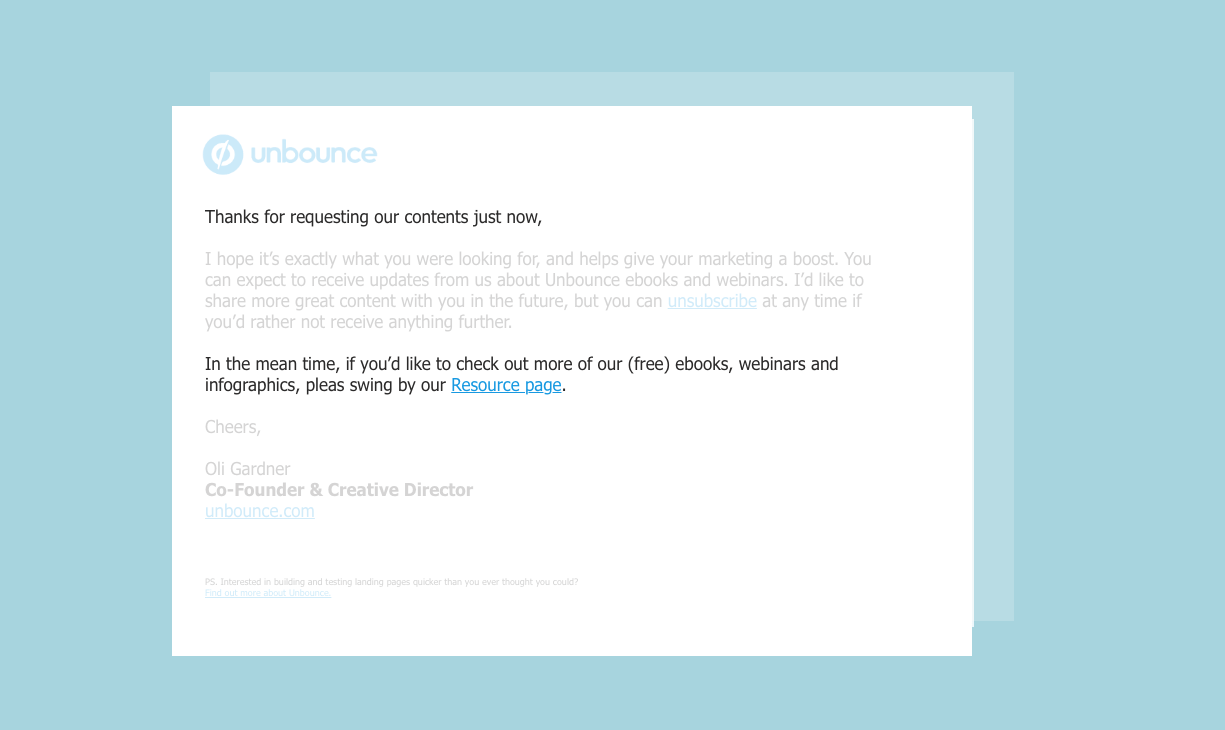 If you download a piece of content, or complete an action on a website, a thank you email is a great way to connect with your audience. At Unbounce, they send you a thank you email when you download a piece of content – in this case, a white paper. What works well for Unbounce is the email is sent in plain text, rather than a HTML designed email template. It looks authentic and feels genuine, which makes the reader feel valued.
How to implement: You can send this type of email out through an auto-responder – when a visitor does this, we do that – or you can send it manually. Start by thanking the reader, and if possible, include a direct link to the content, so they can access it immediately. In addition to the thank you, you can also provide links to your resource page and a link to your product page (just like Unbounce do).
When to send: Each time someone completes an action of your website
15. Survey email template
Example provided by Headspace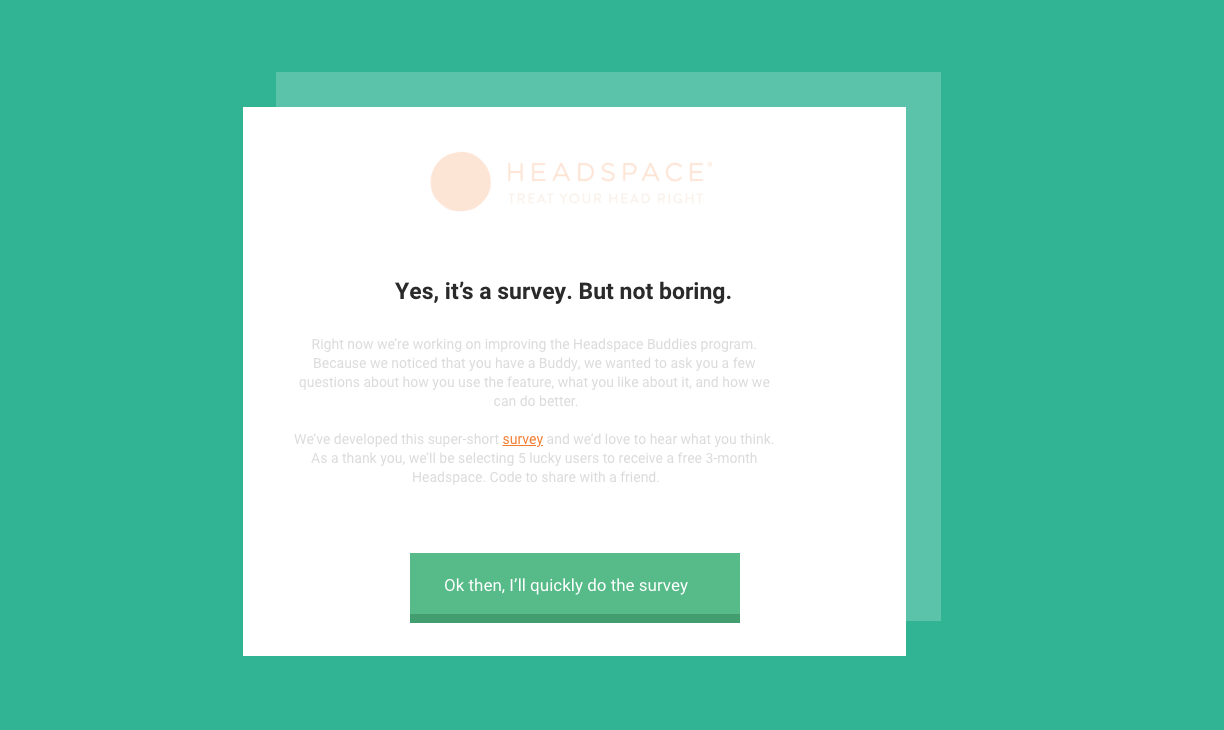 Although technically not a B2B email marketing email, it would be a crime not too include this Headspace survey email.
Headspace, the meditation app that has more than one million downloads, comforts the reader immediately with this survey email by opening up with "Yes, it's a survey. But not boring". Most people assume surveys are boring. This statement makes it clear it won't be, or at least attempts to do so. To increase response rates, Headspace offers an incentive where participants can win a free 3 month subscription. And the focus of the email is clear. White background, green call to action button.
How to implement: Setting up the survey is the difficult part. You can use Google surveys, which is free or a paid tool, like Survey Monkey. Keep the survey short, as no one likes to spend more than 5-10 minutes on a survey, to increase response rates. As for the email itself, the focus is on getting people to participate, so make it clear what you want the reader to do.
When to send: Quarterly or two times per year. The feedback you collect is pure gold!
16. Free trial email template
Example provided by User Testing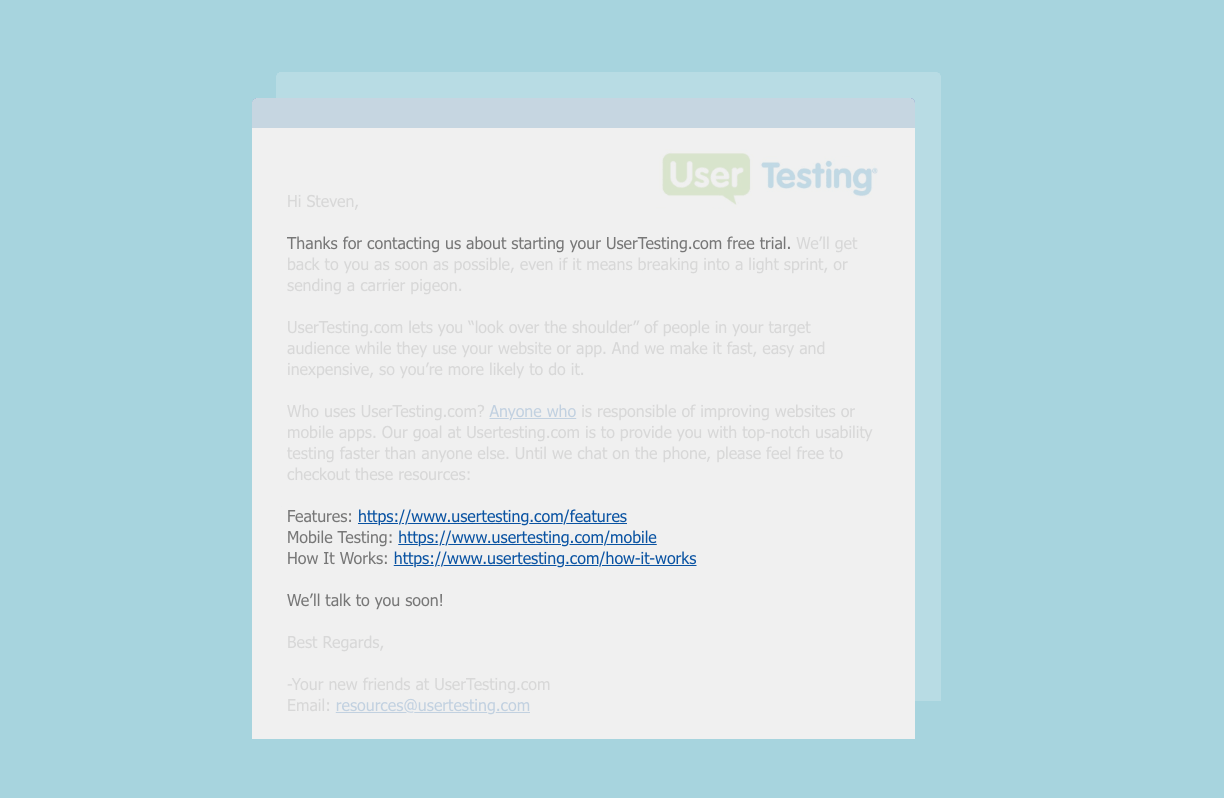 UserTesting.com lets you pay for people to test your website. Each time a new user signs up for a free trial of their service, you get this email. Two things stand out in this email that make it great; the first is that the email addresses who uses their product, which emphasizes why the reader should remain engaged with their product and take the free trial, and second, the email provides resources to features, mobile testing and how it works sections of their website.
How to implement: Each time someone signs up for receive a free trial of your service, thank them for signing up and provide supporting information and helpful links to keep them engaged until the free trial service begins.
When to send: Each time someone signs up for a free trial.
17. Referral email template
Example provided by Buffer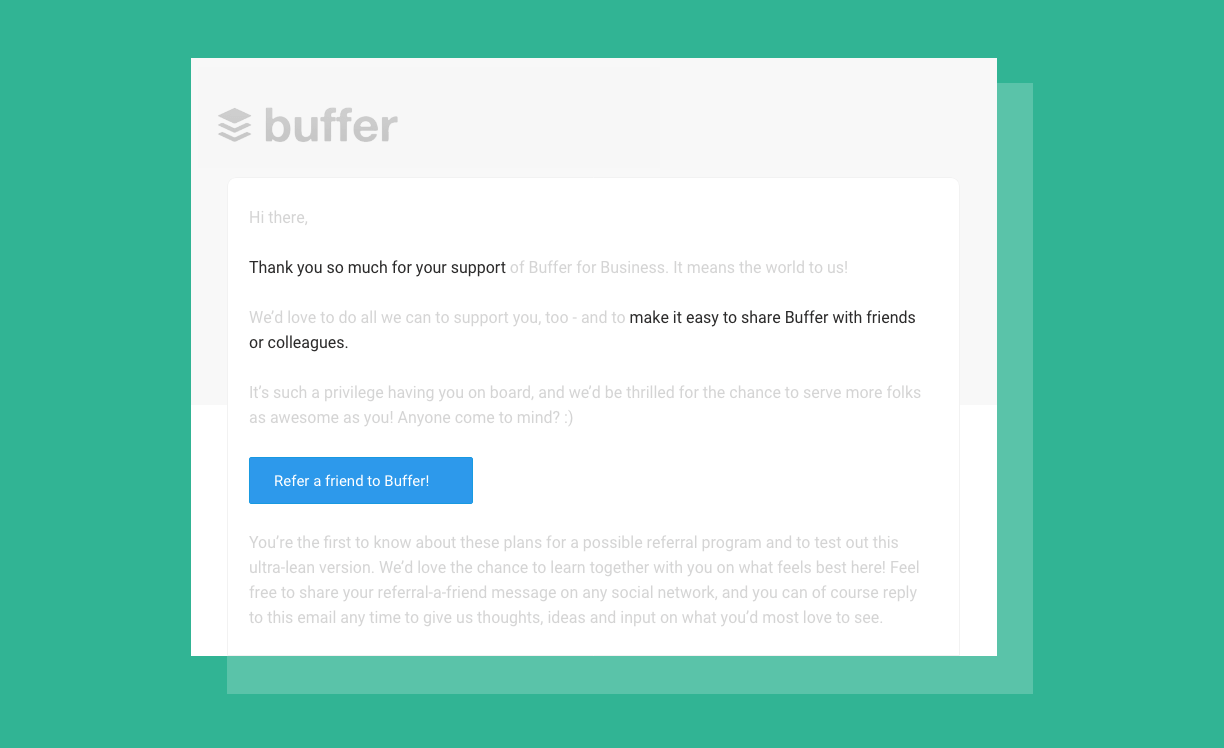 Congratulations, the free trial period is over.
So, now what?
Well, what usually happens after a free trial is the communication takes one of two paths; the first path is that the free trial user becomes a paying customer – Whoohoo!
The second path is that the free trial user doesn't become a customer, and therefore the communication comes to an end. However, what Buffer does really well is follow up with the user and ask for a referral. The referral email keeps the conversation going, even asking for input on suggestions or ideas to their product.
How to implement: Create an automated email that is sent between 3-4 days after the free trial has ended to all trial users who do not become paying customers and ask for a referral. In fact, the content of the email can be the same whether the user becomes a customer or not. Keep the email simple, focus on getting a referral and if possible, keep the conversation going.
When to send: Send this email 3-4 days after the free trial has ended.
18. What's new? email template
Email provided by Leadpages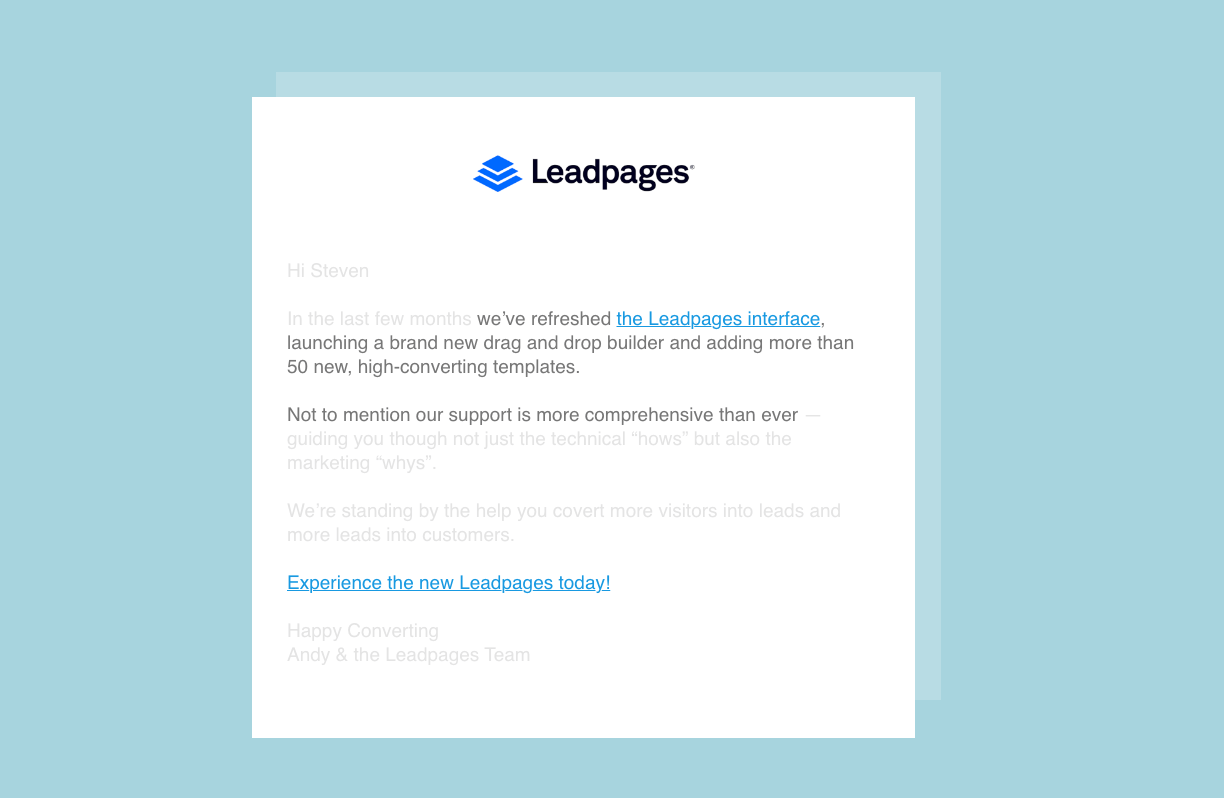 The benefit of SaaS products is that your product will continue to be improved, without the customer having to install new versions of it. But, while you're busy developing new code, testing new features or rolling out Beta versions of a new product update, the majority of your customers will remain unaware. This is why a "What's new" email is so important!
Your customers want to know you have their best interests in mind. If you don't communicate new updates to them, then they might not think you are doing anything at all. You can easily avoid this by sending an email each time you have something new to share.
How to implement: Anytime you roll out a feature that impacts the user experience (like in the example above), communicate it by email. Ideally, you will communicate this BEFORE the update is rolled out, to give your users a heads up, but communicating it on the same day works too. Just don't delay it any further, as any big changes that aren't clearly explained will lead to a surge in customer support tickets.
When to send: Send this email to your customer database each time you launch a new product. feature or improvement.
19. Upsell email template
Email provided by Buffer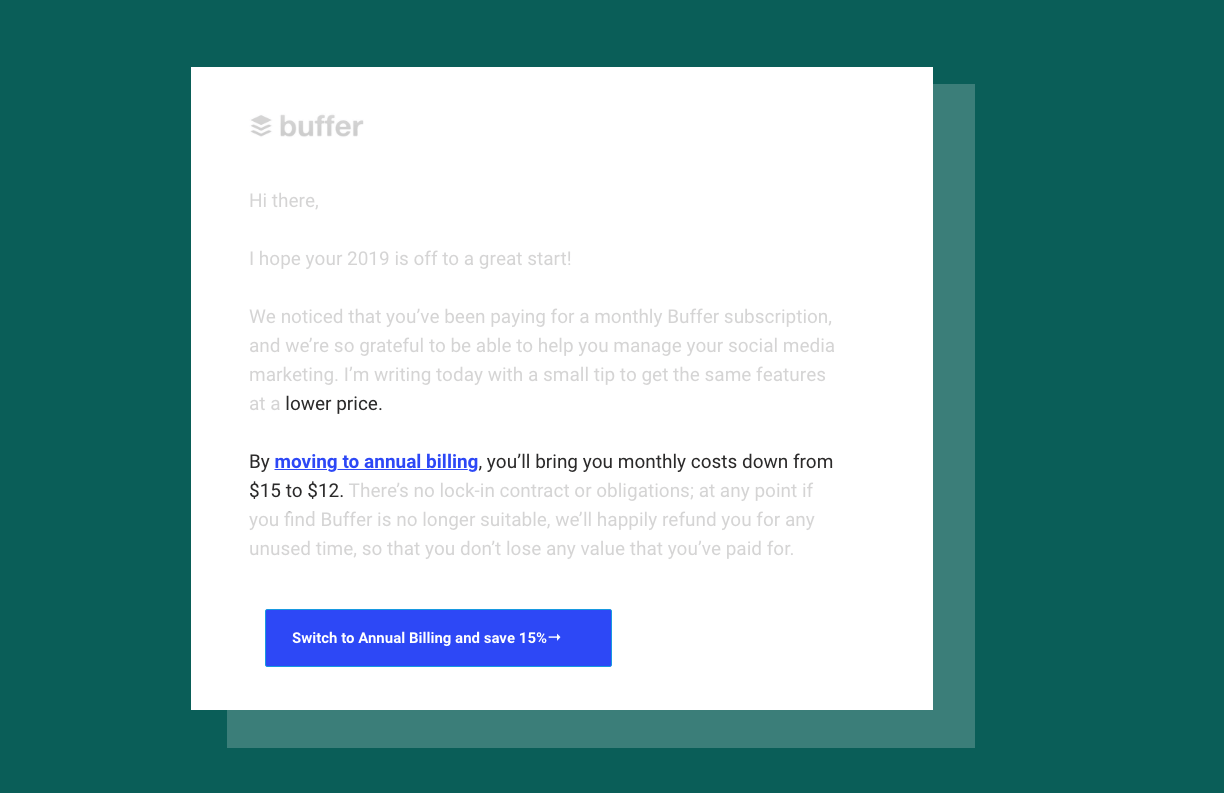 We started this B2B email marketing list with Buffer, and as they are the masters of email marketing, we're using Buffer again. Most subscription businesses offer two forms of payment - monthly or yearly. The benefit of annual payment for the company is that it's good for cash flow. For the customer, an annual payment is usually rewarded with a discount. It's one of those rare cases when everyone wins.
In this email from Buffer, they offer a 15% discount by switching to an annual plan - meaning I'd be saving $36. Not bad for a single click. What makes this email template even better is that they offer the option to cancel at any time.
How to implement: This email requires automation as it's based on behaviour and payment confirmation. If you're a hyper-growth stage company, then you might want to implement this before their second monthly payment subscription is due, or after their third monthly installment payment in a row. Make sure you highlight the benefits of why someone should switch, and make the process easy to do once they click the CTA in the email.
When to send: Each time a customer completes a specific number of monthly payments in a row.
20. Milestone celebration email template
Email provided by Trello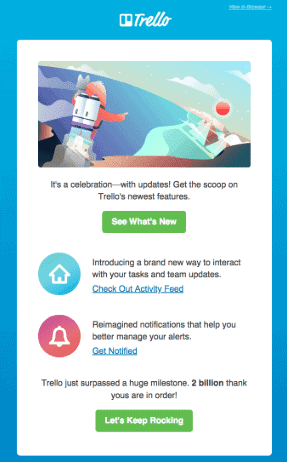 In this example, the company not only shared a significant company milestone, but also gave customers information about new updates regarding their product.
Why is this a prime example of B2B marketing?
Because the email is equally beneficial (and important) to the customer as well as the company. The reason being that the customer is notified about new features or product capabilities and the company is able to acknowledge a milestone that can bring about more brand credibility and recognition.
How to implement: Check your company calendar or check your data and numbers for upcoming milestones and create emails that automatically send out when you reach new milestones
When to send: Whenever you reach a new company milestone.
21. Online events email template
Email provided by Zoom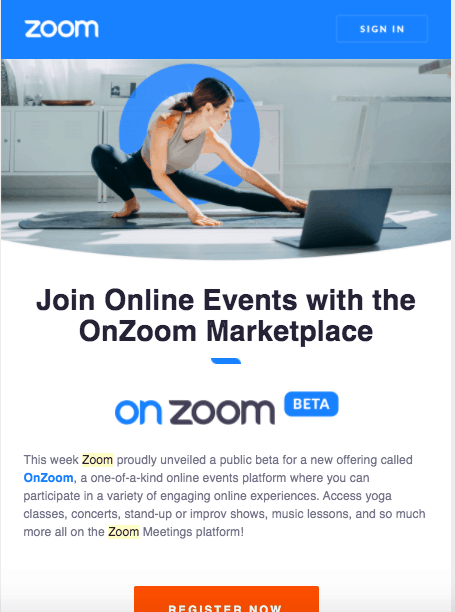 What makes this type of email work is by helping boost interest in your product again.
Although the pandemic sparked the use of Zoom immensely in almost every single company, as things have returned to normal - the application isn't that high of interest as it once was. By highlighting events like think-tank classes or tutorials via Zoom meetings the company can build more loyalty to their product when customers are falling behind.
How to implement: Plan a few events and create emails highlighting each one, with a specific date for automatic sending.
When to send: A few weeks or days prior to the event.
22. Unsubscribe email template
Email provided by SendFox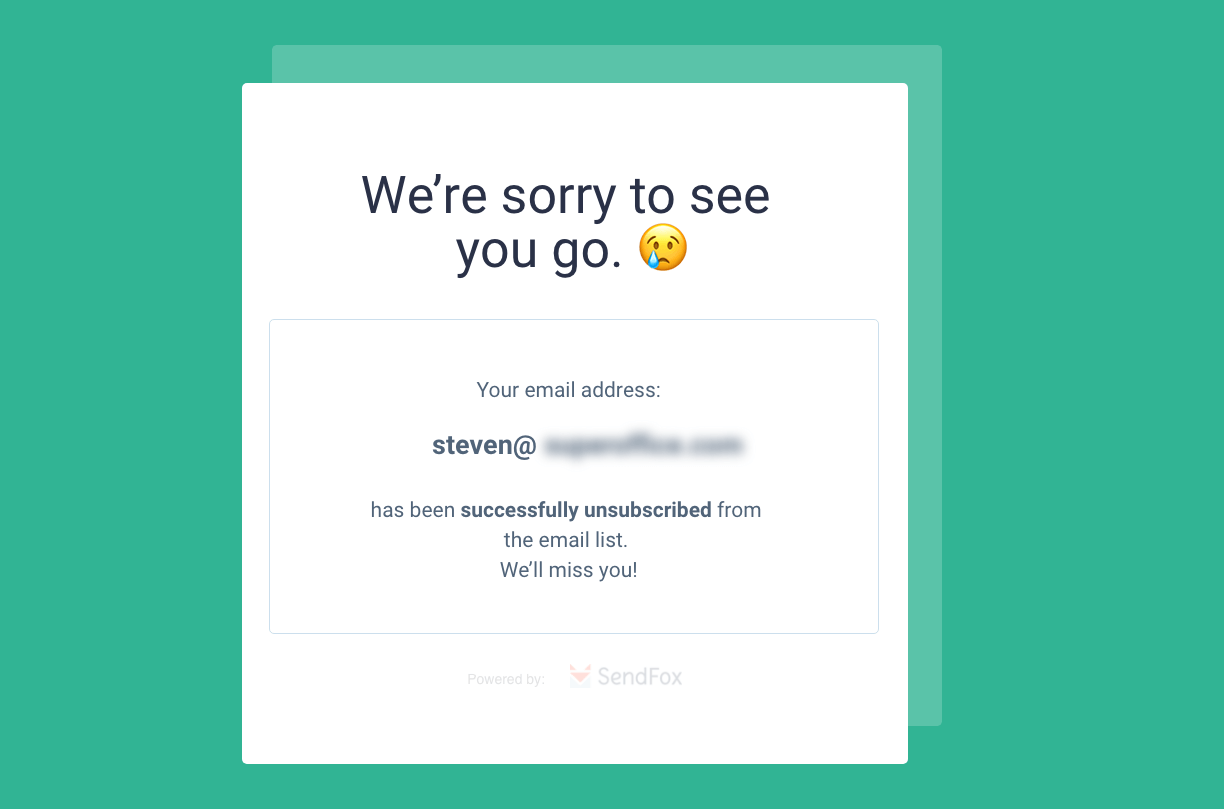 Hey.. it happens, but sometimes, people want to stop receiving emails from you. It could be that they've moved on from where they were when they originally signed up or that the topics are no longer of interest. When someone requests to unsubscribe, you have to honor it. Otherwise, you risk being fined by the GDPR.
The benefit of sending this email once someone unsubscribes is that it acts as a confirmation. Far too many companies fail to acknowledge their customers. By sending an email immediately after the person has unsubscribed, you're informing them that their request to no longer receive emails has been confirmed (the emoji doesn't hurt either, as it's inline with their brand TOV).
How to implement: An unsubscribe feature is a standard, out-of-the-box solution in every email marketing software. Keep the copy short. You're informing, not selling, here.
When to send: Each time a subscriber opts out of email communication.
23. Cancel account email template
Email provided by Unbounce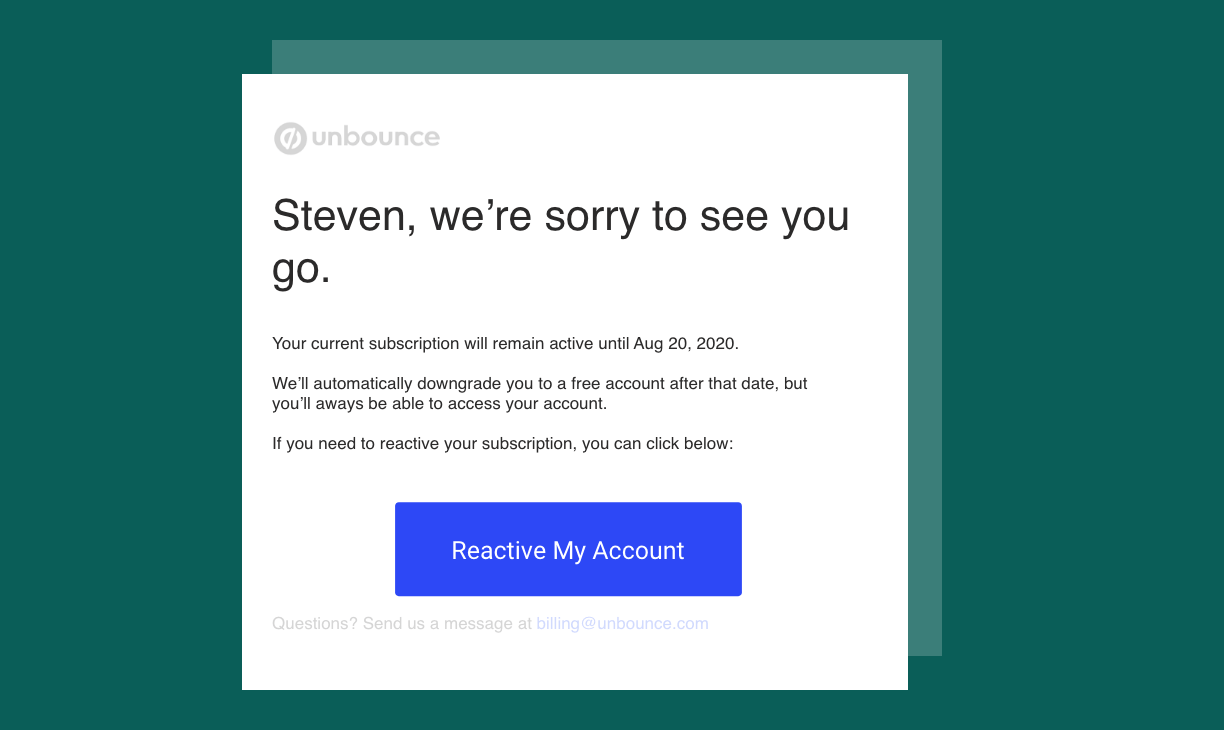 The final part of the customer journey is when a customer decides they no longer want to do business with you.
The best thing you can do here is leave on a good note, so when they do request to cancel their account, make it easy as possible; don't make them jump through hoops. Honor the request, confirm by email and focus on manintaing a positive relationship.
How to implement: There's no out-of-the-box solution for this kind of email as it's typcially sent from accounting/ billing department. However, as long as you have an email template ready to use, it can be processed each time a customer downgrades or cancels their account.
When to send: Each time customer cancels their account with you.
Conclusion
The role of email as a measurable, cost-effective marketing channel is clear.
Backed up by both professional opinion and industry statistics, email has an important value for businesses in creating sales leads and revenue, and retaining customers.
So, if you're one of the 59% of companies that do not use email marketing and you are looking for inspiration on what to send to your subscribers, use one of these 23 B2B email marketing examples to help you deliver engaging content to your audience.