In a recent blog post "Six Tips to Creating Better Customer Loyalty", we stated that it costs between 5 and 10 times more to attract a new customer, than it does to keep an existing one.
The positive effect of retaining clients does not stop there. When looking at sales, the chance of selling to a new customer is between 5-20%, while to an existing customer is between 60-70%.
Most businesses are aware of these statistics, but yet according to a CEI Survey only 1% of customers feel a company consistently meets their expectations.
In this post we are going to look at the five main reasons for customer dissatisfaction and show how keeping a client is very much like keeping a friend.
Deception
[caption id="attachment_1021" align="alignright" width="257"]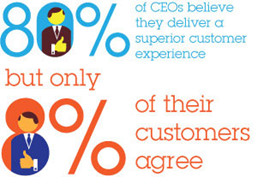 Deception[/caption]
Ever had someone you thought was a friend promise you something and then not deliver?
More than likely, yes!
If we change that question from friend to company the answer is probably the same. In the first instance even if you are still friends with them, it is likely you are not that close. And with regard to the company, you will more than likely start using a competitor.
With 80% of businesses thinking and publicizing that they provide superior service, and only 8% of customers thinking the same, it is no surprise that at 78% deception is the main reason for customer dissatisfaction.
So why are these promises made?
It's because we believe the person or client won't like the real answer. Whether it's to cover for a lack of knowledge or that your delivery is slower than the industry norm - It's important to not just make promises to attract customers, but to make promises that you can realistically and honestly keep.
Incompetency
85% of customers would not have switched to a competitor if the business had acted differently and solved the customers' issue effectively and efficiently.
It's frustrating to explain the same situation to one person repeatedly. Be it a friend or a relative.
Likewise if you have to contact a company explaining a problem multiple times before it is resolved. This is why 52% of customers become enraged when speaking to incompetent service representatives.
When people contact a business they don't see a large team of individuals working in a number of departments. They see (or hear) just one. This is why when they contact your business they don't just use phrases like "I called you yesterday", but they also expect you to know everything about them and their previous contacts instantly, because they do remember.
Whatever our problem we almost always know somebody with some knowledge or experience who we can contact for help or advice. When a client contacts your business it is because they expect you to have that expert advice and a solution to their issue.
Give your employees the tool and training to do this and do it on the first call. A 1% increase in first call resolutions equates to a 1% increase in customer satisfaction.
Rudeness
[caption id="attachment_1021" align="alignleft" width="261"]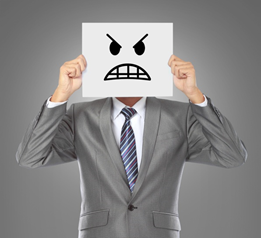 Rudeness[/caption]
Over 50% of people state rude and impolite staff as the main reason for poor customer service.
If you meet someone who is rude and obnoxious it is likely they are not your friend either. People instinctively like to surround themselves with a caring and supportive group of friends. Well who would wouldn't, right?
Whether you contact a friend or company, be it for help or advice you expect the same supportive and caring environment.
It is no surprise then that up to 9 out of 10 people would leave a company if they encounter poor or rude service. We all have a friend that we can call that will always calm us down if we're angry or make us happy if we are sad. Your customer service reps need to do the same. Give them the work environment, skills and training to do this.
Inflexibility
The secret to any long lasting relationship is compromise. We can't always get exactly what we want. In normal life you may want a Chinese takeaway, but your partner wants an Indian. However you're both content to get Thai.
And when finding a solution for a customer it's the same. If you need to bend the rules to find that middle ground, make that happen as 71% of people are willing to leave a company if they encounter rigid inflexible policies.
Many of us have been asked to give up something we love, to make someone else happy. This could be a sport, activity or group of friends. This kind of unhealthy compromise is likely to make you feel deeply unhappy. It is the same in business. Although you must do all you can to build and maintain a customer relationship, you should never give up your companies key principles.
Lateness
No matter how organized we are from time to time we will be late. You can create a reputation for being a dependable individual or company, but it is how you react when you are late that defines you.
If you are meeting a friend for coffee, but running 10 minutes late, what do you do?
Obviously you call or text them.
No matter how small a delay is, make sure you let your customers know. The more time in advance you tell them, the more understanding they will be.
Lateness does not just cover the delivery of a product, but also the slowness of service.
Did you know that 59% of customers are not prepared queue?
This could be at the checkouts in a shop or waiting on hold, but most importantly 55% of customers have ceased doing business with a company because their problems were not solved in a timely manner.
If a friend calls, but we aren't able to answer the phone, what do we do?
We call them back as soon as we can.
This is crucial in business too. Most companies calculate and even publicize the amount of dropped calls they have, but very few endeavor to call each and every person back.
Conclusion
A very satisfied client is 92% likely to stay loyal to you. As you can see from the chart below, a drop from "Very satisfied" to "Somewhat satisfied" results in a 43 percentage points drop in loyalty!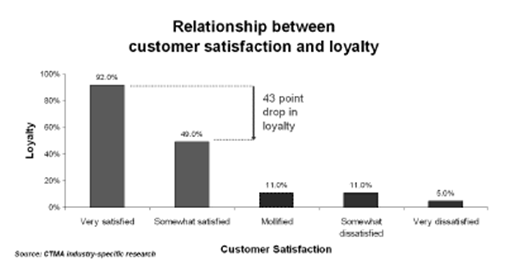 If you want your customers to stick around and buy more from you, you need to keep them happy. But how do you keep them happy (and loyal)?
By treating them like a friend.
It may be cliché, but treating others the way you wish to be treated is true. And is really the cornerstone to any long lasting relationship - Be it a friendship, relationship or business partnership.
We have covered the 5 main reasons why businesses lose customers and found out that these run parallel to keeping friends in our personal lives.
So in closing how do we keep clients?
Always be honest, open and upfront
Provide every customer with the support and care you would give to your closest friends
Always know the history between you and your customer
Be willing to compromise, but don't forget your core principles
Be dependable
Following these points doesn't just help you to retain customers - It creates a stronger bond between you and a more pleasant customer service experience. This not only makes them come back time and again, but also more likely to recommend you to others.
So get out there and start making your customers your friend forever!
What do you think of these customer retention tips? And is there anything that you would like to add?