In 2013, Software Advice conducted a study on the top four reasons why companies buy customer service software.
This year, they're back again with new research on how small businesses currently manage customer service requests today.
For most small businesses, when time and money are short, it's more tempting to focus 100% on growing the business and setting things into place rather than worry about everything else that it takes to build and sustain a growing business.
Software Advice confirmed this in a recent survey of 385 small businesses looking for a customer service software and support solution. The survey found that small businesses were more apt to put out fires first and when this has been done, they are more able to focus on the needs for the future.
This can be seen from that data where:
1. 52% of buyers were using manual methods such as email to manage customer support
Manual methods used could be a combination of paper, spreadsheets and email to track customer interactions. These results show that not a lot of small businesses had a real solution in place to handle customer requests and there was a lot that they could do better.
2. These first time buyers were struggling with managing complaints
Many of the small businesses which were interviewed also said that customer complaints were "falling through the cracks" and that a perception of bad customer service was costing them future business.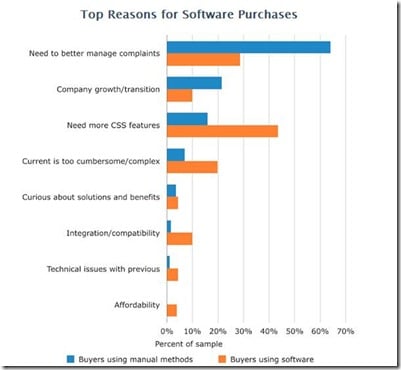 3. Trouble ticket management is the #1 requested feature for first time buyers
Manual methods can't tell you who has responded to an inquiry, when he/ she responded and when to follow up. However, the basic functions of ticket management software create a system where everything is tracked and the whole company can see what happened to a particular inquiry.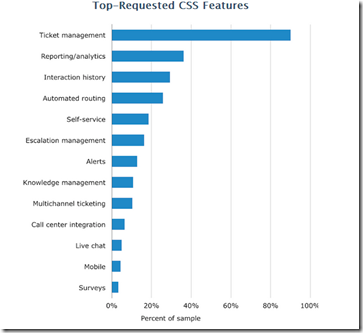 Ticket Management Debunked
In the type of competitive marketplace that we are in today and where customer service is a differentiating factor, it's now more important than ever to ensure that small businesses focus on providing great customer service.
Handling customer inquiries through your email system, post-in notes and spreadsheets is a recipe for disaster. No matter what size your business or customer service department, there is no way that you can manually keep track of all the emails that come in, are replied to, and pending at the end of each day over the course of time. Not only is it inefficient, it's impossible to provide an even an acceptable level of customer service this way.
One of the basic features of any customer service software is ticket management. Ticket management helps you to manage all the various customer inquiries that come into your customer service department. It does this by:
Issuing a unique tracking number for every request
Allowing you to automatically or manually route the request to the right person or department
Storing every communication thread connected to a customer
Organizing the requests so that you can quickly find the request based on owner, status, category and priority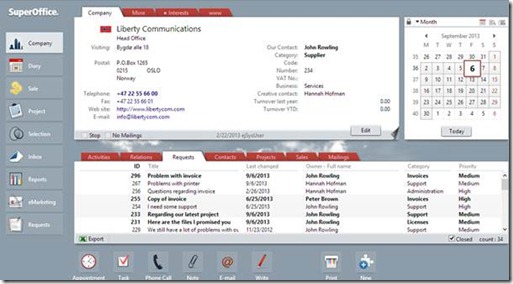 Additional features that buyers want in a customer service solution
Software Advice's research also found that 36% of the buyers also requested reporting and analytics features. 29% wanted to track each step taken to resolve a ticket and 26% wanted the ability to automatically route tickets.
SuperOffice Customer Service software easily and elegantly addresses these wishes.
Reporting and analytics features
Tracking metrics in the software help you to identify bottlenecks in your support system. You can use the metrics to measure how long requests have been waiting in the queue, if they are being worked on internally, or are waiting for feedback from others. You can also analyze the number of responses it takes to close a request and aim for a higher number to be resolved on the first call.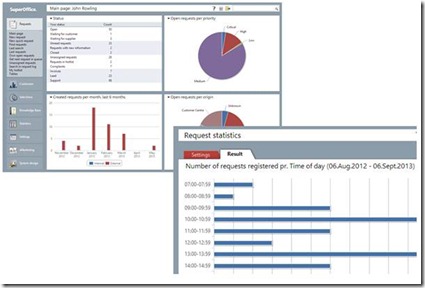 Routing, escalation and alerts
Features in SuperOffice Customer Service let you automatically set up who will receive what type of request. When a request has been unanswered for a defined amount of time, you are also able to set up escalation rules to ensure that the request is answered or reassigned. You can set up workflows to get notifications if tickets remain idle or if they threaten pre-defined Service Level Agreements.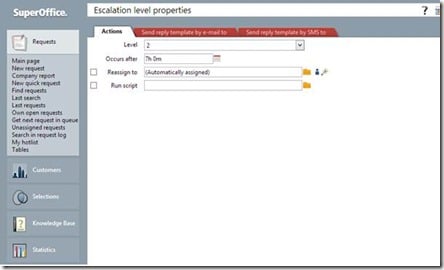 Improved customer service from all areas of the organization
A customer service software system is great, but it becomes even more effective when combined with your CRM system. In this way, you and everyone in your company can get a complete view of the customer at any time.
SuperOffice Customer Service software can be easily a part of the SuperOffice CRM solution. All customer communication, independent of communication channel, is captured and organized centrally in the SuperOffice CRM database making the information accessible for your sales agents and marketing teams. This ensures that your entire organization is able to tap into the status of a customer prior to any contact, ensuring that the customer will feel known, important and well treated.
If you're interested in learning more about SuperOffice Customer Service or other SuperOffice products, contact us today and get started with a CRM software free trial.