5 Killer Email Marketing Mistakes to Avoid
Post summary:
The number of promotional emails
Why should readers open your email?
5 email marketing mistakes to avoid
Most businesses do email marketing.
In fact, more than 294 billion emails are sent daily, which means each morning you wake up and check your inbox you will most likely see a lot of unread emails.
How many emails did you wake up to this morning?
It's important that when your business sends an email to your customers, you stand out from the other hundreds of emails that your reader will inevitably receive the same day you send yours. Sending an email requires an investment and it's important that this time is not wasted on an email not being read or acted on.
In my last post on email marketing, we covered tips on what you can do the next time you send out a newsletter. This post will cover five tips on what NOT to do.
1. Sending From donotreply@yourdomain.com
No-reply@ or DoNotReply@ sender email addresses are uninviting and unwelcome. If you send an email from one of those email addresses, don't be surprised if your open rate is low.  Always send an email from an address your customers can reply to and be sure to include phone numbers, and links to your social profiles as well to let the customer contact you in any channel they want to.
If you're the Managing Director of a large corporation, you're most likely not the one sending your emails out, however, you are the person that people in the industry will know. Whether or not they're written by you or not, emails should be sent from a recognizable name.
2. Sending Image-only Based Emails
Only 33% of email subscribers have images turned on by default. This means that your email will display as one long empty box and cannot be read by up to 67% of your email list (see example below). There are times when image-only emails make sense. If you sell visual products such as clothing, or travel then going with an image only based email might be the most obvious choice.
The two examples below are with images not enabled. The example on the left is an email that is image-only whereas the image on the right is 50% image and 50% text. Which one do you think is easier to read?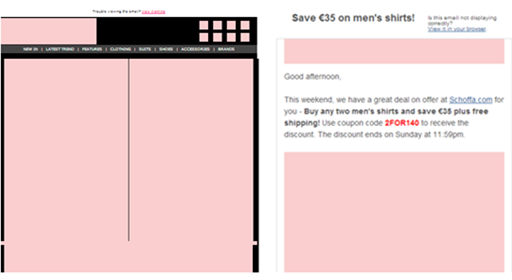 Text only mails have a 40% higher click through rate than those picture emails. If you do use images, make sure you repeat everything in simple text so that readers can take action and ensure you link to a web version of your email (You can get more tips on on how to create the perfect email marketing template here)
3. Not Linking to Your Website
The average number of links within an email marketing campaign is 23.3 links – That's a lot of links!
At the other end of the scale, you have marketing campaigns with zero links! The goal of the email is to get people to click through to your website, but if your link sends subscribers to your home page they are less likely to scroll through your website to find the offer.
Your email should include at least one link and it should link to a dedicated landing page that continues the message within the email. Similar to search marketing campaigns, build a dedicated landing page for your email marketing campaign that makes it easy for readers to buy from you. KISSmetrics do a great job at linking to an email-focused landing page. The email includes one call-to-action, which sends me to this page: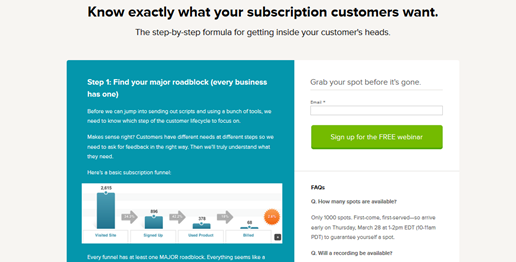 4. The 'One Size Fits All' Approach
The most effective form of marketing is relevance.  The one size fits all approach no longer works (did it really ever work?). Your message needs to be relevant to the reader. A CEO of a Fortune 500 company in New York does not have the same needs as a small business owner on a farm in the middle of England. Being relevant shows you care and as only 11% segment their email lists, relevant marketing is a competitive advantage.
Segmentation can be basic or it can get complex. If you segment your list into different groups and customize your messaging to each reader, you'll see higher click-through rates—and more-engaged customers.
5. Ignoring Mobile
According to a 2017 State of Email report, 54% of emails are opened on a mobile device.
But, that's not all.
More than 40% of mobile users check their email four or more times per day!
Whether you use mobile for reading emails or managing customer contacts, mobile is here to stay. If your email is not optimized for mobile devices, regardless of how relevant your message is, people will not be able to read it.
However, optimizing images in emails is only one part of the mobile marketing process. The second part goes back to the purpose of email marketing; driving traffic to your website to convert. Keep the process as easy as possible. Make sure that readers can complete their desired action such as registering for a webinar or completing a purchase.
Now it's your turn
Are you ready to enhance your email marketing campaigns?
These five tips should be something you can implement in your next email campaign along with the email marketing check-list tips we published earlier this month. Email marketing is still the most preferred communication channel for customers and an effective email marketing strategy that will always out-perform all online marketing channels. Follow these tips, measure your performance and make email marketing your most successful channel.
But that's not all – One crucial email marketing mistake you could be making is to report on the wrong metrics. Download the email marketing KPI guide to learn what metrics to reports on and more importantly, how to improve them!
What are some email marketing mistakes I have missed in the list? Please share in the comments below.
P.S. You can also download our free white paper 'Email Marketing Best Practices' here.

Marketing