Post summary:
Email marketing is still the most effective marketing channel. Yet, far too many companies make the same email marketing mistakes over and over again.
Having sent millions of email campaigns and worked with thousands of businesses who use email marketing, we've outlined 5 key mistakes that every business makes.
These tips include best practices for sender name, device, email lists and more. Follow these tips, avoid the mistakes and make email marketing your best performing marketing channel.
Email marketing is the most effective marketing channel, bar none.
It's why most businesses do email marketing.
But, it's also why more than 290 billion emails are sent daily.
Therefore, it's important to note that when your business sends an email to your customers, you need stand out from the other hundreds of emails that your customers will inevitably receive the same day you send yours.
Sending an email campaign requires an investment and it's important that this time is not wasted on emails that aren't being opened, read or acted on.
To help you avoid the pitfalls that many companies make when they start to use emails to communicate with their customers, we've outlined the five most common email marketing mistakes.
Starting with the sender's name.
1. Sending From donotreply@yourdomain.com
No-reply@ or DoNotReply@ sender email addresses are uninviting and unwelcome. If you send an email from one of those email addresses, don't be surprised if your open rate is low.
In fact, the number one reason why an email is opened is based on sender's name.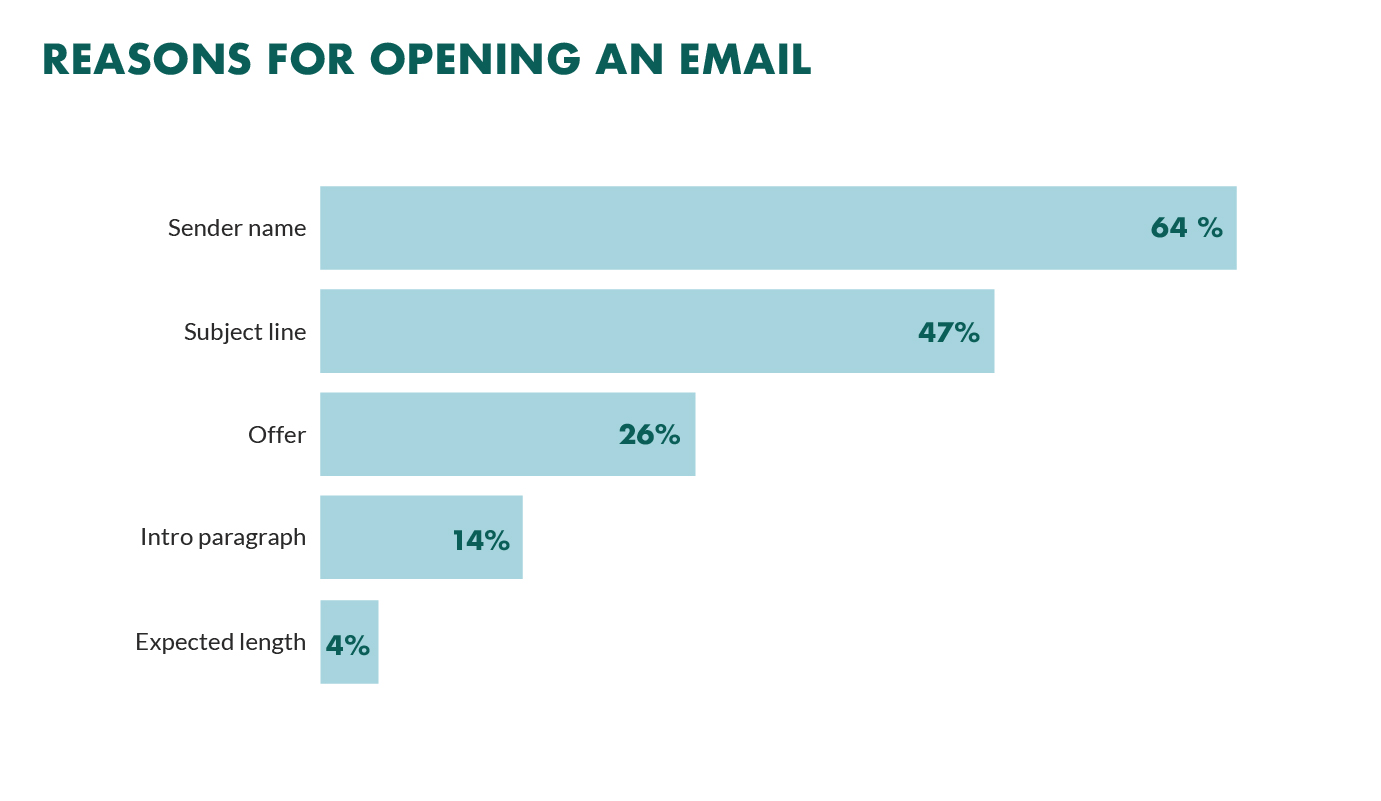 Always send an email from an address your customers can reply to, and be sure to include phone numbers and links to your social profiles in your email to help the customer contact you, should they have any questions.
If you're the Managing Director of a large corporation, most likely you're not the one sending your emails out. However, you are certainly the person that people in the industry will know. Whether or not they're written by you or not, emails should be sent from a recognizable name.
In fact, sending an email from a person within your company could be a competitive advantage, as 89% of email campaigns are sent from a company's name.
2. Ignoring Mobile
According to a Constant Contact, 61% of all emails are opened on a mobile device.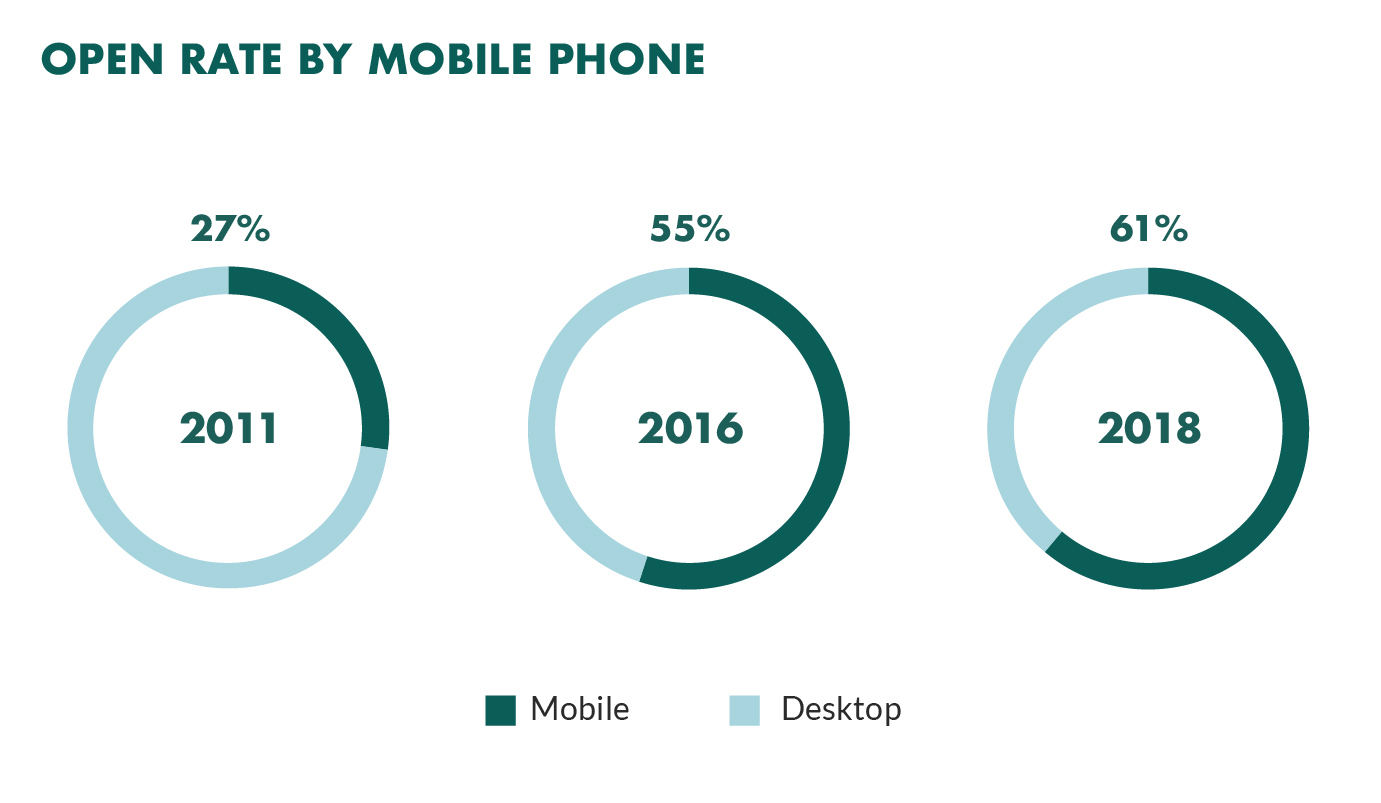 But, that's not all.
More than 40% of mobile users check their email four or more times per day, which means that having a mobile-friendly email design is not a "nice to have" thing. It's a requirement!
And yet, in our own research of 1,000 B2B companies, we discovered that 1 in 5 email campaigns is not optimized for mobile devices.
Simply put - if your email is not optimized for mobile devices, regardless of how relevant your message is, people will not be able to read it.
3. The 'One Size Fits All' Approach
The most effective form of marketing is relevance.
The "one size fits all" approach no longer works (and did it really ever work?).
Your message needs to be relevant to the reader. CEO's do not have the same challenges as end-users. This means that your message needs to change based on who the audience is.
The sad part?
Only 11% of email campaigns are segmented.
Segmentation can be basic, or it can get complex. If you segment your list into different groups and customize your messaging to each reader, you'll see higher click-through rates and more-engaged customers.
How can you segment your email?
Here's a few suggestions:
Location
Job title
Industry
Company size
Interests
4. Making your emails complicated
One message, with one clear call-to-action, requires very little thought from the reader. They either take action on your email or they don't.
If it's relevant (and it should be, based on email mistake #3 above), then it's more than likely that they will take action, helping you generate more website visits, sign-ups and sales.
But, if you have several offers within an email, it requires more thought from the customer. And the more they think, the more stressed they become, and they're less likely to buy. It's what we call the paradox of choice.
Our own study found that the average number of call-to-actions within an email marketing campaign is 3.3.
One one hand, you have email campaigns with zero (!) call to actions and on the other, you have campaigns with more than 10.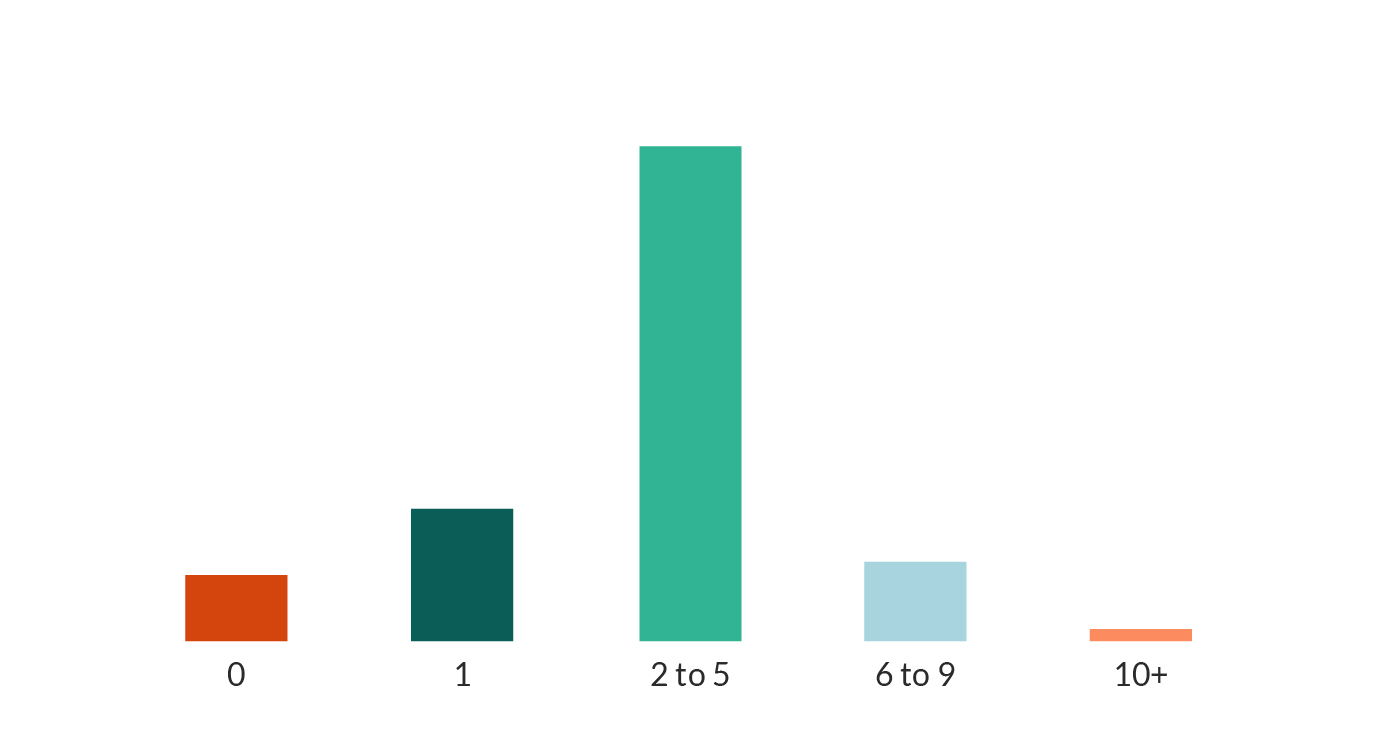 Keeping things simple really does magic in email marketing.
Have a clear and relevant message that links to a single landing page that makes it easy for customers to buy from you.
Stuck for ideas on how to design your email campaign?
Then use 1 of these 19 B2B email marketing examples to inspire you.
5. Hiding the unsubscribe link
Sometimes people sign up to your email, but after receiving 1 or 2, they decide to unsubscribe.
Now, there are two ways you can handle this:
Make your unsubscribe link easy to find
Hide the unsubscribe link in the footer
The first option makes it easy for customers to stop receiving emails from you, while the second option usually causes a lot of frustration.
Allowing your customers to unsubscribe should be as easy as possible. And if someone doesn't want to receive your emails anymore, hiding the unsubscribe link isn't going to make them suddenly want to purchase your product.
So, don't hide the unsubscribe link - like how the company below do on their unsubscribe page.
In fact, the unsubscribe button is so small, I have to point it out!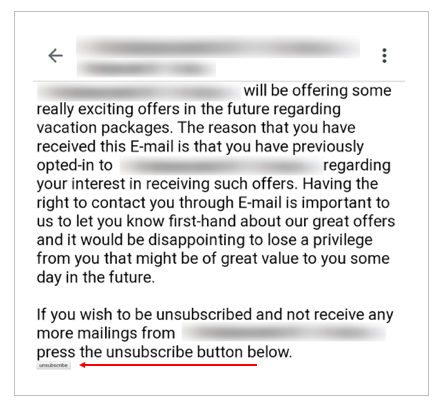 Once a customer unsubscribes, respect it.
Do not send them any further email campaigns. Otherwise, you risk failing to comply with GDPR and could get fined.
Conclusion
Email marketing is still the most preferred communication channel for customers and is a strategy that will always out-perform all other marketing channels. Follow these tips, avoid the mistakes and make email marketing your most successful channel.
One crucial email marketing mistake you could be making is to measure the wrong metrics.
Download the email marketing KPI guide to learn what metrics to report on and more importantly, how to improve them!
What are some email marketing mistakes I have missed in the list?
P.S. You can also download our free, proven email marketing templates here.