Post summary:
Why people trust email marketing
How to measure email marketing effectiveness
Five important email marketing metrics you can track
Email marketing is most trusted form of communication with 77% of consumers choosing email over other online channels. There have been claims that email marketing may be on its last breath yet 80% of marketers report email as the strongest performing media buy (ahead of search engine marketing and display marketing).
A well-executed email campaign can:
• Increase sales
• Increase client loyalty
• Generate leads
• Produce additional repeat business
• Reduce marketing costs
Once an email is sent, marketers are left with an abundance of campaign reports. But what are marketers to do with the data?
Avinash Kaushik, the world's leading web analyst recommends spending 10% of reporting and 90% of actions based on the data. And according to Marketingsherpa, the top email marketing KPI's are open rate, click through rate and delivery rate.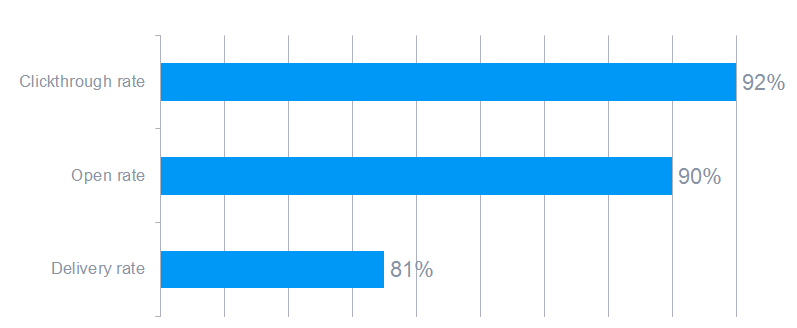 Let's take a look at the top three email marketing metrics.
1. Delivery rates
This metric is the main starting point of your email campaign and is a great metric to monitor the strength of your email list. A high deliverable rate means you ARE reaching your intended audience. A low delivery rate means you need to work on building a healthy subscription list.
Tip: An easy way to increase the size of your lists is to place your email sign up on the front page of your website. If you're looking to improve the health of it, then implement double opt-in.
2. Open rates
Once your email has reached your clients inbox, the next challenge is to get the email read.
Your subject line will have the biggest impact on your campaign and is what gets the subscriber to click "open". It needs to catch the reader's attention and should be relevant to the user to describe what the reader can expect when reading the entire email.
One way to stand out from the competition is to use a person's name to send an email campaign, rather than using your company name. Our own B2B email marketing report found that 89% of B2B email campaigns are sent from a company name.
Tip: Research by Implix found that subject lines with more than 25 characters are more likely to be read than subject lines with less than 25 characters.
3. Click through rates
Now that your subscriber has received the email and opened it, it's time for action. This is solely down to your content - Is your content relevant? Relevant emails will have high click through rates. If your email campaign approach is to send one email to all subscribers your click through rates will be poor.
Tip: To achieve high click through rates, segment your lists by topics of interest. It may result in sending more email campaigns per month, but it will bring more visitors to your website and result in fewer subscribers clicking the unsubscribe button.
Connecting your email data from inbox to website
The data you measure and actions you take are not just limited to the big three. The next challenge lies on your website. If the reader arrives at your website, but leaves (bounces) due to a landing page that is not relevant to the email, do you still consider your campaign a success?
Here are two further metrics you use to measure the effectiveness of email marketing:
1. Bounce rate on campaign landing pages
The same way targeted landing pages are created for search engine marketing campaigns, the same applies to your B2B email marketing campaigns. The landing page should continue the same message that the email displayed. If your call to action within the email sends your reader to the home page, the reader is more likely to leave the site.
Tip: Use Google Analytics to monitor the bounce rates from your email campaign. A high bounce rate means your email campaign and landing page message are not aligned.
2. Revenue per email and conversion rate
Marketers will be familiar with the website conversion rate if Google Analytics e-commerce tracking is implemented. However, knowing an email conversion rate is a statistic only few know. Track your email campaigns using the Google URL builder to identify how much revenue each email brings and your email conversion rate.
Tip: Identify high performing emails and implement across all segments.
Measuring delivery rates, open rates and click through rates is a good start but by limiting what you measure, you are missing out on highly actionable data that will lead to improved customer satisfaction and sales. However, as the old saying goes "not everything that matters can be measured, and not everything that can be measured, matters". Next time you send out an email campaign, measure more than the basics and start taking action!