CRM system is one of the most critical tools businesses can use to drive sales and improve customer service.
But for businesses in construction, IT and manufacturing, there are additional aspects of CRM that can make daily tasks simple. And yet, only 32% of general contractors are using CRM in the US, according to a survey conducted by JBKnowledge.
However, companies are slowly (but surely) adopting robust CRM systems. Why? Their competitors are seeing the impact of CRM on sales, production, and even operations. When it comes to happy customers, 47% reported an increase in customer satisfaction since implementing CRM tools.
Today, CRM technology is confidently becoming a must for various businesses, with 91% of organizations that employ more than 10 people using CRM systems!
Of course, each industry has its own set of issues and needs that must be addressed by countless digital tools and integrations. But with CRM, all these complex systems can be consolidated into one streamlined platform.
To discover how your company can achieve serious results with CRM tools, we've broken it down into a few main chapters:
Can CRM benefit different business sectors?
CRM for Construction
CRM for IT
CRM for Manufacturing
Putting it all together
Let's dive in!
Can CRM benefit different business sectors?
In a word? The answer is YES!
Regardless of the industry type, CRMs have so much to offer companies. The multi-purpose nature of most CRM platforms can be used for a range of business applications that are mission-critical, but there are some that are built with a company's specific needs in mind.
Overall, CRM systems have become cheaper, faster, and easier to implement than ever before since they've increased in popularity over time. Today, CRM systems can scale up and down as needed. That means that they can serve businesses of sizes and growth patterns.
You may be thinking: "Oh great... another tool to learn". You already have a bunch of tools and application deployed that look after different processes. And here comes yet another tool. This could be frustrating.
So, what makes CRM any different?

Before we get into a more detailed conversation about how CRM benefits the manufacturing, construction and IT industries, let's find out why companies of all kinds gravitate toward CRM systems:
Improved data quality. Businesses store data in all types of formats and from multiple sources such as devices, applications, and databases. This doesn't make it easy to distinguish meaningful information from the noise.

According to the aforementioned JBKnowledge survey, 44% of contractors are still relying on numerous spreadsheets to keep track of data. A CRM system can store all of your most important sales and customer information in one convenient location that is available to anyone who needs it.
Increased agility. Speed and accuracy are critical when it comes to making tough business decisions. In order to make high-impact, data-driven decisions, companies must be able to gain crucial insights from their data fast.

CRM tools are not only able to work at high speeds so that businesses can receive relevant updates in record time, but also provide access to the central database on-the-go through mobile applications. Your customers will be able to feel the difference, too. A CRM system can customer facilitate quick communications to significantly improve the customer experience.
Personalized communication and simplified sales processes. CRM systems are built with sales and customer service in mind. That's why they make it easier to create personalized communications with customers and prospects. In fact, 90% of leading marketers agree that personalization contributes to business profitability significantly. CRM systems also help sales people to follow a step-by-step sales guides, and prompt what to do at each stage of a sale, as well as manage leads, identify selling opportunities, keep track of quotes – all from one streamlined platform.
Customer privacy. A CRM can also help protect your customer information and sales data. CRM vendors take data security very seriously. They implement multiple measures to protect data breaches, leaks or cyberattacks. And when a company uses multiple data and document saving tools that are accessed by tens or even hundreds of people every day, there are plenty of opportunities for cybercriminals to get into your company's network.

With ransomware and other cyberattacks are at an all-time high among small to medium-sized businesses, that's not a chance you want to take. So, instead of storing your contracts and customer or supplier data in spreadsheets or in multiple online databases, you can safely store it all in a CRM system that helps protect your customers' privacy and build trust.
Intelligent automation. In addition to making business processes easier, a CRM system can even take care of some of those business processes for you. With over 2.5 quintillion bytes of data being created every single day, it is impossible for any human to gather, analyze, understand and implement data-driven decisions without a little help from intelligent automation.

What does this mean for you? A CRM can help your company automate key processes so that you can function at your highest potential.
Integration and connectivity. CRM integration capabilities allow large organizations to seamlessly integrate data across multiple systems and locations. The additional data can then be used to make CRM and other systems work even better. Thus, VoIP, ERP system, Outlook, G Suite tools, and more can all be integrated with CRM. CRM systems collect, store and organize data for you so that it can be turned into actionable information, instead of having to organize and segregate it manually.
CRM for Construction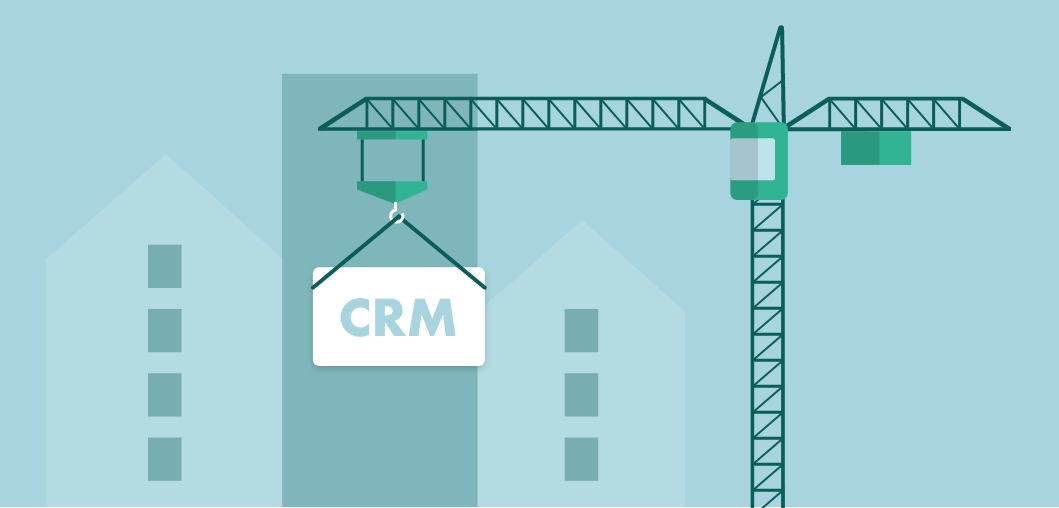 The construction industry in general has been slower than others when it comes to adopting CRM. But, as CRM becomes more widespread, construction businesses have begun to realize the positives that come along with CRM integration. Construction companies, builders, and contractors can all benefit from CRM features.
Construction and building organizations can find value in organizing customers in a centralized database in order to manage the sales process. But, it can be also used to meet a number of other business needs.
Improved customer relationships
CRM provides its users with actionable insights and capabilities that allow sales teams to have more positive interactions with customers. This means that better customer relationships are built when teams have better information and better tools.
It's important to nurture these business partnerships in order to instill trust and loyalty in your customers. All businesses are chasing referrals, which are basically free advertising. But in order to get them, your existing customers must have a great relationship with your organization.
The bottom line: CRMs help you get started off on the right foot with prospects and maintain close relationships with existing customers.
Project management tools
CRMs can also provide construction companies with better organization and collaboration abilities overall with project management tools. This helps construction companies keep accurate records of customers, contacts, bids, and invoices.
Because construction jobs involve several parties in order to complete projects, managing relationships with architects, engineers, and stakeholders is a crucial benefit of CRM for construction. It also minimizes the need for on-site visits, which is increasingly important in the post-pandemic environment.
The bottom line: CRM project management tools allow organizations to monitor projects in real-time, change and create orders efficiently, and keep teams on the same page with collaborative capabilities.
Centralized data storage
A CRM system helps construction organizations to access their data in a centralized place at any time and from anywhere. This eliminates instances of duplicated data and tasks. Also, there is no need for menial data entry, since most processes are automated.
The bottom line: All data is easily accessible to everyone, since it is all stored in one place with CRM.
Customization
There are a variety of businesses that fall into the construction sector and no two run exactly alike. CRMs often come with customizable features so that construction organizations can tailor the software to include the business applications that they need.
Unlike many legacy and built-in-house systems, modern, cloud-based CRM systems simplify the process of modifying contacts and many other fields. Construction companies can also customize their dashboards, so that only the most relevant information appears to whoever is logging in to the CRM. And you can customize notifications based on their importance, project type, and more.
The bottom line: With CRM, the customization options are virtually endless!
CRM for IT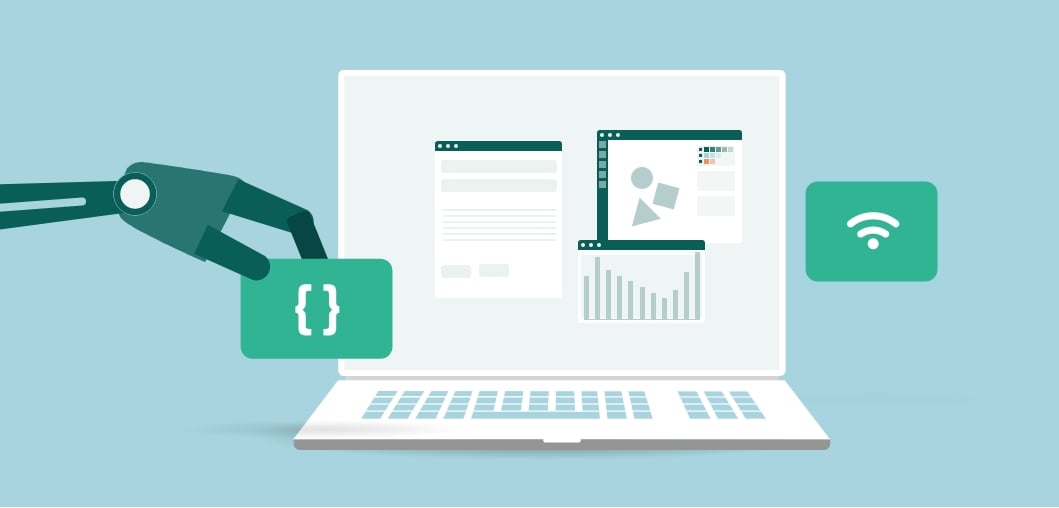 As you well know, the ongoing need for digital enhancements has led to an IT landscape that is constantly changing. These changes don't make it easy to stay organized on top of rising expectations to continuously innovate!
With the threat of deadlines looming, competition breathing down your neck and impatient corporate stakeholders, the pressure can be enough to topple even the best data management plans.
How can CRM help? The role of CRM in the IT industry is to keep companies informed. Seems kind of boring, but without proper communication, it is impossible to innovate and stay ahead of the competition.
It's a fact – organizations need to have clarity into the ever-changing needs of customers so that they can provide them with services they can't live without. CRMs help IT teams communicate with businesses and customers throughout the entire development, release, and support process so that nothing gets "lost in translation."
Modern CRM tools enhance IT companies' ability to improve operational efficiency and sustainability while at the same time increasing customer retention.
What does that mean? Simply put – more money in your pocket!
In addition to sales and customer service, a CRM software benefits IT companies in many ways:
Operations and support
Call centers and customer support teams are vital to IT companies as customer-centricity reigns supreme. Keeping track of customer interactions in order to learn from them, as well as gathering other valuable metrics are tedious yet important tasks.
Fortunately, CRM can help organize information gathered from customers during each interaction to provide continuity. That means that no matter when customers call or which representative they speak to, they receive a personalized experience without having to explain themselves over and over again.
The bottom line: IT companies can improve their SLAs and provide top-of-the-line customer service with the help of CRM.
Real-time, in-depth analytics
Building an accurate picture of current customer base, application performance, and service operations enables IT companies to focus on improving overall efficiency. It takes time to gather, process and interpret data, which can lead to slow implementation and create obstacles in product development and sales.
CRMs are built to make sense of large amounts of data, so IT teams can quickly and easily whip up reports for executives. There is no more "waiting on IT" when CRMs can generate this data faster than ever.
The bottom line: Data can quickly and easily be used to generate reports with CRM so that companies can depend on fewer tools and still get a comprehensive view of business activities.
Resource management and sustainability
There are lots of factors at play when it comes to resource management, and CRM helps organizations reach their goals depending on current and future market trends. A CRM can allocate resources and plan budgets according to various business needs.
As industries shift towards a circular economy, many industries are moving toward more sustainable operations and IT is one of them. A CRM system consolidates data storage and resources into a simplified tool that is scalable and sustainable.
The bottom line: Integrated CRM software can assist IT organizations allocate resources as needed.
Achieve a competitive advantage
The old adage says that timing is everything, and that's true for the IT industry as well. Information, accuracy, and speed are critical for companies that want to innovate and stay at the cutting edge of technology.
IT companies can leverage large amounts of CSAT data, survey data and more with CRM software. Being the first to identify changing trends is crucial for IT companies to bring products to market faster and better than the competition. Customer satisfaction is also improved as communication becomes more streamlined and efficient with CRM.
The bottom line: CRMs help you get ahead of the competition with speedy and accurate reporting.
CRM for Manufacturing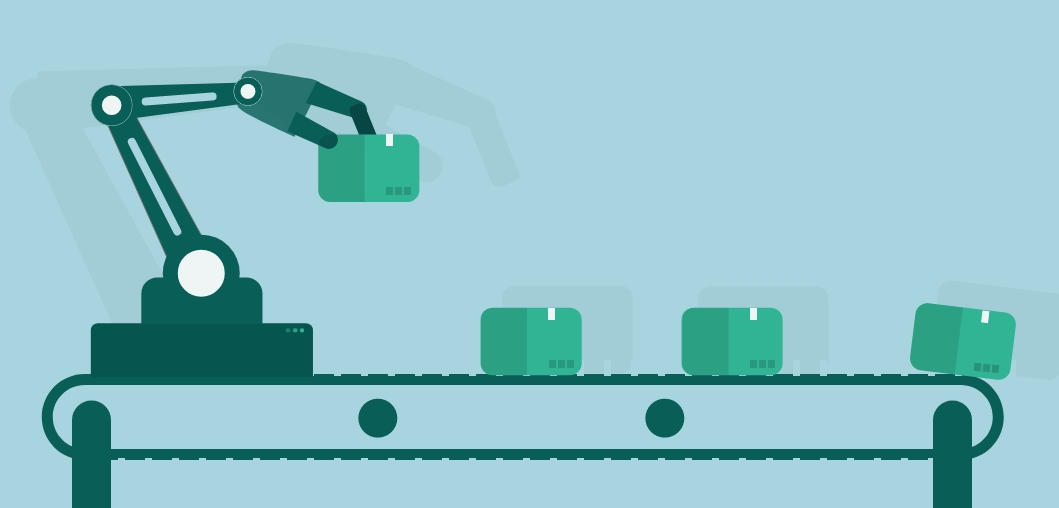 Reducing bottlenecks, maintaining B2B relationships, and mitigating supply chain inefficiencies are top concerns in the manufacturing field.
In order for them to work efficiently, they need a number of systems and processes to work together seamlessly. In fact, of all the industries that can benefit from CRM tools, the manufacturing sector probably stands to gain the most.
With so many systems that must be managed in a timely and efficient manner, communication can easily break down. And as more tools are introduced, it can be even more difficult to make sense of it all.
Here are some of the ways that companies in manufacturing can benefit from integrated CRM:
Improve product quality
One of the unique ways that manufacturing organizations can benefit from CRM software is through the ability to improve products. A CRM tool offers a direct link to your customers and prospects, which improves the consistency that companies and customers are able to communicate.
Whenever customers provide input (feedback, reviews, service requests), this information can be saved and added to the database where product reports can be generated. This gives manufacturing companies a deeper mechanism for acquiring and analyzing feedback in order to make improvements and get products out to customers as quickly as possible.
The bottom line: CRMs help manufacturing companies create better products for their customers.
Increased forecasting accuracy
Real-time sales forecasts are critical when it comes to communicating with suppliers, shippers and material handlers. CRM tools allow manufacturing companies to gain insights into future sales growth based on their current pipeline and alternate pipeline scenarios.
The bottom line: Production planning requires careful attention to details like timing and resource availability, and a CRM can help ensure a smoother production pace and timely deliveries.
Increased supply chain visibility
An intelligent supply chain refers to a system that utilizes ERP and manufacturing CRM integrations together in order to maximize visibility. Insights about operations, inventory, order processing, warehousing, and distribution from both systems allow for better supply chain management.
Equipped with such visibility, manufacturing organizations are able to better manage production schedules and inventory levels, so that purchasing and procurement can become more streamlined.
The bottom line: Intelligent supply chain is made possible by CRM.
Unified order fulfillment
End-to-end processing transparency maximizes supply chain resilience so that disruptions have less impact on manufacturing companies and their customers. Those business that take order fulfillment and delivery very seriously can increase customer satisfaction and operational efficiency.
Information from shipping partners and warehouses can all easily be included with CRM tools that streamline communication and automate workflows for speed and efficiency.
The bottom line: CRM benefits extend to warehouses and suppliers for unified order fulfillment and timely delivery.
More efficient quoting process
Manufacturing companies are complex organizations with even more complicated quoting processes. A fully integrated CRM system can quickly bring engineering data into the process in order to refine quotes that meet customers' needs for accuracy.
Real-time supply chain data can be updated instantaneously across a network, so that each department connected to the CRM can have the most up-to-date information in order to create quotes.
The bottom line: A CRM can help keep sales teams in the loop about the latest prices and product availability.
Putting it all together
CRM is a unifying, universal tool that can be adapted and expanded to fit the needs of all major industries. It is a great tool that enables companies that fall within the manufacturing, IT and construction sectors to automate enterprise operations, reduce customer churn and increase revenue.
With CRM it is possible to coordinate across multiple teams in different locations to optimize business efficiency and communication. Keep up the pace in today's rapidly changing industrial landscape by implementing a robust CRM system.