Digital transformation is forcing companies to change their business models and adapt to the new market reality.
What's interesting about this is that it's not the companies that are driving this change.
Instead, this change is being driven by the customer.
Today, customers expect relevant content in relation to what they're doing anytime, anywhere and in the format and on the device of their choosing. It's their journey that dictates your strategy.
And in order to keep up with this new kind of "always-connected" customer, your business must embrace technology to deliver an unmatched customer experience.
Fortunately, putting the customer first is already at the center of many organizations' strategy.
Research shows that 35% of business executives claim that digital transformation helps them to better meet customer expectations and improve operational efficiency (40%), and 38% of executives plan to invest more in technology to make it their competitive advantage.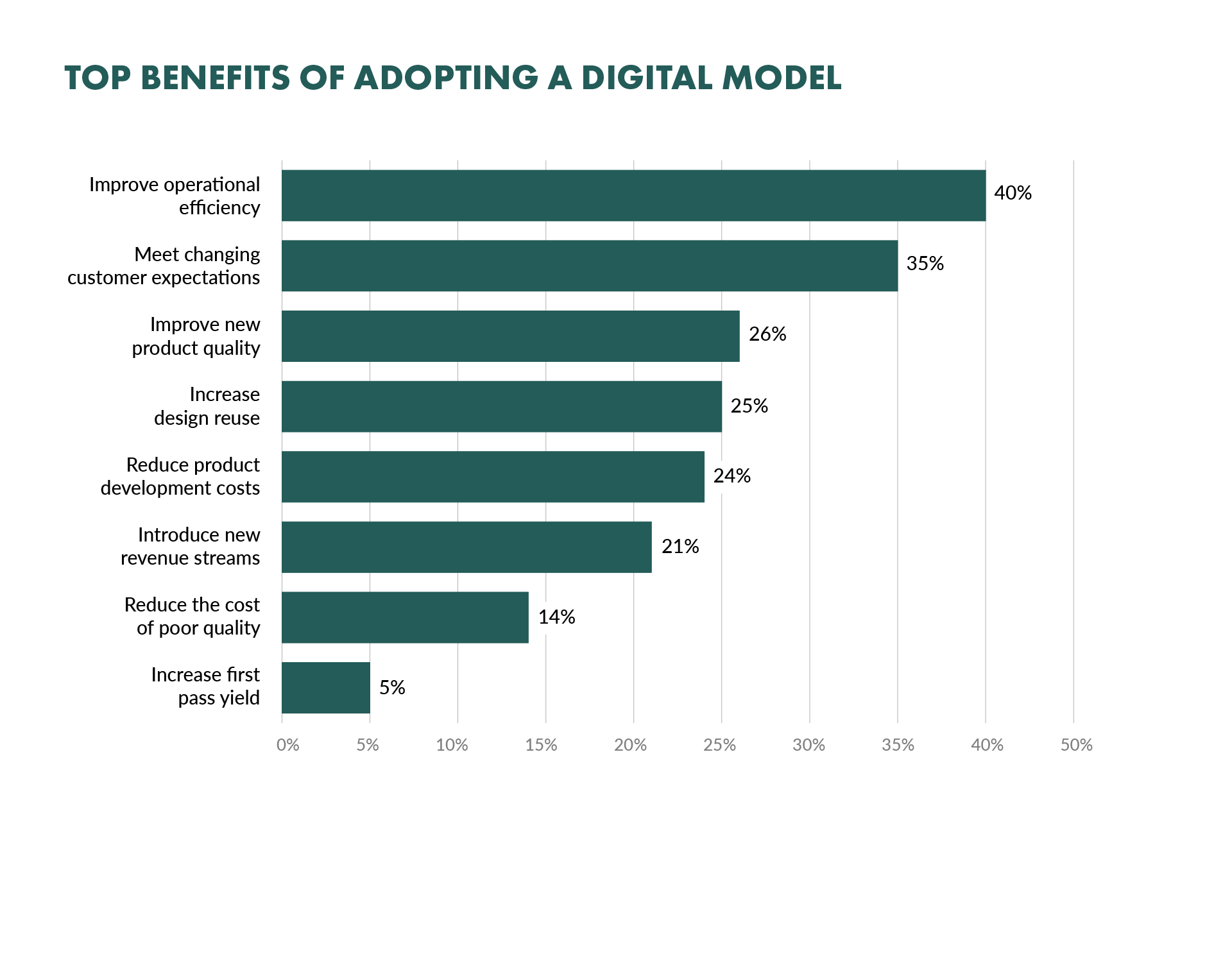 ...which explains the increase in digital spending.
Back in 2018 the net global spending on digital transformation was approximately $1 trillion.
Global digital transformation spending will reach $6.8 trillion by 2023. One of the main benefits is faster time to market, with 36% of businesses citing this as a key advantage.
In fact, 79% of companies admit that COVID-19 increased the budget for digital transformation). And 70% of organizations already have a digital transformation strategy or are working on one.
However, despite this forecast, we're far from complete digital adoption.
In their State of Digital Business Report, Progress revealed that 47% of companies haven't started their digital transformation yet - while 59% are worried that it might already be too late for them.
And there's good reason to worry:
The same study found that 55% of businesses believe they have less than a year before they start to suffer financially and lose market share.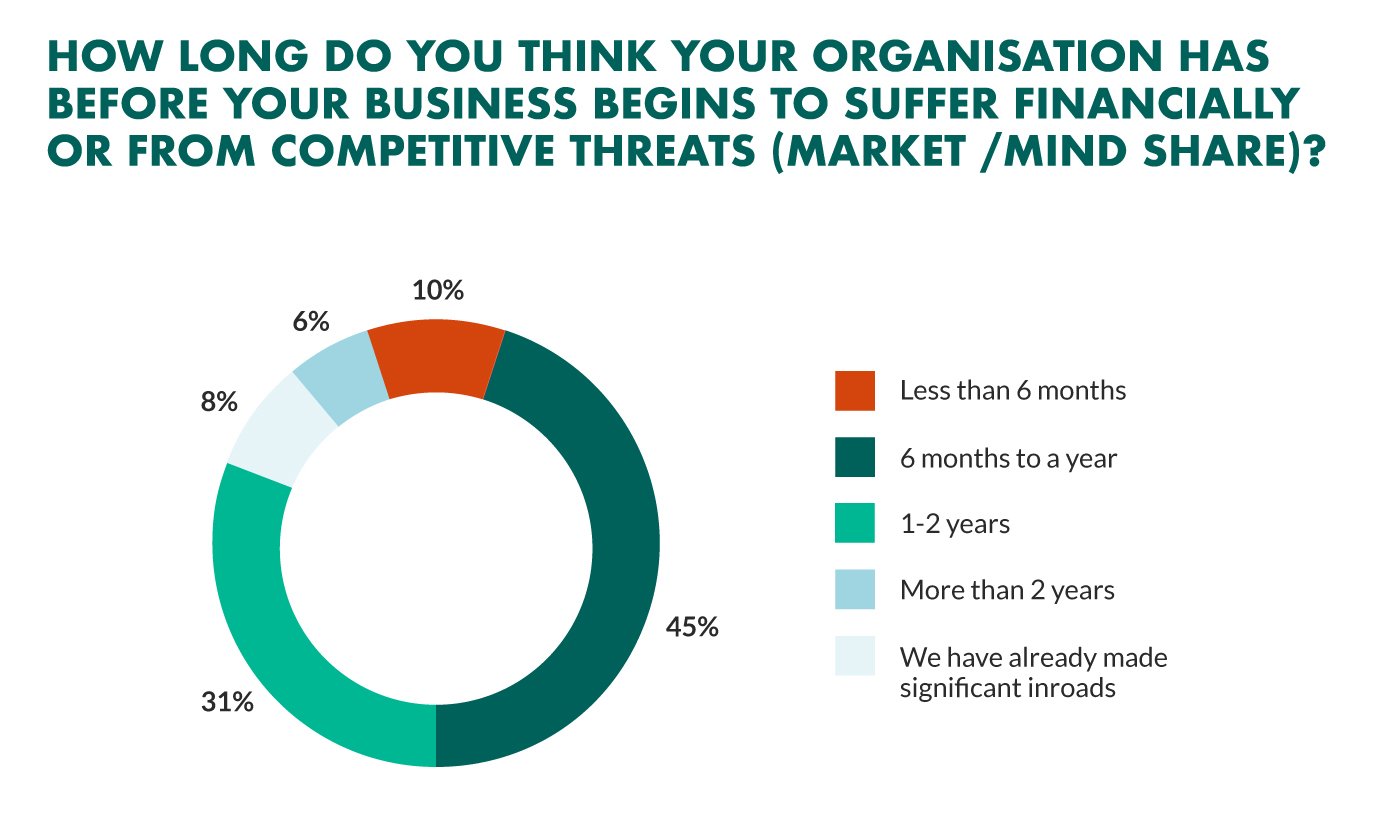 That gives you less than 12 months to digitally transform your organization before you start to lose business.
It's not a lot of time, is it?
The good news is that we can help you get started.
First, we'll explain what digital transformation is.
Then, we'll introduce you to the new, digital consumer and how you can use technology and data to provide them with a better customer experience.
What is digital transformation?
Digital transformation is the integration of digital technology into all areas of a business, resulting in fundamental changes in how a business operates and the value they deliver to their customers.
Put simply, it's about changing the way a business interacts with its customers and how they provide their customers with a consistent experience whenever and wherever they need it.
In fact, when asked about factors that influence a business' decision to implement a digital transformation strategy, nearly half of all organizations cited customer experience and customer satisfaction as their leading influences.
The companies that do transform digitally are creating highly engaged customers.
And these customers are:
Six times more likely to try a new product or service from their preferred brand
Four times more likely to have referred your brand to their friends, family and connections
Two times more likely to make a purchase with their preferred brand, even when a competitor has a better product or price
Furthermore, highly engaged customers buy 90% more frequently, spend 60% more per purchase, and have 3x the annual value (compared to the average customer).
That's not all.
Companies that step onto the road of digital transformation enjoy tangible benefits, such as increased revenue and growth opportunities.
According to the recent Deloitte's report, companies with higher digital transformation maturity reported 45% revenue growth. And 29% of highly digitized companies reported a positive impact on growth and innovation, while 41% emphasized a positive impact on sales and marketing functions.
One thing's clear - it's the customer who is in the driver's seat.
Recent studies indicate that businesses that have reached a high level of digital maturity are considerably more prone to generating revenue over $1 billion compared to those who are still digitally inexperienced.
And in order to deliver on a better customer experience, you first need to understand who this new kind of digital customer is.
The new, digitally conscious customer
Digital technology has transformed consumer habits.
Mobile devices, apps, machine learning, automation and much more allow customers to get what they want almost exactly at the moment they need it.
What's more, these new digital technologies have caused a shift in customer expectations, resulting in a new kind of modern buyer. Today's consumers are constantly connected, app-native, and aware of what they can do with technology.
Because of the opportunities that rise from using modern technology, customers often rate organizations on their digital customer experience first.
Digital first requires you to rethink how you interact with your customers.
For B2B sales teams, digital first means replacing cold calling with social selling. Your customers are already active in social media and that's where you need to be. Instead of waiting for the customer to contact you, you will need to reach out to them, build a relationship and help educate them. You can do this by sharing relevant content and your expertise as part of a solution to their problem.
For marketing teams, digital first means reducing your spend on offline marketing activities, such as direct mail, billboards and TV ads. Your customers want (and expect) highly targeted messages, which can only be achieved through a data-driven marketing strategy. Now, you need to use digital channels to implement search engine marketing, account-based marketing and email marketing strategies.
For customer service teams, you're no longer restricted to waiting for the phone to ring or a fax to come through. Digital first is not just about being reactive. It's about being proactive in the way you help your customers, who use a wide range of channels to seek out support. Social media, reviews sites, forums, and communities are all now part of the customer service ecosystem.
To accommodate the new, modern-day buyer, your business needs to think digital first, too.
Getting started with digital transformation
Digital transformation offers organizations an opportunity to understand the modern-day buyer, engage with them and deliver on their expectations with a multi-channel customer experience.
However, of the $1.3 trillion that was invested in digital transformation, more than $900 billion has been wasted.
So, why do some digital transformation efforts succeed while others fail?
To help you succeed, here are 5 ways to help your business to get started with digital transformation.
1. Define your strategy first before executing digital transformation
The business world is face-paced due to rapidly changing technologies and innovations. Even established companies are being disrupted every year by evolving and advancing technologies.
Back in 2009, Uber transformed the taxi industry by allowing people to hail a ride through a mobile app. Amazon Go is the latest adaptation to Jeff Bezos' booming e-commerce business by offering a chain of convenience stores in the US with automated, cashier-less self-checkout stations (that's a mouthful).
More recently, Google and Elon Musk are racing against each other to release self-driving cars into the world.
With all these new ideas being introduced into the marketplace, companies need a long-term strategy to adapt, compete, and survive in this new digital landscape.
A digital transformation strategy starts by asking 3 fundamental questions:
Where are you today?

Where do you want to be tomorrow?

What are

you going to do to get there?
Companies need a plan that not only outlines which technologies need to be adopted but also protection from digital disruption. That's why understanding your core systems and processes to identify opportunities is critical before harnessing the potential of digital transformation.
2. Reimagine the customer journey
With customers gaining control over the way companies deliver experiences, it's time to build new experiences that meet their demands.
In an HBR survey, 40% of respondents say customer experience is their top priority for digital transformation.
Since every experience with a customer impacts their overall perception of a brand, taking an approach that focuses on relationships with customers is a wise move.
In the same survey, 72% of respondents say they are excited about the shift to digital as it creates new opportunities to create better relationships with customers. So if you're looking to improve your customers' overall experience, invest your time and resources into technology that enhances business relationships.
3. Create an agile, flexible IT environment
Having the right technology to power up digital strategies is fundamental in today's business world.
Organizations recognize the need for implementing agile systems and 86% of businesses believe that cloud technology is critical to digital transformation.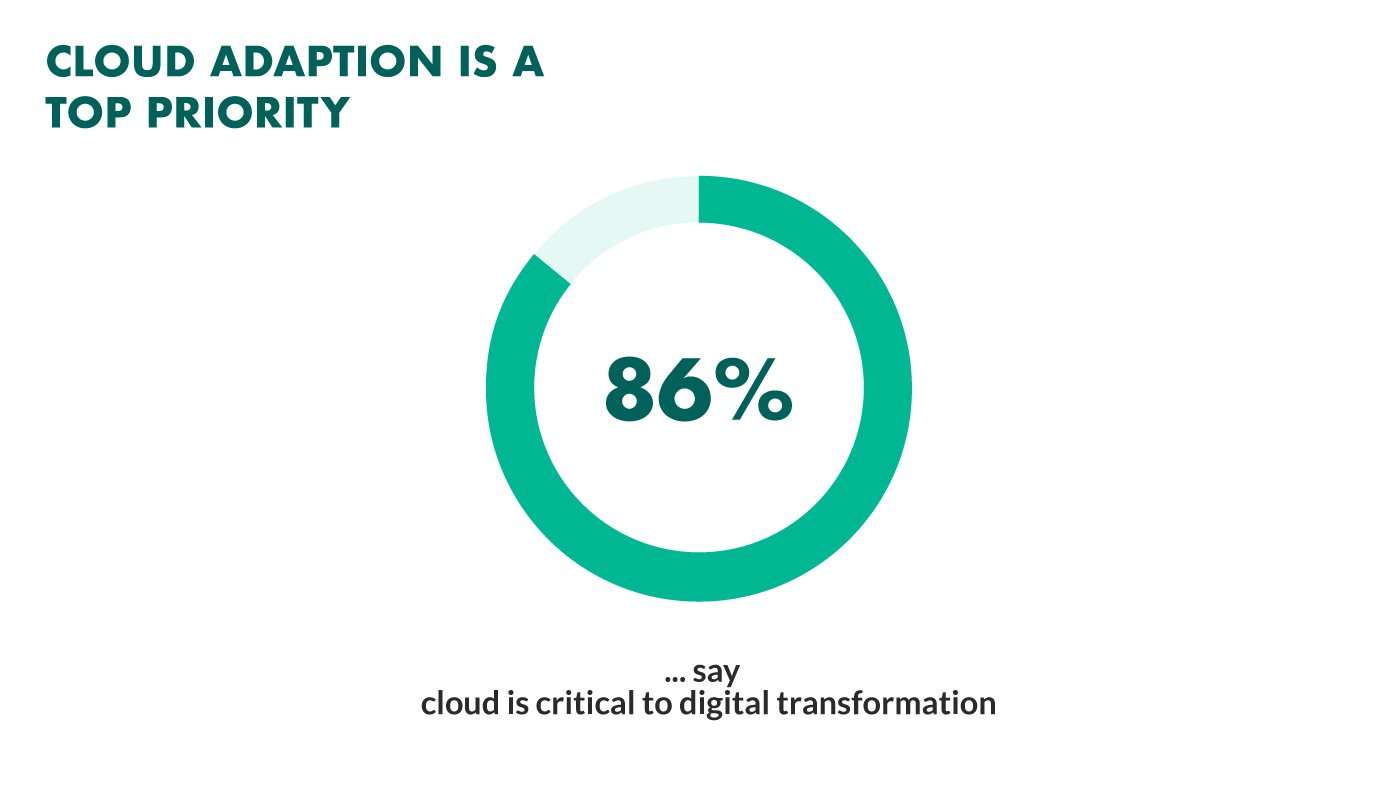 The cloud enables companies to be fast, dynamic and flexible – giving your organization the ability to test new projects that are cost-effective and low-risk – allowing you to use technology to meet customer demands quicker.
By easily connecting SaaS applications such as customer databases, Big Data analytics, web and mobile apps, you can digitally record all touch-points to create a 360-degree view of your customer. By using this data, you will learn how, when and why your customers do business with you and from it, you can provide a better, more improved customer experience.
This brings us to the next factor in digital transformation – personalization.
4. Personalize the customer experience
Today's buyers want organizations to treat them as a unique individual, and know their personal preferences and purchase history.
According to Accenture, 75% of customers admit being more likely to buy from a company that:
Recognizes them by their name,
Knows their purchase history, and
Recommends products based on their past purchases.
The best part is that they're happy for organizations to use their data..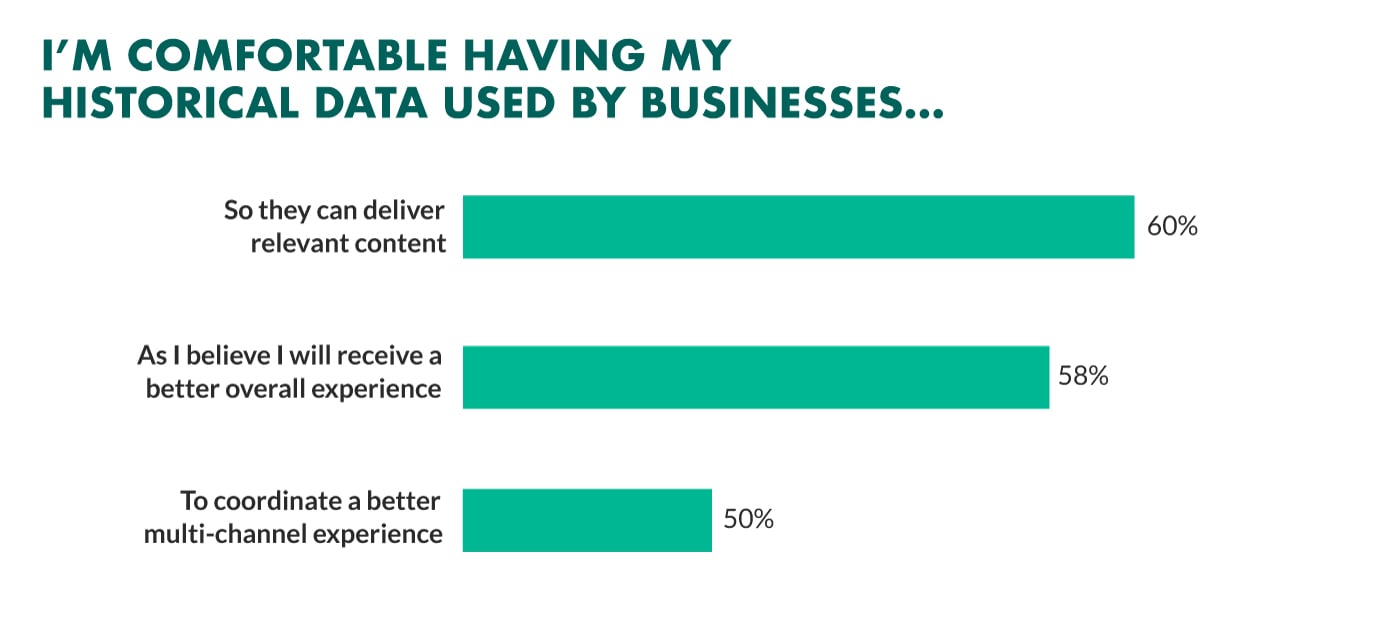 The good news is that customers are happy for organizations to use their data to improve their experience.
But, in order to take advantage of this opportunity, you need to invest in CRM.
Without CRM, you cannot treat your customers as individuals. And without storing the history of how your business interacts with them, it's impossible to provide a unique experience.
With a CRM system, you can analyze and study customer-related data based on a customers' previous interactions with your company.
For example, you can get a good understanding of your customers by evaluating general requests, product quotes and support enquiries. This data can then be used to create highly targeted messages to match customers' individual preferences, which results in a more personalized experience.
Delivering the right message to the right person at the right time brings us to our third and final success factor for digital transformation – a seamless multi-channel experience.
5. A seamless multi-channel experience
Technology has empowered customers to get what they want, whenever they want, and how they want it.
More than half of all consumers now expect a customer service response within one hour. They also expect the same response times on weekends as on weekdays. This need for instant gratification has forced organizations to remain accessible and on-demand, 24 hours a day, 7 days per week.
Everything is now happening in real time, which is why those companies that can offer immediacy, personalization and accessibility to their customers will win out in the long-run.
Today's consumers are not tied to a single channel. They browse in-store, shop online, share feedback through mobile apps and ask questions for your support team on social media networks.
Tying all of these interactions together allows you to create a single digital profile every time a customer interacts with your business.
Conclusion
In today's fast-moving, always connected and always-on society, companies are forced to seriously consider implementing a digital transformation strategy, if they haven't already.
Digital transformation offers organizations an opportunity to engage modern buyers, and deliver on their expectations of a seamless customer experience regardless of channel or place.
That being said, digitally transforming your business can be quite a complex project.
So, here's how to get started:
By focusing on these five factors, you will help your organization embrace the new digital landscape, exceed customer expectations and improve the overall customer experience.
Have you started your digital transformation journey yet?
If not, find out how SuperOffice CRM can support you on your digital transformation journey by signing up to a free personalized demo.