How to use CRM to improve the customer experience

Post summary:
The dawn of the New Customer
Customer experience is "the new black"
Surviving in the age of the New Customer
Getting started with CRM and customer experience
Companies today like to toss around cliché phrases such as "Customer is king", "Customer is always right", "Make a customer, not a sale", etc. But do they really mean it?
What place do your customers take in your business?
And even if you do put your customers at the forefront of your business focus, how much do you know about them?
Let's test that!
Did you know that thanks to the recent boom of digital technologies and social media, an entire "customer revolution" has taken place and a new breed of informed and socially engaged Customer 2.0 has appeared? And as a spin-off, Customer Experience has become the key brand differentiator for businesses?
Let's dig deeper into how the customer scene has transformed.
The dawn of the New Customer
Customer 2.0 is very well-informed and spoilt for choice when it comes to buying. Due to the spread of the internet and social media boom, he has access to virtually unlimited information about companies on the market.
Marketo claims that 93% of buyers begin their buying process using the internet for search. As a result, they can choose products, services and even people to have business with.
The tech-savvy Customer 2.0 relates to all things digital, chooses online communication and prefers emails to phone calls. This new customer relies a lot more on social media and a lot less on advertising when it comes to a buying decision.
But above all, Customer 2.0 – wants to have an experience! Even the studies show that an astounding 86% of buyers will pay more for a great customer experience.
So how can you adjust to meet the expectations of such a demanding customer?
Customer experience is "the new black"
Today's customers rate companies by their ability to provide an exceptional customer experience.
Back in 2013, a survey by Customer Management IQ showed nearly 76% of the customer management executives and leaders thought that customer experience was of high priority to their business.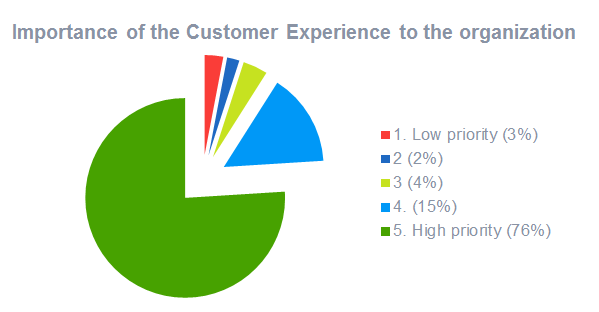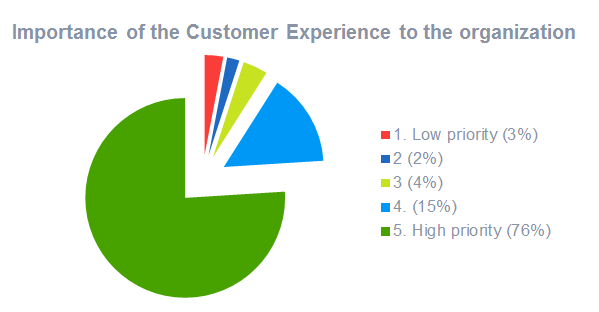 Today, in 2016, according to Gartner, numbers grew and it is already 89% of companies that are determined to compete mostly on the basis of customer experience.
The PwC's Digital IQ survey claims that 25% of businesses expect their digital enterprise investments to result in creating a better customer experience.
Convinced yet? Ok, one more statistic to nail the reign of the customer experience.
A recent study published by Walker states that in just 4 years' time – in 2020 – customer experience will be the leading brand differentiator when it comes to a buying decision, leaving behind such criteria as product and price.
The Walker study asked "How important are the following to your business strategy?"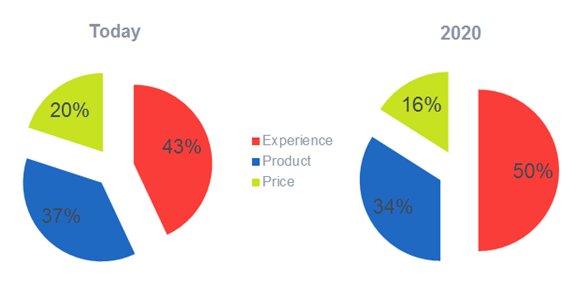 Surviving in the age of the New Customer
So, what is it that you have to do in order to create an exceptional experience for your customers?
You have to be proactive!
Anticipating and catering for customers' current and future needs. And in order to do that, you need to put yourself into your customers' shoes and walk a purchase mile with them.
A study by inContact revealed that 87% of adults want to be contacted proactively by an organization or company.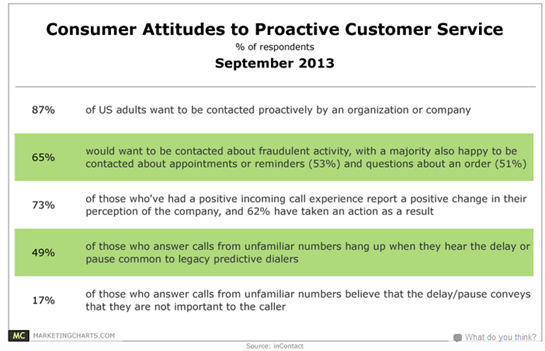 Luckily, there is technology available to help you proactively accept the challenge called Customer 2.0.
Getting started with CRM and customer experience
In this blog post you will discover how a customer relationship management (CRM) system can help you improve the experience you provide for your customers.
1. Keeping in touch
A great customer experience is impossible without ongoing and meaningful communication. Kevin Stirtz, the author of 'More Loyal Customers' said in his book: "Every contact we have with a customer influences whether or not they'll come back. We have to be great every time or we'll lose them."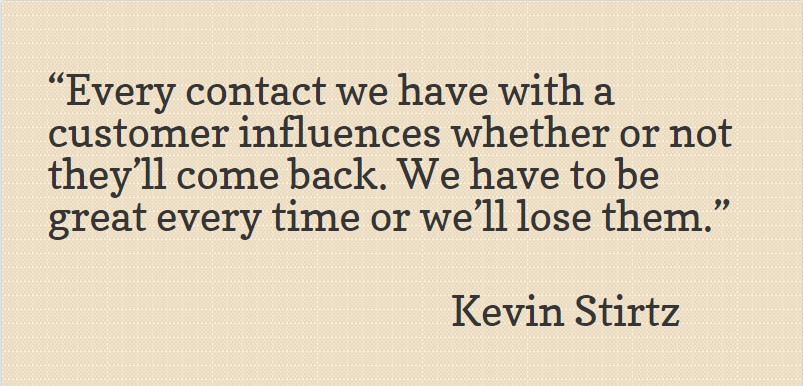 And in this area a CRM system can be a great help, as it is increasingly used as a customer loyalty enhancement tool.
So, how can you make sure that your customers stay satisfied and loyal? The answer is – by simply keeping in touch!
Since CRM offers you a vast customer database, all you need to do is reach out to them. CRM can help you keep your existing customers by your side by updating them on your company's news, offers, sales campaigns, or other initiatives. CRM also allows you to segment the customers and address the right audience with the right message, instead of sending them all the same bunch of information.
2. Listening to customers' needs
Customer 2.0 is very talkative, sharing opinions and information about products through various communication channels, such as social media. So, if you want to be the loop of what's hot and what's not, you'd better start listening what he or she has to say!
One way of doing it is by asking your customers for their opinion. Send them a survey via a email marketing CRM feature and ask about what they think of your products, services, and what can you do to make their experience better. In this way, you will show them that you care – and attention has no price tags on it!
3. Creating personal relationships
Do you remember what "CRM" stands for? It is Customer Relationship Management.
One way you can start creating a unique relationship with a customer is through personalizing your communication. CRM not only stores names, post or email addresses and telephones numbers. The systems records every phone call, letter, email or inquiry ever sent.
That's a lot of information!
Use it to your advantage by addressing your customers by their names, and incorporate the data that you know about them showing that you treat them individually. Personalize your communication, and you will see how your customers' perception of your company starts to improve.
4. Offering what customers really want
Customer 2.0 has plenty of choices. And in order to win his/her heart and wallet you need to proactively offer them a relevant product or service.
A CRM system gives you knowledge of what your customers need by telling you what products or services your customers were interested in, asked for or already bought. You also know what problems they had before, and whether they were happy with the solutions you offered them.
In other words, a history of your interaction with customers recorded in a CRM system helps you offer your customers what they really want, not what you think they want.

This can be done by programming your CRM to send automatic email sequences tailored for specific buying stages that a customer is in, or whenever a customer asks for some information or shows interest in your products.
With the help of CRM, you can also offer your customers to sign up for an update or page, we well as opt in or out of messages or activities.
5. Providing attentive and quick support
A unique customer experience also means that you offer help and support to your customers how and when they need it.
Remember that Customer 2.0 prefers online communication when it comes to solving their problems and handling their complaints? CRM offers exactly that!
An automated customer service program ensures that no customer inquiries are lost, as they are all logged into a central system that can be accessed online. Once a customer sends in a request, it is then automatically assigned with a reference number and a support agent who deals with it.
Also, customer service CRM software allows you to speed up your responses to customer inquiries. This is done through a few methods: 1) using ready made templates for recurrent issues, and 2) automatic assignment of requests to the appropriate departments that specialize in dealing with specific issues.
6. Maintaining an ongoing dialogue
Customer 2.0 likes attention. So, you'd better keep on talking! Not acknowledging customer's enquiries – means losing the customer to those who do.
The 2016 Customer Service Benchmark Report by SuperOffice concluded that 66% of companies do not use auto-responders or acknowledge that an email has been received. Not to mention that a whopping 32% of the surveyed companies did not at all respond to customer support emails!
It's pretty obvious what happens next: if you ignore them, they will find the one who pays attention!
To avoid ignoring your customers, CRM immediately informs them that their inquiry was received and that it can be tracked in the system. An automatically generated email gives all the information about the received inquiry and even suggests where FAQs and other self-help resources, such as a knowledge base, can be found. This way, all customer requests receive attention and don't disappear into the unknown.
7. Keeping up with the customer needs
Customer 2.0 demands not only to be listened to, but they also want to be responded to on their terms and conditions, and quickly. This means that you will have to connect with your customers at the time, place and in the form that they choose!
Since Customer 2.0 has online access to many competing offers, sales people today need to increase the speed at which their present their offerings.
Simply put, sales people must be mobile!
When the fate of a sales deal is a matter of minutes, being able to access all customer information and offer a suitable product is very important. Mobile CRM gives sales people exactly that freedom.
Mobile CRM apps allow sales people on the move to provide better customer experience by being able to instantly offer the latest information on the products, deals and contracts, as well as to quickly answer customer questions. Finally, Mobile CRM helps sales people to follow up on their leads and opportunities at the right time. No need to wait until a sales agent returns to his office.
Conclusion
There is one major idea that I wanted to covey in this blog: Stop thinking that you control your customers. Today, it's your customers who control you! And that's the reality that you'll need to adapt to.

In the technology dominated world of today, a CRM software turns out to be a reliable way to create an exceptional customer experience that would be worth the attention of the picky "know-it-all" Customer 2.0.
With the use of CRM technologies, businesses can better communicate with their customers, create a positive experience and serve their customers at the speed and form that is both modern and convenient.
And it's time to admit that CRM can not only help you find new customers and keep the existing ones through a systematized management of sales opportunities and customer relationships. CRM today is also a tool to create an experience!
What other areas of CRM and customer experience do you intend to improve?

Please, leave your comments below.
P.S. If you got something valuable from this blog post, remember to tweet about How to use CRM to Improve Customer Experience!
CRM