What is the single most important thing that all businesses crave?
Stability? Profit? Growth? Market leadership?
There's no ONE right answer. All of them are important. But, none of them are possible without one thing – repeat customers.
While acquiring more and more new customers may look like a sign of growth, those are your existing customers that are the main source of your income, the foundation for your stability and the promoters of your brand.
Taking care of your customers – both old and new – by providing excellent customer service and anticipating their needs is what really keeps your business afloat.
Customer needs vs. customer expectations
Customer needs are actually the triggers that push people to buy your product or service.
Basically, there are two types of needs that customers want to be satisfied.
VALUE needs. If customers see the value behind a product or service, they are more likely to buy. They are looking for effectiveness, functionality and value for money (adequate price).
SERVICE needs. If customers receive attentive, emphatic and professional service, they are more likely to keep buying. They are looking for timely and quick responses, understanding, and honesty.
Customer expectations are a set of behaviors and actions that customers anticipate when interacting with a company. And the stakes are much higher here.
Modern customers expect more than just a fair price and good service. They want more: seamless multi-channel experience, personalized offers, proactive service, innovation, etc. And if you fail to meet these expectations, 72% will take their business elsewhere without giving it another thought.

Well, that's what customers expect, but why should you care?
What is in it for you?
Let's be honest – you started your business to make profit.
This means that your every activity and effort should directly benefit your business. That's why it's important to understand what your business will gain if you invest in getting to know your customers' needs.
There are 4 immediate benefits: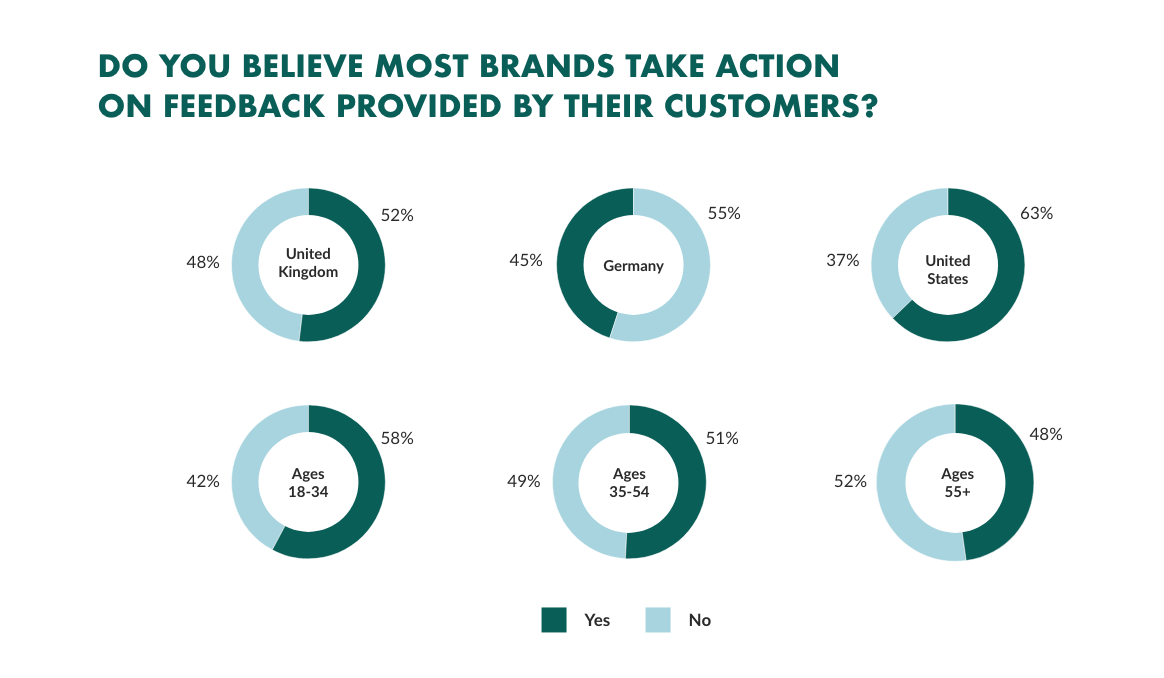 How to stay one step ahead of your customers' needs
In today's super competitive world, to run a successful business you need to learn how to play chess. Meaning that in order to plan your next step you need to anticipate your customers' next move.
Anticipation is a new way to stand out, because customers remember those businesses that take care of them before the need for care even arises.
That's why today solving a customer's problem or need is much more important than selling a product. Why? Because successful anticipation sticks in the heads longer, than the short-lived pleasure from acquiring a product or service.
In the same vein, your business decisions and especially the way you design your business processes and shape your communication with customers (old and new) should be based on one goal – solving the customers' problems. And if you want to deliver a checkmate – solving them in advance.
8 ways you can successfully anticipate your customers' needs
Repeat business, customer loyalty, customer retention are real buzzwords in today's business world, because these are the areas that generate revenue.
Here are a few time-tested ways of how to anticipate your customers' needs and make them stay with you longer.
1. Know your customers
To stay ahead of your customers' changing needs you need to, first and foremost, know them.
But just collecting information on them is not enough, you need to establish an active relationship with them and pay attention to their behavior. Then, the information exchange that follows will give you necessary insights into what they may need or want next.
Are they active? When was the last time you talked to them? Their actions (especially a lack thereof) speak volumes.
Are they able to contact you via a convenient channel? Do they receive help quickly? Are they satisfied with your product or service? What do they complain about?
To do be able to answer those questions – you need to establish a close relationship.
2. Be proactive
Helping customers solve issues is – by all means – great, but it's not enough. You need to be one step ahead and predict what else and what next they may want or need.
Applying reverse logic may surprisingly come in handy!
For example, if you can't decide what product to offer next, your best tactic is to think what next problem your customers may have. Ask yourself in what areas they may need extra support. If you make problem solving your main strategy, then the chances of you offering the right product or service will increase exponentially, naturally triggering upsell and cross-sell.
Being able to offer a solution before a customer voiced a concern or, better, before they even realized they have a problem is the best way to win a customer's loyalty.
3. Listening vs. anticipation
By listening alone, you won't be able to exceed customers' expectations.
Because they will only tell you what they think they want now. It is what they don't know they want (their unexpressed wishes) that creates exceptional customer experience.
The "Oh, I didn't even know I wanted that!" feeling is what makes the greatest impact.
Here is a trivial comparison to illustrate. Say, you're throwing a dinner party for your good old friends. It's not cooking their favorite meals that will make them go "wow", right? It's something extra, like healthy options, environmentally friendly set-up, fancy presentation, personalized drink selection, or even a doggy bag to take home.
The rarity of exceeding expectations and anticipating needs is what positively affects customers and not only makes them stay, but also urges to spend more.
4. Make customer success your priority
Businesses around the world have become aware of the simple truth: their success is in direct parallel to their customers' success. The more you invest in improving your customers' experience, the more you perfect your customers' journey to your products, the more success you get in retaining your clientele.
What does it mean? You need to make it your priority that your customers achieve ongoing, long-term, tangible value from your product or service.
How can you do that?
For example, by actively investing in product adoption, user training and onboarding; performing regular product evaluations and reviews; collecting feedback; offer timely support; promoting brand advocacy; and upselling and cross-selling to increase value.
Being genuinely interested in customer success is the most trustworthy way to show your customers their success matters and that you have their best interests in mind.
5. Push innovation
Change is difficult, yet necessary. To stay relevant and progress as a business, you need to change regularly.
Not only does it advance you in the market, but also helps you stay up to date with innovations, which is one of the most effective ways to serve your customers better and delight them in new and unexpected ways.
Digitalization is one of them, with 62% of today's CEOs admit to have an initiative or transformation program underway to make their business more digital.
The reason digital innovation works in winning customers is the value it creates: customers have easier access to a wider variety, are more engaged, and receive service anytime and anywhere.
Even better – it also brings in cash and helps you grow! 80% of organizations that have completed digital transformation report increased profits, while 85% say they have increased their market share, claims SAP Digital Transformation Executive Study.

6. Ask for feedback
By far the easiest way to meet customers' needs and expectations is to simply ask them!
Let them tell you what they want.
Set up convenient channels for customers to tell you what their needs are. Collecting feedback via such customer success metrics as VoC, Customer Satisfaction Survey, NPS, etc., or simply having phone conversations, chatting in forums, listening to social media, or analyzing focus groups – all will help you keep your hand on the pulse of customer needs.
By all means, don't underestimate social media! It can give you a wealth of information on products and services through rating, likes, comments, mentions, and shares. Gathering this data can also help businesses to come up with new products and improve the existing ones – all thanks to paying attention to what customers like, dislike or would like.
7. Keep up with the trends
Customers' desires and needs are changing constantly. Trends, fashions, preferences come and go, influenced by various media.
In order to be able to intelligently anticipate the ever-changing needs, businesses need to have access to high-quality, reliable sources of information, such as industry reports, competition research, influencer blogs, and experts' analyses, as well as technologies, like data analytics tools and CRM systems, that consolidate and make sense of various data.
To stay on top of your customers' needs, you must know what's trending and what no longer works. Having easy access to the internet gives you no excuse as to why you wouldn't stay up to date.
8. Go the extra mile
There is a certain level of convenience most customers naturally expect from brands: easy to use, mobile-friendly website; polite customer service agents that respond promptly and offer solutions to problems; a clean, orderly store in a central location.
That's a given.
To outperform such basic expectations, you need to do something that goes beyond that.
Why? Because people always notice and appreciate effort.
Although this demands significant dedication, going the extra mile is the most effective way to build long-lasting, trust-based relationships with customers.
Typically, people expect some kind of struggle when it comes to asking for help. They expect long waiting times, being put on hold, issues not solved quick enough, or simply unpleasant interactions.
Instead, you can surprise them, for example, with easy access to frictionless customer support:
Make sure they can reach you via any channel they want: a chat, SMS, social media, email, phone;
Offer extra-fast and super-friendly help by utilizing a dedicated customer support system;
Follow-up with a short customer satisfaction survey and an access to a Knowledge Base full of FAQs and useful tips & tricks.
Now that can really disrupt their previous expectations!
Anticipation = focusing on tomorrow
Your customers are the bread and butter of your business success.
Listening to your customers is a great thing to do. Responding to and helping them is even better. But, today, it's not enough.
To win them and make them stay, you need to be agile, strategic and proactive. This means that if you don't have a plan on how to serve your customers tomorrow, today may already be too late.
What you need is to put yourself between the problem and the customer. Before something happens, like an issue or a problem, it's wiser to intervene on time.
Just like in chess you must always be one step ahead, because the anticipation of needs ensures that the customer first meets you, not the problem.
One of the easiest ways to do that is to embrace new technology, and invest in software that helps you know your customers better, stay on top of their needs and remain competitive in the ever-changing market.