Nothing kills subscription-based businesses quite like customer churn.
If you rely on collecting regular payments from the same customers time and time again, you need to listen up.
According to Accenture, customer churn is costing businesses more than $1.6 trillion per year!
Not familiar with churn?
Put simply, it's the percentage of your customers who have cut ties with your service or company during a given time period.
Low churn is good, whilst high churn is deadly for any business.
Because of the risk that churn poses to businesses who use recurring revenue models, savvy organizations have started focusing on Customer Success as a way to combat it.
Through Customer Success, SaaS companies are able to retain a high number of customers that they would otherwise lose. In fact, reducing churn is the number one priority for SaaS companies that have Customer Success Programs in place.
The two go hand in hand as successful customers are less likely to churn.
But what is Customer Success, anyway?
What is Customer Success?
Depending on whom you speak to, the definition for Customer Success varies.
The Customer Success Association for example defines it as:
"Customer Success is a long-term, scientifically engineered, and professionally directed strategy for maximizing customer and company sustainable proven value".
Whereas onboarding software company User Lane describe it as:
"Customer Success is more about creating relationships than anything else. It is all about listening and understanding what each single customer requires in order to achieve their goals."
Ultimately though, Customer Success is really just a series of tactics you can use to look after your customers and achieve long term, sustainable, business growth.
Although Customer Success first originated as a term in the 90s, it has really come into vogue in the last 5 years or so, following the rise of digital subscription businesses such as Software-as-a-Service (SaaS).
Despite the rise of Customer Success, less than 20% of companies admit that they're truly efficient in managing their customers, with many struggling achieve their customer-focused goals.
This presents an opportunity for forward-thinking business leaders to develop effective Customer Success programs to transform how their companies handle customers and fight churn.
Who is responsible for Customer Success?
One of the big questions everyone asks is – who is responsible for Customer Success? Is it the Customer Support Team? Is it Account Managers? Is it Sales and Marketing? Or, is it someone else entirely?
The truth is, when done well, Customer Success is both a company-wide ethos AND a standalone business function.
The Customer Success ethos approach
This is where the entire company takes a strategic decision to back the concept of Customer Success and bake it into everything the company does.
Without a company-wide buy-in to Customer Success, any stand-alone team will struggle to consistently meet customer expectations.
The Customer Success team approach
Whilst Customer Success should be championed throughout your organization, you're going to need a dedicated team to co-ordinate and maintain your efforts in an effective and measurable way.
This is where the Customer Success team comes in!
Some Customer Success teams will have a focus on retention and renewals, while others will focus on up-selling and cross-selling. Yet, the one thing they will all have in common is a proactive relationship with customers.
In other words – the Customer Success team's key goal is to help customers achieve ongoing, long-term value from your product or service.
Because Customer Success is still a relatively new discipline, there isn't a defined place these teams should occupy within your company structure.
In fact, only 37% of Customer Success teams exist as stand-alone business departments that report directly to the CEO, and in 14% of cases, Customer Success teams are sub-divisions of Marketing or Sales departments (i.e. integrated across teams).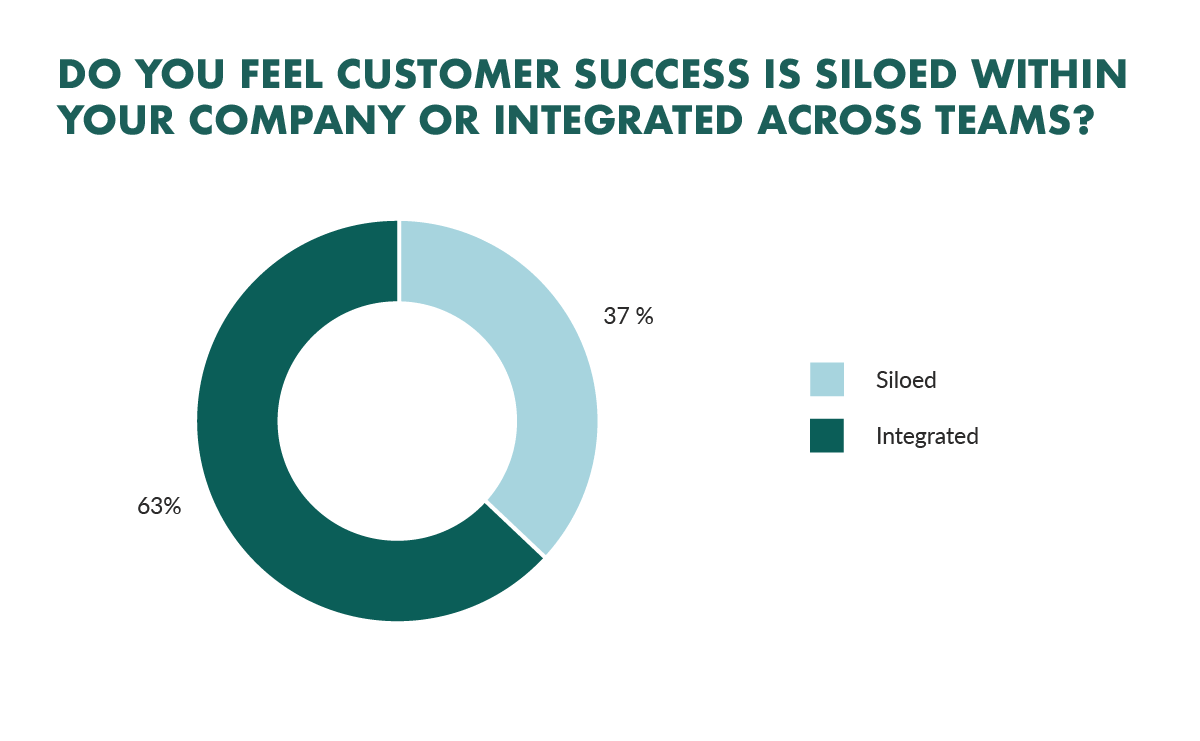 This means, that the emphasis shouldn't be on which division, department, or area of the business your Customer Success team operate from. Instead, the emphasis should be on having a team that can help you retain and grow your existing customers into lifelong advocates.
The 4 key pillars of Customer Success
Customer Success is all about managing and maximizing the opportunities in the post-sale part of the overall customer journey.
It's about encouraging more of your users to become long-term advocates for your product.
Once buyers have made the initial decision to purchase your product, you should double down on your efforts to keep them as customers.
Although it fits nicely into the post-sale part of the customer journey, every touch point and experience up to the point of purchase should all be also designed to support Customer Success.
This means making the right types of people – who match your ideal customer profile – aware of your product and arming them with the right information to help them make a correct purchase decision.
Setting the right expectations, for the right types of buyers, during the sales process is critical. If you don't get this right, no amount of Customer Success initiatives will help you retain them.
However, once you've landed the right kind of customers – there are 4 key areas (or pillars) that you should concentrate on to maximize their lifetime value.
These key areas include adoption, retention, expansion and advocacy.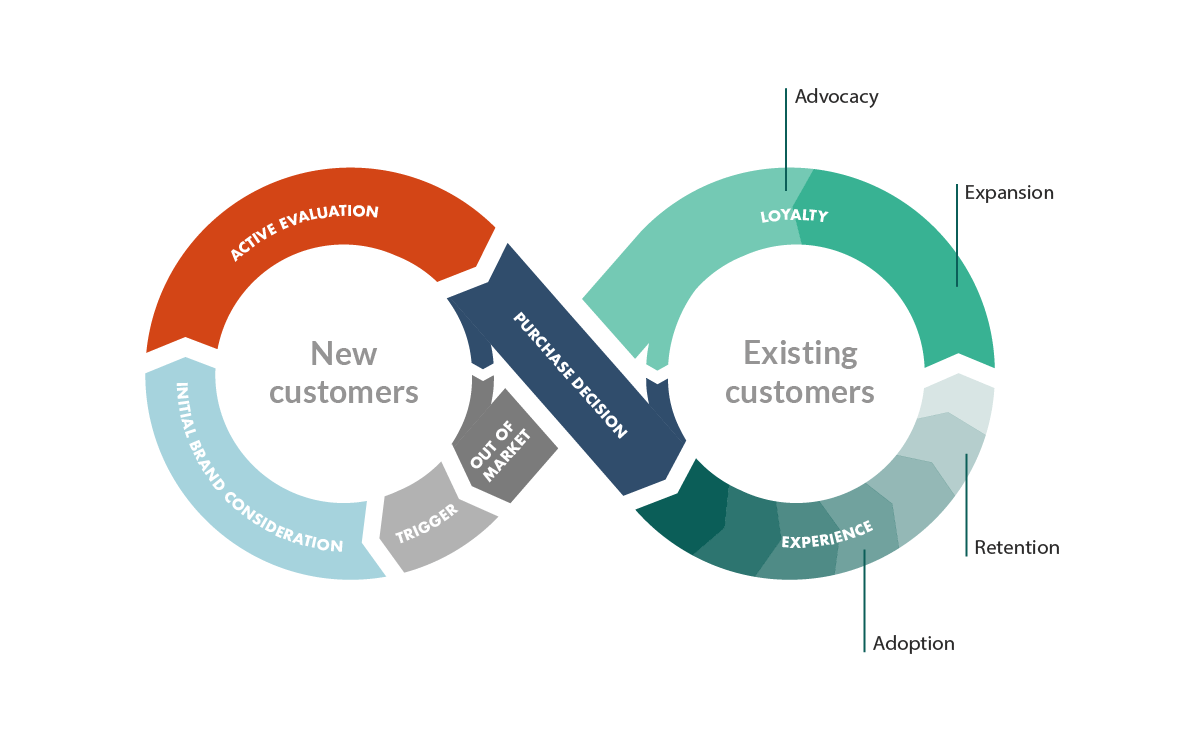 1. Adoption
Adoption is critical to your entire Customer Success venture. Get it right, and your customers will be using your product properly and for the long-term. Get it wrong and they'll fail to see the value your product offers and will be unlikely to renew.
Examples of key adoption activities include:
Implementation: Work with your customers to identify their needs and goals for using your product during implementation, and you'll be able to devise a solution that meets their expectations.
User Onboarding: Make sure it is quick and easy to get started with your product. For a software product, this might include getting signed up and logged in for the first time. The key is to make this as frictionless as possible and quickly provide the customer with an "A ha" moment.
Training: Work with your customers to ensure they're appropriately trained to use your product – this could be anything from a great instruction manual, through to a live in-person training. This will help them to quickly get to grips with the product and get maximum value from it.
Successful product adoption isn't just about training users, it's also about:
helping them implement the solution across their organization,
tracking how often they're using it,
checking in with them to identify possible issues or problems, and
helping them make the most of your product.
The result of this should be a measurable adoption rate!
2. Retention
The next thing to consider is retaining your customers so they stick with you for the foreseeable future.
All in an effort to avoid churn!
Every time a paying customer decides to stop doing business with you means you can no longer count on their future revenue.
Obviously, some customers will naturally churn for reasons beyond your control. However, as a business, you need to do everything you can to keep your churn rate (percentage rate at which customers stop subscribing to a service) as low as possible.
This is because the act of reducing your churn rate can substantially increase your profit margins. In fact, if you reduced your churn rate by 5%, it could result in an increase of profits of between 25-125%.
Key activities you can undertake to help retain your customers and reduce churn include:
Ensuring your product always does what your customers need it to do;
Make sure your product remains good value;
Conducting regular business reviews to reassess customer needs;
Offering timely support and constant assistance of your Customer Success teams;
Making sure that your customers are always promptly listened and responded to.
Whatever activities you decide to undertake to make sure your customers stick with you, it's critical that you combine effective communication with providing ongoing value. If you can master that, you have a powerful recipe for customer retention.
3. Expansion
Expansion is the first part of your growth phase with existing customers. Because your customers are now in a good position and satisfied with your product, not only are they less likely to cancel or churn, but they're now primed to increase their spend with you.
But you need to make sure your customers are happy!
You can do in a number of ways – by checking in with them personally or monitoring Customer Health or Net Promoter Score (NPS).
According to McKinsey, once your customers are happy, they will also be willing to upgrade their existing packages with you. And this is a very important moment you cannot miss as most companies earn between 70-95% of customer revenues through expansion strategies.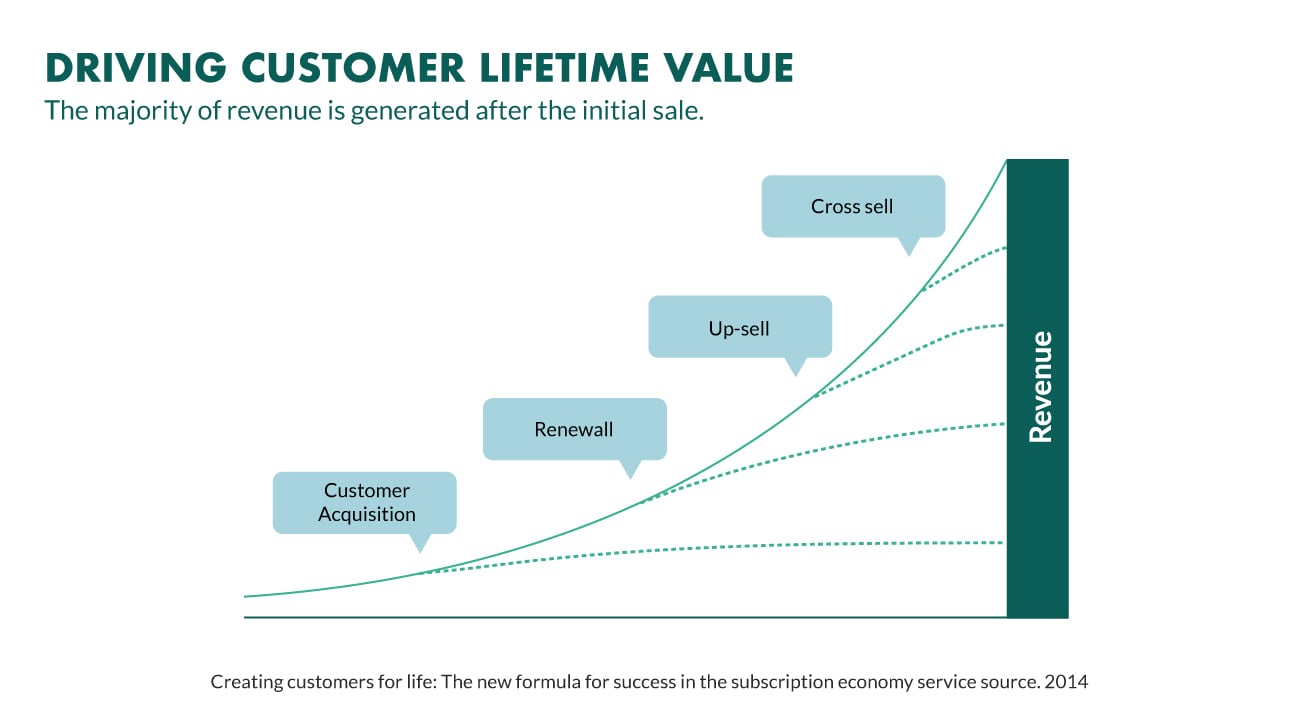 Of course, the areas you may consider expanding will depend on your business type. These could be:
Extra licenses for your software product;
Increased order value for your monthly subscription box;
Additional hours or duties added to your recurring service contract;
Average spend per user of your product / service;
Upgrades to the level of product or service your customer currently uses.
When it comes to Expansion, each company is going to have different offerings they can use to increase the lifetime value of their customers. However, when done properly, Expansion can account for as much as 25% in additional revenue every year.
4. Advocacy
We all know that if a user has a negative experience with your product or company, there's a good chance that will share their complaints with others.
On the flip side, if they are happy and successful users of your product, 77% of customers would recommend your company to a friend following a great customer experience.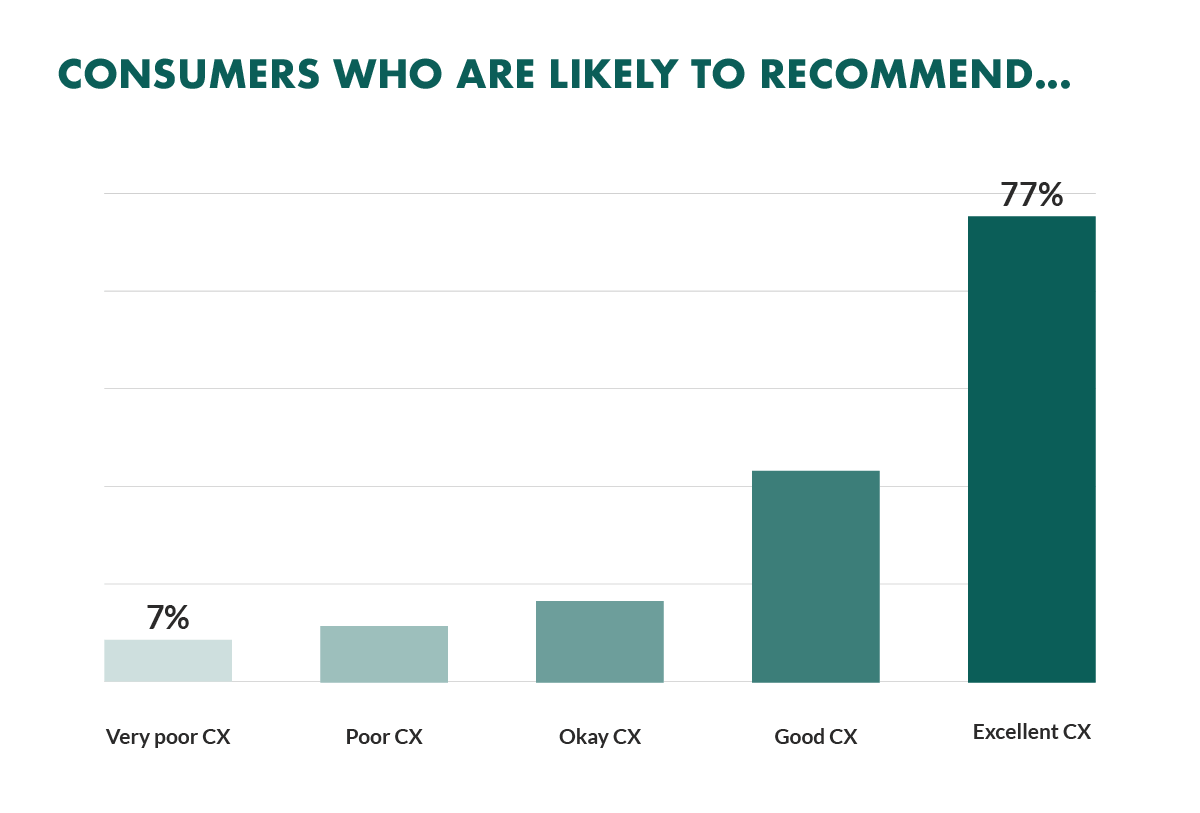 Ultimately, when it comes to making a buying decision, people tend to trust the opinion of the people they know. This means that turning your customers into advocates can be a powerful way to boost new sales.
Advocates are long-time customers who have made multiple purchases of your product. They are typically power-users who consider your product as business critical and they're most likely to refer new customers.
How do you find your advocates? The answer lies in your NPS surveys.
Every customer that scores your product a 9 or a 10 in your NPS (or VOC programs) should be considered an advocate.
You can then reach out to them and leverage the power of advocacy through:
Referral programs. By setting up a referral program, you can create a scalable way of incentivizing your customers to spread the word about your product. Your referral program could be a simple affiliate link scheme, referral codes, or even email invites. Whatever way you choose, the important thing is making sure you can track where the referrals came from and appropriately award the customers who set them up for you.
Ask for a referral. If you have a great relationship with your customers, you should consider making the most of it by asking directly for introductions to contacts they believe will be interested in your product. You can still reward these customers for their help, but it will help you personalize the experience for them by working with you directly.
Social proof. Sometimes, you'll have a customer who loves everything about your product and your company, but they just don't know anyone who would be a good fit to refer you to, or for some reason cannot accept incentives for referring your product formally. In these cases, you can still leverage this enthusiasm through the creation of a powerful social proof, such as case studies and testimonials which can go a long way towards convincing and converting sales leads into customers.
Customer success drives company success
Put simply, Customer Success is all about the communication strategies and business processes you use to keep demonstrating your value to your customers.
Doing Customer Success well is a great opportunity to put your business ahead of the pack.
Customer Success should be something that your entire organization embraces. However, you'll still need a specialist team to conduct the day-to-day operations for you.
If you want to get started with Customer Success, ultimately you need to concentrate on how you can improve your relationship with your customers and add value to them at every stage of their journey with your business.
Because it's a highly nuanced subject area, we've really only scratched the surface of what Customer Success is in this article.
However, if you're ready to adopt a more Customer Success-focused approach to the way you do business with your customers, then request a SuperOffice demo below and see how its Customer Relationship Management (CRM) platform can help you retain and grow your customer base.