Making customers happy is a skill, keeping customers by your side is an art.
Walt Disney once said: "Do what you do so well that they will want to see it again and bring their friends."
Average companies lose 10-25% of their customers every year. Meanwhile, 65% of their revenue comes from existing customers.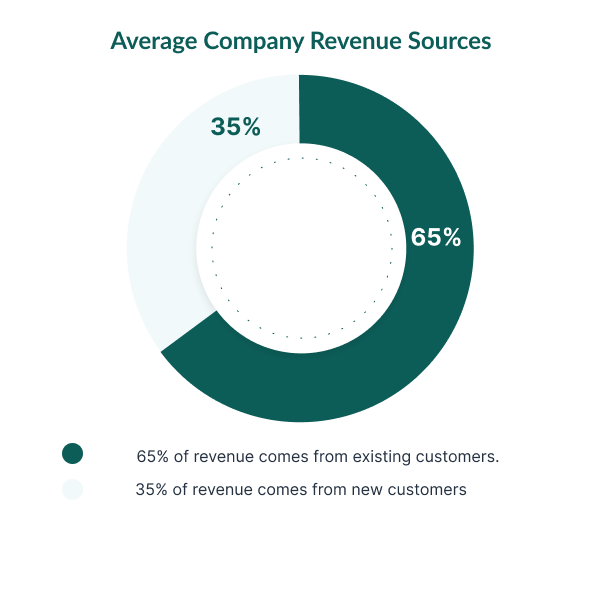 The smartest companies want to be more than average – and fixing customer churn problems is a great place for them to start.
This is because increasing customer retention rates by just 5% can have a huge impact on profits of anywhere between 25-95%.
It's a lever that every company should be looking to pull if they're serious about being more than average and experiencing meaningful revenue growth this year.
But have you considered customer service as your secret weapon to help you get there?
Customer service and retention
These days, if you're in the B2B space, you will no doubt associate customer success with customer retention.
For a long time, a common school of thought mixed customer success with customer support and service. However, customer success and customer support are two different things!
Despite customer success dominating mindshare when it comes to customer churn and retention rates, it doesn't mean that customer service can't play an important role, either.
"We firmly believe effective customer service is a growth lever. It not only helps with retention, but will also lead to referrals from happy customers. When customers get in touch with you, it's a chance to build a good relationship. This can ultimately lead to making more sales and earning more money".
Chintan Parekh, VP of Customer Experience at Mailmodo
We've identified 4 key ways that customer service can contribute to your customer retention strategy and help you avoid churn.
1 Positive experience. Because of the nature of the role they play, your customer service team tends to be the "face" of your company. This means your customers' experience working with them could make or break their relationship with you. This is why it's so important for your customer service team to provide a positive experience at all times.
2. Meeting your customer's needs. It won't shock you, but nothing else will make a customer happier than meeting their needs. If you task your customer service team with doing this one simple thing, then – within reason – it'll go a long way to retaining those customers for the long term.
3. Resolving significant issues. It's thought that 67% of churn could be avoided if businesses resolved their customer's issues during their first interaction. So, helping to resolve these issues professionally and on time will impress your customers, help them trust your company more and ultimately choose to stick around.
4. Creating loyalty. Getting the basics right and going the extra mile when delivering customer service will go a long way toward building genuine brand loyalty from your customers. Loyalty leads to retention and advocacy – potentially bringing in new customers through word-of-mouth referrals.
But why is churn so important to get under control?
The cost of customer churn
If you're experiencing high levels of customer churn, then this is a hamster wheel you need to get off as soon as you possibly can.
We say "hamster wheel" because every time you lose an existing customer through churn, you need to land a new customer to replace them – before you can even think about revenue growth.
This means the higher your churn is, the more new customers you need to bring in just to replace the ones leaving – so you'll be working harder and harder just to keep up, without ever really getting anywhere – just as if you were running on a hamster wheel.
You've probably heard about the research that found companies who retain 5% more of their customers could see up to a 95% increase in profits as a result. It goes without saying this is broadly a good thing – but not all churn is created equally.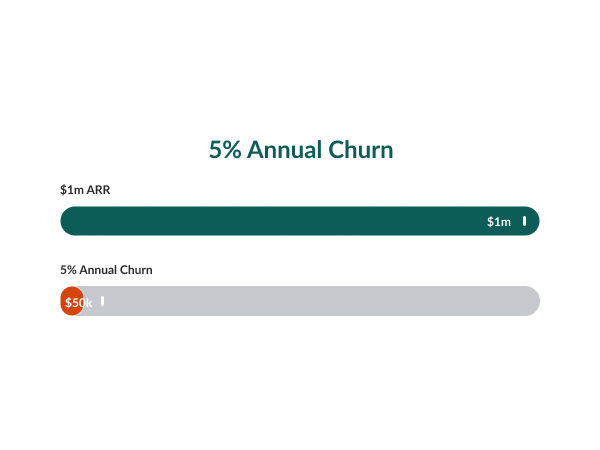 For example, 5% annual churn on a $1m ARR business would result in a $50,000 drop in revenue. Frustrating, but very fixable.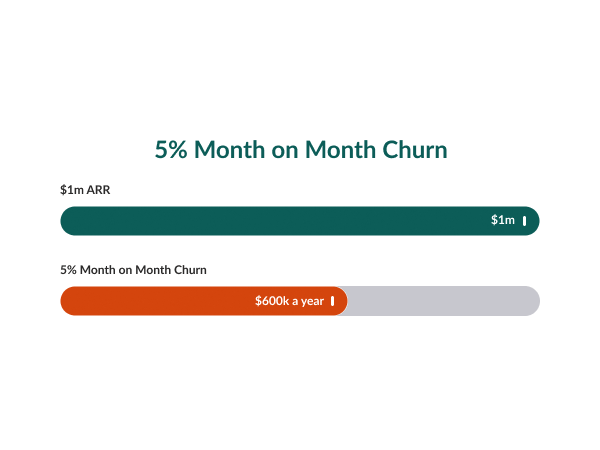 Whereas a 5% monthly churn rate on a $1m ARR business would see the company hemorrhaging $600,000 a year – with likely catastrophic consequences.
Here are a few hidden costs of customer churn:
Opportunity cost. Landing a new customer doesn't just mean your company will benefit from the revenue generated during their initial sign-up.
Most companies will also look to increase the amount of money their customers spend over time – this is called expansion revenue.
If your customer churns, not only have you lost their original revenue, but you've also lost the opportunity to generate expansion revenue, too – which could've easily doubled or tripled their spend with you over time.
Negative WOM. Losing a customer doesn't just mean you lose their revenue or expansion revenue, you also lose their seal of approval.
Couple this with the fact that 92% of people trust a "word of mouth" referral from a friend, colleague, or acquaintance over any type of formal B2B marketing – and you can start to see the issue.
Businesses of all shapes and sizes rely on word of mouth to help them win new customers, so constant customer churn is going to close off this valuable growth channel for you.
Plus, if you're really unlucky, your churned customers may leave negative reviews or actively dissuade their network from using your product or service, resulting in an outbreak of negative word of mouth, which could cause significant damage to your brand.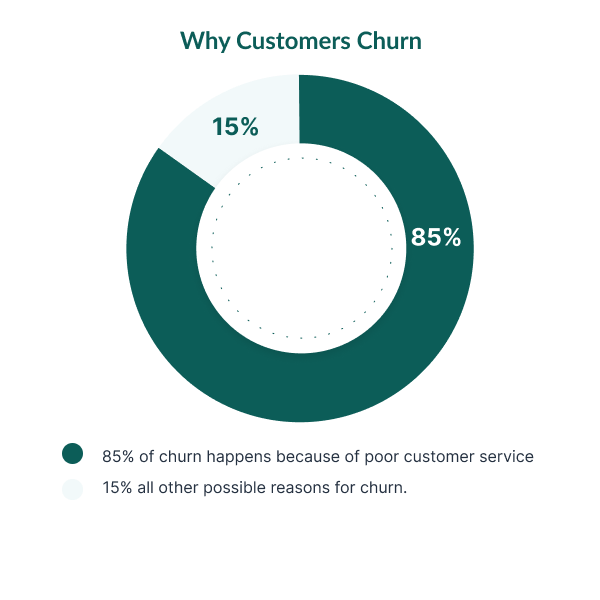 It's thought that 85% of customers churn because of poor service – that could've been prevented, so let's explore the relationship between customer service and retention.
Key tactics for retention via customer service
Personalization
"Your customers don't want a generic response. They want an actual person to vent to or feel appreciated for leaving positive feedback".
Scott Dodson, Chief Growth Officer at Ling
Personalization is when generic customer experiences or touch points are transformed into something that feels more tailored to the specific customer and their unique needs.
Personalizing aspects of your customer service experience allows you to differentiate yourself from your competitors by providing 'wow' moments for your customers.
By creating uniquely personalized interactions, your customers will feel truly listened to and respected as a customer – which is all too rare.
One of the simplest ways to get started with personalized customer service experiences is to consider the context of an individual customer in how you support them.
"Our personalization also extends to our IT support. Our staff are knowledgeable about multiple industries, and we allocate our IT staff with this in mind. We have also crafted How-To guides for specific industries - so that clients can quickly solve common problems".
Alister Wood - VisitUs
This can be as easy as making sure your CRM includes all their previous history with your company for your service team to use as a reference point during communication.
Proactive support
Proactive support is all about being on the front foot with your customers. Instead of being passive and waiting for them to come to you, the best customer service teams will be proactive in their approach.
"We like to do proactive support by identifying clients who use external services to achieve a certain goal. We reach out and tell them that we have a solution they can use instead, which is easier and can also reduce costs".
Deian Isac - Head of Agency Success at SPP
86% of customers admit they are likely to switch after a negative support experience. So, the best teams ensure that they're pre-empting any issues well before they become big enough for customers to churn.
There are a number of ways you could conduct your own proactive support.
One of the simplest is to use social media monitoring tools to look for brand mentions and to reach out to customers regardless of whether they're speaking positively or negatively about your brand (also known as social listening).
Another option is to go "above and beyond" and, where appropriate, to sprinkle a layer of surprise and delight onto your customer service experiences. This could be as simple as expediting shipping for free and without being asked after the customer mentioned the significance of the items they're ordering from you.
Omnichannel support
Omnichannel support is the art of ensuring that your customers can access your support service from wherever they are across multiple channels.
Omnichannel support makes it easier for your customers as they can communicate with you using their preferred channel without having to leave the context they're working within or jump through unnecessary hoops to seek help.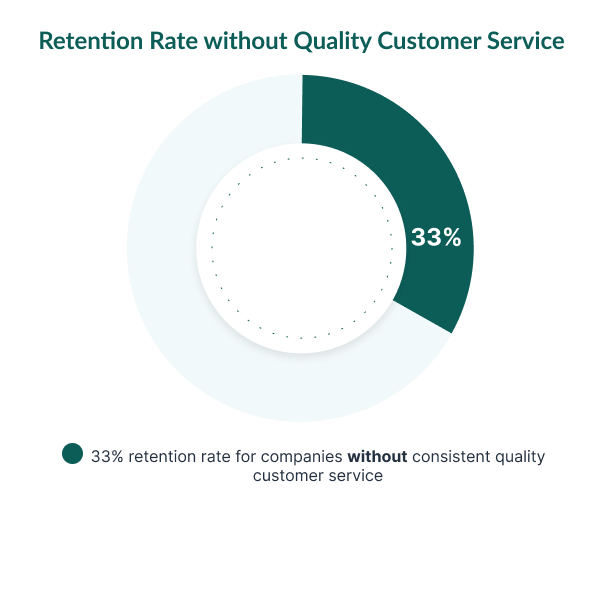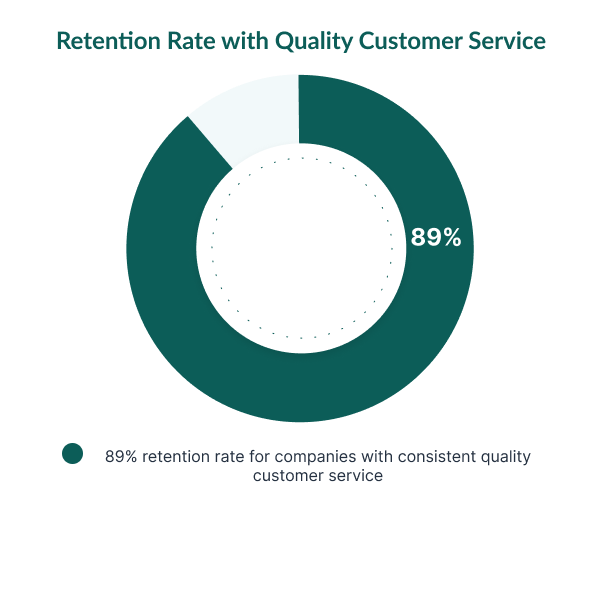 According to the Aberdeen Group, companies that provide consistent service quality across multiple channels tend to retain 89% of their customers, whereas companies that do not offer consistent quality are only able to retain 33%.
Omnichannel doesn't have to be complicated; it all depends on your customer's preferences. It could be as simple as having a ticketing system that supports email, a phone support system, and perhaps a chatbot or social media monitoring.
Feedback loops
Feedback loops are critical sources of customer information. They essentially allow you to gather insights into what is working well, what isn't working so well, and suggested improvements you could make.
"We respond to each and every review, comment, and ticket with empathy and always dig to find the heart of the issue. Feedback is then fed back to the development team, the product team, or the marketing team. It's also important to follow up and show the customer their concern is being addressed".
Scott Dodson, Chief Growth Officer at Ling
There's a saying from the 80's movie 'Field of Dreams': "if you build it, they will come". Sadly, this is not the case in real life. You need to constantly seek and take onboard feedback from your customers in order to improve the customer service experiences you have designed for them.
One of the simplest feedback loops you could implement right now is to gather feedback from customers after their support ticket has been resolved. You could ask them to write back to you directly with feedback, or you could use a smart feedback tool like SuperOffice's very own Feedback Loop.
Loyalty programs
Customer loyalty programs are all about giving your customers a little extra for continuing to use your company and your services. When designed well, these programs condition your customers to want to use your company specifically in order to unlock some of the perks or a bonus.
Not every business has a naturally recurring business model. In fact, most businesses in the consumer space need to actively encourage people to become repeat purchasers. Introducing loyalty programs is a great way to incentivize customers to continue to use your products or services.
You can get as high-tech or as low-tech as you want with loyalty programs.
British supermarket chain Tesco has more than 20 million members tied into its 'Clubcard' loyalty program, which boasts a highly sophisticated technology infrastructure to collect customer purchasing data.
In stark contrast, your local independent coffee shop gives out paper loyalty cards which get stamped each time you visit and earn you a free drink after 10 stamps.
Both serve the same purpose, but one is easier and cheaper to implement than the other.
Customer retention examples
It's great to learn the theory behind how you could do this for your company – but sometimes it's even better to get some inspiration from companies who are already doing this to help you get started.
Personalization. Amazon leads the way when it comes to using personalized experiences as a retention tactic. Because their ecosystem spreads far and wide, they're able to use the data they store about you to transform your overall experience and keep you coming back for more. Simple examples you might be familiar with include:
Alexa – based on your usage of the Alexa product, Amazon will regularly contact you to offer additional "skills" or functionality they think you'd like to try.
Prime – based on what you've already watched, Amazon will send you information on additional movies or TV shows they think you'd enjoy.
Amazon store – not only does Amazon recommend products based on your browsing history and the habits of other similar shoppers, but they also send reminders of items you've viewed and are yet to purchase.
Reviews – Amazon wants you to know that your voice matters by asking for your opinion on purchases. Not only do reviews allow them to listen to your feedback, but they also offer other similar customers a unique insight based on your experience.
Tailored offers – Amazon will look at your behavior and buying patterns and use it to make uniquely tailored offers. For example, are you regularly buying office supplies? If so, Amazon will send you details on their dedicated Business accounts.
Loyalty & reward. Loyalty and rewards are big business. As an example, supermarkets use the data they hold on loyalty cardholders to predict and personalize offers for them – this includes Target, who even have a "pregnancy prediction" score for each customer.
Juggernauts like American Express use reward programs as a key part of their overall customer service and retention experience. People don't choose an American Express card because it offers the best %APR rates, they choose it to get the fantastic rewards they offer, including points to use on things like flights and hotels.
Proactive support. There are a few famous examples of companies that leverage proactive support to the extent that they don't just help their customers – they delight and surprise them, too.
Shoe retailer Zappos has a long history of customer-centric proactive customer support and service. There are countless Zappos stories out there, from flowers and handwritten cards being sent to customers to 10-hour calls with a customer who really needed someone to talk to, Zappos has built a reputation for going the extra mile.
Chewy, an online pet food and accessories retailer, gained notoriety for turning negative reviews into hugely positive customer experiences by using unexpected proactive follow-ups.
These examples are the exception rather than the rule when it comes to customer service and proactive support, so there is still an opportunity for you to learn from them.
We totally get it, though, that these are examples from multi-billion-dollar companies and that not every company is able to invest quite so heavily in such incredible customer service experiences.
So, with that in mind, we've also put together a list of actionable customer service retention tips that (regardless of how big your company is) you can use to improve your own customer churn issues.
Customer service retention tips
Start with a blank sheet – review your current customer service offering and identify gaps or areas to improve. Develop processes as needed or invest in software tools to help you.
Gather feedback – use surveys to understand how your customers feel about your customer service offerings and listen to insights.
Know your customers – keep track of your customers, be obsessive about learning about them (making sure to stay compliant with data privacy laws like GDPR, of course), and store all the details in a central CRM system.
Be proactive – don't wait for your customers to come to you. If you've spotted something, then reach out and discuss it with them.
Delight and surprise – empower your team by giving them the authority to go the extra mile for your customers when the situation calls for it.
Be omnipresent – make sure your customer service is easy to access wherever your customers are. Don't make it difficult to access.
Be organized – Keep a full and up-to-date knowledge base so you can quickly respond to and answer customer questions easily.
Market of one – make your customers feel special with personalized offers and experiences that align with their needs rather than generic offerings.
Understand progress – chances are you won't get everything right the first time. So, regularly measure performance and use metrics like Net Promoter Score (NPS) and/or CSAT (customer satisfaction) to track how you're doing.
Respect your customer's time - answer questions quickly and do everything you can to get your customer "up and running" again in no time.
Conclusion
We've talked in depth about customer retention and the different types of customer service tactics you can employ to help retain your customers.
There are several approaches you can take from this article that will enable your customer service department to help dramatically reduce customer churn.
Ultimately, though, whatever tactics you choose to employ, it's important to remember that they need to better serve your customer in the first instance before you can think about any reduction in churn or increase in revenue.
How to keep customers & boost revenue with SuperOffice
It's 5x more expensive to find a new customer than to keep an existing one.
That's why we believe in building long-term relationships, not one-off transactions.
We've been doing it here at SuperOffice for more than 30 years – and we want to help you do the same.
SuperOffice Service gives your customer-facing teams a 360-degree view of your customers as well as everything you need to work smarter, including the ability to:
Handle all incoming queries in one place - so nothing gets lost
Categorize, prioritize, assign, and process service requests faster
Use automation to save time and improve communication
Build up a rich Knowledge Base to reply to frequently asked questions
Identify problem areas to improve your product, service, or processes
Respond to customer service tickets on the move with mobile apps
FAQs
Q: Why is customer service important for customer loyalty?
A: Customer service is a great way for you to demonstrate the overall value your company provides to customers.
If customers have a positive experience with your customer service team where they feel listened to, valued as a customer, and ultimately get their issues resolved – that customer will stay loyal as a result.
Q: Why is good service an important part of customer retention?
A: Your customer service team is often at the 'coal face' when it comes to dealing with your customers. They are oftentimes the main interaction your customers will have with your company.
This means that as part of the overall value exchange between your company and your customers, it's important that they feel they have received a good level of customer service.
If your customers don't feel they are getting value from your customer service team, it could lead to them churning.
Q: How can customer service lead to more sales?
A: B2B sales isn't just about bringing in new customers to your organization – it's also about maximizing the expansion opportunities that present themselves with existing customers.
A good customer service team's remit should include spotting these opportunities during their interactions with customers. This will lead to more sales and expansion of the customer, and your company will retain that customer for longer, too.
Q: How does customer service contribute to customer satisfaction?
A: Customer satisfaction is a measure of how satisfied a customer is with the product or service they've received. Making sure your customer service is always delivered to the highest standard will directly contribute towards overall high levels of customer satisfaction.
Q: How do you keep customers coming back?
A: The best way to keep your customers loyal and coming back for more is by providing them with high levels of value. This can be achieved by your product, your service, or, more often than not, a combination of the two.