Post summary:
Let's face it, growth is essential for any business. If you're not growing, your competitors are and this means you're losing out on new business.
According to new research, the biggest challenge is finding strategies to help you achieve growth. Simply put, far too many companies don't know how to grow...
Are you struggling with growth? We want to inspire you. Here, we share 7 key trends that you can use in your 2023 B2B growth strategy.
Growth is not only a sign of a company's success in business, it's also the key to its long-term survival.
In order to be competitive and stay relevant, a company needs to grow.
Because if you're not growing, you are giving away the lion's share of the market to your (more ambitious) competition and your customers are likely to choose their services or products instead.
So, it's no surprise that growth remains the top strategic priority for CEOs of medium and large-sized companies in 2022-2023, according to Gartner's 2020 CEO and Senior Executive Survey.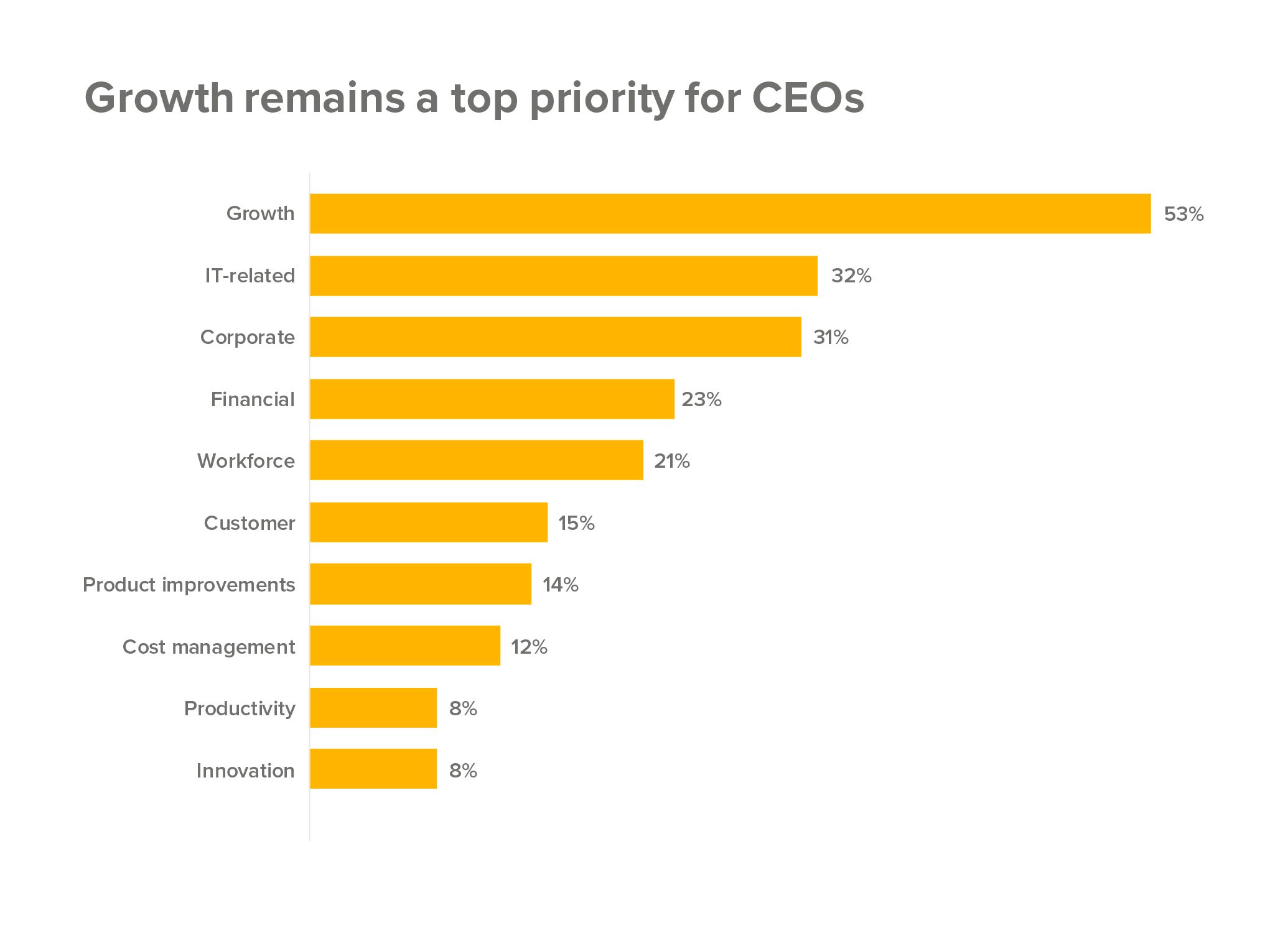 However, a new research, based on 500 businesses, has found that one in three businesses doesn't know how to grow.
Yes, growth is a top priority but far too many companies are lacking in the knowledge they need in order to achieve it.
...That's not surprising. Growth is hard.
Every B2B organization knows how difficult it is to build trust with prospects and turn them into paying customers.
So, if your goal is to grow your business in 2023, but are not sure how, then we're here to help.
We've outlined several growth strategies to help you on your way. These strategies, based on the hottest B2B growth trends, could be the changes you need to take in order to grow next year, and beyond.
Ready? Let's get started.
1. Security and privacy
CMO Council has found that data security, privacy and accountability is the number 1 set of demands from the modern, digitally connected buyer.
Unfortunately, only 57% of B2B companies are confident that they meet those demands.
With high profile data breaches dominating the news, the people, whom your business is trying to convert, need to be convinced that you can be trusted with their personal information. Contact details, like name, email and phone number are all potentially at risk when they hit that "sign up" button.
To stand any chance at growing your B2B business, you'll need to prove to your customers that their information is secure.
Here's what you can do to improve your security and be ready for 2023:
2. Customer experience
You might love your customers, but have you ever asked yourself if that love is reciprocal?
For many customers, it's not.
According to research from Cisco, consumers would not care if 74% of the brands they use vanished… Ouch!
For SaaS companies in particular this research is scary, as between 70% and 95% of a subscription-based company's revenue comes from renewals and upsells from existing customers.
B2B sales is no longer about big budget, mass marketing campaigns aimed to attract hordes of new customers. Today, it's about focusing on the people you already have – your current customers – and making sure you delight them with a positive customer experience every time they interact with you.
Not sure where to begin? Here's what you can do:
Resolve customer complaints quickly,
Be flexible on refunds and cancellation policies,
Provide real time customer service (more on this next),
Deliver personalized and relevant customer marketing campaigns,
Surprise your customers with free upgrades, event invitations and more.
3. Real time customer service
Imagine the scenario:
You're ready to sign up to a new online subscription service, but at the last second, you have a question. So you send an email with your query over to their sales team. The problem? It takes them hours to respond! And by that point, you've either lost the need (or even interest) for such a tool or signed up with one of their competitors.
This scenario happens every single day.
And it's probably happening to your business right now.
Shockingly, the average customer support response time is over 12 hours – with some companies taking more than a week to respond!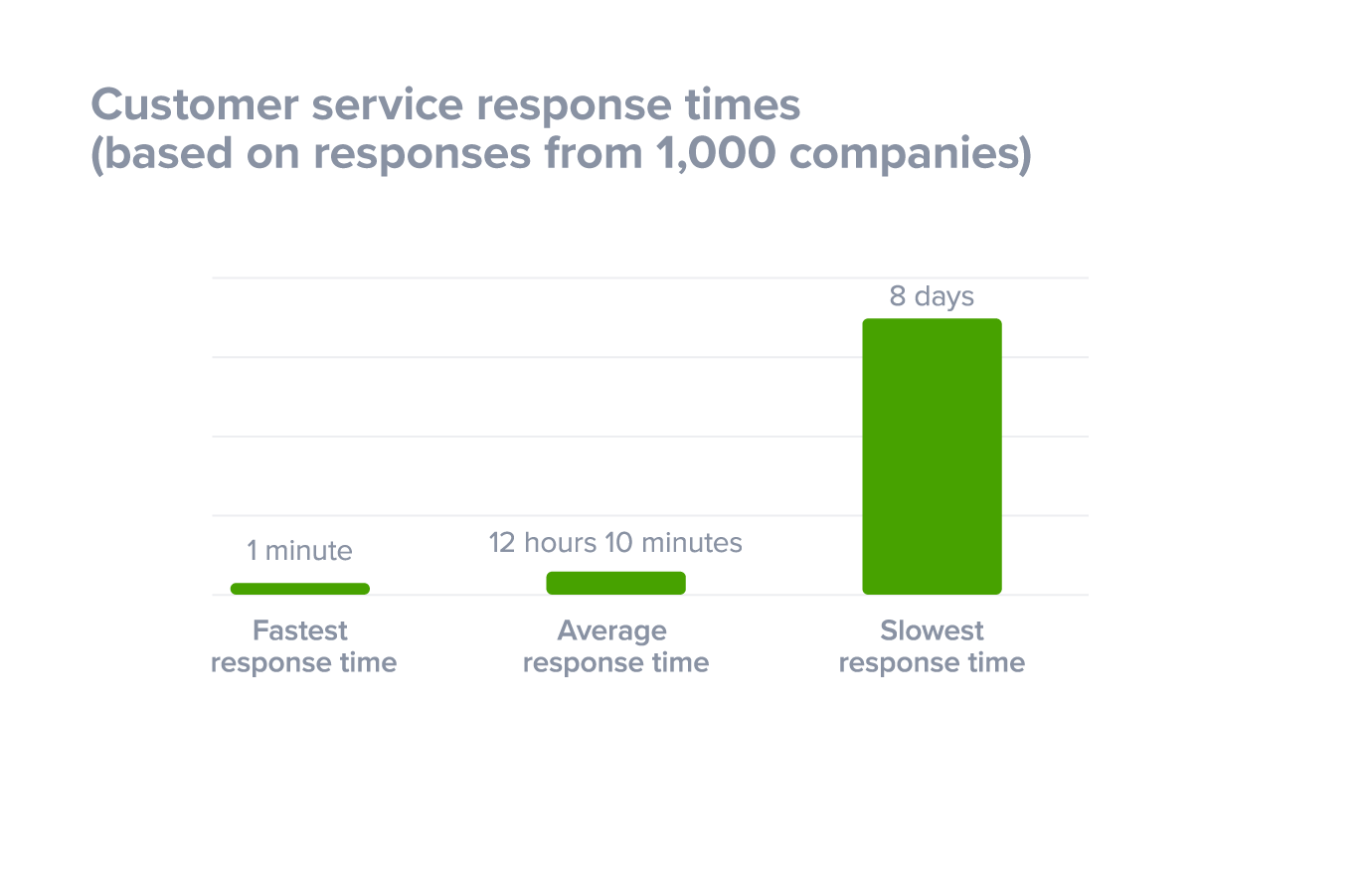 Your customers expect a response to their question within an hour, but how can you satisfy their need for real-time support without hiring hundreds (or thousands) of customer support resources?
The simplest option is to start using live chat.
Live chat is a web-based support tool that you can use to "chat" in real time with your customers. It's like Skype, Google Hangouts, or Webex Teams, except it's on your website and used for external communication.
When used correctly, chat has been proven to shorten response times, increase sales and improve customer satisfaction.
It's a win-win situation: Your customers receive support in real time and your Customer Success team can handle multiple chats at once (compared with only 1 email or phone call at a time).
The good news? There are hundreds of chat tools available that you can start using to respond faster and prevent losing your customers to a competitor.
4. Sales and marketing alignment
If your sales and marketing teams are working in silos, then it could be hindering your business growth.
It was proved that aligning your sales and marketing teams helps generate 32% higher revenue, retain 36% more customers, and achieve 38% higher win rate – as you're moving the prospect through a streamlined sales and marketing funnel.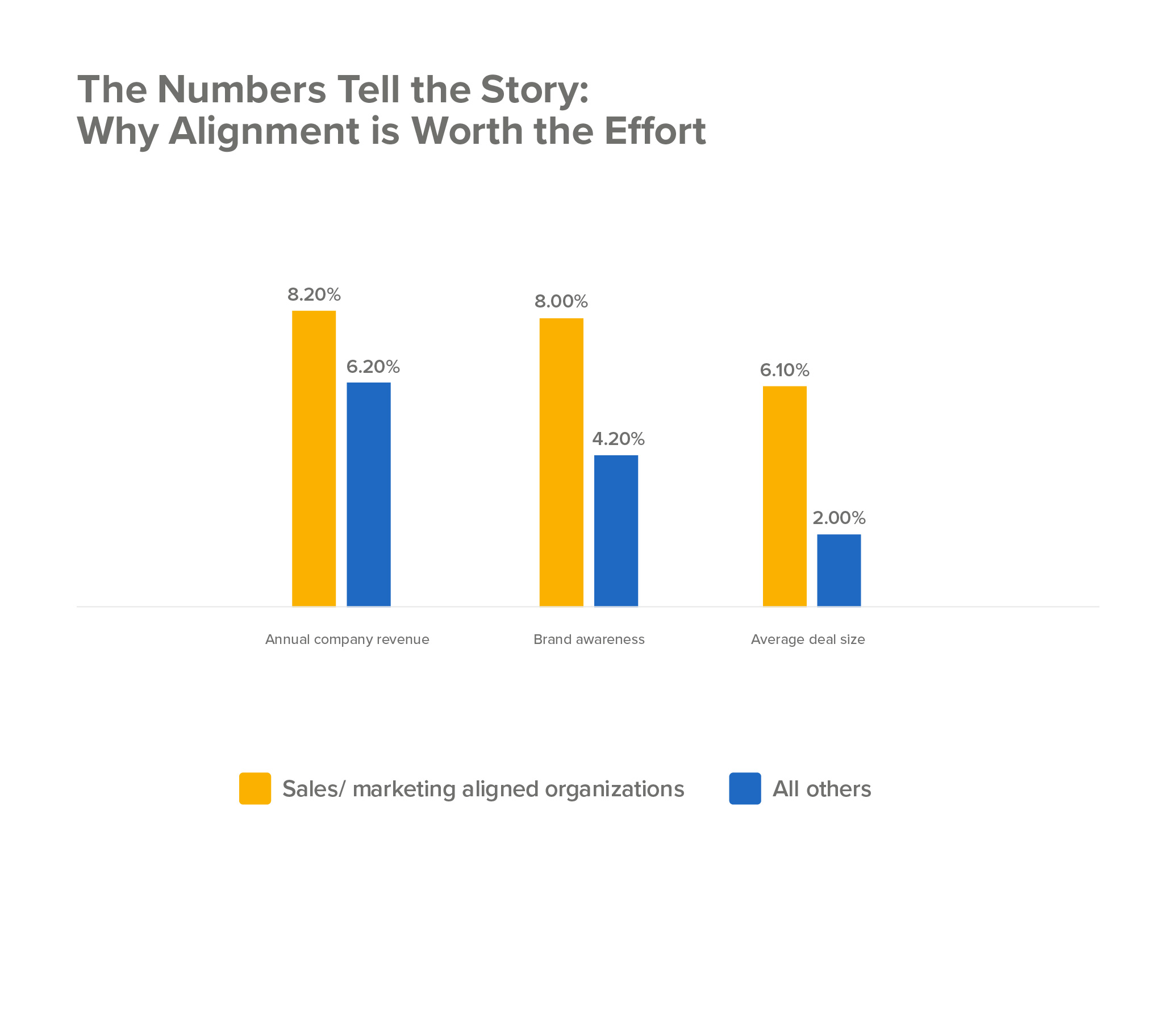 Why? It's because aligned sales and marketing teams will not only you help convert more leads, but generate more high-quality ones, too.
It's no secret that sales and marketing teams often debate (read: argue) "lead quality".
Marketing leads are passed onto sales teams before they are qualified, which often leads to high volume but low quality, making it look like sales teams have a poor conversion rate.
Combining your sales and marketing departments solves this challenge.
When sales reps inform the marketing team what makes a "good" lead, they're much better equipped to find them. Instead of going after low-quality leads, they'll be able to communicate and attract the "right" leads, leads that are worth nurturing move them through the sales pipeline.
Alignment benefits sales, too. Sales teams won't spend time chasing up low-quality leads as they'll be spending more time connecting with the high-quality leads and converting them into customers.
5. Personalization
During the last decade, personalization has gone from "Ah, they know my name!" to "How do they know I bought that!?".
There's even talk about Facebook and Google spying on us to predict our online behavior!
Yes, it can sometimes appear creepy but when done right, personalization is an effective way to find new customers – and retain existing customers, too.
Best of all, it's exactly what your buyers want!
Add to that the fact that 69% of buyers are willing to pay more for a more personalization experience and you can see why personalization is a huge B2B growth trend this year!
Rather than guess how to include personalization, here's research from RedPoint Global who surveyed more than 3,000 buyers in order to find out the best ways to make customers feel like individuals.
Here are a few tactics you can use to enhance personalization:
Send exclusive one-to-one offers, only available to an individual customer.
Know a customer's purchase history and all about their previous correspondence each time they contact you.
Recommend new products or services based on a customer's interest or behavior.
Allow the customer to choose when, how often and what type of communication they receive from you.
6. Digital transformation
We live in the time of a full-scale digital revolution.
New internet-powered technologies emerge daily to seamlessly fit into our daily lives. Your business can too ride the wave of the digital transformation and use new technologies to grow.
While many of the new technologies are tailored to individuals, in the business world, digital transformation is all about improving business processes and efficiency, for example, using cloud-based tools or SaaS powered systems.
Here's a few simple ways for how going digital can transform your business:
Accounting: You can use artificial intelligence to predict revenue, compare historical performance, and piece together accurate forecasts.
Sales: You can use CRM software to keep track of your leads and send scheduled follow-up emails to those you haven't heard from for a while.
Marketing: You can use email marketing to send personalized, one-to-one emails with exclusive offers based on the purchase history stored in your CRM.
Human Resources: You can use business apps like Skype or Webex Teams to manage overtime and sick leave, open private lines of communication with staff and, create a sense of community within your business.
7. Data-driven decision making
Most business decisions are made based on a round table of opinions and gut instinct.
But here's the thing:
That's not the most effective way to make decisions. Instead, you should be relying on data!
For example, let's say your sales manager comes to you with a tactic for how to reduce churn. They suggest that by adding chat to your website, your customers won't cancel their subscription. But, how do you know if that will work?
The answer lies in customer feedback.
When it comes to successful projects, initiatives based on customer feedback prove to be the most successful.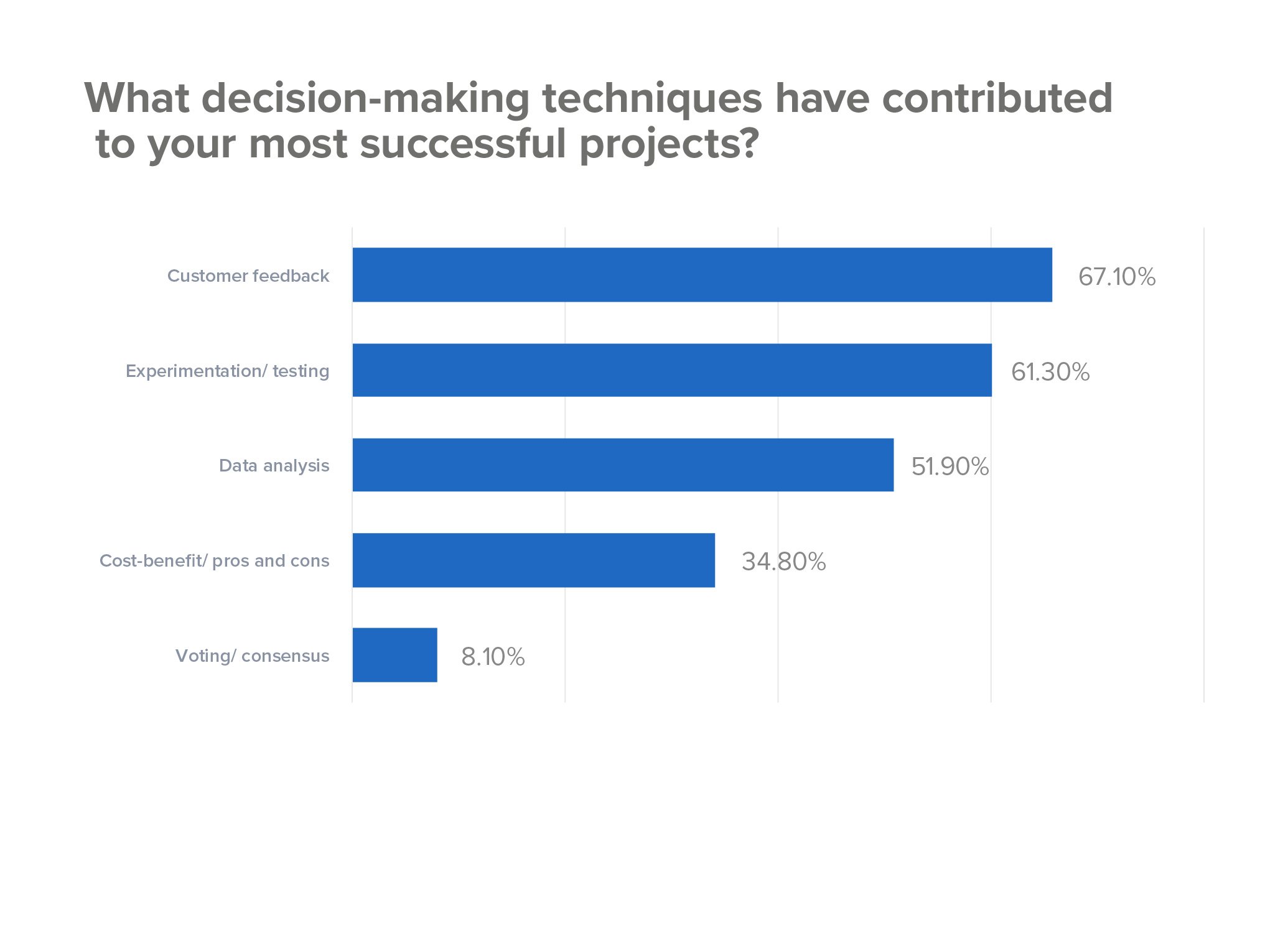 So, instead of relying on suggestions and ideas to fuel your business, use the data from your cancellation and feedback forms from customers who have stopped doing business with you. That data will tell you exactly why they cancelled.
If you find that 50% of your customers cancelled because support wasn't fast enough, then a chat function could be a worthy investment.
But, if they cancelled because the product wasn't evolving or lacked specific features, then chat might not help at all.
The only way to know is to use data to base your decisions on.
Conclusion
It's a competitive world out there and if you want to survive, you need to grow.
We've outlined several growth strategies you can use for your business next year.
What they all have in common is that they combine 3 elements people, processes and technology. Get those components aligned and business growth will follow.
As we enter the new year, it's important that you stay one step ahead – and not just of your competitors, but your customers, too. Use these 7 growth trends to kick start your growth engines and make 2023 a profitable growth year in your business.