Post summary:
How to stay productive while away from office
A mobile CRM app means staying on top
Stay focused and well prepared at all times
Close more sales in less time
Every organization wants its sales people to be successful, that is – close more sales.
And as the competition increases, it's crucial for your sales reps to be on top, right? So how do you do that? What can you do better to support your sales people, so that they can close more deals?
CRM can become one of the biggest productivity boosters for the sales reps.
It can save hours out of your week to help you manage and follow up on your leads. Equally, customers will appreciate the high-touch service and organized sales process that a streamlined CRM tool delivers.
In fact, according to Gartner study, a well-implemented CRM system can increase revenue by a whopping 41% per sales person, while a Tech News World survey of more than 500 companies found that CRM can benefit almost any business and in several different areas!

How to stay productive while away from office
Those who are in sales are very likely to say that there is a magic ingredient for closing any deal – it's about being in the right place at the right time.
In order to get the most of your CRM, you have to log in every interaction with your customer as you would surely benefit from having access to customer data at any time you need it.
But what happens when you are away from your office?
As an active sales person, you are very likely to be out-and-about when a prospect reaches out to you. And turning on your laptop to register a conversation with your customer or browse for some information is not an option while you are on the go. As well as telling your prospects that you will get back to them when you return to the office.
Surely, you don't want to think of your travel time as a downtime or complete communication blackout. Instead, you want to show up at the meeting with all the information you need to close a sale, as well as be able to update opportunities and register activities while traveling.
Isn't this what we all want?
If your answer is yes, then say "hello" to a mobile CRM app!
A mobile CRM app means staying on top
Having your sales team equipped with a mobile CRM offers flexibility and it's also a great way to boost your sales numbers.
Research by Innoppl Technologies shows that 65% of sales reps who work at companies that have adopted a mobile CRM have achieved their sales quotas, as opposed to just 22% of reps from non-mobile CRM enabled companies.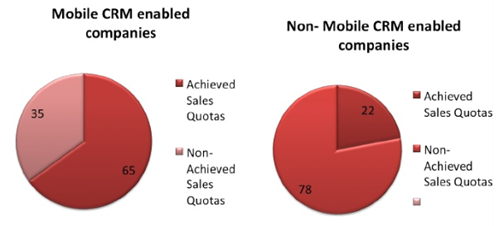 In addition, Nucleus Research study claims, that mobile CRM increases sales productivity by 15%.
With a CRM mobile app you are not only provided with access to all the CRM data you want, but also with the tools and a speed to act, respond and increase your numbers.
How? Well, by taking advantage of the following benefits of a CRM.
1. Stay focused and well prepared at all times
You may think you've got it all under control. Yet, you can't deny that having your calendars, diaries and contacts integrated into mobile CRM is a huge time-saver. If you have a meeting coming up, not only will you be notified of it, but you will also have all the information and notes on the customer on your hands.
Mobile CRM provides direct access to your central database, so you have immediate access to all the key information you have on customers, prospects, partners, suppliers and even your colleagues. It is not a subset of data or personal information, it is the complete database in the palm of your hand.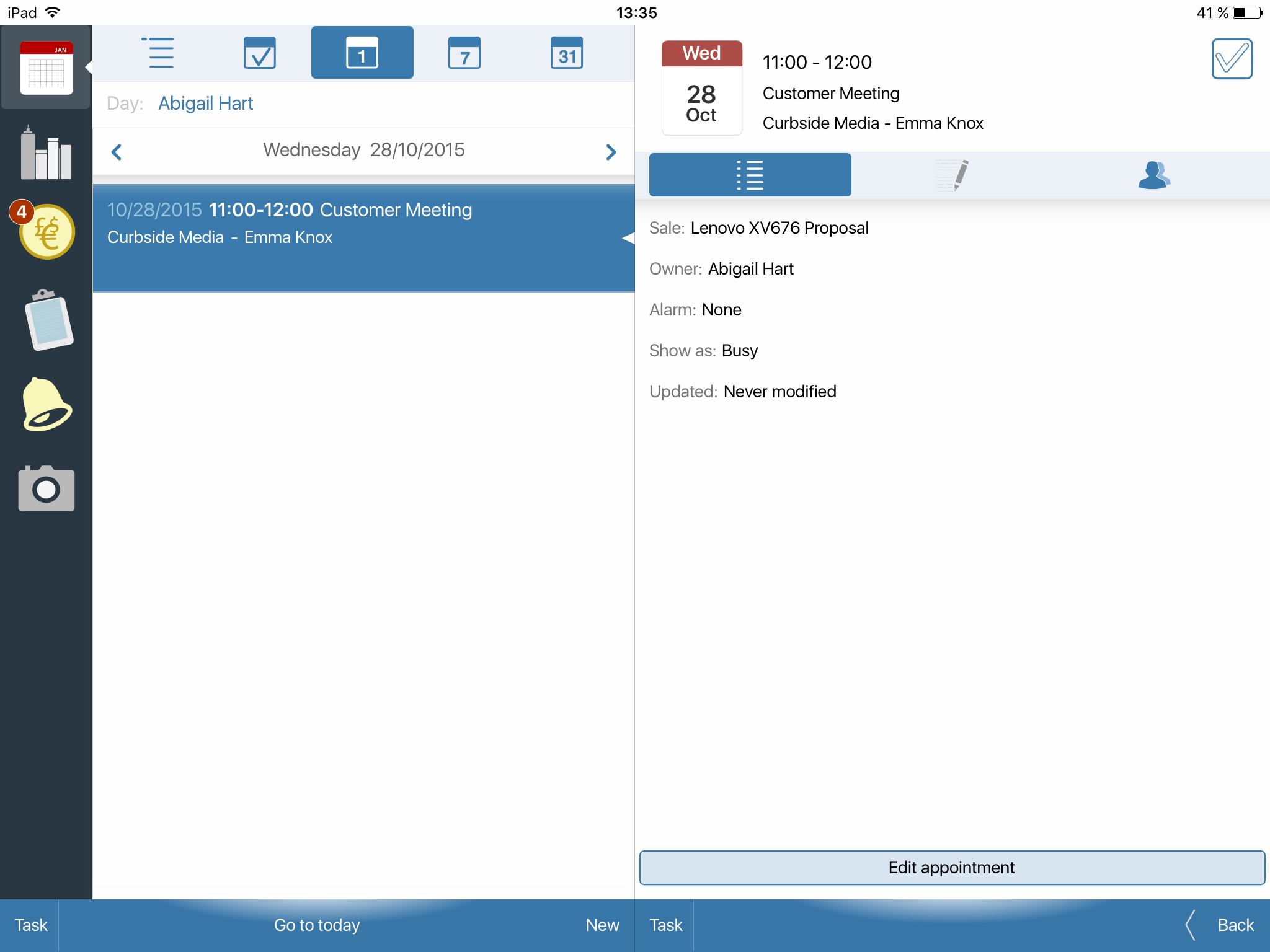 With a mobile CRM app you can head out of the office knowing that you have access to all information you might need when you need it. It's a huge time-saver over relying on mobile internet browsing, skimming through e-mails and making phone calls to your office.
This will definitely make you look better in your customers' eyes if you come to the meeting well prepared and able to answer all the questions immediately after they've been asked, without looking surprised.
2. Close more sales in less time
A mobile CRM app can help you close deals faster with fewer interactions. And that means more time to prospect or work on new sales opportunities.
Imagine this: you are outside the office and a prospect you've been chasing down for months calls. The prospect's company is willing to close the deal, but now they want a quick summary of the various options you've offered them.
You are pretty sure you've pitched them additional services and even offered a special discount, but it was a while ago. You know that you have this information stored in the database at your office, which is, unfortunately, miles away right now.
"I will e-mail the details tomorrow" is not a good way to respond, when you are on the clock and trying to close the deal ASAP.
With mobile CRM system, you have all the critical information available for you to win sales. No need to return to the office in order to follow up on your customers or even submit orders. You simply can take care of the entire process via your mobile device.
What happens: you tell your customer you'll call back in a few minutes, open your mobile CRM and check the prospect's contact card, the details you have on this company and your previous communications. Then you put your customer on the phone's speaker and walk him through all the details he wants to know. Case solved!
3. Capture new opportunities
Mobile CRM is a great tool to interact with customers and update all the information at the source.
Reducing the number of steps between the conversations with the customer and logging all the details into CRM gives you greater chances to capture that deal. Because the sooner you get a potential sale logged in, the better chance you have of actually doing something with it. Correct?
When you are in the middle of meetings, it may not be that easy to open your laptop. But, if you don't enter the data immediately, what are the chances you won't forget the crucial information at the end of the day?
If you visit your customer or get a phone call while you are away from office and something changes regarding the sale in progress, quote or lead, you can update it in your mobile CRM as you go. No need to delay it until you get back to your desk.
The same goes for networking events. If you meet someone important, you can add them as contacts, book appointments and plan activities straight away. That's how you make sure you will follow up on a potential customer and won't lose important opportunities.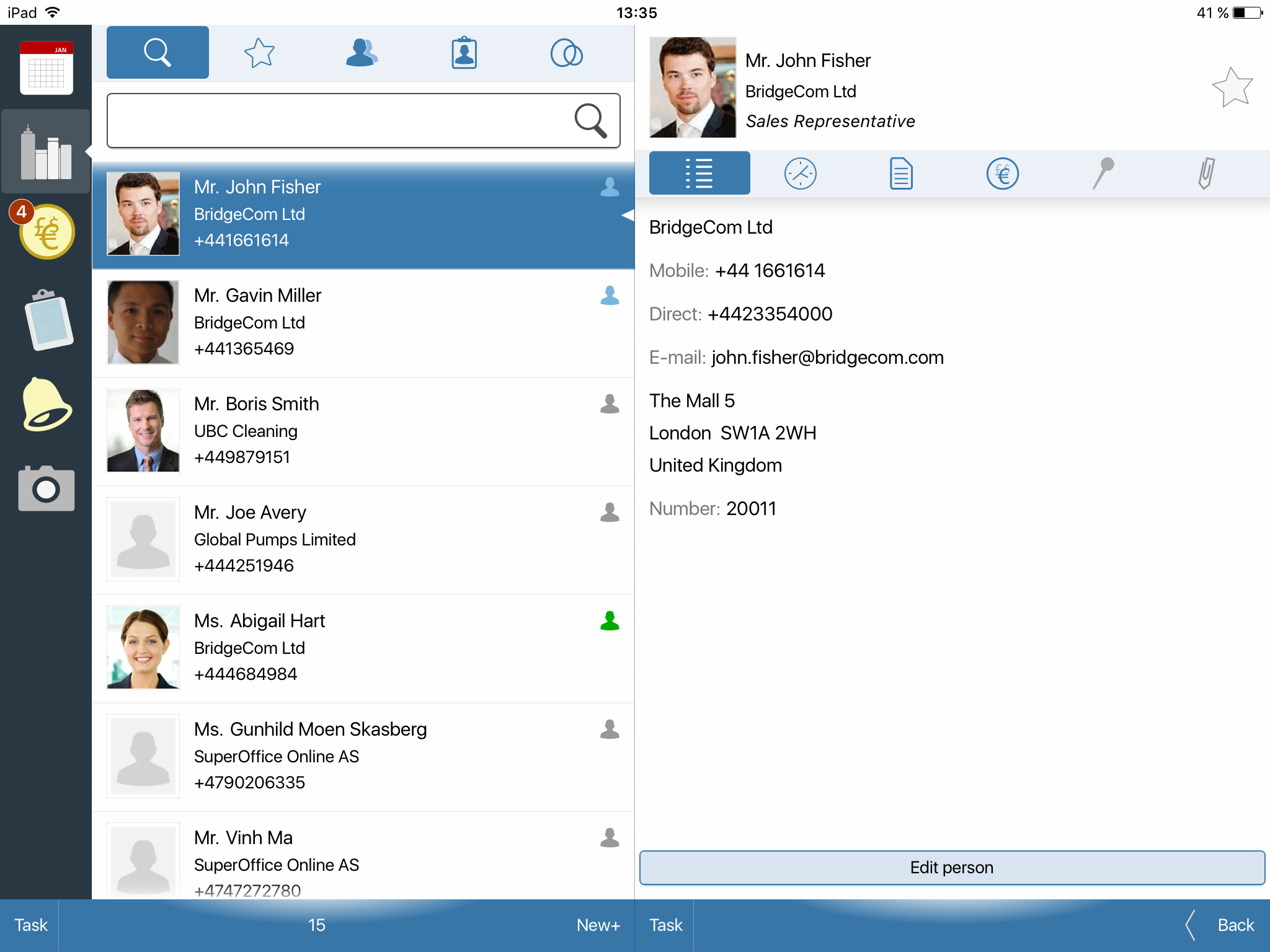 4. Share information across your team
When it comes to meeting (and even exceeding) your customers' expectations and being one step ahead of your competition, it's very helpful to share information across your team and coordinate your activities when contacting leads.
If you get some important information or discover new opportunities during your meetings, this information needs to be spread quickly to your team, just in case the customer decides to contact you or your colleague.
In other words – the right hand does know what the left hand is doing, and you are not missing out on the next opportunity.
5. Stay on track and keep your management informed
With every new contact and every sale you are gathering valuable data. Mobile CRM apps enable everyone involved in the process to access information they need, updated in real time as it is collected. Moreover, it helps you to organize and present that data in a clear way.
Mobile CRM enables you to take control over your sales pipeline and update sales forecast with a few clicks, as well as view open and overdue sales opportunities. It also makes you ready to plan and answer questions about your sales pipeline at any moment.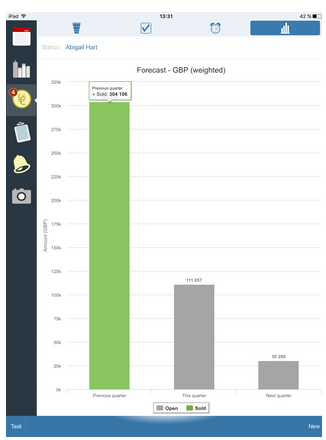 Likewise, sales managers can have on demand access to real time information from the reps that are on the road and provide valuable sales coaching on the field. If there's a problem, it can be addressed straight away, instead of waiting until the sales rep is back in the office.
Conclusion
Today's sales people are often on the move and having access to the information they need, getting real time updates and being able to change records as soon as something happens is essential to keep up with competition.
With mobile CRM you are able to keep in touch with a higher number of prospects, as well as manage your customers and plan your schedule by having the access to the same sales tools you have on your desktop. Anything that can be done in the office, can also be accomplished just as easily while you are away.
Do you use a mobile CRM app? If so, how has it increased your own productivity?
Let me know below by leaving a quick comment.
P.S. You can get access to the SuperOffice mobile CRM system here.