"Relationships Matter" – especially when it comes to finding, catching and keeping more customers.
That's where CRM comes in.
SuperOffice CRM is a powerful CRM platform designed for medium-sized European B2B companies.
By providing a centralized platform for managing and nurturing customer relationships, SuperOffice CRM ensures that businesses deliver outstanding customer experiences at every stage of their journey.
In this article, we will explore how SuperOffice CRM can help your business to find, catch and keep more customers through sales, marketing and customer service.
We'll discuss a few specific features and capabilities that make it a valuable tool for long-term success and how it empowers your business to build better customer relationships and drive sustainable growth.
Let's dive in.
1. Marketing teams
Attracting new customers is a top priority for businesses that invest in CRM software.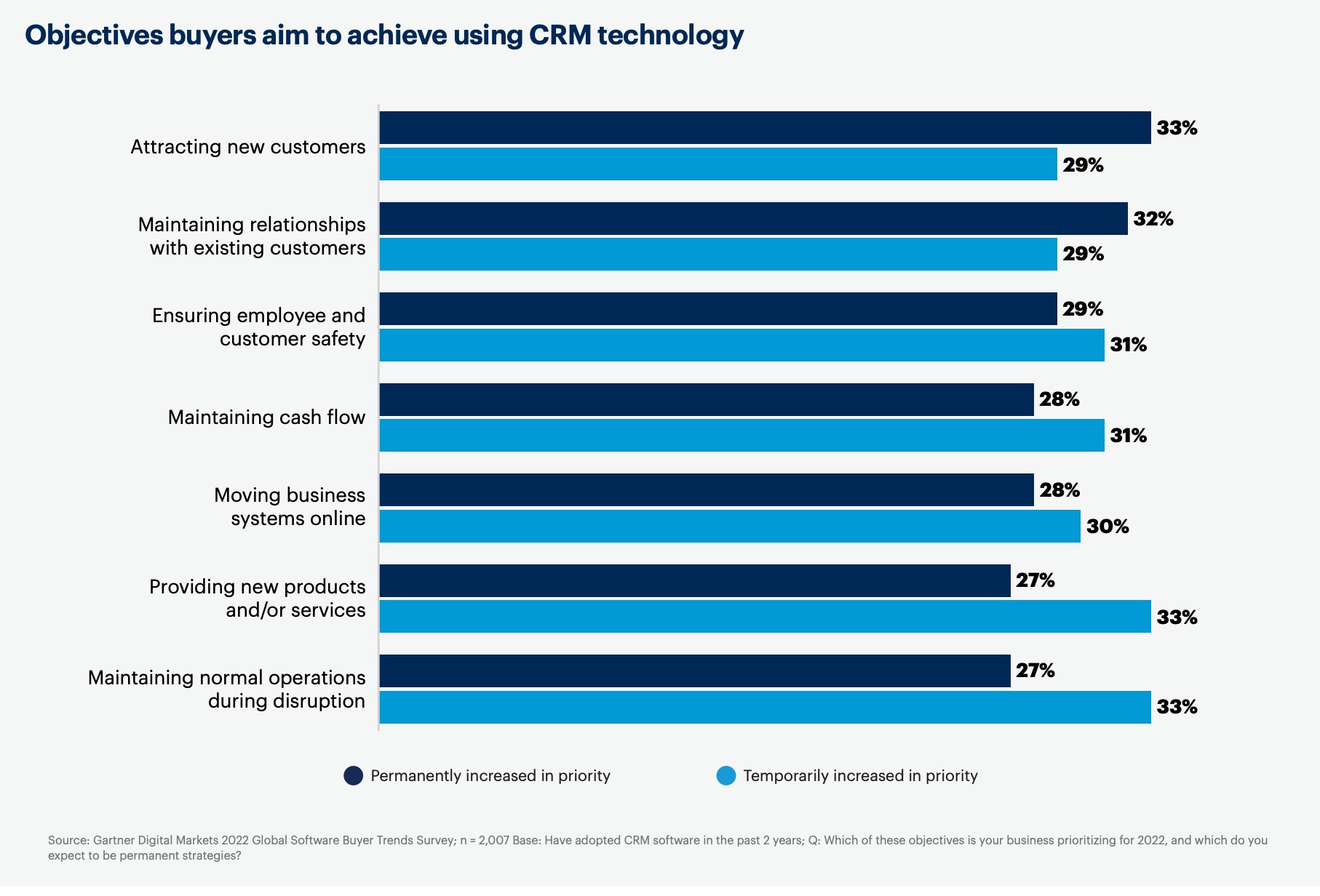 And we're not talking about just any type of customer.
If you want to achieve sustainable growth, you have to attract the right type of customers.
Ask yourself: are you looking for high-ticket customers or low-ticket customers? Small customers or bigger customers?
Regardless, you'll need a way to capture interested parties and persuade them that your brand is the one they've been searching for.
How SuperOffice CRM can help
One of the best ways to attract new customers is through the use of content marketing.
Marketing teams create content that spans the buyer's funnel and then share that information online. For example, this can be with the help of a blog, YouTube, webinars, and e-books.
As prospective buyers become interested in your company, they'll come to your website to get more information.
At this point, SuperOffice web forms can help collect information on potential customers.
Web forms are a smart way to gather visitors' details, including name, email address, preferences, comments, and feedback.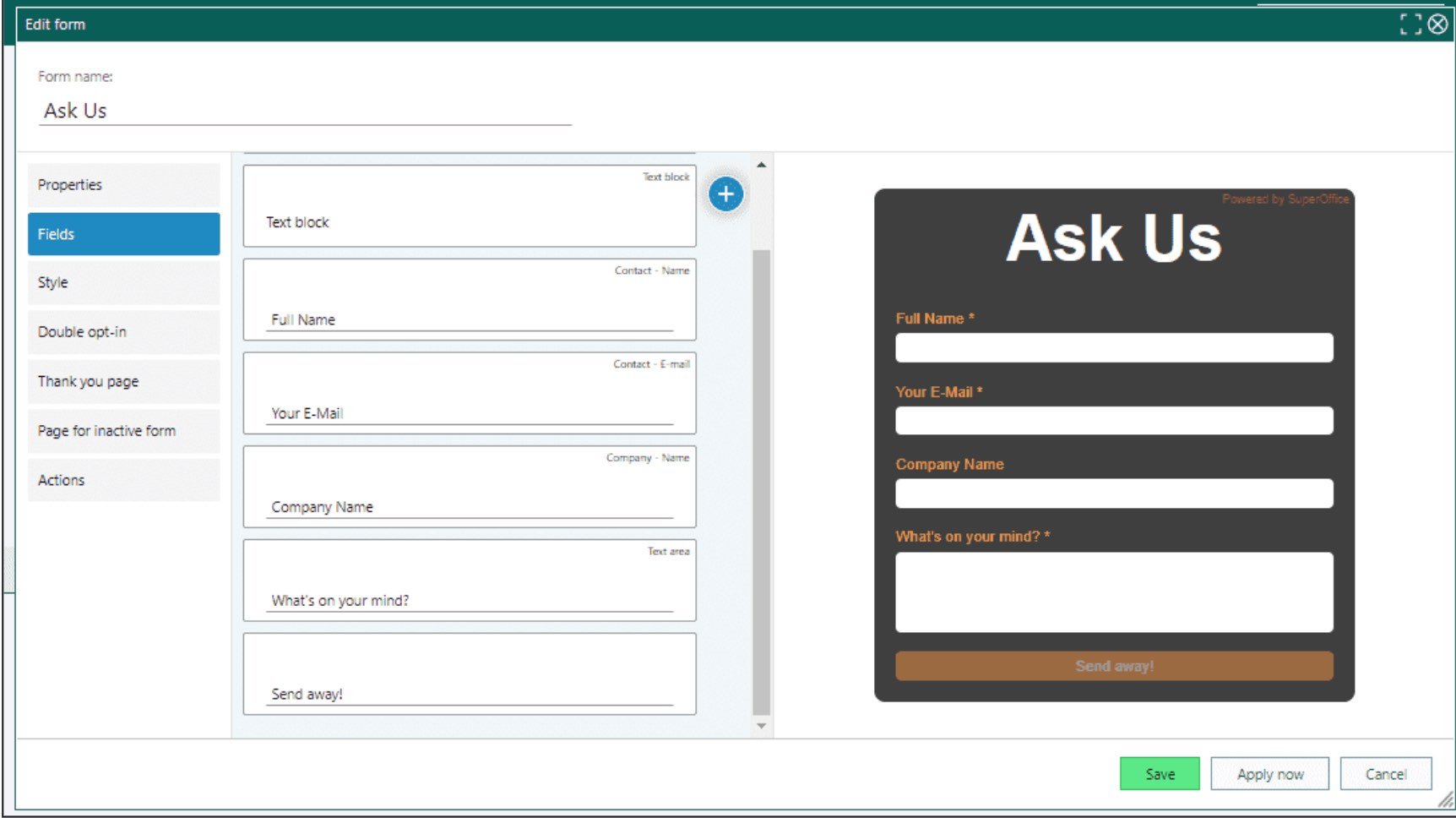 The information you collect via a web form can automatically be integrated into your SuperOffice CRM database, making it easier for your teams to take the next communication step.
And when it comes to communication, the case for personalization is strong.
Consider this:
71% of consumers expect companies to deliver personalized interactions
76% get frustrated when this doesn't happen
Fast-growing companies drive more than 40% of their revenue from personalization compared to their slower-growing counterparts
SuperOffice CRM's segmentation and contact list management features help you group contacts into distinct segments, enabling you to tailor your marketing messages.
You can segment by size of companies, roles, contact types and more.
And the best tactic for creating personalized communication is email marketing that delivers results and brings in the best marketing ROI.
For every $1 spend, marketers generate $42. That's a 4200% ROI!
Use SuperOffice CRM to tackle personalization and email marketing in one go.
Customizable templates and integrated reporting features help you create personalized email content that aligns with your target audience's needs and preferences, leading to improved engagement and conversion rates.
See how it works:
By harnessing the marketing capabilities of SuperOffice CRM, you can successfully find more customers and lay the foundation for sustainable growth.
2. Sales teams
You've done the hard work of attracting potential customers.
Now comes the next test – selling.
We're talking about engaging with your contacts and guiding them through the sales funnel, ultimately converting them into customers.
Engaging your leads means building meaningful connections with them.
To do that, you need to understand their needs, respond to their concerns, and demonstrate the value your products or services offer. The better you engage your leads, the more likely they are to trust you and eventually become customers.
So, how does SuperOffice CRM help you build relationships during this phase of the process?
Sales people often juggle multiple activities at the same time, making it difficult to stay on top of them. This can lead to important sales activities being overlooked or forgotten, resulting in lost opportunities.
How SuperOffice CRM can help
SuperOffice CRM ensures that no lead is left behind.
Using the calendar and activity management features, SuperOffice CRM helps your teams stay on top of their activities, such as phone calls, meetings, emails, and more.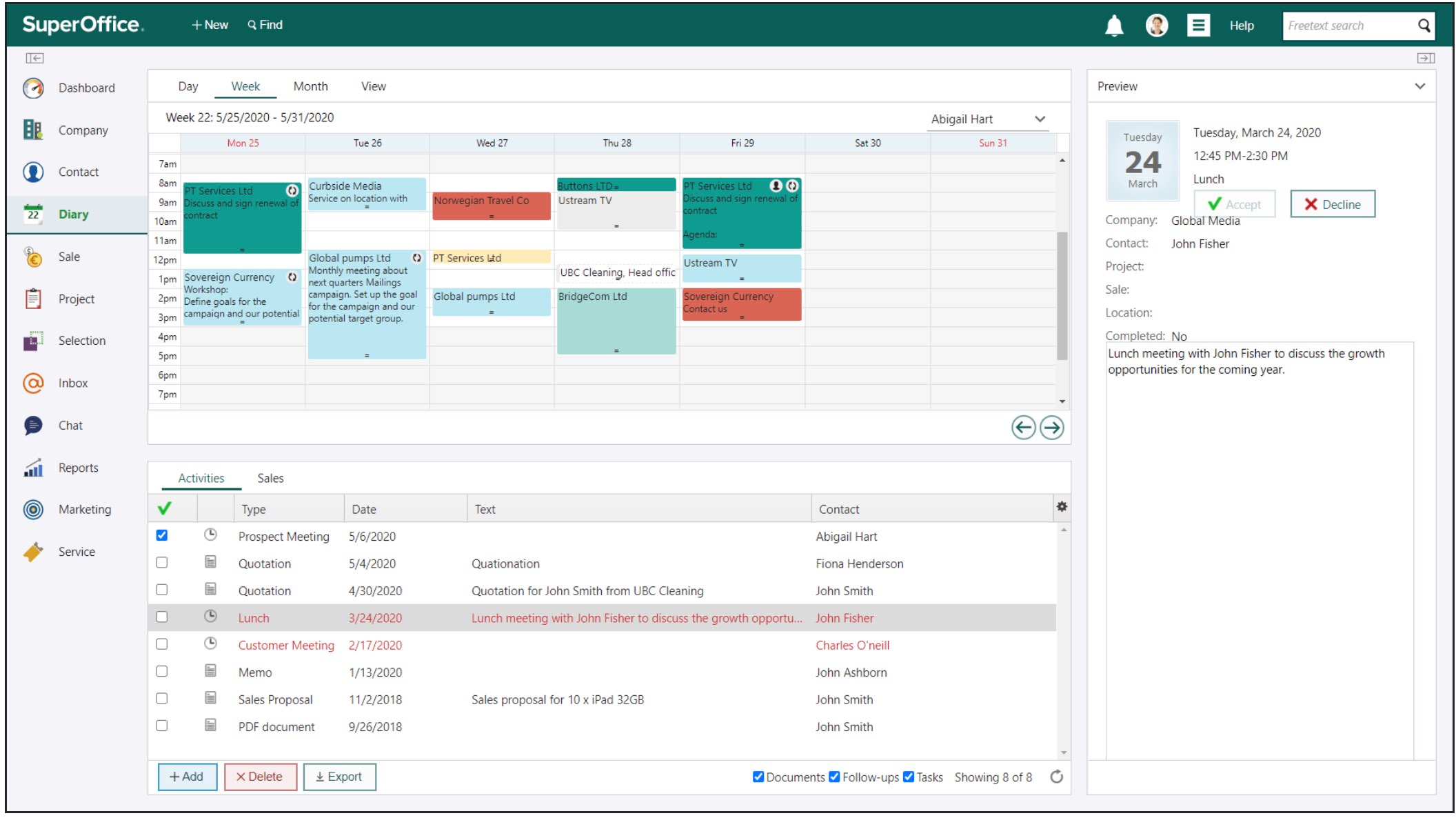 Not only does SuperOffice CRM help you keep track of your interactions, but it also keeps all conversations and communication in one central place, giving everyone in your company a 360-degree view of the customer.
Document sharing features further streamline the process, allowing your team to easily access and share relevant materials with contacts and customers.
Sales activities almost always lead to sales opportunities filling your sales pipeline.
At any one time, you'll want to know:
The number of deals in your pipeline
The average size of the deals in your pipeline
The average percentage of deals that you win (close ratio)
The average lifetime of a deal before it's closed (sales velocity)
Tracking this information helps give an indication of sales pipeline health.
As you may know, managing your pipeline is a crucial aspect of the sales process.
Harvard Business Review conducted a study which revealed that businesses with standardized sales processes experience a revenue increase of up to 28%, as compared to those that don't follow any process.
SuperOffice Sales offers a comprehensive solution to visualize your sales progress, monitor deals, and prioritize tasks in a snap.
See how it works:
With the help of SuperOffice CRM, your business can successfully engage prospects and convert them into satisfied customers.
3. Customer service teams
When customers have problems, they want immediate answers.
The overwhelming majority – 83% of customers expect an immediate response from businesses when they reach out. Furthermore, a staggering 78% leverage multiple channels when initiating and finalizing transactions.
If you're a medium-sized company, we're talking about more than just a handful of customer requests. Most likely you're experiencing higher volumes of service requests, and wondering how your teams can handle them quickly and efficiently.
How can SuperOffice CRM help
Using SuperOffice Service, your teams stay organized and on top of incoming requests or issues from customers, clients, or employees, regardless of the channel.
SuperOffice CRM:
Stores every single email request in one database with an assigned tracking number
Keeps all your customer information in one place for everyone to see
Allows you to communicate with your customers in a simple and easy manner
Enables efficient team collaboration when managing requests
Not only can tickets be sorted based on their level of urgency and assigned to the appropriate team members for resolution, but every step of their journey can be tracked as well.
See how it works:
By providing timely and accurate answers to all customer inquiries, you'll be able to improve customer satisfaction and encourage repeat business.
Conclusion
"Relationships Matter" isn't just a slogan.
It's a call to action for building robust relationships with your customers.
Not only does this approach help you attract and engage buyers, but it also fosters a sense of loyalty that will keep them coming back again and again.
When it comes to growing their customer base, medium-sized companies face a host of challenges. Overcoming these hurdles is crucial for staying ahead of the competition and achieving sustainable growth.
SuperOffice CRM offers a powerful set of tools and features that can help you tackle these challenges head-on.
From targeted marketing capabilities, to sales pipeline visualization and management, to exceptional customer service features, SuperOffice CRM is well-equipped to support the growth of your company.
If you're not using SuperOffice CRM today, schedule a free demo and we'll walk you through the platform and show you how we can help you find, catch and keep more customers.
Ready to get started?
Book your free personalized demo here!