CRM, or customer relationship management as it's more commonly known as, has helped many organizations nurture and enhance customer relationships. When used effectively, a CRM system can be one of your most valuable assets but due to the impact of either cost and/or resources that are required to implement the solution, you need to first get buy in from senior management.
In order for you get buy-in, we look at facts and features that will impress any CEO and get them excited about CRM and implementing a CRM system for your business.
1. CRM Systems Help You To Gain a Complete Understanding of Your Customer
A CRM system helps you to gather all of the data you have on your customers and centralizes it in one place. Once captured, that data can be manipulated, used for analysis and forecasting and ultimately improve the customer experience. Not only will you be able to keep your customers happy and loyal, but they will be also very likely to recommend your brand to family and friends, which according to research by Nielsen is a very powerful influencer within the buying process.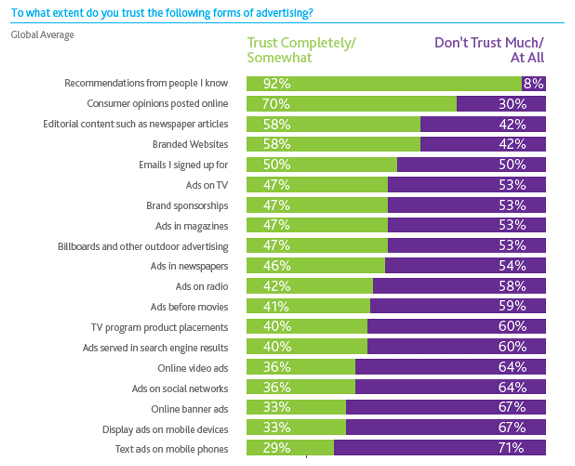 2. CRM Is Not Just A System – It's A Philosophy
Although many would think that CRM is just software, it is so much more than that. CRM is a philosophy and strategy that centers around building better customer relationships.  CRM software gives your business the best possible understanding of your customer and your customer's experience with your business from sales to marketing to customer service.  Ultimately, with CRM, it is possible to make very smart decisions about how to improve your business, as well as your customer relationships.
3. CRM Will Protect Your Vital Customer Data
If, like most businesses, you are juggling customer data between a number of spreadsheets, Word documents and notepad files, you are risking losing critical business data and it could happen anytime. Databases and documents can become corrupt without any warning and in today's internet driven world; your "customer database" could become outdated at any given moment. Your customer data is kept safe for the entire business by having a CRM system in place.
4. Access To CRM Data In The Office And On The Road
The days of sales professionals being chained to their desks are a thing of the past. Today, sales people can access their CRM data while on the road – either with a cloud CRM offering or through a mobile CRM app.
Cloud computing has really taken off in the last 18 months and it will continue to grow as it reduces the risk of lost data. If you are looking for an easy solution to get started immediately, go online! Cloud CRM requires no in-house software and because your CRM system is available over the Internet, it can be accessed anywhere and on any given device that has a web connection, which means your sales personnel have access to real time data on the go. Cloud CRM updates are in real-time and are completely secure and accessible 24 hours a day.
Another way that sales people can access customer information is through their mobile device and a mobile CRM app. Mobile CRM apps are expected to grow by 500% in 2014 and research from Nucleus found that mobile access increases sales force productivity by an average of 14.6% with a further 3 in 10 mobile CRM users reporting productivity improvement by more than 20%.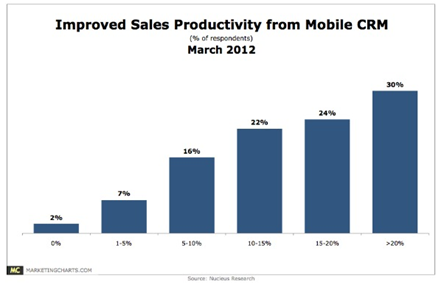 5. CRM Gives a 360 Degree View  Of Your Customer
A well-managed and planned CRM implementation will give you increased visibility of your customer – Often referred to as the 360 degree view. Each time your customer interacts with your business, such as through the phone, email, makes a purchase or inquires, that information is recorded in your CRM software, which gives you all the data you need to implement a more personalized experience.
Without a CRM system in place, it's difficult to track the different communication channels used by the customer, which could lead to duplicate responses to the same customer service email or asking the customer to repeat a problem several times as he/ she speaks with several call agents.
6. CRM  Can Help to Identify Potential Leads
In addition to having access to all customer interactions, CRM allows you to use this data for analysis. Whether you need to review buying history, demographics or send an email campaign, customer analysis helps you sell, up-sell, retain existing customers and attract new ones. As your CRM data grows, you will understand how important this feature is. CRM allows you to look at your own data quickly, efficiently and accurately, build targeted marketing campaigns and events that will encourage customers to connect with your business.
75% of consumers prefer that brands use personal information to improve the shopping experience and recent study by Cisco recently reported that more than two-thirds of U.S. consumers are willing to provide more personal information in order to receive a more personalized service.
7.  Your CRM Can Be Customizable To Your Business
Businesses come in different shapes and sizes and therefore, it's always important to look for a CRM solution which can be tailored to your needs.  Make sure you can modify, remove or embed your own setup through settings and preferences to get the software to work the way that you do.  This goes a long way into personalizing the software for each user and increases user adoption.
8. CRM Allows You To Track The Full Customer Life-cycle
From the first time you interact with a potential customer to a repeat sale, CRM allows you to customize the customer life-cycle experience. Whether you need to see how you attract customers, which marketing campaigns work best or you want to analyze why a customer has not made a purchase in the last 12 months, CRM can give you access to a wealth of data that will help you to improve the service you provide and the experience your customer has with your business.
9. CRM Is Not Just For Sales
From IT departments to finance, CRM can allow teams do to do business much more effectively such as managing contracts and orders, etc - The list goes on. You might think that CRM is just for sales teams, but CRM can become a valuable asset for your entire organization.
For example, a 2012 survey by Tech News World found that businesses not only expect a CRM to increase sales but to also improve customer service, internal communication, budgeting, retention and more.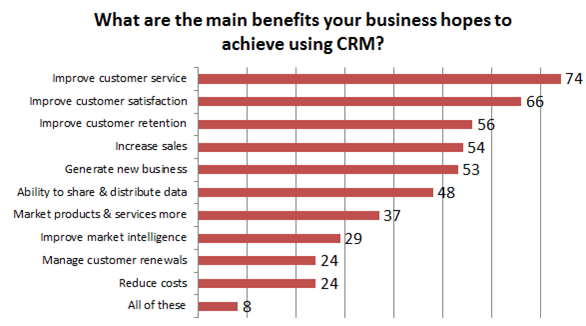 10. Improves Sales Forecasting and Opportunity Management
Getting ahead of the competition and increasing market share are just a few of the objectives all businesses face. CRM allows for timely, accurate and focused forecasting that will give you critical data into the future needs of your customers and how your product or services can meet those needs. Accurate forecasting results in alignment and allows sales and marketing teams to plan their future campaigns and connections with your customers. This will not only help your sales teams to close more deals, but will also increase revenue in the long term.  Just like any software, the more you use your CRM software, the more opportunities it will bring to your organization.
Making CRM Work for Your Business
Positive results can be experienced very quickly if you get buy in from the company without too much resistance. Use these 10 CRM facts to get top management excited about CRM and remember, CRM is not just another IT system - It is a complete culture change that will benefit your entire organization.
Which one of these CRM facts will impress your boss the most?
Is there anything I'm missing?
Feel free to share or comment below.