According to a Benchmark Report from Marketing Sherpa, 60% state that email marketing is producing an ROI (Return On Investment) and 32% states that it eventually will. So, as we start 2014, email marketing is still a profitable marketing channel.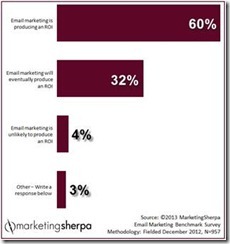 By email marketing I am not talking about randomly sent email (spam), but targeted content sent at set intervals to customers or prospects. Today when content marketing is the new trend you need to offer more than a sales pitch to get that ROI, the content needs to have relevance and add value and knowledge to your readers. Said easy – content marketing is communicating without selling in order to build loyalty and/or new business.
Use email marketing software to deliver value to decision makers
According to the Content Marketing Institute, 80% of business decision makers prefer to get company information in a series of articles versus an advertisement. 70% say content marketing makes them feel closer to the company, while 60% say that company content helps them make better product decisions. So, if you haven't started to build content for your business– read up and start typing.
Email marketing software has become an industry on its own. It is no longer sufficient to buy an Excel list with addresses and use Outlook. And if you are into content marketing, which requires writing resources, you need to distribute your value content in a structured way and for this you need some sort of tool. Here are 5 tips to what to look for when choosing an email marketing software solution:
1. Integration with your contact database
Handling and updating manual mailing lists are time consuming and, let's just say it, outdated. To combine the strengths of a CRM system in combination with an email marketing software solution is advised, because you can access and use the information in your CRM system. This allows you to generate targeted mailing lists, or selections, based on almost anything from place, interest, position or customer category, to mention a few. You then in the same screen access the marketing module, and simply add the selections, create the mailing, add links, tracking etc. You will then find yourself in marketing heaven and can also automate a lot of manual tasks, such as remove or add to mailing list.
Example from SuperOffice CRM with integrated eMarketing module, showing mail statistics: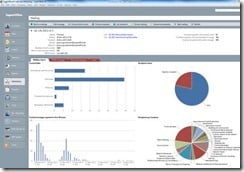 2. Reading/viewing options
Today fewer and fewer read email the traditional way – sitting in front on their computer in the office. We want to open our emails anywhere and on any device. It is therefore important that the tool you choose offers these options, either to view online in a browser or on a tablet or phone.
In fact, 43% of people now check their emails on their smartphone every day. If your email template is not optimized for multiple devices, then your readers will not be able to read your message.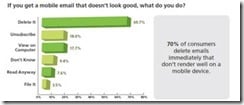 3. Mailing statistics
There is no point in doing a mailing campaign without the ability to track the results. In order to measure your email marketing performance, you need good statistics showing number of emails opened, sent, link tracking, lists, start/end date and time etc. Preferably this should be presented visually so that you easily can take out the ready diagrams, for example for reporting to the organization.
4. Response handling
An important part of email marketing is the handling of responses and bounces. Are you a small company sending monthly newsletter to your 1000 customers, and then you can probably handle this manually. You then get all the responses to a defined email and you manually update your database, or CRM system. Larger businesses which send to ten thousand of recipients and with a high frequency would prefer a tool to handle response, and not spam their company mail server. A customer service tool, like SuperOffice Customer Service, can interact with the marketing tool and then register all responses and bounces as tickets. These will then be collected or stored as other customer service/support tickets, and given a unique id and can be handled when you choose to.
5. Ask for references
There are many vendors for email marketing software who offer different functionality. Define your needs, how much design options do you need? Do you want to design your own email templates, or are you content in using standard email marketing templates provided by the vendor? Do you need integration with a CRM system, or other IT systems? It is recommended to check references, to get a real user experience not just a commercial presentation from the vendor. Check the vendor's website, social media channels or talk to someone in your network who uses such a solution.
You should also create a specification list of functionality you require, such as:
Click tracking
Formatting options for HMTL and plain text
Scheduling options to set date and time for mailing distribution
Scalability in terms of multiple lists and campaigns
Deployment method (on you server or in the cloud)
Payment options (to buy or rent - SaaS)
If you want to know more about SuperOffice CRM integrated eMarketing module, click here to download the product sheet.
Or if you want email marketing best practices, you can download our free white paper "Email Marketing Best Practices"