Post summary:
What you can learn from CRM conferences
Conferences as a lead generation channel
15 CRM conferences to attend in 2019
Are you searching for the best CRM conferences in 2019?
Sure, you could watch a few highlights on YouTube instead, but actually attending conferences still provides far more value.
Conferences give you a front row seat to find out about the latest CRM trends and how to take advantage of them - from email marketing and sales to customer service and more.
Getting out the office often leads to new ideas, as well as new networking opportunities. And of course, meeting people in person and shaking their hands is far more valuable than exchanging emails - especially if you see them again at the after-party!
In fact, Chief Marketers' Annual Lead Generation survey asked B2B marketers' for their most popular lead generation channel, found that attending conferences is a great way to generate more leads for your business.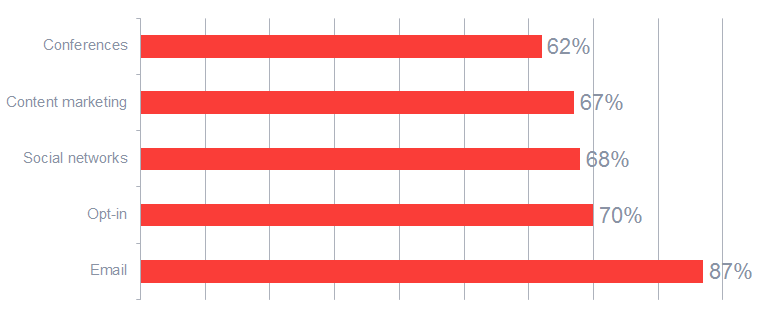 And so for 2019 we have hand-selected a list of the "must attend" CRM conferences based on overall quality, content, network opportunities, and potential key learnings.
These 15 CRM conferences for 2019 include events in the UK, Netherlands, Germany, Sweden, and Croatia. Mark your calendars for these educational and inspiring events, listed in date order here.
19 CRM conferences
1. International Marketing Trends Conference
17-19th January 2019
Venice, Italy | Visit Website | Standard pass TBA
About the conference: Held in Paris in 2018 and now Venice in 2019, this annual conference takes an academic look at emerging marketing trends and encourages attendees to submit papers to showcase new findings. Even if you don't submit a paper, the conference helps attendees identify and focus on the key factors and new influences that are impacting their market strategies, and the related implementation issues they're facing.
2. CEM in Telecoms Global Summit
29th-31st January 2019 London, UK | Visit Website | Standard pass £1599
About the conference: This global summit is focused on moving past the traditional limitations of the telecoms industry. It enables leading figures to identify, develop and share opportunities to grow revenue by thinking outside of the box and reconsidering the standard approaches to CX and customer service.
3. 3XE Conversion Marketing Conference 2019
14th February 2019 Dublin, Ireland | Visit Website | Early bird tickets from €195
About the conference: This conference brings together some of the leading voices in the digital marketing field to share their knowledge on everything from PPC and SEO, through to conversion optimization and growth hacking. It forms part of a trio of conferences throughout the year covering conversion, UX, and search disciplines.
4. The Customer Experience Conference
26th February 2019 London, UK | Visit Website | Tickets from £619
About the conference: This is a one-day event featuring talks from 28 CX directors from some of the UK's biggest brands – including Barclays, Three, Virgin, Samsung, and Paddy Power. As an attendee, you will discover how to craft exceptional, insight-led customer experiences which will deliver results for your business.
5. Customer Contact Week (Europe)
12-15th March 2019 London, UK | Visit Website | Standard pass from £1999
About the conference: Featuring speakers from some of Europe's leading brands – including Google, Danske Bank, Estee Lauder, SAP, and Santander – Customer Contact Week (Europe) will help you understand the latest thinking and best practice in customer-centric business communication. Attendees will get to discover insights on customer experience, agent engagement, and customer service as well as network with fellow industry professionals.
6. The Digital Innovators' Summit
25-26th March 2019 Berlin, Germany | Visit Website | Non-member pass €1,990
About the conference: This conference is the best opportunity in Europe for those wanting to hear about the future of media and technology in the B2B and B2C sectors directly from the innovators who are driving its development. This event brings global talent to speak, with delegates coming from as far afield as the USA and Singapore to contribute their expertise.
7. Customer strategy & Planning 2019
8-9th April 2019 Chesford Grange, UK | Visit Website | Contact for registration
About the conference: Aimed at customer professionals, the organizers of this conference bill it as far more than 'just' a conference. Attendees will get the opportunity to learn first-hand from business leaders who are successfully implementing customer-focused change in their organizations. The conference closes with the 17th annual Customer Contact Innovation Awards ceremony.
8. Adobe Summit EMEA – The Digital Marketing Conference
3-4th May 2019 London, UK | Visit Website | From £1345
About the conference: This star-studded event blends the best of the business world, with speakers from the world of entertainment. Keynote speakers this year include Victoria Beckham and Anthony Joshua – as well as leaders from brands like Virgin, Sky, Adobe, and Lego. The Adobe Summit EMA will showcase new strategies across more than 140 sessions that'll help you become an expert in being an experience-led business.
9. Gartner Customer Strategies and Technologies Summit
22-23rd May 2019 London, UK | Visit Website | Tickets from €2,775
About the conference: The 2019 edition of this conference will help you discover the latest insights in customer strategy. It has been designed to support you through every stage of your journey, with a focus on both the business and IT sides of your organization.
10. DigitalK
May 30-31st 2019 Sofia, Bulgaria | Visit Website | Regular €119 (early bird), VIP €500
About the conference: This is one of the most influential digital technology events in south eastern Europe – and with previous speakers including Wordpress founder Matt Mullenweg and Close.io CEO Stelli Efti, it's not hard to see why. The conference helps attendees navigate the line between technology and customer success with an emphasis on change and innovation.
11. CeBit Global Conference 2019
24-28th June, 2019 Hannover, Germany | Visit Website | Price TBC
About the conference: This conference focuses on digital transformation for customer-centric organizations. The conference format includes several individual summits covering topics including Digital Transformation, Data Analytics, Artificial Intelligence (AI), Blockchain, Cloud & Infrastructure, Security, Influencer Marketing and the Workplace Ecosystem.
12. Dialog Konferansen
August 2019 Strömstad, Sweden | Visit Website | Event registration opens in January. Price TBC.
About the conference: This is the largest digital marketing event in Scandinavia. Join over 500 attendees at this event to learn about lead generation, cross and upscale programs, customer loyalty and anti-churn and win-back programs through a CX and CRM event. Previous speakers include digital executives from elite international brands including Amazon, Disney, Adidas, Ralph Lauren, and PepsiCo.
13. Swiss CRM Forum
19th September, 2019 Zurich, Switzerland | Visit Website | Registration opens June '19
About the conference: With over 550 participants anticipated, and spread across over three large conference rooms, the Swiss CRM Forum is the leading Swiss community platform for CRM and CX development in three themed tracks.
14. The Shopper Brain Conference – Europe
October 30th – 1st November 2019 Amsterdam, Netherlands | Visit Website | Early bird tickets from €419
About the conference: Still the world's only conference to bring together the worlds of retail and neuroscience, Shopper Brain Conference will offer keynotes and case studies from customer experience experts from all over the globe. This conference goes beyond computer systems to the human experiences that drive ROI.
15. Customer Experience World
TBC 2019 London UK | Visit Website | Starting from TBC
About the conference: Learn about Successful Customer Outcomes that event organizers say only 1% of organizations are currently using. This is a two-day event and features interviews, keynotes, workshops, round-table sessions and much more from experts all over the globe.
Attend a CRM conference in 2019
Wherever your CRM interests lie, attending a relevant conference will help you boost your skills while giving you the chance to meet and learn from the all-stars in your area.
What CRM conference will you attend this year?
Are there any CRM conferences that we didn't include?
If so, let us know by leaving a comment in the comment box below!
CRM