CRM systems are an integral part of any successful business operation.
They allow businesses to capture customer and contact data, track sales opportunities, execute marketing campaigns, and answer customer requests.
In short, CRM is a must for any company that's interested in building and maintaining long-term customer relationships.
If you haven't implemented a CRM system in your company, now is the time.
In this article, we will cover:
The state of the CRM market today
Our CRM prediction for the future
3 steps towards the future of CRM
The CRM market today
The CRM market continues to grow year after year due to two main reasons:
Both of which can be achieved by using a CRM solution. And that's why CRM is one of the fastest growing software categories in the world!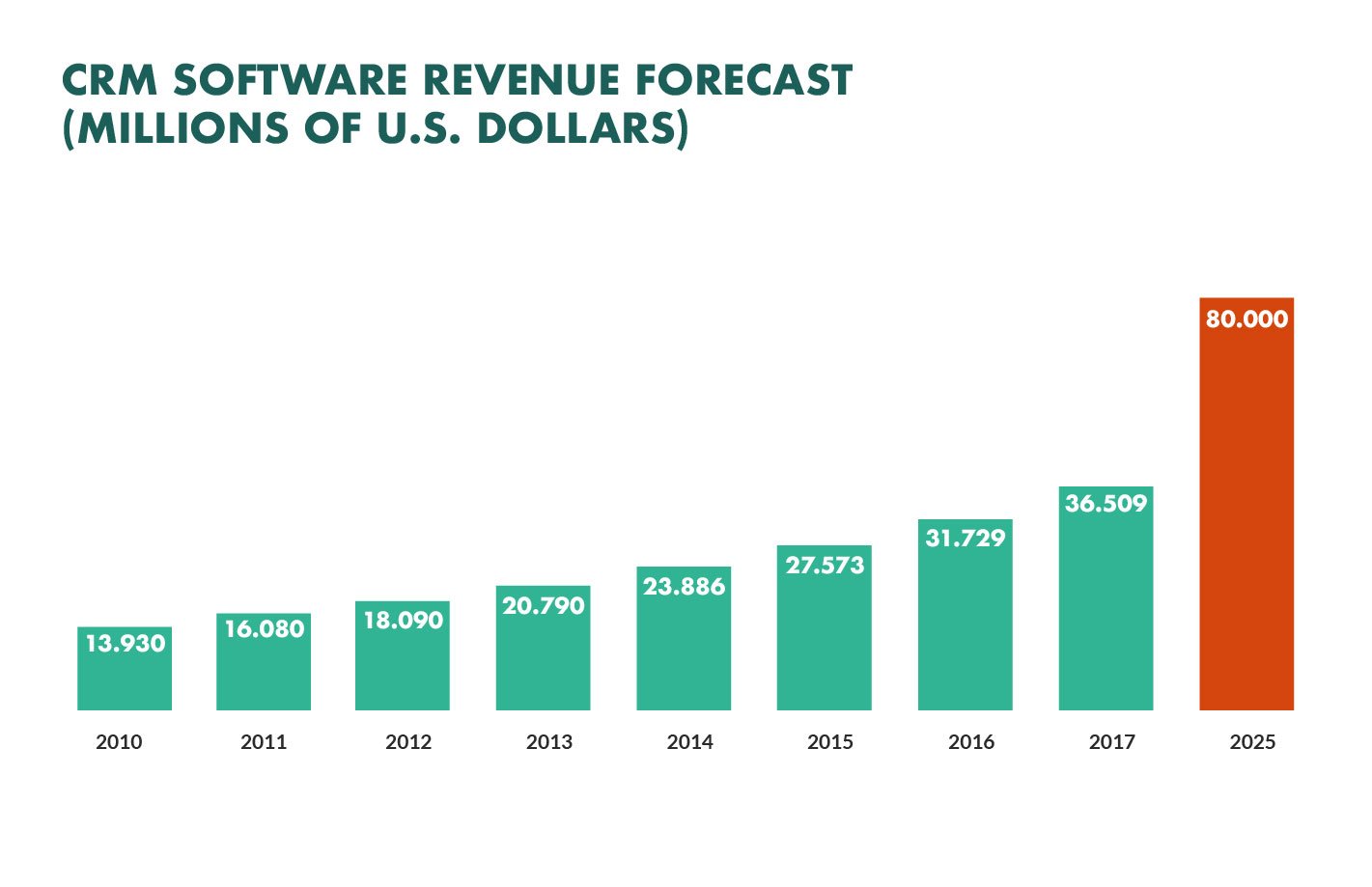 For years, companies were under-utilizing the capabilities in their CRM systems.
Research suggests that although 91% of organizations with more than 10 employees in their workforce use CRM systems, 82% of them use it only as a sales tool, while a little over 50% use them for calendar management and email marketing.
But then the pandemic came and showed us that CRM could be used in other ways to connect with customers and show them that you care. Let's take a look at the key usages.
✔️ Respond quickly to requests – During the Covid-19 pandemic, most people were working remotely. This meant that no one was in the office to handle customer requests.
Instead of letting the requests stay in the queue unanswered, companies found that they could use automations and workflows to make sure that no customer request was left unturned. The CRM system assigns a unique tracking ID to every request that comes into the system.
Using automatic routing and escalation features, companies could route the request to the right person making sure the request was handled in a timely manner – no matter anywhere the support agent is.
✔️ Help customers help themselves – When you're lacking enough hands, any type of automation helps.
That's why it's good to know that 40% of consumers prefer handling issues themselves rather than solving them through human contact.
For typical troubleshooting problems, a lost password, or questions about opening hours, companies found they could use a CRM system to help customers find the answers they needed without delay.
✔️ Open multiple channels of communication – During the pandemic, the lines blurred between our professional and personal lives, almost making them become one and the same.
People everywhere had to juggle family and kids during work hours, and work during the usual family hours.
This created a need to have more flexible communication channels.
Companies found that they could improve customer satisfaction ratings if they added CRM features such as live chat and web forms to their website.
The future of CRM
The CRM market doesn't seem to be slowing down.
And that's because we've arrived in the Age of the Customer – an age in which the physical and digital worlds blur.
An age where empowered buyers and customers are in the driver's seat. Not the sellers.
And it is digitalization that drives this power shift! 🤖
Traditionally, vendors had complete control over advertising, sales and distribution. Now customers can influence all parts of the value chain through social media, customer feedback, and ratings/reviews on various channels.
To remain competitive, companies of all sizes must re-think the way they've been doing business.
And the statistics support this shift:
Almost every article you read nowadays will tell you that you need personalization, AI, and customer intelligence to create great customer experiences.
❗ But the future of CRM isn't about individual pieces of technology, single processes, or a specific group of people. It's about connecting them all to provide a single holistic customer experience.
💭 Imagine a world where you anticipate customer needs on any channel of THEIR choice – remote, face-to-face, or online.
Regardless of channel, there are no breaks in the communication. All human and digital interactions flow smoothly.
💭 Imagine a world where you don't have to repeat your story 5 times to 5 different customer service reps. Whoever you speak to, in any department, immediately knows your name and your case.
And where personalization doesn't mean Dear (YOUR NAME), but includes content and recommendations based on your profile, your purchase history, your needs and wants.
💭 Imagine that you receive useful and inspiring suggestions from companies. Suggestions where you think: "Wow, that email came just in time. I'm so glad I signed up to their newsletter!"
What does that mean for your business?
It's not rare for a company to have one CRM system for sales management, another system for email marketing and yet another one for customer service. Internally, this works because every department has "their tool".
But people, processes and systems are still disjointed. And this makes the customer experience less than optimal.
How can you tell if there's a problem?
Here are some telltale signs:
Your sales team chase the same customer
It's difficult to spot up-selling and cross-selling potential
Customers receive conflicting communication from different parts of the organization
Customers receive wrong and unwanted advertising
Important customer information is missing in different databases
Your sales, marketing and service teams don't have the same view of the customer
In short, the left-hand doesn't know what the right-hand is doing.
The future of CRM relies on a solid CRM foundation
A great customer experience isn't about the latest tools or systems. Although those do help, of course.
It's about getting the basics right first. Without a solid foundation, your house falls.
Here are some things to consider as you move towards the future:
1. Crystallize your CRM strategy
Many companies start working with customers without a CRM strategy in place.
You can, of course, do this. But we believe you should create your CRM strategy first.
A CRM strategy is the game plan for how you'll manage relationships between your company and your customers. Without this, different departments and groups will continue to work in their own silos.
To build a seamless customer experience, your entire company must view, treat, and communicate with customers in one cohesive way.
2. Make your CRM system the one source of truth for customer information
According to "The State of the Connected Customer", 85% of customers expect consistent interactions across departments, yet 66% say it generally feels like sales, service, and marketing teams don't share information.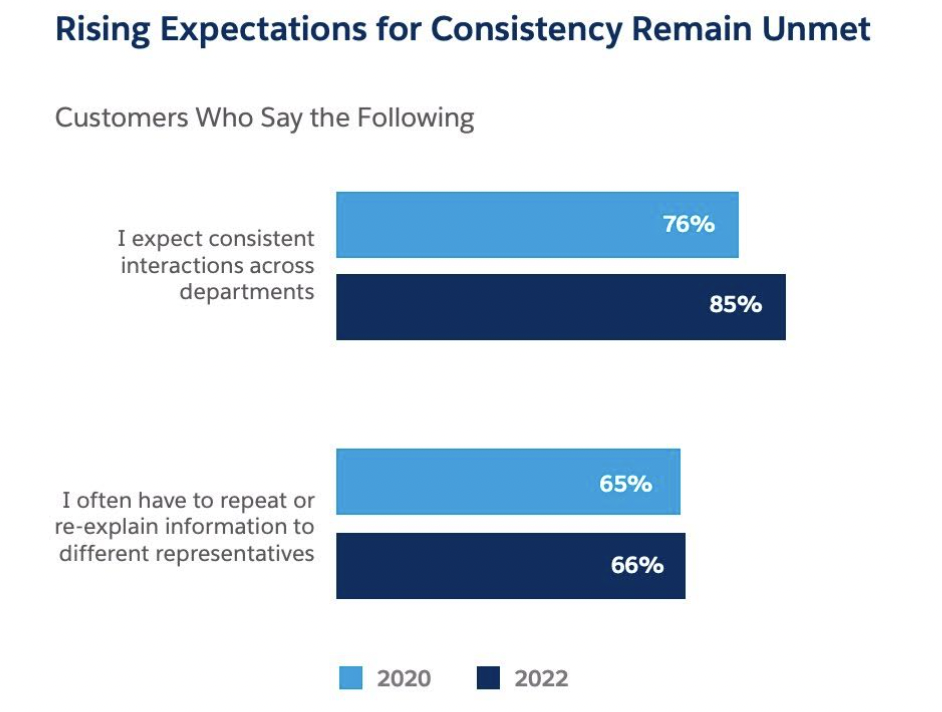 In the future, different departments within a company must work together to deliver an exceptional customer experience.
When you unify all your departments under one CRM solution, you ensure that everyone is working towards the same goal.
It doesn't matter if you're in B2B sales, B2B marketing, service or administration.
By design, all business processes refer to the same customer database in the same CRM system. That's how everyone in your company gets the same shared view of the customer.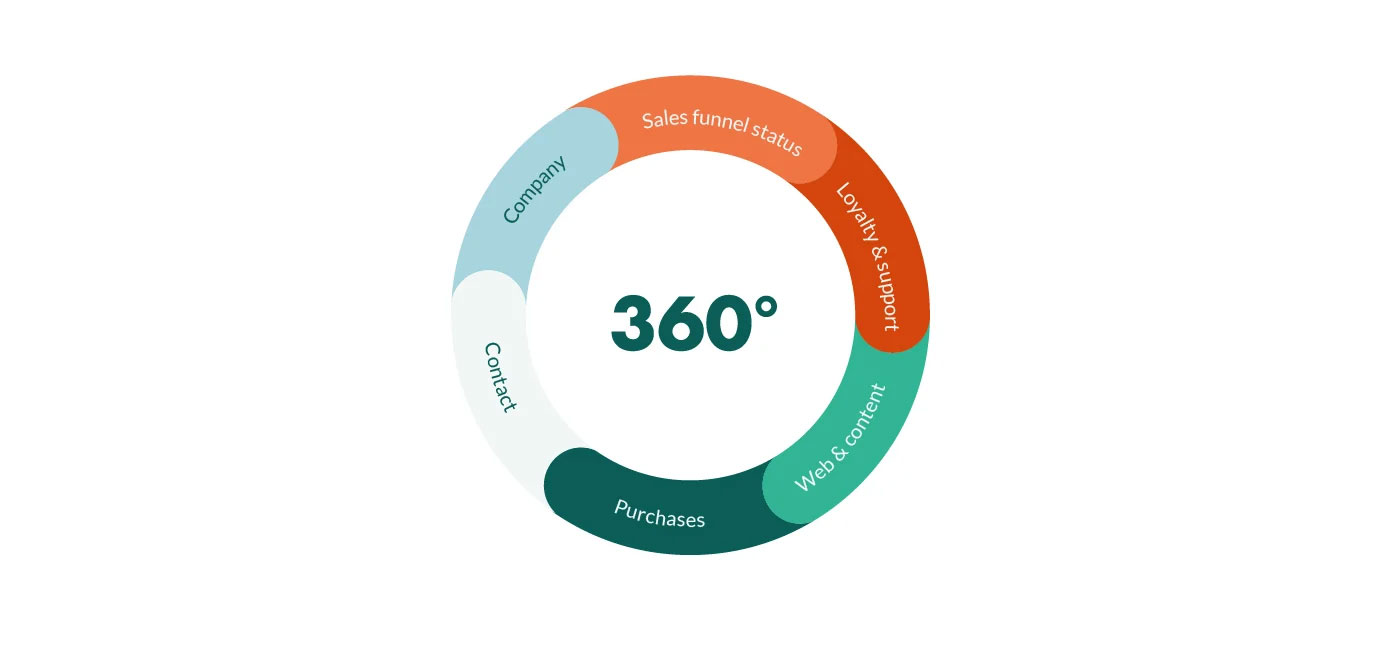 This helps you to:
And ultimately, gives you the platform you need to start creating holistic customer experiences.
3. Integrate the CRM system into the rest of the business
The beauty of CRM bursts forth when it's connected to other applications and software.
Integration of the CRM system with other tools improves the customer experience and increases efficiency.
When you have all your customer information in one centralized place, it's much easier and faster to serve customers.
Depending on how you integrate, it's possible to get detailed data about customer behavior and interactions. This allows you to get a better understanding of customer needs and preferences, which can be used to personalize offers for maximum engagement.
Many of our customers integrate SuperOffice CRM to their ERP system or prospecting and data quality tools. Doing so helps them to automate mundane tasks and frees up time for more important things like strategizing and innovating new ways of to engage customers.
Conclusion
The future of CRM is integrated, connected, and fluid.
Some like to call this the omnichannel experience.
It all starts by getting control of your customer information, systems, strategies, and structures in one place.
This will help you:
Improve customer insights: Easily access valuable customer data such as purchase history, demographics, preferences, and more. This gives you better insight into how customers interact with your brand and helps you create more tailored experiences that meet every customer's individual needs.
Experience greater efficiency: Streamline processes by automating manual tasks such as data entry and account management. This allows your teams to work faster, giving them more time to focus on customer relationships.
Enhance collaboration: When everyone in your company works with customers in the same structured way, customers start to experience a consistent level of service across departments.
By embracing these benefits of a CRM solution, businesses of all sizes are set to build customer relationships that stand the test of time. 🤝
Our CRM platform puts your customers at the center of your business!