Customer Service Horror Stories: The Return of Bad Support!

Post summary:
Tales of customer service horror stories
Mind-reading sales assistants
Possessed social media accounts

Customer Experience is the most exciting opportunity for businesses in 2017.
And so you would think somewhere within a customer experience strategy would be a point (or two) on delivering excellent customer service, wouldn't you?
I know I would, and I'm sure many companies do.
But not all…
As we celebrate Halloween today, now is the perfect time to share some gruesome tales around the campfire. And nothing sends a shiver up our spines quite like a customer service story from hell!
And, considering the fact that 68% of customers switch brands due to poor service, it's only right that we spread these cautionary tales for the good of businesses across the world.
Let's get started…
The "mind-reading" sales assistant
How often do you browse before you buy?
Most of us enjoy a bit of window shopping, and for most business owners, it's perfectly acceptable. After all, the buyer journey is a process – we gather information and inspiration before making a decision and parting for our hard-earned cash.
That's what shops are there for, to showcase products and generate sales, right?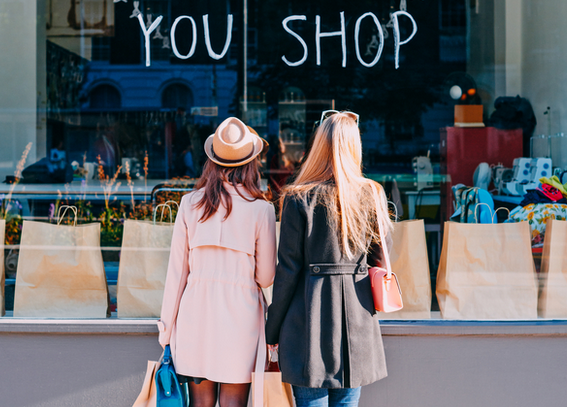 One Australian brand, Gasp, took an entirely different viewpoint on this subject. In fact, they took things so far that one bride-to-be was laughed at by staff and issued a not-so-apologetic response when she made a complaint.
Here's how it all unfolded…
The lady in question was searching for bridesmaid dresses for her upcoming wedding, and was considering her options. Initially, she was treated normally by staff. However, as time passed, a pushy sales assistant quickly came to the conclusion that she wasn't there to buy and told the lady and her three bridesmaids, "I knew you girls were a joke the minute you walked in!".
Wow! Talk about jumping the gun!
The sales assistant was of course wrong. The lady had every intention of buying, but unsurprisingly left the store immediately after her poor treatment and sent a complaint by email to the Gasp head office.
Let me guess: like me, you think this ends with an apology from Gasp.
I thought so too. And I was wrong!
After complaining to the Gasp head office, the lady received a response stating that the shop targets "a very fashion forward customer", and the sales assistant in question is simply "too good at what he does."The response continued with "he knew you were not going to buy anything before you even left your house" and "I am sure there are plenty of shops that appease your taste".
Ouch!

Lesson: No matter how 'good' your sales assistants may be, they cannot read a customer's mind. Every customer deserves to be treated with respect and patience, so let them make a purchase at their own pace and never (ever!) condone personal attacks made by your staff.
The 'possessed" social media account
Twitter is a great platform for sharing content and discussing trending topics, but perhaps it's most handy use is for customer service and complaint handling. Many brands even have their own customer support Twitter accounts, staffed by a team that responds to questions and problems.
To streamline the customer service process, many businesses set up an auto-responder to acknowledge @mentions on Twitter and assure the customer that their complaint is being handled. But this is dangerous territory, because auto-responders can lead to some embarrassing fails – none more so than the Bank of America's Twitter fiasco during the Occupy movement.
After an Occupy activist was chased away from a Bank of America building by police in New York, he decided to tweet the picture and mention @bankofamerica within his 140 characters.
As with most @mentions, the bank was quick to reply.
However, the reply was an auto-responder with a generic "Thank you for contacting us. How can we help?" message.
Now, if you are trying to order a new bank card or increase your card limits, an auto-reponder with this message might be appropriate. But, not when you are being chased away by the police!
Unfortunately for the bank, the situation escalated as people picked up on the faux pas and continued to tweet @bankofamerica. The auto-responders just kept on coming – here's a particularly cringe-worthy example: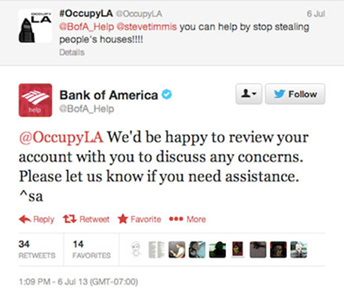 Following the incident, the Bank of America insisted that they use 'personal' messages for all of their Twitter replies.
I'm not so sure…. and the evidence suggests the use of an auto-responder, Twitter bot or poor judgement from customer service staff.
Lesson: Be aware of the pitfalls of social media auto-responders and use them at your own risk. By all means have a collection of stock responses to complaints, but assess each tweet before your brand replies, ensuring your tweet is actually relevant and helpful.
The Abyss (of phone support)
If one business has had a complete customer service nightmare this year, it's Comcast.
According to research in Philadelphia, 15% of residents trying to get through to the Comcast customer service line reported a busy signal, which is five times more than the accepted level as specified by the FCC.
Of course, that's only the tip of the Comcast iceberg.
One customer claims he was left on hold for 3.5 hours while trying to cancel his Comcast service. Another customer's cancellation request was met with refusal from a customer service rep, who repeatedly demanded a reason for cancellation for eight entire minutes!
Another man who tried to cancel his Comcast service for a total of four hours posted a 38 minute excerpt of his telephone conversation on YouTube.
We'll leave you to listen, below. Be warned, it makes for painful listening: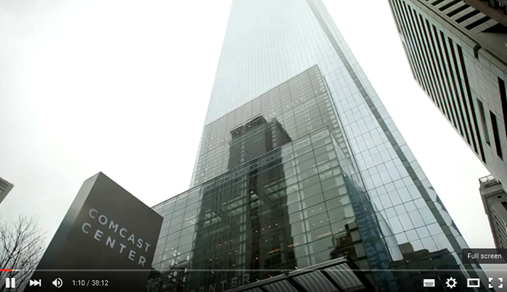 Lesson: Whether your customers want to amend their details, order a product or simply cancel their service, make the process as easy as possible. Dragging it out will only lead to frustration, bad publicity and high customer turnover.
The "nightmare" on customer street
Obviously, the customer is always right, right?
Quite simply, no.
Not all customer service nightmares revolve around the brand and their team of support staff. Sometimes, the customer is the nightmare.
When Gizmodo invited people to share their customer experiences at the Apple Genius Bar, one response that attracted a lot of attention. The respondent was a man who worked at an Apple Store. During a shift on the Genius Bar, he encountered a true nightmare customer that he would never forget.
The lady in question had brought her phone along to be fixed.
The exchange opened with, "Your f***ing phone won't turn on anymore," and after refusing to answer any further questions about the phone, she bluntly stated, "I just want you to either fix my phone or get me a new one. Now, like, right now."
OK, then.
Untroubled, the Apple sales assistant continued to be as helpful as possible. Spotting that the phone was outside its regular one year warranty period, he asked his manager if the phone could be replaced, as the unit qualified for two quality programs. The manager agreed, but with no replacements in stock the lady was asked to pick it up from a store just thirty minutes away.
Despite the fact they had gone out of their way to help – offering to replace her phone for free – the lady was not amused. "No, no. Fix this RIGHT NOW," she said. After hurling verbal abuse at the manager, who explained that there would be no queue at the next store, she said "Frankly, you guys trying to go above and beyond in terms of helping me makes me sick".
Lesson: Customers will be customers, and some will be rude and upset. Like the Apple Store in this example, the best thing to do is deal with the situation calmly by clearly outlining the way forward. And, of course, calling on a manager when the going gets tough.
Conclusion
It's tough out there in the world of customer service.
Some customers are less than friendly, but businesses have a responsibility to deal with complaints with integrity and a touch of class. To avoid the dreaded 'viral' nightmare customer service story (and to avoid appearing in blog posts like this one), your team must handle each and every request clearly, quickly, and politely. There's simply no other way to get by.
Poor customer service has major ramifications for businesses. With the help of the internet, it's easy for your customers to jump ship to a competitor, no matter what your industry, product or service. Don't give them the push they need to ditch their customer loyalty and look elsewhere because, rest assured, bad customer service is all the reason they need to make that switch.
Do you have your own nightmare scenarios that you want to get off your chest?
Then share your hellish customer service stories below.
If you want to avoid becoming a customer service horror story, download 7 customer service email templates here.

Customer Service