Last week, we posted about why your organization needs Mobile CRM.
Today, we are proud to announce a new, upgraded version of the award-winning Pocket CRM for smartphones and tablets, a native mobile app aimed at helping sales professionals improve sales productivity and effectiveness, anytime, anywhere. This product leads the innovation in the mobile CRM app arena allowing the user to move seamlessly between devices. The user experience and the functionality is the same on the mobile device as it is on the desktop.
30% of sales organizations will issue iPads and tablets as the primary device standard issue for salespeople by 2014. Since SuperOffice launched its mobile crm app a couple of years ago, more than 20 percent of SuperOffice customers use Pocket CRM in the field and the number of users continues to grow. This shift towards mobility and a more mobile sales force has inspired the development team to create an even more powerful mobile CRM app to support the needs of the sales force.
"Our first version of Pocket CRM changed the way sales people used their phones. It allowed them to access the entire SuperOffice CRM database on the mobile, in real time. They could access not only customer information, but also access opportunities, colleagues' calendars and book appointments," said Guttorm Nielsen, SuperOffice's Chief Product Officer. "The new version works on tablets, as well as smartphones. We have added new functionality that lets users access documents, project, project members and target selections."
"As a software company, we are very focused on design and the user experience. When we created this updated version, we wanted it to work seamlessly and flawlessly, regardless of which mobile device our users are on. Users can move through the different information layers in a natural, fast and easy way. Each screen is intuitive and easy to understand. Pocket CRM is also touch enabled."
"This new version of SuperOffice Pocket CRM opens a whole new world for road warriors by allowing the mobile workforce to manage and access their CRM data anywhere, anytime. This greatly both improves the level of sales productivity and improves the customer experience," said Gisle Jentoft, CEO.
See how our CRM for mobile can help you below and then download our Definitive guide to Mobile CRM: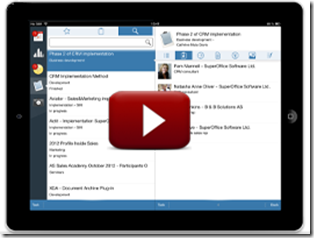 How do you think Mobile CRM could help your business? Feel free to share, like and comment below.